Weight Watchers Friendly FreeStyle One Week Meal Plan
FreeStyle SmartPoints Meal Plan
This post may contain affiliate links. Please read my Disclaimer and Privacy policy for more information.
One of the hardest parts of starting a diet is deciding what meals you should be eating.  This Weight Watchers FreeStyle One Week Meal Plan is a perfect way to get you started without the stress!  All you have to do is check the list below to find what you should be eating for breakfast, lunch, dinner. Even your Weight Watchers snacks and desserts are included.
Weight Watchers FreeStyle One Week Meal Plan 
You'll find the basic meal plan outline below is based upon the lowest daily point average of 23 SmartPoints.  While many of us have more points per day to use, this is the base total.  It makes planning your week much easier when you know these day to day combinations can fit into even the lowest daily point allowance.
P.S. You can even afford a low point alcoholic drink!
Tips for Sticking to Weight Watchers: 
It can be hard for anyone to stick with a new food system.  The reason I love Weight Watchers so much is that there is truly nothing off limits!  You can have anything you want, you just have to account for it in your daily or weekly points.  Since there are tons of zero point foods on this plan, you can easily mix and match foods to fit your personality and cravings.
You may be coming here after the holidays and ready to get back to your diet program.  If so, our tips for Getting Back on Track with Weight Watchers may help! If you are struggling, check out our tips for What to do When Weight Watchers Isn't Working.
WW FreeStyle Breakfast Ideas
Below are basic ideas with recipes linked that are great for a low point but satisfying breakfast to start your day.  Remember that things like hard boiled eggs, fresh fruit, and nonfat plain yogurt are all on the zero point foods list and excellent choices for building breakfast.
Day 1: Weight Watchers 2 Ingredient Blueberry Pancakes (zero SP)
Day 2: Weight Watchers Cinnamon Roll Casserole (6SP)
Day 3: Eggs in a Basket (2SP)
Day 4: Weight Watchers Pumpkin Pancakes (6SP )
Day 5: Raspberry (or any kinda' berry) Oatmeal (3SP)
Day 6: Weight Watchers Breakfast Casserole (1SP)
Day 7: Weight Watchers Berry Crisp (2SP)
WW FreeStyle Lunch Ideas: 
Many of these ideas are perfect for making on the weekend and putting into portions for grab and go lunches.  If you work outside the home, or prefer to take a shorter lunch break during the week, prepping ahead is the way to go!
Day 1: Dill Chicken Salad Wrap with fresh fruit or veggie side (4SP)
Day 2: Chicken Quesadillas (5SP)
Day 3: 2 Baked Pizza Sticks (6SP)
Day 4: Broccoli Cheddar Soup (2SP)
Day 5: Instant Pot Hummus with fresh veggies and pita (1-5SP depending on pita)
Day 6: Weight Watchers Taco Boats (2SP)
Day 7: Weight Watchers Quiche (5SP)  
WW FreeStyle Dinner Ideas
That evening meal is usually when we want to have the largest portion.  This list of recipe ideas will show you how to satisfy your cravings and feel full without using a ton of your daily SmartPoints!
Day 1: Weight Watchers Stuffed Peppers (1SP each)
Day 2: Slow Cooker Butter Chicken with ½ cup rice (6SP)
Day 3: Dill Caper Broiled Salmon with 1/2 cup rice and roasted vegetables (3-4SP)
Day 4: Weight Watchers Chicken Alfredo (7SP)
Day 5: Weight Watchers Taco Casserole (1SP)
Day 6: French Onion Chicken with a side salad (2-3 SP depending on salad dressing used)
Day 7: Weight Watchers Lasagna (6SP)
Great Snacks and Desserts for WW FreeStyle
Fresh fruits and vegetables are always the best options to reach for, but that doesn't mean that is all we have to settle for having as a snack.  Instead, these recipes below are excellent for helping you create a simple snack that is yummy and low in points! 
Healthy Spinach Dip Recipe (1SP)
Weight Watchers Donuts (3SP)
Weight Watchers Lemon Icebox Pie (6SP)
Air Fryer Funnel Cake Bites (3SP)
Weight Watchers Berry Crisp (2SP)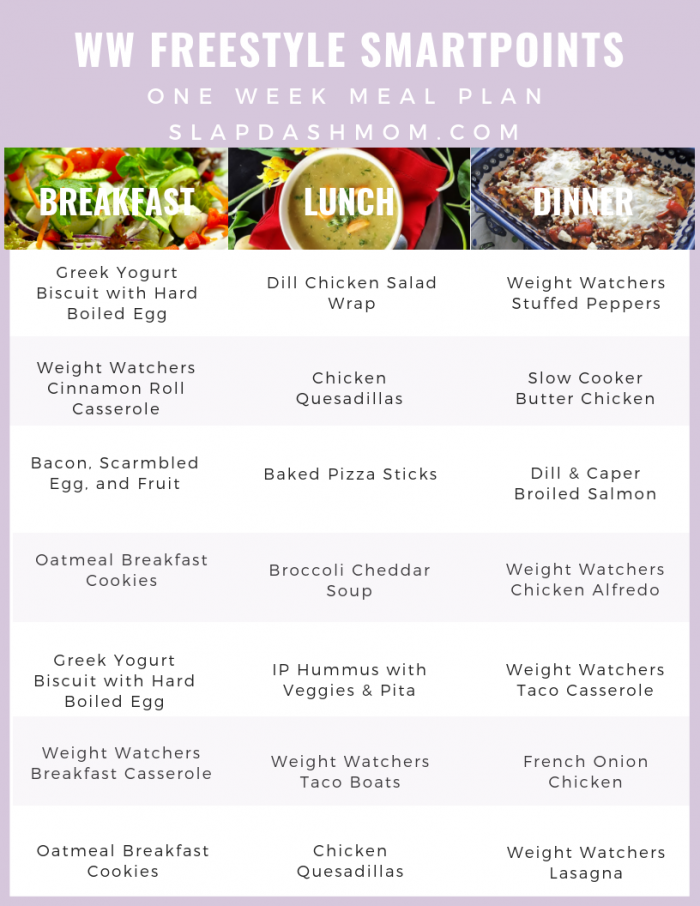 Finding Weight Watchers Support You Need
All of these great recipes and our printable meal plan make it easier than ever for you to stick to this healthy lifestyle!  Make sure to join all of our support groups on Facebook to really make the most of your time using WW to get healthier. Not only will you find even more healthy recipes, but a unique support team of people who are following the same diet program as you.  This results in a way to get the support you need to stick to the program.
Make sure to check out and grab our printable shopping lists below to make it easy when you are in store to grab the best WW FreeStyle friendly foods and snacks!
Weight Watchers Walmart Shopping List
Weight Watchers Target Shopping List
Weight Watchers Aldi Shopping List
Weight Watchers Trader Joe's Shopping List
Lose Weight With Your Instant Pot!
I was super intimidated by my Instant Pot at first but honestly the Instant Pot makes life SO easy! I took Instant Pot for Weight Loss and now I use my Instant Pot almost daily! Have you used your Instant Pot yet? These low point recipes help me stay on track with my Weight Watchers journey.
Chicken and Bean Soup
Instant Pot Tortilla Soup
Pineapple Chicken
Ghormeh Sabzi
Chicken and Wild Rice Soup
Broccoli Cheddar Soup – my favorite!!
Instant Pot Beef Stew
Instant Pot Soups – all 7 points or less!
Instant Pot Weight Watchers Recipes
Potato Leek Soup
Instant Pot Weight Watchers Recipes – tons of recipes!
Download my Cookbook!
Love low point recipes? Grab my free cookbook!