Chic Fil A Weight Watchers Restaurant Guide
Heading out in a hurry and didn't have time to meal prep? No worries, the Chic Fil A Weight Watchers Restaurant Guide is here! Including menu options, and Weight Watchers Freestyle Points for each food!
 Many times when we think of foods in higher points, we think bread, fried stuff, sodas, the list goes on. But did you ever think that Greek Yogurt Parfait from Chic Fil A would trump their famous fried chicken nuggets? I know, I was just as surprised as you!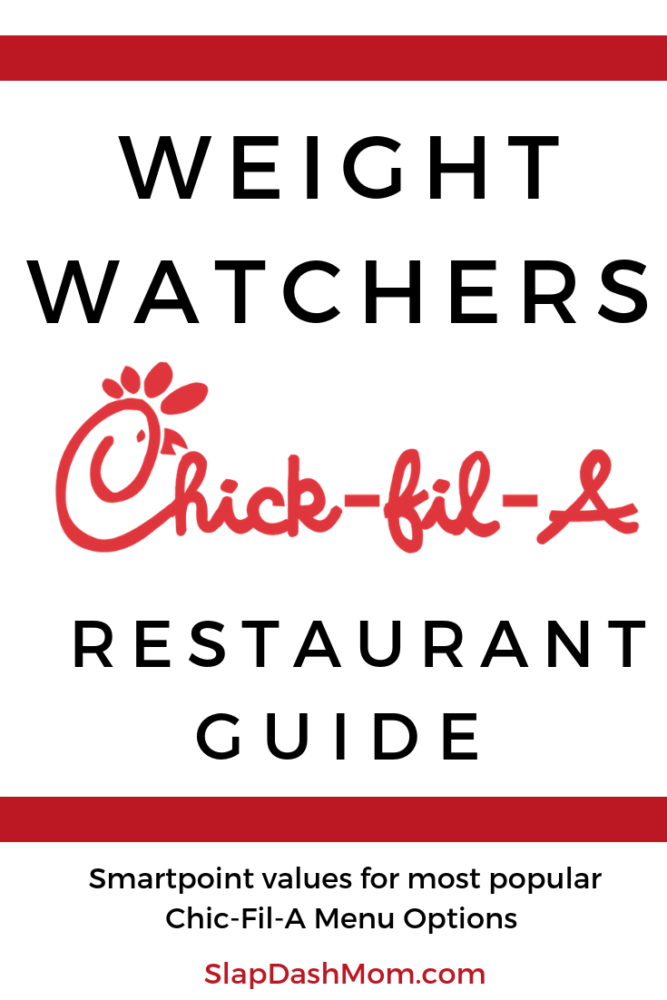 If you don't see your favorite food on this list, you can always use the Weight Watchers App and head over to Chic-Fil-A's nutritional guide to get those points calculated.
I took a poll in the Facebook Group about what restaurant guide they wanted to see next, and obviously Chic-Fil-A took the win…easily! Look at the results below!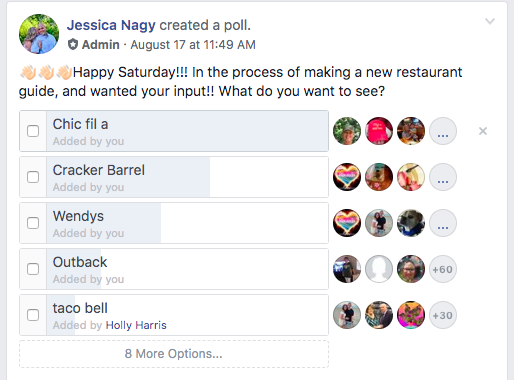 *Images below are from Chic-Fil-A's Official Website 
So get ready, because some of the Chic Fil A Freestyle point values are going to blow you away!!
Chic Fil A Weight Watchers ZERO Points Foods
Grilled Nuggets (any size)
Kids Diet Lemonade
Coffee
Unsweetened Tea
Eggs (topping for salad)
Chic Fil A Foods 6 Weight Watchers Freestyle Points and Below
Fruit Cup (any size) 1 Smartpoint
Grilled Chicken Sandwich 5 Smartpoints
Fried Nuggets (8 count) 6 Smartpoints (6 count) 4 Smartpoints
Grilled Chicken Cool Wrap 6 Smartpoints
Side Salad (no dressing) 3 Smartpoints
Cobb Salad with grilled nuggets (no dressing) 5 Smartpoints
Market Salad with Grilled Chicken (no dressing) 6 Smartpoints
Chicken Noodle Soup (small) 3 Smartpoints  (large) 5 Smartpoints
Egg White Grill 6 Smartpoints
Chic Fil A Weight Watcher Points for Dipping Sauces
Honey Roasted BBQ Sauce 2 Smartpoints
Buffalo sauce 1 Smartpoint
Light Italian 1 Smartpoint
Chic Fil A sauce 6 Smartpoints
Polynesian 6 Smartpoints
Ranch 5 Smartpoints
Chic Fil A Foods that are HIGH in Freestyle Points
Fries (small-9, medium-11, large-14)
Chic Fil A (original) Chicken Sandwich 12 Smartpoints
Chicken Minis 11 Smartpoints
Spicy Chicken Sandwich 12 Smartpoints
Avocado Lime Ranch Dressing 11 Smartpoints
Spicy Southwest Salad with Grilled Chicken (no dressing) 8 Smartpoints
Breakfast Burrito 10 Smartpoints
Greek Yogurt Parfait with Granola 9 Smartpoints
What's your FAVORITE food at Chic Fil A? Is it low in points?
Ever panic and wonder what to eat at your favorite restaurants? Well, I do too! That's why I created and LOVE my restaurant guides. Check them out here and be sure to email me and let me know any others you'd like to see:
Cracker Barrel Weight Watchers
Chipotle Weight Watchers
Olive Garden Weight Watchers
Red Robin Weight Watchers
Taco Bell Weight Watchers
P.F. Chang's
Texas Roadhouse
Come find me and JOIN my Weight Watchers Air Fryer & Instant Pot Facebook Recipe Group. We all know how hard it is to do it alone. We are a community of people who post recipes, share tips and ideas and inspire one another every day! We can't wait to meet you!!
Check the bottom of this page to Download my FREE WW Cookbook & Tips Guide. You will LOVE it!!
This is my ZERO Point food list. Book mark the page and refer back often. Loading your fridge and pantry with these ZERO point foods is tip #1 for weight loss success.
Meal plans help me stay on track. Here are some of my favorites!
Instant Pot Printable Meal Plan
Freestyle One Week Meal Plan
Free Printable Meal Plan
You simply MUST try my ZERO points Cheesecake Recipe
Have you made up a batch of my 2 Ingredients Dough yet? It's AMAZING stuff!! Use it to make low point bread bowls, pretzels, bread sticks, bagels, pizza crust, cinnamon rolls & more. Check out the Recipe Guide & Individual Recipes below:
To entice you, watch this Video for the 2 Ingredients Bagel Recipe – you will LOVE it – total YUM!!

2 Ingredient Dough Recipes
Ultimate 2 Ingredient Dough Guide
2 Ingredient Dough Pizza
2 Ingredient Dough Pot Pie
2 Ingredient Dough Pop Tarts
2 Ingredient Dough Cinnamon Rolls
2 Ingredient Dough Bread Bowls
2 Ingredient Dough Empanadas
Make sure you check out and grab our printable shopping lists below to make it easy when you are in store to grab the best WW FreeStyle friendly foods and snacks!
Weight Watchers Walmart Shopping List
Weight Watchers Target Shopping List
Weight Watchers Aldi Shopping List
Weight Watchers Trader Joe's Shopping List