Weight Watchers Friendly Printable Instant Pot Meal Plan
This post may contain affiliate links. Please read my Disclaimer and Privacy policy for more information.
Looking to really break in your Instant Pot? Here is a FREE printable 21-day plan! Some may be for dinner, breakfast, or lunch! There are even snacks and desserts that are Instant Pot friendly!
Don't have an Instant Pot? Check out this post for a guide to help you choose the right one! Here's another great post to use as a guide and for more recipes! Below is one of my favorites!
Check out my Weight Watchers Printable Meal Plan :)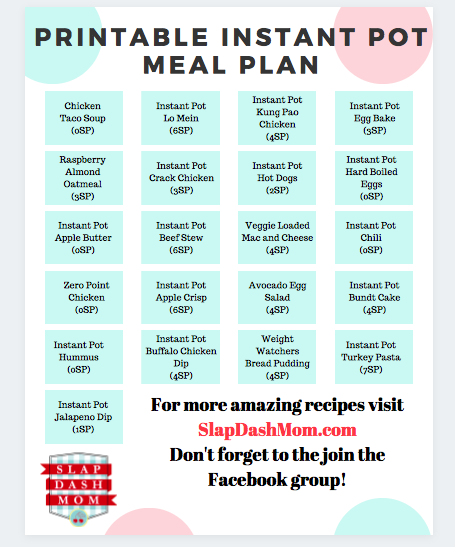 Click to print
Weight Watchers Instant Pot Printable Meal Plan
This printable meal plan makes staying on track with Weight Watchers SUPER easy. With 21 Instant Pot recipes, you could fill your entire monthly calendar easily.
Weight Loss With Your Instant Pot
I saw a lady featured on the Today Show who lost 100+ pounds by using her Instant Pot. I was inspired! If she did it…I could too. Since that day, I have had an amazing time with my Instant Pot and it really does make cooking, clean up and losing weight a whole lot easier. I have had great success with meal planning and my Instant Pot so I want to share that with you.
INSTANT POT MEAL PLAN
Day 1: Chicken Taco Soup (0SP – my FAVORITE recipe so it's kicking off Day 1!)
Day 2: Instant Pot Lo Mein (6SP)
Day 3: Instant Pot Kung Pao Chicken (4SP)
Day 4: Instant Pot Egg Bake (3SP)
Day 5: Raspberry Almond Oatmeal (3SP)
Day 6: Instant Pot Crack Chicken (3SP)
Day 7: Instant Pot Hot Dogs (2SP)
Day 8: Instant Pot Hard Boiled Eggs (0SP)
Day 9: Instant Pot Apple Butter (0SP)
Day 10: Instant Pot Beef Stew (6 SP)
Day 11: Veggie Loaded Mac and Cheese (6SP)
Day 12: Instant Pot Chili (for Hotdogs or Soup 0SP)
Day 13:  Zero Point Chicken (0SP)
Day 14: Instant Pot Apple Crisp (6SP)
Day 15: Avocado Egg Salad (4SP)
Day 16: Instant Pot Bundt Cake (4SP)
Day 17: Instant Pot Hummus (0SP)
Day 18: Instant Pot Buffalo Chicken Dip (5SP)
Day 19:Weight Watchers Bread Pudding (2SP)
Day 20: Instant Pot Turkey Pasta (7SP)
Day 21:Instant Pot Jalapeno Dip (1SP)
Come find me and JOIN my Weight Watchers Air Fryer & Instant Pot Facebook Recipe Group. We all know how hard it is to do it alone. We are a community of people who post recipes, share tips and ideas and inspire one another every day! We can't wait to meet you!!
Check the bottom of this page to Download my FREE WW Cookbook & Tips Guide. You will LOVE it!!
This is my ZERO Point food list. Book mark the page and refer back often. Loading your fridge and pantry with these ZERO point foods is tip #1 for weight loss success.
Meal plans help me stay on track. Here are some of my favorites!
Instant Pot Printable Meal Plan
Freestyle One Week Meal Plan
Free Printable Meal Plan
You simply MUST try my ZERO points Cheesecake Recipe
Have you made up a batch of my 2 Ingredients Dough yet? It's AMAZING stuff!! Use it to make low point bread bowls, pretzels, bread sticks, bagels, pizza crust, cinnamon rolls & more. Check out the Recipe Guide & Individual Recipes below:
To entice you, watch this Video for the 2 Ingredients Bagel Recipe – you will LOVE it – total YUM!!

2 Ingredient Dough Recipes
Ultimate 2 Ingredient Dough Guide
2 Ingredient Dough Pizza
2 Ingredient Dough Pot Pie
2 Ingredient Dough Pop Tarts
2 Ingredient Dough Cinnamon Rolls
2 Ingredient Dough Bread Bowls
2 Ingredient Dough Empanadas
Make sure you check out and grab our printable shopping lists below to make it easy when you are in store to grab the best WW FreeStyle friendly foods and snacks!
Weight Watchers Walmart Shopping List
Weight Watchers Target Shopping List
Weight Watchers Aldi Shopping List
Weight Watchers Trader Joe's Shopping List
Ever panic and wonder what to eat at your favorite restaurants? Well, I do too! That's why I created and LOVE my restaurant guides. Check them out here and be sure to email me and let me know any others you'd like to see:
Chipotle Weight Watchers
Olive Garden Weight Watchers
Red Robin Weight Watchers
Taco Bell Weight Watchers
P.F. Chang's
Texas Roadhouse