Weight Watchers Friendly Target Shopping List
Weight Watchers Items at Target
This post may contain affiliate links. Please read my Disclaimer and Privacy policy for more information.
Last Updated on
If you're following my Weight Watchers journey, you know I'm about half way to my goal weight and couldn't be more excited! Well, maybe I'd be more excited if I was AT My goal weight, but I'm enjoying the journey. This Weight Watchers Target shopping list was created because I LOVE Target but I don't have an hour to scan everything in the store each time I go. :) Check out the rest of my Weight Watchers posts while you're here.
HUGE thank you to ERIKA for this awesome list!! Be sure to join our free support group on Facebook!
RELATED:
ALDI Shopping List
TRADER JOE'S Shopping List
WALMART Shopping List
You can always use the list of 200+ zero point foods to get you started as well! I always stock up on chicken, beans, and fat-free shredded cheese because I can make tons of meals with these ingredients… without using much brain power. One of my favorite recipes is this Zero Point Chicken Taco Soup. I make it in the Instant Pot but you can easily make it on the stove. It's literally a dump and serve dish, and my whole family LOVES it. Top with fat-free Greek yogurt and fat-free shredded cheese and it's still ZERO POINTS! Freakin' amazing.
Weight Watchers Target Shopping List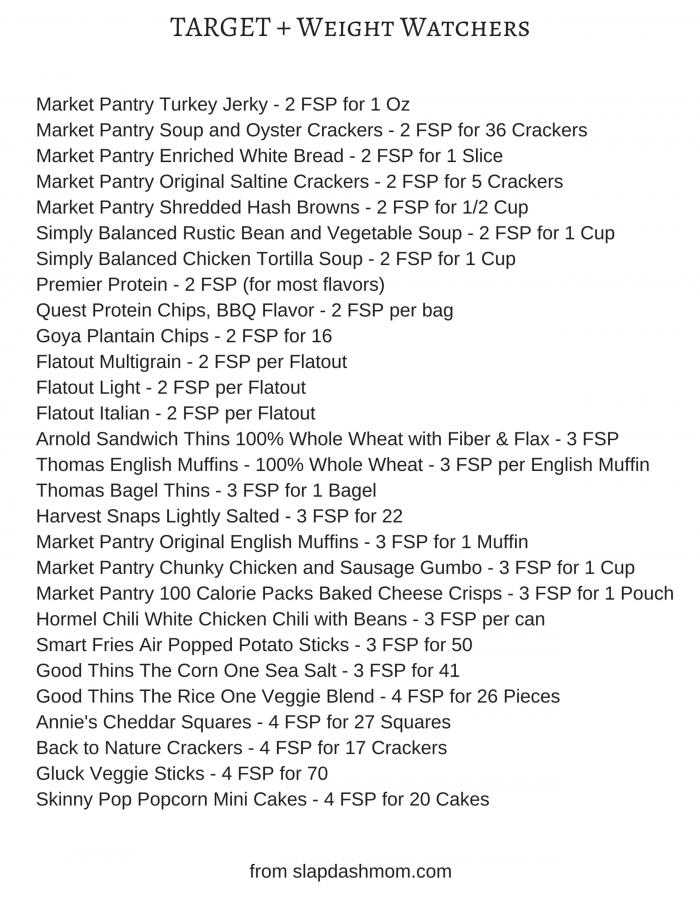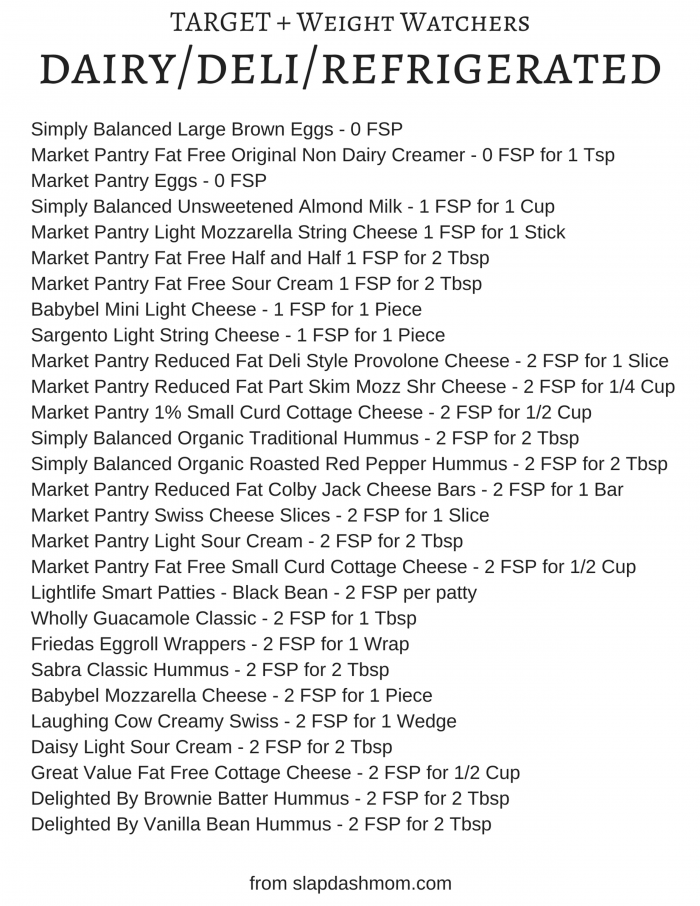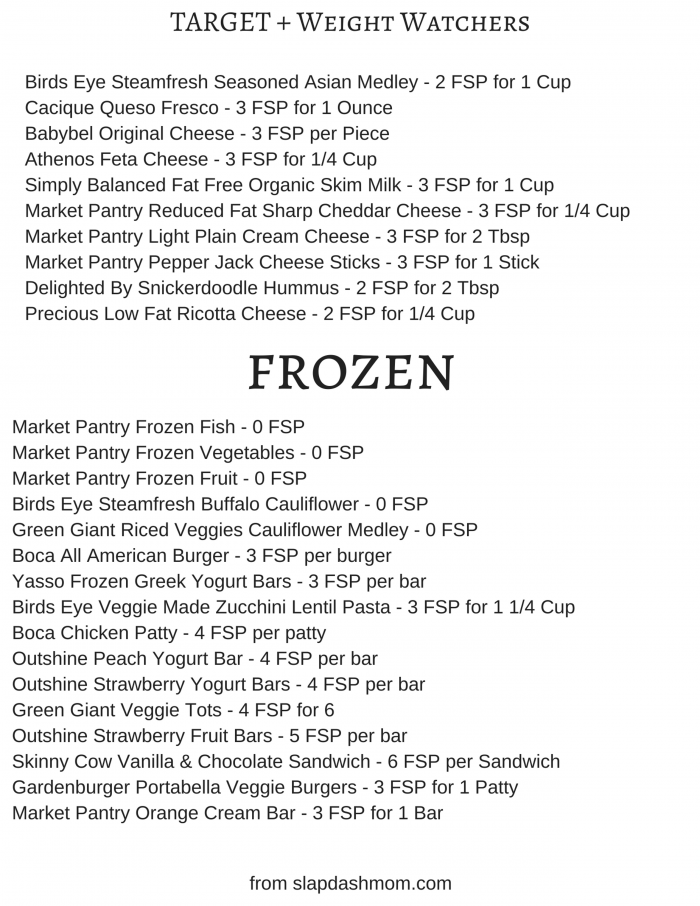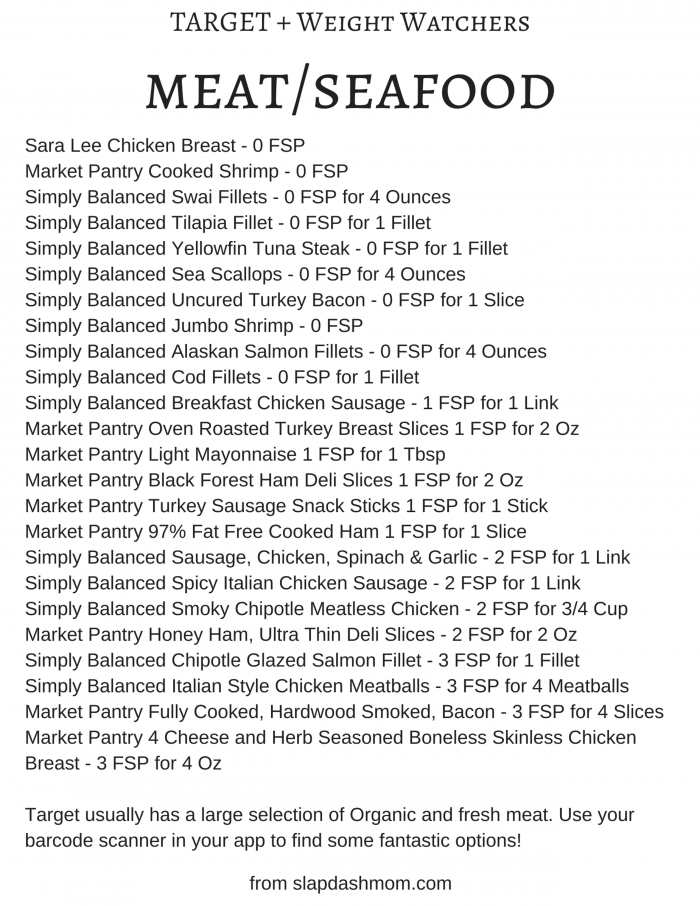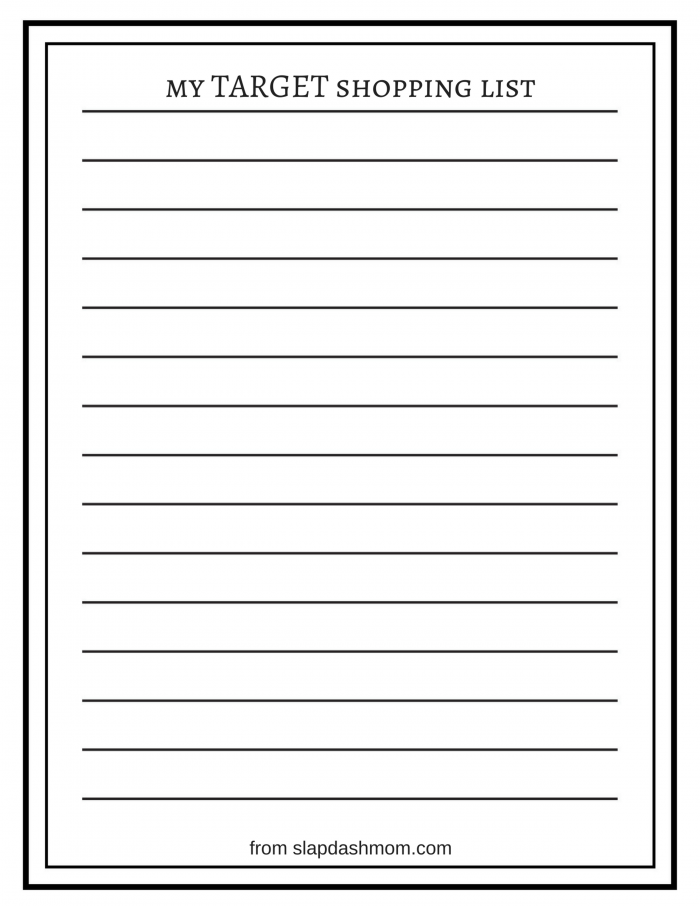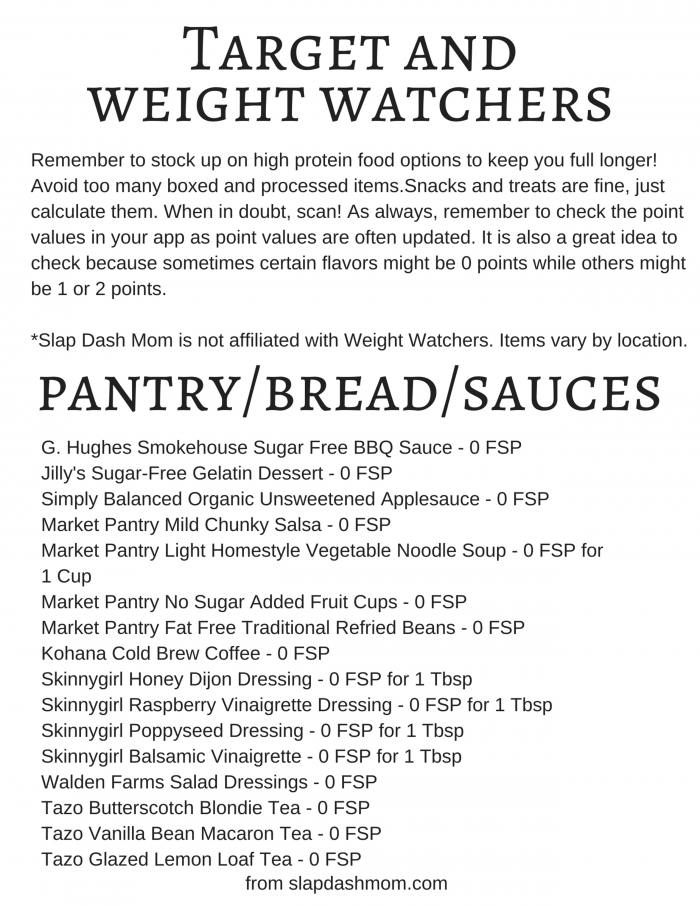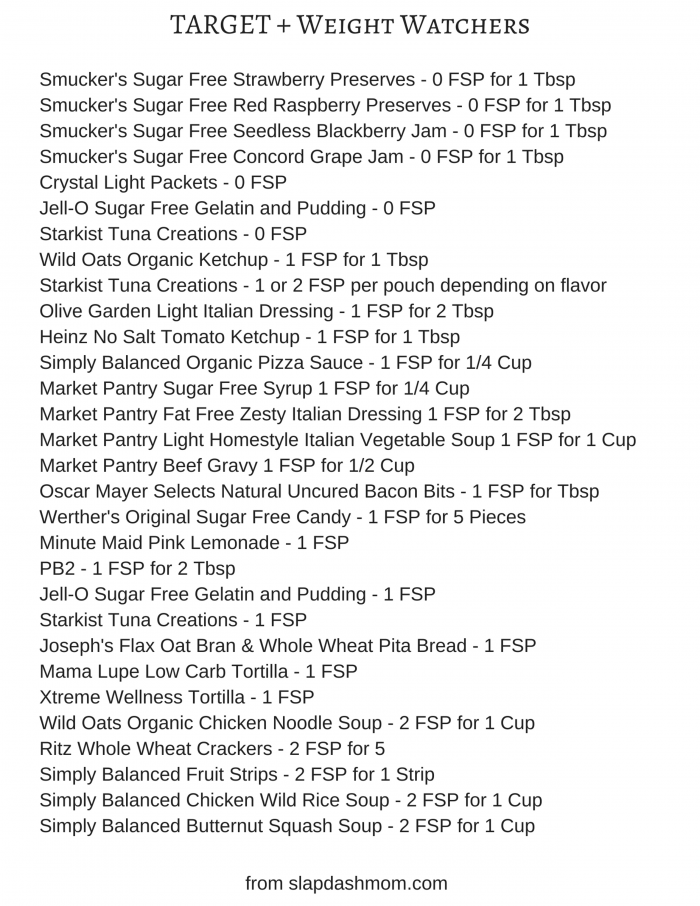 PIN IT FOR LATER!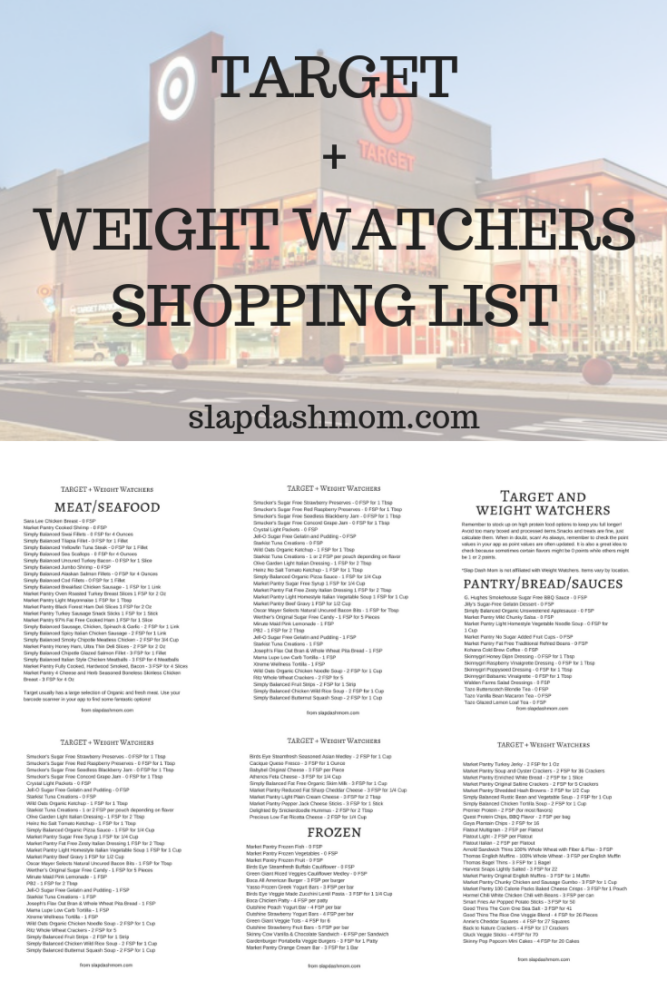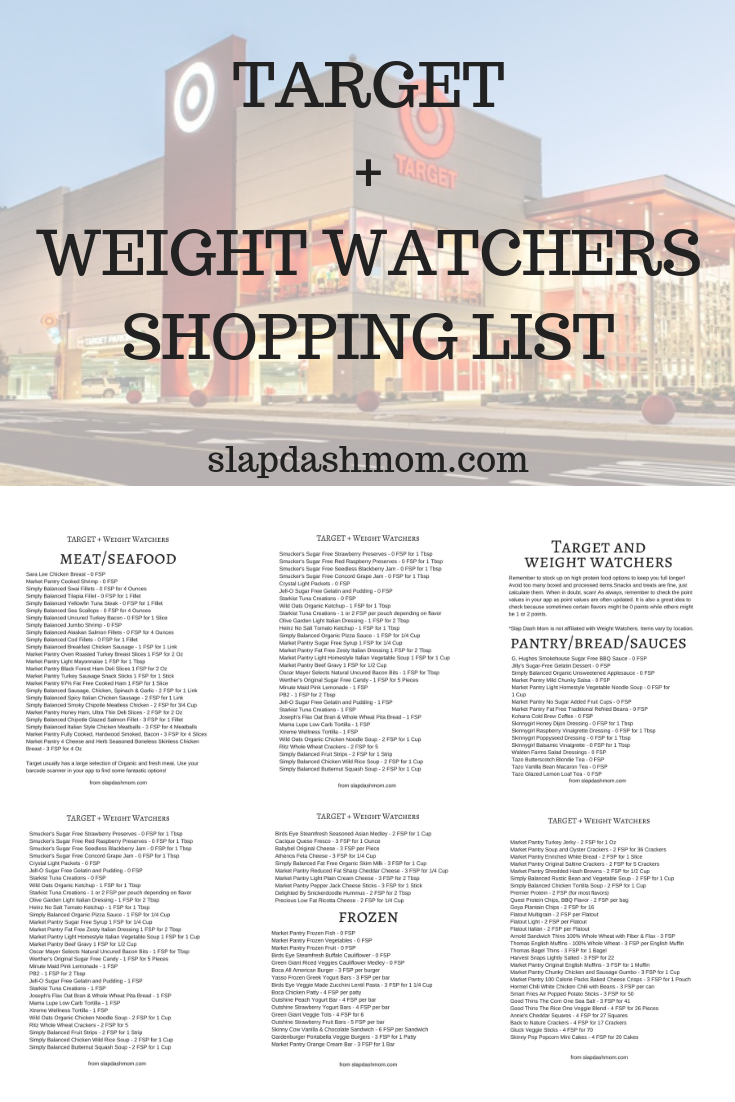 Click below to download the full printable list (no email sign up required, just click the link then hit PRINT).
And now, for more goodies!
Freestyle Recipes
2 Ingredient Bagels
Breakfast Casserole
Weight Watchers Pancakes
Black Bean Burgers
0 Point Chicken Taco Soup
Instant Pot Bread Pudding
Cinnamon Roll Casserole
Dessert Pizza, protein fruit dip, and English muffin pizzas from my friend, Jen.
Pretzel crusted chicken nuggets from my friend, Katie.
And Weight Watchers Lemon Pound Cake from my friend, Melissa!
My friend just started a new Weight Watchers friendly website… here are some of my favorite posts!
Should I Eat My Weeklies?
Hungry VS Bored
Staying on Track During the Holidays
How to Maintain Lifetime
In-person VS Online
Best Weight Watchers Soups
While you're here, check out my other Weight Watchers recipes!
Weight Watchers Breakfast Casserole
Weight Watchers Taco Casserole
Weight Watchers Broccoli Cheddar Soup
Weight Watchers Cinnamon Rolls
Weight Watchers Funnel Cake Bites
Walmart Weight Watchers Shopping List
ALDI Weight Watchers Shopping List
Trader Joe's Weight Watchers Shopping List
How to do Weight Watchers for Free
7 Ways to Break Through a Weight Loss Plateau