WeightWatchers Friendly Chicken Taco Casserole
This WeightWatchers Chicken Taco Casserole is 6 Points per serving.
Many of the ingredients (onion, tomato, garlic, lettuce, bell pepper, salsa) are 0 point foods, meaning it will be more filling with fewer points!
I do love a good casserole. It reminds me of growing up in the 1970's and 80's, when my Mom, like everyone else's, was cooking casseroles for dinner. I get why they did it. They were quick, easy and you could toss everything in there but the kitchen sink, eg: leftovers, and it came out great. And, the clean up was a cinch.
As an aside, the baking dishes my mother had were AMAZING. With all of that, who wouldn't love a good casserole?
One day, years ago, I was shopping at Living Spaces with my kids. We were shopping for a dining room table and they had a casserole recipe cookbook as a prop on one of their table displays. It was a Taste of Home Casserole Recipe Book and it mesmerized me. I grabbed it up, started zipping through the pages and before I knew it, I was no longer shopping. (Not their intent, I'm sure).
I simply loved the cook book and all of the recipes inside. However, I realized most were not even close to being Weight Watchers friendly. So, I have recreated some of the recipes and turned them into my Weight Watchers inspired favorites.
I am sharing this Chicken Taco Casserole recipe with you here and I hope you will enjoy it as much as me and my family have.
WeightWatchers Chicken Taco Casserole 6 SmartPoints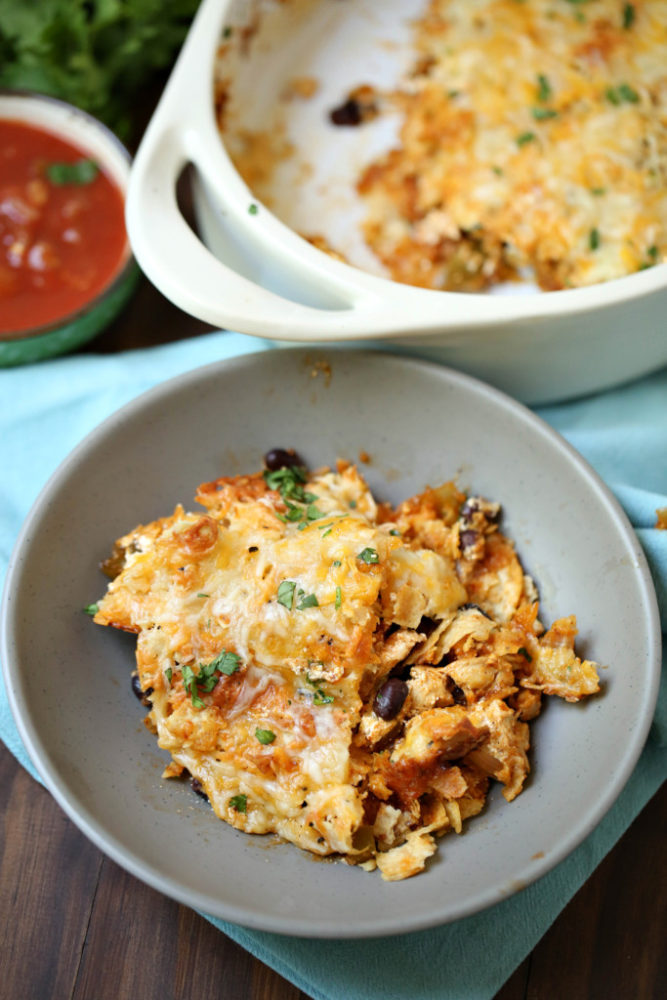 New to Weight Watchers? Use this free WeightWatchers Calculator. Also, check out this post to learn about to do WeightWatchers for FREE if you'd rather not sign up just now.
If you are looking for casseroles, here are some of my other favorite casserole dishes!!
If you love tacos, be sure to check out this super easy 2 point Taco Boats along with this 1 point Taco Casserole! Is taco night REALLY complete without some guacamole?? This recipe for creamy guac is only 2 points per serving and is delicious!
Don't forget to use my homemade salt-free taco seasoning if you are looking for ways to lower your salt intake. I always am as it blow me up like a balloon. You can feel free to substitute for store-bought, but still add the water for the recipe below.
RELATED: MUST HAVE Cooking Gadgets
Ingredients for Chicken Taco Casserole
2 C. Cooked Chicken or chicken substitute (like Gardein) I like to use tender chicken in this recipe but you can also substitute with lean ground turkey as your meat mixture if you prefer. (I look for the lowest fat content possible if I sub in the ground turkey.)
1/2 Onion
1/2 Bell Pepper
1 Packet Taco Seasoning + 1/4 C. Water (salt free recipe)
1 C. Low-Fat Tortilla Chips, crushed and divided
1 C. Nonfat Sour Cream (can be substituted with plain, non-fat Greek Yogurt or even non-fat cottage cheese)
1 C. Shredded Monterey Jack or cheddar cheese (fat-free/low fat)
1 C. Salsa (I like to add a little corn off the cobb to my salsa for crunch)
1/2 Can Black Beans or Pinto Beans (I've been asked about using refried beans in this recipe and I think it works better with a solid bean)
1/2 C. chopped, fresh tomato
1 fresh garlic close, chopped
Non fat cooking spray to prep bottom of casserole dish
A sprinkle of shredded lettuce or cilantro for crunch and garnish!
Heat oven to 350 degrees F and bake for 20 minutes.
Feel free to top with taco sauce if you need a little heat!
I find that a 2 quart casserole dish is a good size for this recipe
Weight Watchers Points for Chicken Taco Casserole
6 Servings (about 1 cup) – 6 Points each serving:
***I calculated this using Tostitos Bite size chips; also if you do not use nonfat sour cream or low/fat-free cheese, be sure to account for additional points. (Feel free to substitute non fat, plain Greek Yogurt for the sour cream. It has the same taste so if you like it, feel free to switch it out.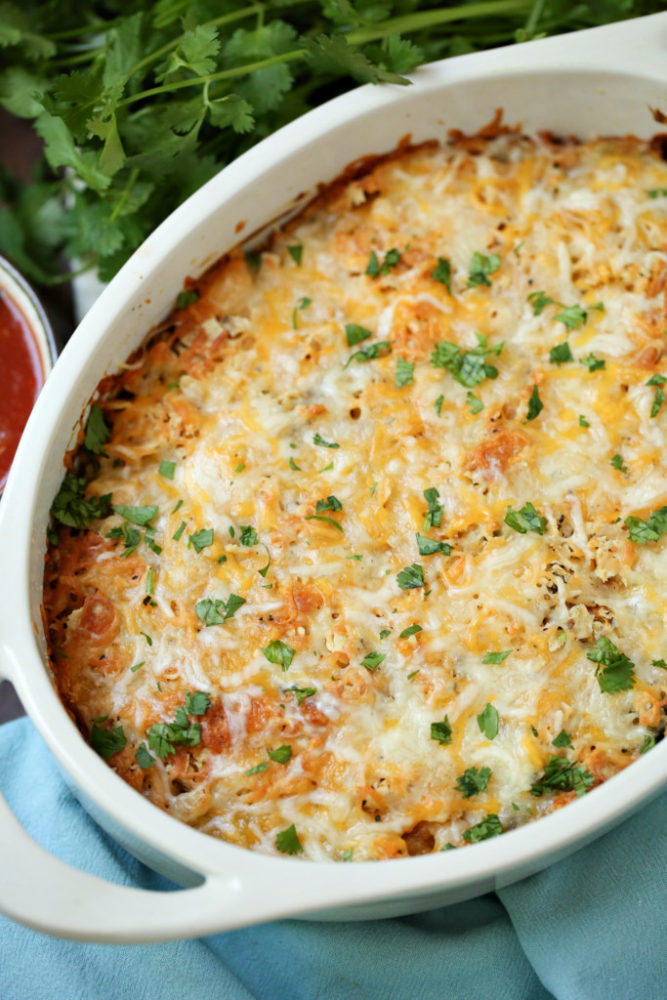 Directions:
Preheat oven to 350*. Spray the bottom and sides of a casserole dish or your favorite baking dish with non-stick cooking spray. These are some of my favorite baking dishes as they come in gorgeous colors of white, green, orange, blue and red. They are also pretty affordable and you get a set of four sizes!
If I'm being honest, my favorite is the blue!
Line the bottom the baking dish with half of the chips. You can break them or crumple them up a bit if you like.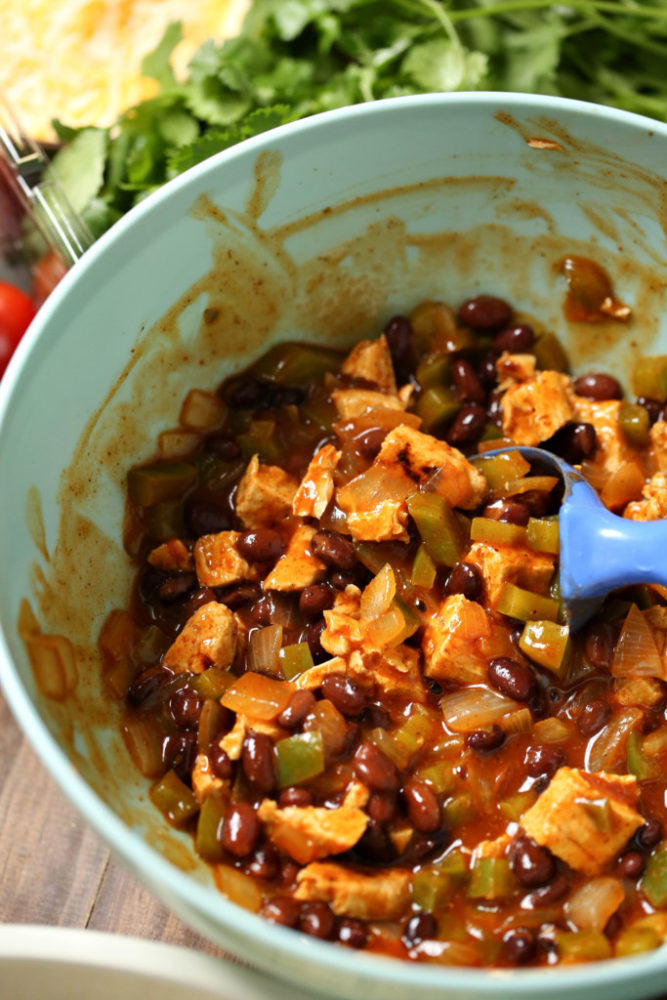 Now we are going to prepare the veggie mix. In a saute pan, heat a Tbsp of olive oil and cook the onion and garlic until translucent. Now toss in all of the veggies, beans, and chicken (or ground turkey, etc.).
Next you will add in the water, taco powder and make a sauce.
Stir together cooked vegetable mixture with the salsa (hot, medium or mild) and now we will layer the casserole.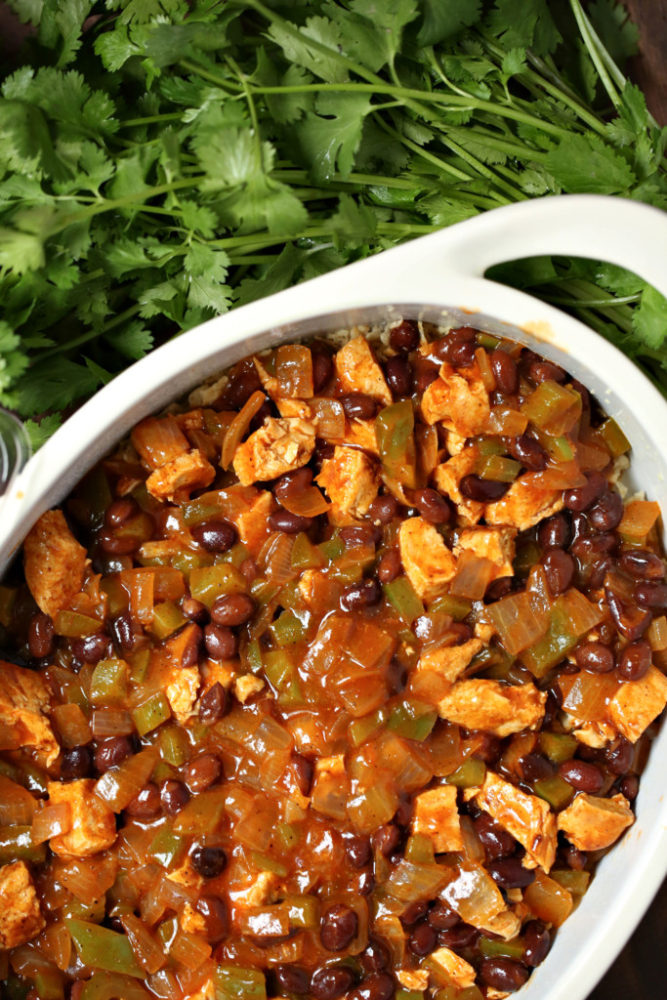 Spread 1/2 of the veggie mixture, over your tortilla chips, in your baking dish
Repeat this process, with the corn chips and veggie mixture, so you'll have two identical layers.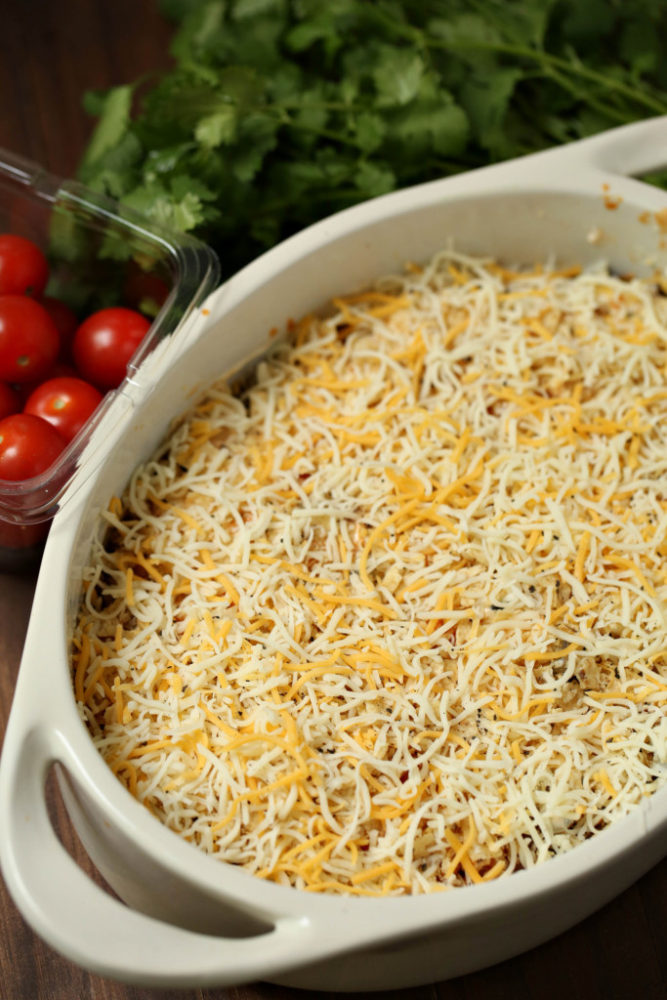 Now add the cheese to the top and bake the casserole at 350 degrees F for 20 minutes.
Take casserole out of oven and let sit 5 minutes prior to serving. Garnish with sour cream (or plain, Greek yogurt), and garnish with lettuce and/or cilantro to give it some color and crunch.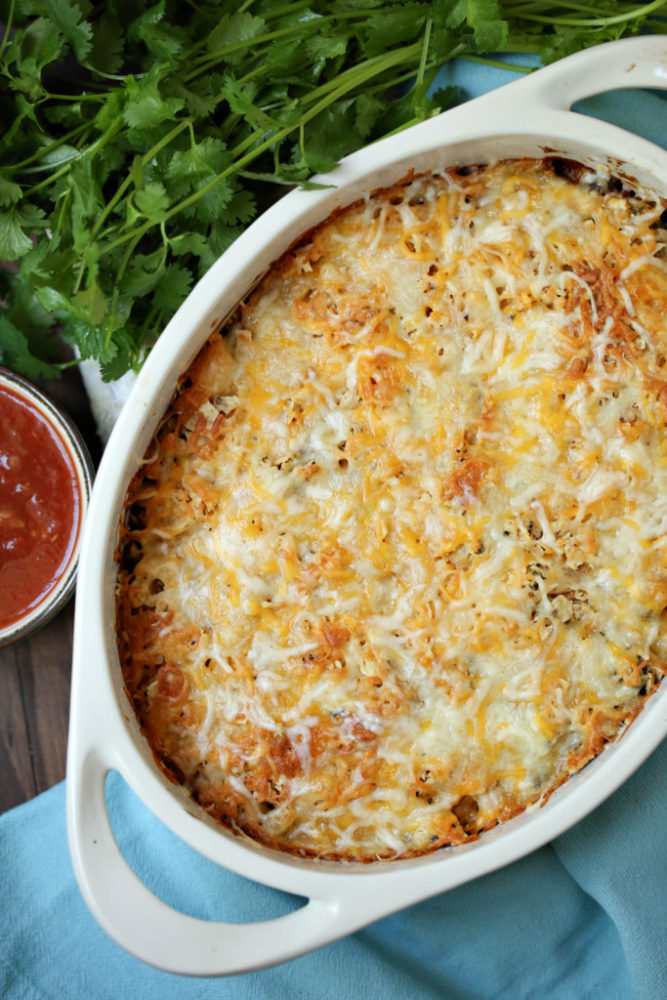 Another option is to substitute the tortilla strips with corn, taco size tortillas. Just layer them in instead of the chips. (Sometimes it's just nice to use what you have in the kitchen so if you already have tortillas, you can feel free to substitute.)
Total bake time is just 20 minutes. Servings are 1 cup. Points are 6 per serving.
Total prep time is about 20 minutes.
Be sure to let the taco casserole sit for about 5 to 10 minutes prior to serving. Top with your favorite hot sauce if you like spice.
Feel free to add a can of green chili's to the veggie mixture as well. They give it a very warm texture and delicious flavor!
While this dish is a casserole and not taco's, feel free to swap out the crushed tortilla strips with corn, taco tortillas (just layer them in the casserole dish) and make this a favorite taco Tuesday fave!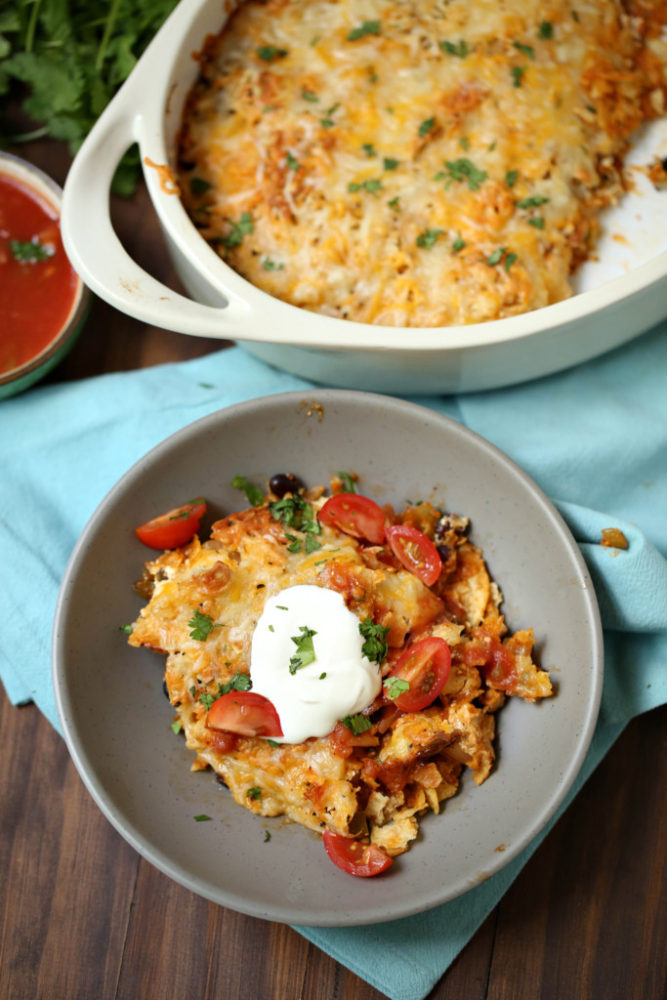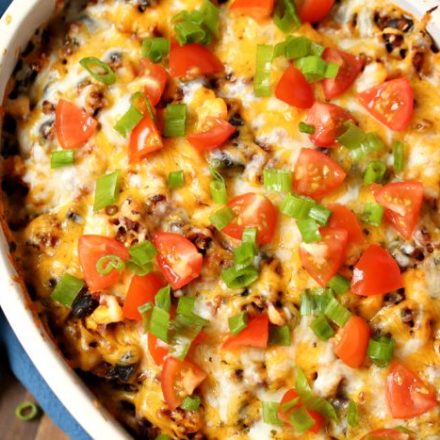 Weight Watchers Chicken Taco Casserole
This chicken taco casserole is too rich and delicious to be so healthy!
Print
Pin
Rate
Ingredients
2

C.

Cooked Chicken or Chicken Substitute

like Gardein

1/2

Onion

1/2

Bell Pepper

1

Packet Taco Seasoning + 1/4 C. Water

1

C.

Low-Fat Tortilla Chips

crushed and divided

1

C.

Nonfat Sour Cream

Sub with plain, non fat Greek Yogurt

1

C.

Shredded Monterey Jack

1

C.

Salsa

1/2

Can Black Beans or Pinto Beans

1

Clove

Chopped Garlic

1/2

C.

Chopped, Fresh Tomato

1

C.

Shredded Lettuce For Garnish

1-3

tbsp

Chopped, Fresh Cilantro For Garnish

8 oz Can

Green Chili's (optional)

For variety, mix in a can of green chilis.
Instructions
Preheat oven to 350*.

Spray casserole dish with non-stick cooking spray.

Line the bottom of a casserole dish with half of the chips.

Saute the delicious veggies, beans, and chicken with the taco powder and water, making a sauce.

Stir together cooked veggie mixture with salsa.

Spread that mixture over your tortilla chips.

Repeat this process, so you'll have two identical layers.

Add sour cream, top with cheese, and garnish with cilantro.

Bake at 350* degrees F for about 20 minutes.

Serve and Enjoy!
Share on Facebook
Weight Watchers Points
Blue and Purple: 3 points; Green: 5 points
Nutritional
Serving:
1
cup
|
Calories:
284.73
kcal
|
Carbohydrates:
10.63
g
|
Protein:
28.43
g
|
Fat:
14.09
g
|
Saturated Fat:
7.98
g
|
Cholesterol:
89.11
mg
|
Sodium:
650.95
mg
|
Potassium:
521.29
mg
|
Fiber:
1.07
g
|
Sugar:
2.74
g
|
Vitamin A:
942.83
IU
|
Vitamin C:
15.04
mg
|
Calcium:
361.33
mg
|
Iron:
0.78
mg
Nutritional information is provided as a reference, using an online calculator. We recommend verifying the information independently.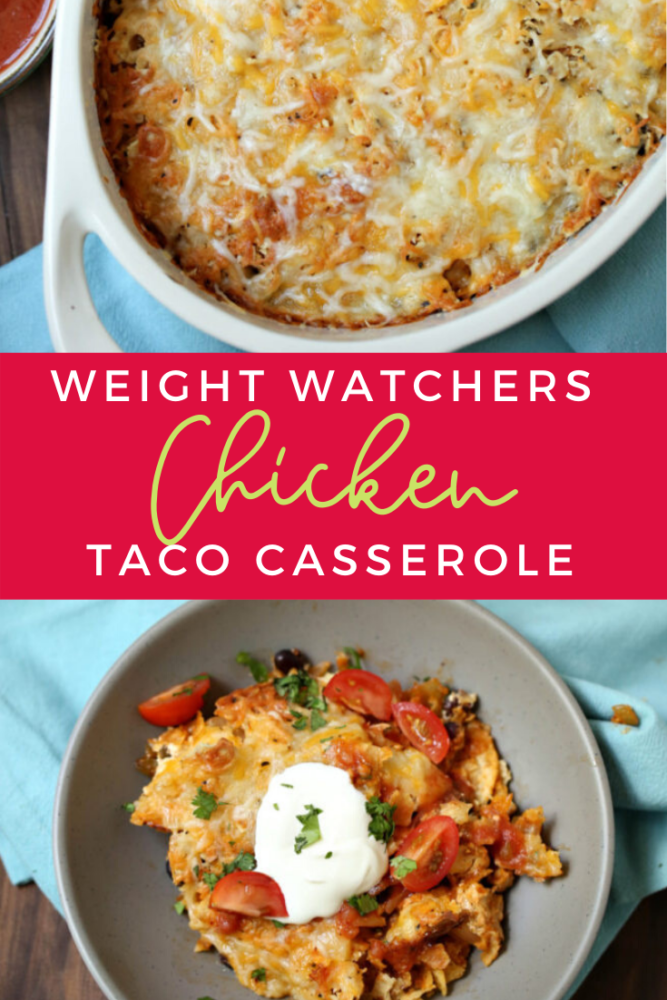 Come find me and JOIN my Weight Watchers Air Fryer & Instant Pot Facebook Recipe Group. We all know how hard it is to do it alone. We are a community of people who post recipes, share tips and ideas and inspire one another every day! We can't wait to meet you!!
Check the bottom of this page to Download my FREE WW Cookbook & Tips Guide. You will LOVE it!!
This is my ZERO Point food list. Book mark the page and refer back often. Loading your fridge and pantry with these ZERO point foods is tip #1 for weight loss success.
Meal plans help me stay on track. Here are some of my favorites!
Weight Watchers Meal Plan Week 4 + FREE Download and Shopping List!
Instant Pot Printable Meal Plan
Freestyle One Week Meal Plan
Free Printable Meal Plan
You simply MUST try my ZERO points Cheesecake Recipe
Have you made up a batch of my 2 Ingredients Dough yet? It's AMAZING stuff!! Use it to make low point bread bowls, pretzels, bread sticks, bagels, pizza crust, cinnamon rolls & more. Check out the Recipe Guide & Individual Recipes below:
To entice you, watch this Video for the 2 Ingredients Bagel Recipe – you will LOVE it – total YUM!!

2 Ingredient Dough Recipes
Ultimate 2 Ingredient Dough Guide
2 Ingredient Dough Pizza
2 Ingredient Dough Pot Pie
2 Ingredient Dough Pop Tarts
2 Ingredient Dough Cinnamon Rolls
2 Ingredient Dough Bread Bowls
2 Ingredient Dough Empanadas
Make sure you check out and grab our printable shopping lists below to make it easy when you are in store to grab the best WW FreeStyle friendly foods and snacks!
Costco Shopping List
Weight Watchers Walmart Shopping List
Weight Watchers Target Shopping List
Weight Watchers Aldi Shopping List
Weight Watchers Trader Joe's Shopping List
Ever panic and wonder what to eat at your favorite restaurants? Well, I do too! That's why I created and LOVE my restaurant guides. Check them out here and be sure to email me and let me know any others you'd like to see:
Subway Weight Watchers
Cracker Barrel Weight Watchers
Chic Fil A Weight Watchers
Chipotle Weight Watchers
Olive Garden Weight Watchers
Red Robin Weight Watchers
Taco Bell Weight Watchers
P.F. Chang's
Texas Roadhouse