Costco Weight Watchers Shopping List + FREE Printable!
This post may contain affiliate links. Please read my Disclaimer and Privacy policy for more information.
Your grocery trip just got easier with this Costco Weight Watchers Shopping Guide. All the things you must have when shopping at Costco with Weight Watchers points included. Don't forget your FREE download for the printable Costco list!
When you are on Weight Watchers, especially if you are a beginner, grocery shopping can be a nightmare! There are so many choices and you spend half day scanning food to find out they are NOT in your point range. This Costco Weight Watchers shopping list includes ZERO-point foods that can be found at most stores, but also Weight Watchers food items that can be found exclusively at Costco.
New Costco members can use this LINK to save $20
All point values listed are based off of the Weight Watchers Freestyle Program and are in Smartpoints. Just know that some items may only be available in certain regions, that's not me that's Costco!
Looking for more info on Weight Watchers? Check out these Top Posts! 
How to Get Back on Track 
How To Do WW for Free Until You Can Afford to Sign Up 
7 Ways to Break Through a Weight Loss Plateau
Here are some other shopping guides you may find helpful!
Weight Watchers Walmart Shopping List
Weight Watchers Target Shopping List
Weight Watchers Aldi Shopping List
Weight Watchers Trader Joe's Shopping List
Also, if you are meal planning, check out these! They are weekly meal plans with all Weight Watcher friendly foods with FREE downloads!
Instant Pot Printable Meal Plan
Freestyle One Week Meal Plan
Free Printable Meal Plan
Weight Watchers Meal Plan Week 4 + FREE Download and Shopping List!  
Related: 50+ Weight Watchers Snack Ideas Under 6 points!
Costco Weight Watchers Shopping List

Be sure to Pin on Pinterest to save for later! 
Costco Weight Watchers Zero Point Foods
Tyson Blackened Chicken Strips (3 oz for ZERO points)
Cilantro Lime Shrimp (ZERO points)
Crepini Egg Thins (ZERO points)
Cauliflower Rice Packs (not frozen, ZERO points per pouch)
**Again, don't forget all of the ZERO-point foods like chicken, shrimp, fruits, veggies, etc. Grab the list here!
If you are looking for ZERO-point meals be sure to check out the delicious Taco Soup, How to Make Boiled Eggs in the Instant Pot, ZERO point cheesecake, and the 2 Ingredient ZERO point Pancakes!
Costco Weight Watchers 1 Point Foods
Bibigo Fully Cooked Chicken and Cilantro Wontons (4 for 1 point)
West End Mediterranean Chicken Skewers (2 skewers for 1 Point)
TonTon Ginger Dressing & Marinade (2 tbsp for 1 point)
Alouette Spreadable Cheese, Pumpkin Spice (1 point per serving)
Jones Fully Cooked Chicken Sausage (2 links for 1 point)
Sugarhouse Maple Chicken Sausage (1 point per link)
Kirkland Organic Salsa (2 Tbsp for 1 point)
Kirkland Organic Unsweetened Vanilla Almond Milk (1 Cup for 1 point)
B!bgo Steamed Dumplings (1 point per dumpling)
Mango Salsa (2 tbsp for 1 point)
Laughing Cow Lite Swiss Cheese wedges (1 point)
Here are a few Weight Watcher friendly dishes that are ONLY 1 point!
Chicken Stuffed Jalapeno Peppers
Costco Weight Watchers 2 Points Foods
Robert Irvine's Fit Crunch Protein Puffs (like cheese balls) (1 cup for 2 points)
Kirkland Signature Chicken Tortilla Soup (1 Serving is 2 points)
Don Lee Farms Chicken Patties (2 points per patty)
Cedar Lane Vegetable and Barley Soup (1 cup is 2 points)
Premier Protein Shakes (2 points)
Dave's Killer Bread Good Seed, Thin sliced (1 slice for 2 points)
If you are grabbing Premier Protein shakes, check out the 2 Point Starbucks Drink and Starbucks Copy Cat Pumpkin Spice Latte
Costco Weight Watchers 3 Points Foods
Garden Lites Spinach Egg White Frittatas (2 for 3 points)
Good Foods Tzatziki Style Chicken Salad (3 points per cup)
Salmon Spread (2tbsp for 3 points)
Good Thins Sea Salt (41 for 3 points)
Skinny Pop Popcorn, individual bags (3 points per bag)
Recipe Ideas for only 3 Smartpoints:
Costco Weight Watchers 4 Points Foods
Off the Eaten Path Chickpea and Veggie Crisps (15 for 4 points)
Kodiak Pancake Mix (4 Points)
Pop Corners chips (3-4 points depending on variety)
From the Ground Up Cauliflower Crackers (44 chips for 4 points)
Animal Crackers (16 for 4 Points)
Kirkland Signature Organic Tortilla Chips (14 Pieces for 4 points)
**Use your Kodiak Mix to make 4 Point Pumpkin Muffins!
Costco Weight Watchers 5 + Points Foods
Kirkland Protein Bars (5 points)
Aidells Chicken Teriyaki Meatballs (4 Meatballs for 5 points)
Kirkland Brown Rice and Quinoa (6 points per bag)
Jimmy Deans Egg, Turkey Sausage Breakfast Biscuits (7 points)
PRINT YOUR SHOPPING LIST HERE, OR CLICK THE IMAGE BELOW TO START YOUR DOWNLOAD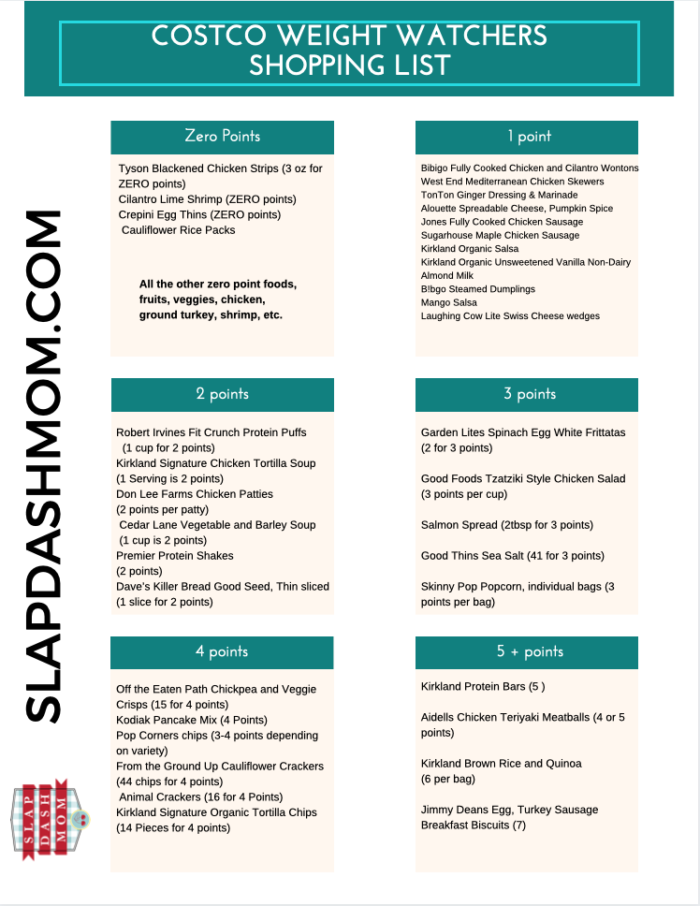 SHARE: WHAT IS YOUR FAVORITE WEIGHT WATCHERS FRIENDLY FOOD FROM COSTCO?
Come find me and JOIN my Weight Watchers Air Fryer & Instant Pot Facebook Recipe Group. We all know how hard it is to do it alone. We are a community of people who post recipes, share tips and ideas and inspire one another every day! We can't wait to meet you!!
Check the bottom of this page to Download my FREE WW Cookbook & Tips Guide. You will LOVE it!!
This is my ZERO Point food list. Book mark the page and refer back often. Loading your fridge and pantry with these ZERO point foods is tip #1 for weight loss success.
You simply MUST try my ZERO points Cheesecake Recipe
Have you made up a batch of my 2 Ingredients Dough yet? It's AMAZING stuff!! Use it to make low point bread bowls, pretzels, bread sticks, bagels, pizza crust, cinnamon rolls & more. Check out the Recipe Guide & Individual Recipes below:
To entice you, watch this Video for the 2 Ingredients Bagel Recipe – you will LOVE it – total YUM!!

2 Ingredient Dough Recipes
Ultimate 2 Ingredient Dough Guide
2 Ingredient Dough Pizza
2 Ingredient Dough Pot Pie
2 Ingredient Dough Pop Tarts
2 Ingredient Dough Cinnamon Rolls
2 Ingredient Dough Bread Bowls
2 Ingredient Dough Empanadas
Ever panic and wonder what to eat at your favorite restaurants? Well, I do too! That's why I created and LOVE my restaurant guides. Check them out here and be sure to email me and let me know any others you'd like to see:
Subway Weight Watchers
Cracker Barrel Weight Watchers
Chic Fil A Weight Watchers
Chipotle Weight Watchers
Olive Garden Weight Watchers
Red Robin Weight Watchers
Taco Bell Weight Watchers
P.F. Chang's
Texas Roadhouse