Ultimate 2 Ingredient Dough Guide | Recipes and Tips
2 Ingredient Dough is super simple to make and the options are endless! This dough is Weight Watchers friendly, freezer-friendly, and makes a ton of different foods!
I've made so many things with 2-ingredient dough, I should probably write a cookbook or something LOL.
If you haven't heard of 2 Ingredient dough, it's basically the best thing since sliced bread! Being a carb lover and being on Weight Watchers really poses a problem! So that's where 2 ingredient dough really comes in handy!
Pretty much anything that has a crust or that is typically made from bread you can make it with this dough. Depending on if you are craving sweets or something savory, you can change up the spices to put your twist on it!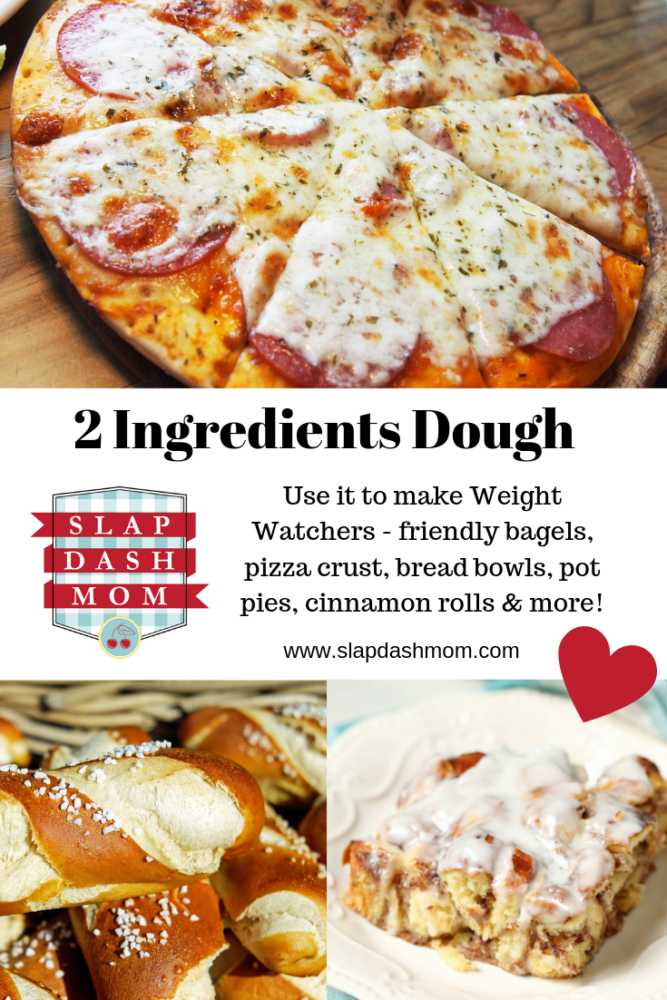 2 Ingredients Dough Guide
PIN IT & BOOKMARK THIS PAGE!!
Ultimate 2 Ingredient Dough Guide
The dough itself is only two ingredients, but you may want to add additional seasonings and spices, etc to make it taste different for different recipes. From pizza to donuts, you can make pretty much anything with this versatile dough!
How to Make 2 Ingredient Dough
Use self-rising flour and non-fat Greek yogurt. If you don't have self-rising flour, you'll need to add baking powder (2 teaspoons), xantham gum (1 teaspoon), and salt (1/2 teaspoon) to make 2 ingredient dough without it. Makes it 5 ingredient dough but I won't tell anyone. [caption id="attachment_95789" align="aligncenter" width="700"]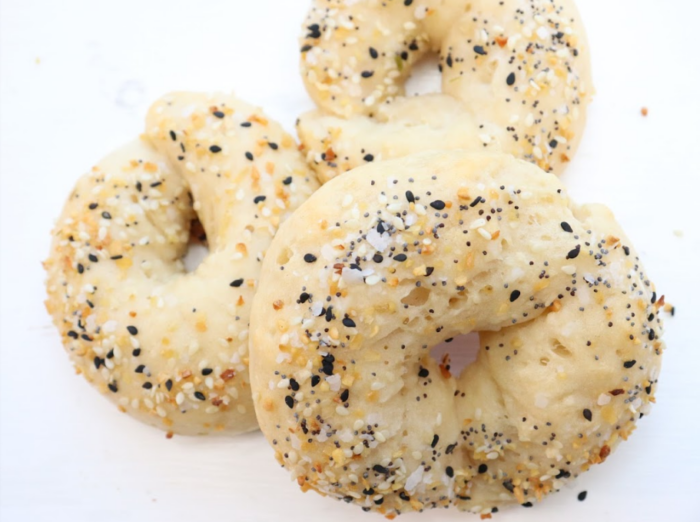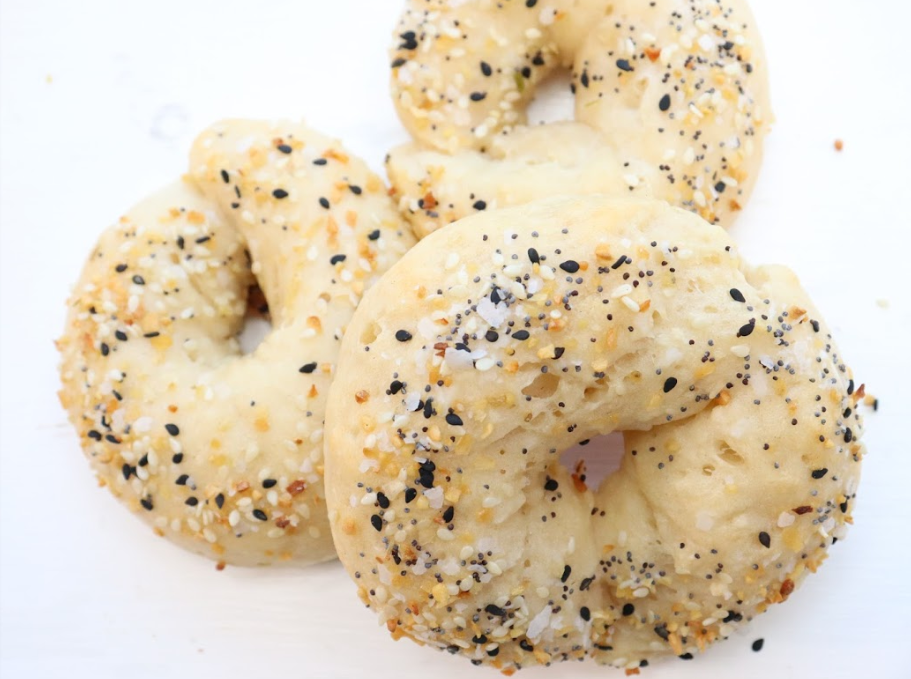 WW 2 Ingredients Bagel Recipe
What Can I Make with 2 Ingredient Dough?
Like I said before you can substitute 2 Ingredient dough for most any bread, but here are some starter recipes for you! SCROLL TO THE BOTTOM FOR 2 INGREDIENT DOUGH VIDEOS!
2 Ingredient Dough Bagels – Add onion powder and sesame seeds for an "everything" bagel, add chocolate chips for a sweet treat.
2 Ingredient Dough Empanadas – Could use this recipe to make savory empanadas for dinner or sweet empanadas for dessert!
2 Ingredient Dough Bread Bowl – Use with this Weight Watchers friendly soup.
2 Ingredient Dough Cinnamon Rolls
2 Ingredient Dough Pop Tarts
2 Ingredient Dough Pot Pie
2 Ingredient Dough Pizza
2 Ingredient Dough Soft Pretzels– Don't forget the Beer Cheese Dip!
2 Ingredient Dough Calzones
How Long Does 2 Ingredient Dough Last?
Keep it in a Tupperware container in the refrigerator for up to 10 days.
Can You Make 2 Ingredient Dough Gluten-Free?
There are gluten-free flour alternatives that are 1:1 ratio and great for baking, but that doesn't necessarily mean they're the best option for 2 ingredient dough.
In order to make this dough gluten-free, you can use Bob's baking flour with add 2 teaspoons baking powder, 1 teaspoon xantham gum, and 1/2 teaspoon salt, to get the same consistency. Of course, you no longer have two ingredients in the dough, but that's okay. It's now gluten-free and it tastes great!
How to Make 2 Ingredient Dough Dairy-Free
You can use coconut milk yogurt in place of the Greek yogurt to make this 2 ingredient dough dairy-free, just make sure you count the points if you're on Weight Watchers.
How to Make 2 Ingredient Dough Taste Better
The only complaint I've heard about the 2 ingredient dough is that it tastes "sour". I always add so much flavor to mine that I don't notice that taste! The best way to get rid of the sour taste from the yogurt is to add spices or seasonings of some sort.
For example, if you're making donuts or any type of dessert, you can add vanilla, cinnamon, or other similar flavors.
If you're making pizza dough or breadsticks, add garlic and red pepper.
Of course, adding ingredients means adding points if you're not careful, so make sure you're counting everything you add if you are on Weight Watchers.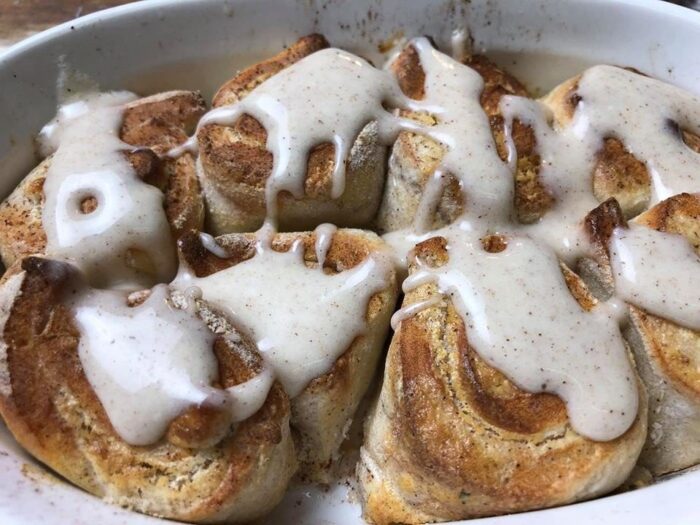 2 Ingredient Dough Cinnamon Rolls
Troubleshooting 2 Ingredient Dough
2 ingredient dough too dry? Add more yogurt, a teaspoon at a time, until the right consistency is achieved.
2 ingredient dough sticky? Add more self-rising flour, a tablespoon at a time, until the right consistency is achieved. Always be sure to work on a well-floured surface so the dough doesn't stick.
Does your dough taste sour? Add more spices!
Weight Watchers Points Information
One Cup of Dough is a total of 12 Points. For example, 1 cup of dough will make 4 small/individual pizza crusts. So, each crust (assuming you quarter it) would be 3 points. I hope that makes sense. 1/4 of the dough equals 3 points! All point values through this post are listed for the Freestyle plan for Weight Watchers.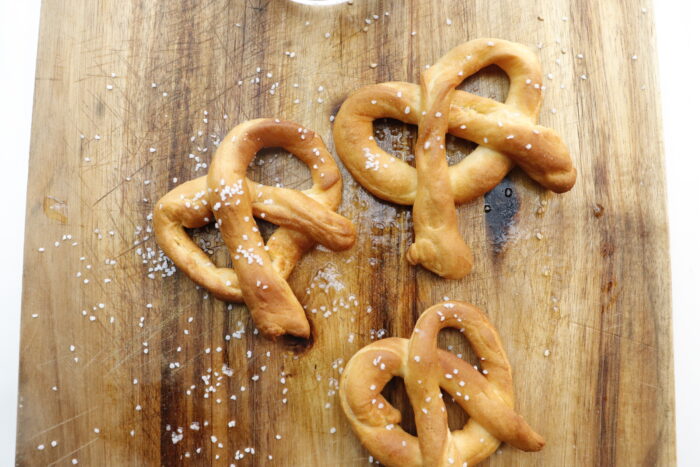 2 Ingredient Dough Soft Pretzels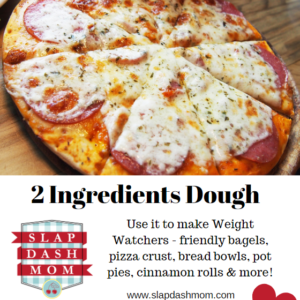 2 Ingredient Dough
Serving size and nutritional values vary depending on what recipe you are using the dough for. Please see individual recipes below for recommendations!
Print
Pin
Rate
Ingredients
1

cup

self-rising flour

1

cup

non-fat greek yogurt

I recommend Fage
Instructions
Mix ingredients together in a bowl.

Knead on a floured surface.
Share on Facebook
Weight Watchers Points
Blue 3, Purple, 2, and Green 2.
Nutritional
Serving:
1
g
|
Calories:
569.25
kcal
|
Carbohydrates:
97.86
g
|
Protein:
35.36
g
|
Fat:
2.86
g
|
Saturated Fat:
0.54
g
|
Cholesterol:
10
mg
|
Sodium:
74.5
mg
|
Potassium:
407
mg
|
Fiber:
3
g
|
Sugar:
6.87
g
|
Calcium:
238.75
mg
|
Iron:
1.13
mg
Nutritional information is provided as a reference, using an online calculator. We recommend verifying the information independently.
Videos for 2 Ingredient Dough Recipes
2 Ingredient Dough Bread Bowls
***If you need more information on Air Fryers, check this out! Also, if you wanna see some other kitchen gadgets I use to make life easier, head over here!
Check the bottom of this page to Download my FREE WW Cookbook & Tips Guide. You will LOVE it!!
This is my ZERO Point food list. Book mark the page and refer back often. Loading your fridge and pantry with these ZERO point foods is tip #1 for weight loss success.
Meal plans help me stay on track. Here are some of my favorites!
Weight Watchers Meal Plan Week 4 + FREE Download and Shopping List!
Instant Pot Printable Meal Plan
Freestyle One Week Meal Plan
Free Printable Meal Plan
You simply MUST try my ZERO points Cheesecake Recipe
Have you made up a batch of my 2 Ingredients Dough yet? It's AMAZING stuff!! Use it to make low point bread bowls, pretzels, bread sticks, bagels, pizza crust, cinnamon rolls & more. Check out the Recipe Guide & Individual Recipes below:
To entice you, watch this Video for the 2 Ingredients Bagel Recipe – you will LOVE it – total YUM!!

Make sure you check out and grab our printable shopping lists below to make it easy when you are in store to grab the best WW FreeStyle friendly foods and snacks!
Costco Shopping List
Weight Watchers Walmart Shopping List
Weight Watchers Target Shopping List
Weight Watchers Aldi Shopping List
Weight Watchers Trader Joe's Shopping List
Ever panic and wonder what to eat at your favorite restaurants? Well, I do too! That's why I created and LOVE my restaurant guides. Check them out here and be sure to email me and let me know any others you'd like to see:
Subway Weight Watchers
Cracker Barrel Weight Watchers
Chic Fil A Weight Watchers
Chipotle Weight Watchers
Olive Garden Weight Watchers
Red Robin Weight Watchers
Taco Bell Weight Watchers
P.F. Chang's
Texas Roadhouse