SlapDashMom MUST HAVE Kitchen Gadgets List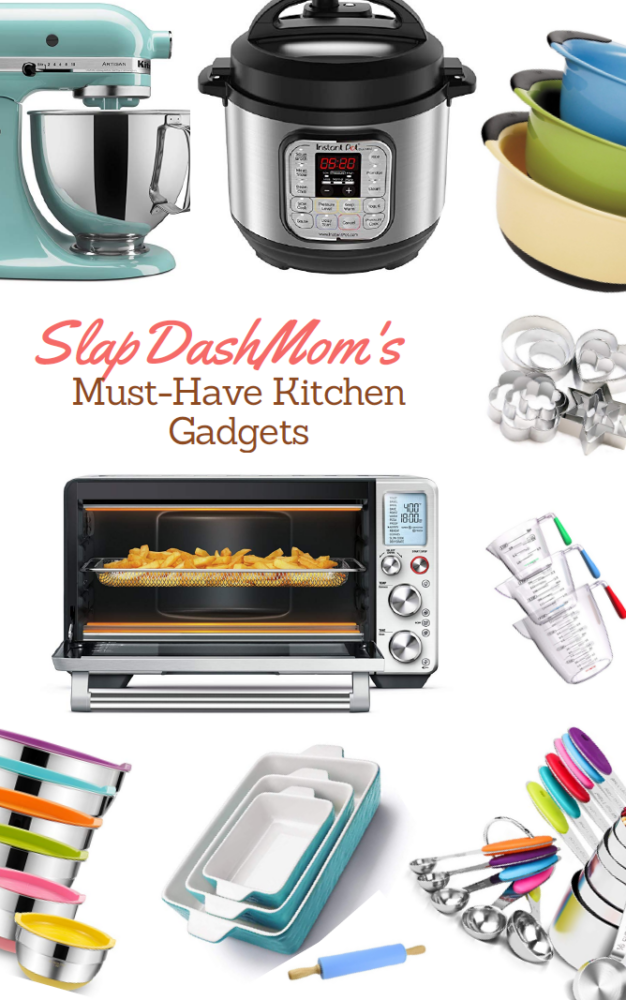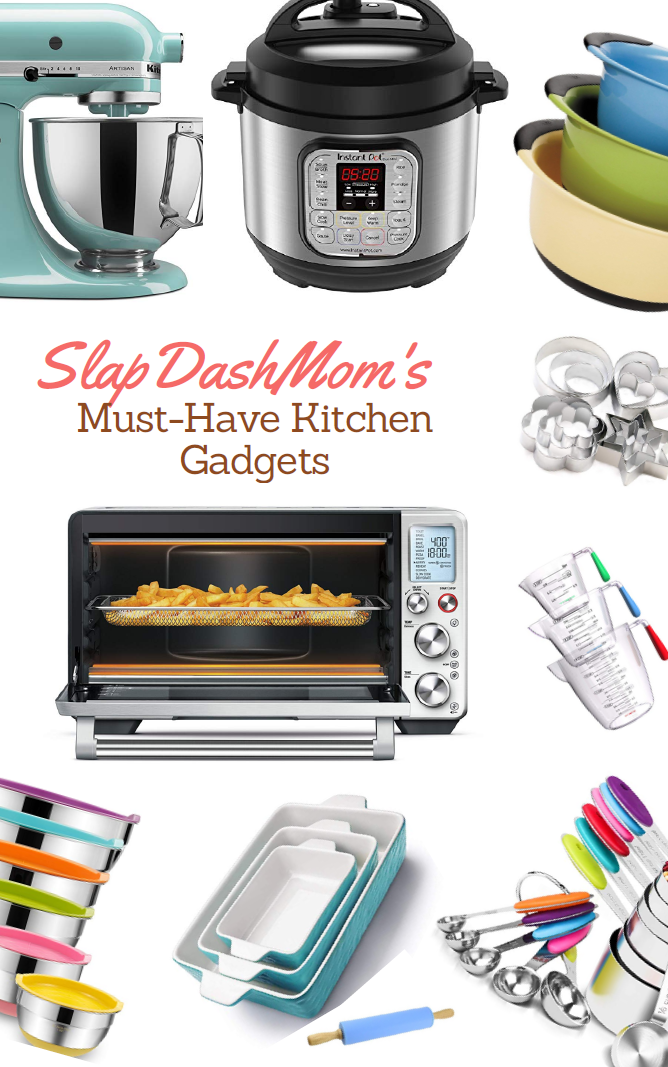 I have a passion for cooking and an obsession for accessories and cooking tools! This post shows some of my favorite appliances and cooking gadgets that are used at Slap Dash Mom.
If you are on the fence about purchasing an Instant Pot or Air Fryer, you have come to the right place!
One thing I get asked about in my Facebook Group is what type of Instant Pot should I get and what size? I do my best to answer your questions below.
FAQs about Instant Pots (IP)
What size IP do I start with?
I can tell you honestly that I have three. I started out with the 8 quart, the super large one and that is really wonderful for large meals. I then decided I needed a second one, the 3 quart or smallest, so I could make potatoes or a vegetable side dish while cooking my main course. That worked out perfectly as well. But I became so fond of my Instant Pots that I didn't want to use my oven anymore – like ever. So I purchased the mid-size 6 quart IP so I can make a batch of oatmeal or cream of wheat in the morning, and keep it warm all day for breakfast and lunch if we so choose. Then, I use my larger one if I am making dinner and the smallest for a side dish.
If I have an Instant Pot, do I also need an Air Fryer?
Although you can make many of the same dishes in both, they are really different gadgets. I have both. I use both and I love both. I'd start with one. I started with the Instant Pot and purchased the Air Fryer about 6 months later. I don't regret either one. Today I have three Instant Pots and one Air Fryer and I use all of them every week. It's fair to say I don't need a wall oven!!
I don't recommend you buy 3, not right away anyway! If I were starting out, I'd buy the mid-size or six quart IP. Most are the same and all have the manual function, which I use most often. The BIG difference to note is the yogurt feature. If you make a lot of yogurt, or plan to, I'd probably make sure I get the IP with the yogurt button. If not, any Instant Pot will do.
Is there a difference between a pressure cooker and an Instant Pot?
No, Instant Pot is just a brand name for a certain pressure cooker, while others have been around for decades.
More about Instant Pots
One reason that Instant Pot has become my favorite pressure cooker is that it is multifunctional. Not only does it pressure cook food, but you can also use it as a slow cooker, steamer, a warmer, rice cooker, yogurt maker, and sauté with it too! So, with just this one tool, you can free up space and get rid of other tools.
Not only are the multi-functions of the Instant Pot super convenient, but in comparison to older models of pressure cookers, the ones we feature here use a stainless-steel insert or inner pot. The Instant Pot is also programmable, affordable, and easy to clean!
Here are the different series of instant pots.
If you are looking to preview some recipes for the Instant Pot, head over here! 
MUST HAVE Instant Pot Accessories
Another cool thing about the Instant Pot is that they have all kinds of little gadgets to make cooking easier and getting the most out of your Instant Pot!
 Stackable Egg Rack – Make more eggs in your Instant Pot with this handy rack!
Steamer Basket – This is my favorite! Perfect for steaming veggies and it makes it easy to get them out to put on the dinner table
Slow Cooker Lid – Perfect when you are slow cooking to perfection!
Spring Form Pan– If you plan on making cheesecakes, which you totally should, don't forget this pan!
Loaf Pan – Awesome for bread, meatloaf, and cakes!
Yogurt Cups – If you haven't tried making yogurt yet, you should get started!
Air Fryers
With Air Fryers being all the rage now, there are so many options! But I highly recommend this Breville if you have the counter space. Like the instant pot, it is multifunctional, and you may be able to get rid of your old toaster, dehydrator, and maybe your oven! Okay, just kidding about the oven part :)
The Breville Smart Oven Air has 13 functions, a digital display, and can hold a 13-inch pizza or 12 muffins! Click here to see all the features!
So Breville is also keeping the people who have limited space in mind with this mini version!
Breville Pizza Pan – I couldn't believe this thing could fit a whole 12-inch pizza in it! Here is the pan to make sure your pizza is perfect every time!
If you aren't totally sold on the whole air fryer thing you may want to try this one. This Air Fryer by Phillips is only an air fryer (it uses a basket), a little smaller than the larger Breville, and perfect for smaller spaces and portions. So if you don't need the small oven and toaster features, and just want to air fry, this could be the perfect model for you.
We have quite a few Air Fryer recipes too, check them out! It's a fresh new way to eat healthy and still indulge in "fried food"!
If you want to know more about choosing the right air fryer for you, we have a comprehensive guide here!
Baking Dishes
While many of the recipes on Slap Dash Mom are Instant Pot and Air Fryer friendly, there are some traditional ones that I still need to use my regular oven for. Seriously, you can NEVER have enough baking dishes. I also use these a lot when we are entertaining.
If you like storing leftovers in the dish or if you are carrying food to a party or gathering you may prefer these that come with lids!
Measuring Cups and Spoons
Obviously, when I am cooking I need measuring utensils. Here are the ones that I use and really enjoy.
If your utensil drawer is overcrowded, you can also opt for these dishwasher safe space savers.
Food Processor
Cuisinart is one of my favorite brands when it comes to kitchen tools. Their products last forever! This food processor comes with all the essential attachments!
Mixing bowls
So, I am a fan of anything that can go in the dishwasher! This is actually one of the first things I look for when buying kitchen stuff. I recently grabbed the ones below to add to my collection and I really like them because they are easy to grab and they clean up like a dream!
Mixers
Anytime I am baking and need to use a mixer, I prefer stand mixers like the one seen below. These are great because I can turn it on, mix up a dressing or frosting or check on something else I'm working on and then come back to the mixer. I literally just turn it on and go! They also come in cute colors!
There are other recipes where I use the hand mixer, especially if it's for a quick dinner or a smaller quantity of ingredients.
Blender
If you are trying to lose weight, just a smoothie lover or even a margarita fan, a blender is a must-have item. We drink a lot of smoothies and homemade protein shakes in our house. I also grind up a lot of flax, chia and goji berries in our drinks so a powerful and easy to clean mixer just makes sense. I really like this one and know you will too.
Rolling pin
I know it's not 1950 anymore and most of the younger generation probably do not own a rolling pin, but if you have seen the 2-ingredient dough recipes on Slap Dash Mom; it makes it WAY easier!
If you haven't seen the 2-Ingredient Dough recipes you can find those here! This dough can be used to make pizza, bagels, pop tarts, and MORE!
Other Cool Kitchen Gadgets
If you have any questions about the products listed, let me know! What's your favorite kitchen tool that you couldn't live without? Email me at [email protected] and let me know. You never know, it just might get added to my list!!!
Come find me and JOIN my Weight Watchers Air Fryer & Instant Pot Facebook Recipe Group. We all know how hard it is to do it alone. We are a community of people who post recipes, share tips and ideas and inspire one another every day! We can't wait to meet you!!
Check the bottom of this page to Download my FREE WW Cookbook & Tips Guide. You will LOVE it!!
This is my ZERO Point food list. Book mark the page and refer back often. Loading your fridge and pantry with these ZERO point foods is tip #1 for weight loss success.
Meal plans help me stay on track. Here are some of my favorites!
Instant Pot Printable Meal Plan
Freestyle One Week Meal Plan
Free Printable Meal Plan
You simply MUST try my ZERO points Cheesecake Recipe
Have you made up a batch of my 2 Ingredients Dough yet? It's AMAZING stuff!! Use it to make low point bread bowls, pretzels, bread sticks, bagels, pizza crust, cinnamon rolls & more. Check out the Recipe Guide & Individual Recipes below:
To entice you, watch this Video for the 2 Ingredients Bagel Recipe – you will LOVE it – total YUM!!

2 Ingredient Dough Recipes
Ultimate 2 Ingredient Dough Guide
2 Ingredient Dough Pizza
2 Ingredient Dough Pot Pie
2 Ingredient Dough Pop Tarts
2 Ingredient Dough Cinnamon Rolls
2 Ingredient Dough Bread Bowls
2 Ingredient Dough Empanadas
Make sure you check out and grab our printable shopping lists below to make it easy when you are in store to grab the best WW FreeStyle friendly foods and snacks!
Weight Watchers Walmart Shopping List
Weight Watchers Target Shopping List
Weight Watchers Aldi Shopping List
Weight Watchers Trader Joe's Shopping List
Ever panic and wonder what to eat at your favorite restaurants? Well, I do too! That's why I created and LOVE my restaurant guides. Check them out here and be sure to email me and let me know any others you'd like to see:
Chipotle Weight Watchers
Olive Garden Weight Watchers
Red Robin Weight Watchers
Taco Bell Weight Watchers
P.F. Chang's
Texas Roadhouse