Instant Pot Bread Pudding – Only 2 Weight Watchers Points!! (Freestyle)
As my 16 year old would say, I'm "low-key" freaking out about this Instant Pot Bread Pudding! I am obsessed with my Instant Pot of course because, hello lazy Mom here, but being able to use the Instant Pot while following the Weight Watchers program? Mind. Blown.
Have you started the Weight Watchers Freestyle program yet? If so, I hope you're loving it as much as I am! I lost 50 pounds and am on my way to losing another 50, by eating delicious food like this 2 Point Bread Pudding. I love this program so much, because there's no "you can't eat that"… you can eat whatever you want, within moderation, as long as you track it! If you're struggling to stay within your daily points, check out the Zero Point food list.
Don't have an Instant Pot? Check out this post for a guide to help you choose the right one! Here's another great post to use as a guide and for more recipes! Below is one of my favorites!
Instant Pot Bread Pudding – 2 Weight Watchers SmartPoints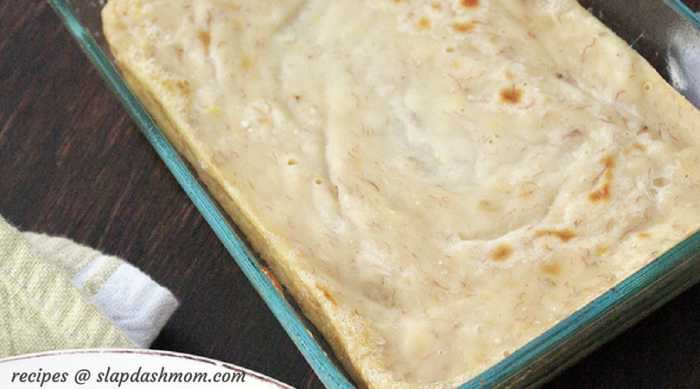 Ingredients:
1 cup self rising flour
1 cup non-fat yogurt
1 ripe banana
1/2 teaspoon cinnamon
non-stick spray
3 cup pyrex rectangular dish
Aluminum Foil
SERVES 6!!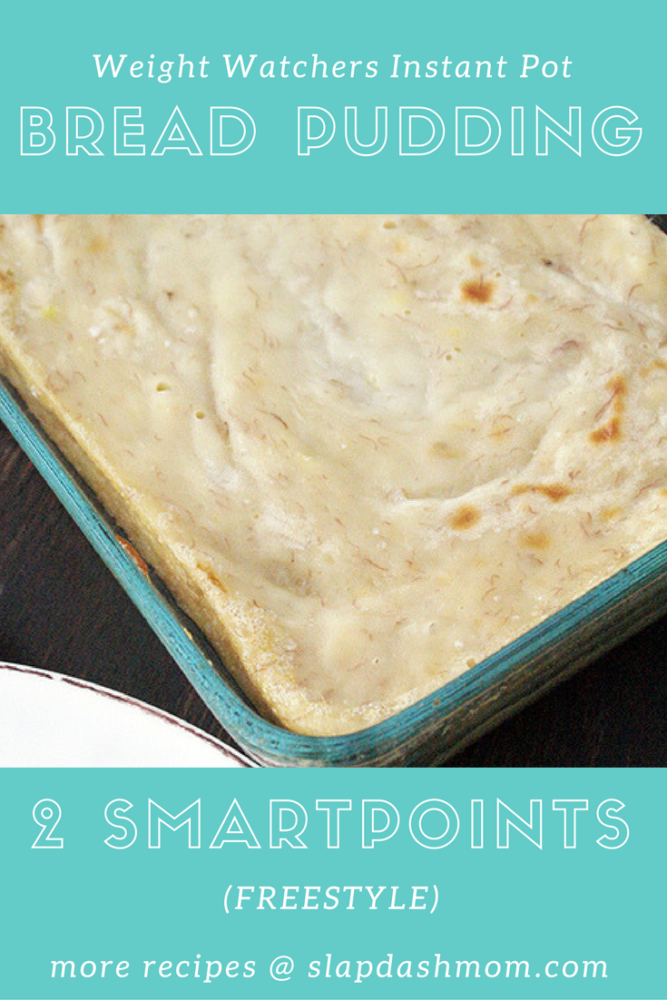 See DIRECTIONS below with full recipe.
Notes:
1. This Instant Pot bread pudding tastes amazing when its warm-hot! You can store in the fridge, but I recommend heat it in the microwave for better flavor and texture. 15-20 seconds in the microwave should be more than enough time.
2. I placed mine in the toaster oven for 5 minutes to brown the top!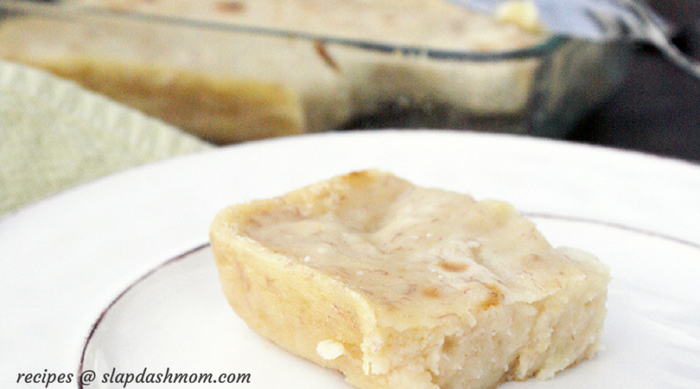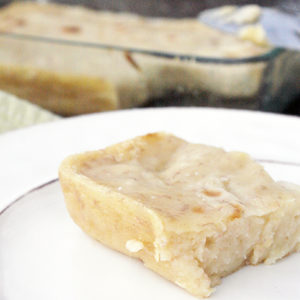 Ingredients
1

cup

self rising flour

1

cup

non-fat yogurt

1

ripe banana

1/2

teaspoon

cinnamon

non-stick spray

3

cup

pyrex rectangular dish

Aluminum Foil
Instructions
In a medium sized bowl, mash banana with a fork. Then add yogurt and cinnamon. Mix well with fork.

Add self rising flour, and mix until flour and mixture is well absorbed.

Use non-stick spray on oven safe pyrex dish. Pour batter into dish.

Pour 2 cups of warm water into bottom of your IP, and then place your trivet inside.

Place dish on top of trivet. Please foil on top of dish in dome shape. If you don't create a dome shape, the batter will touch the top of the foil, and stick to it. You can use non-stick spray to help with this, but the foil is there to stop extra moistures from dropping on top of it.

Place vent into closed position. Place on High Manual Pressure for 20 minutes. Allow to NPR for 12 minutes. Quick release remaining pressure. Remove lid at an angle is to not get the water droplets from the lid onto your pudding mixture. Remove foil, and allow pudding to cool for 2 minutes before removing the trivet from it.
Share on Facebook
Nutritional information is provided as a reference, using an online calculator. We recommend verifying the information independently.
Come find me and JOIN my Weight Watchers Air Fryer & Instant Pot Facebook Recipe Group. We all know how hard it is to do it alone. We are a community of people who post recipes, share tips and ideas and inspire one another every day! We can't wait to meet you!!
Check the bottom of this page to Download my FREE WW Cookbook & Tips Guide. You will LOVE it!!
This is my ZERO Point food list. Book mark the page and refer back often. Loading your fridge and pantry with these ZERO point foods is tip #1 for weight loss success.
Meal plans help me stay on track. Here are some of my favorites!
Instant Pot Printable Meal Plan
Freestyle One Week Meal Plan
Free Printable Meal Plan
You simply MUST try my ZERO points Cheesecake Recipe
Have you made up a batch of my 2 Ingredients Dough yet? It's AMAZING stuff!! Use it to make low point bread bowls, pretzels, bread sticks, bagels, pizza crust, cinnamon rolls & more. Check out the Recipe Guide & Individual Recipes below:
To entice you, watch this Video for the 2 Ingredients Bagel Recipe – you will LOVE it – total YUM!!

2 Ingredient Dough Recipes
Ultimate 2 Ingredient Dough Guide
2 Ingredient Dough Pizza
2 Ingredient Dough Pot Pie
2 Ingredient Dough Pop Tarts
2 Ingredient Dough Cinnamon Rolls
2 Ingredient Dough Bread Bowls
2 Ingredient Dough Empanadas
Make sure you check out and grab our printable shopping lists below to make it easy when you are in store to grab the best WW FreeStyle friendly foods and snacks!
Weight Watchers Walmart Shopping List
Weight Watchers Target Shopping List
Weight Watchers Aldi Shopping List
Weight Watchers Trader Joe's Shopping List
Ever panic and wonder what to eat at your favorite restaurants? Well, I do too! That's why I created and LOVE my restaurant guides. Check them out here and be sure to email me and let me know any others you'd like to see:
Cracker Barrel Weight Watchers
Chic Fil A Weight Watchers
Chipotle Weight Watchers
Olive Garden Weight Watchers
Red Robin Weight Watchers
Taco Bell Weight Watchers
P.F. Chang's
Texas Roadhouse