Free 30 Day Instant Pot Meal Plan
Creating an Instant Pot Meal Plan is super easy with Pinterest and the amazing amount of recipes out there online. I have created one for you below so you can get going immediately with (if it is not already) is soon to be your favorite kitchen appliance.
But first, I'd like to make a few points about the Instant Pot A.K.A. "IP":
I still hear people tell me they have an Instant Pot and are afraid to use their IP. Others say they don't have one  and are not really sure if they'd use it if they did. Well, I am here to tell you that there is nothing to fear about the IP and you absolutely WILL use it!
I am often asked what is the difference between an Instant Pot and an Pressure Cooker? As far as I can tell, there is none. My husband assures me his Grandma Fan used a pressure cooker in her kitchen back in the 1960's and it functioned EXACTLY like the Instant Pot does today. This leads me to think the IP is just a fancy, new way of describing the same old kitchen gadget from way back when.
You might even want to get a second one. I just did! No, not for a friend or family member, for myself. I usually use my larger IP (8 quart) to prepare whatever main dish I am making. Then, I will use my smaller (3 quart)  size to prepare a side dish of potatoes or rice or really anything else my heart desires. There really is no method to my madness, I just make what sounds good to me. So my point here is to not be ashamed if you find yourself in the market for a second one too.
Clean up with these puppies is a cinch. Just wipe down the IP's exterior and put the pot into your dishwasher or sink to wash with warm soap and water. Any way you do it, it is just one pot to clean and that makes me VERY happy.
REMEMBER TO PIN IT!! AND BOOKMARK THIS PAGE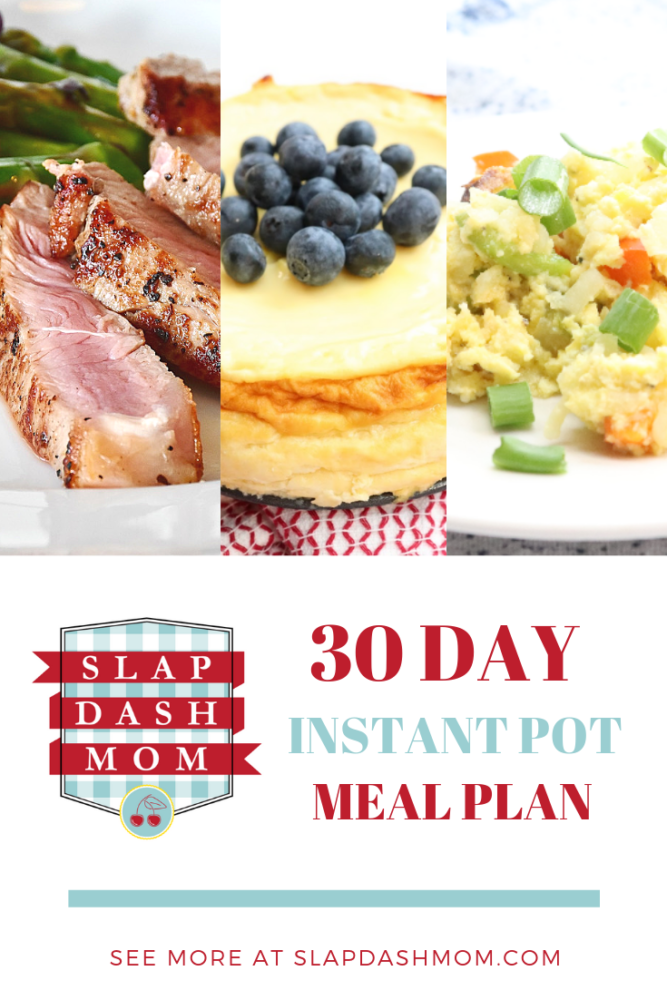 Now, let's get down to business. Here is my IP Meal plan and I really think you are going to LOVE it:
30 DAY Instant Pot Meal Plan
WEEK 1
Instant Pot Lo Mein
Instant Pot Crack Chicken
Instant Pot Beef Stew
Instant Pot Taco Soup
Instant Pot Egg Bake
Instant Pot Turkey Chili – ZERO WW Points
Instant Pot ZERO Point Cheese Cake

WEEK 2
Instant Pot Mac and Cheese
Instant Pot Yogurt
Instant Pot Hard Boiled Eggs – ZERO Points (use for egg salad, hard boiled eggs with vegan mayo, etc)
Instant Pot Salted Caramel Cheesecake
Instant Pot Hummus
Instant Pot Jalapeno Dip
Instant Pot Bread Pudding
WEEK 3
Instant Pot Apple Crisp
Instant Pot Spice Bundt Cake
Instant Pot Easy Chicken Dinner
Instant Pot Tuna Steak – ZERO WW Points
Instant Pot Raspberry Almond Oatmeal
Instant Pot Turkey & Pasta
Instant Pot Apple Butter
WEEK 4
Ginger Garlic Drumsticks
Instant Pot Mongolian Beef
Flank Steak Tacos
Instant Pot Chicken Parmigiana
Italian Wedding Soup
Teriyaki Salmon
Black Bean Curry
WEEK 5
Chicken Satay
Tortellini Soup with Chicken Sausage
Come find me and JOIN my Weight Watchers Air Fryer & Instant Pot Facebook Recipe Group. We all know how hard it is to do it alone. We are a community of people who post recipes, share tips and ideas and inspire one another every day! We can't wait to meet you!!
Check the bottom of this page to Download my FREE WW Cookbook & Tips Guide. You will LOVE it!!
This is my ZERO Point food list. Book mark the page and refer back often. Loading your fridge and pantry with these ZERO point foods is tip #1 for weight loss success.
Meal plans help me stay on track. Here are some of my favorites!
Instant Pot Printable Meal Plan
Freestyle One Week Meal Plan
Free Printable Meal Plan
Have you made up a batch of my 2 Ingredients Dough  yet?  It's AMAZING stuff!! Use it to make low point bread bowls, pretzels, bread sticks, bagels, pizza crust, cinnamon rolls & more. Check out the Recipe Guide & Individual Recipes below:
To entice you, watch this Video for the 2 Ingredients Bagel Recipe – you will LOVE it – total YUM!!
2 Ingredient Dough Recipes
Ultimate 2 Ingredient Dough Guide
2 Ingredient Dough Pizza
2 Ingredient Dough Pot Pie
2 Ingredient Dough Pop Tarts
2 Ingredient Dough Cinnamon Rolls
2 Ingredient Dough Bread Bowls
2 Ingredient Dough Empanadas
Make sure you check out and grab my printable shopping lists below to make it easy when you are in store to grab the best WW FreeStyle friendly foods and snacks!
Weight Watchers Walmart Shopping List
Weight Watchers Target Shopping List
Weight Watchers Aldi Shopping List
Weight Watchers Trader Joe's Shopping List
Ever panic and wonder what to eat at your favorite restaurants? Well, I do too! That's why I created and LOVE my restaurant guides. Check them out here and be sure to email me and let me know any others you'd like to see:
Chipotle Weight Watchers
Olive Garden Weight Watchers
Red Robin Weight Watchers
Taco Bell Weight Watchers
P.F. Chang's
Texas Roadhouse