Instant Pot Yogurt with Fruit – 3 Points
Instant Pot Yogurt with Fruit – 3 Points
First order of business: This recipe assumes your Instant Pot does not have an automatic Yogurt Setting. Mine does not, so I had to bumble through and figure out how to make it without. If yours does have that setting, you should follow the manufacturers directions.
Now, yogurt making in an Instant Pot is kinda a lengthy process, as it takes roughly 9 hours to cook the yogurt. But, it is DELICIOUS so it will be well worth it. You just need to make it at a time when you won't be needing your IP for other things. I make mine over night!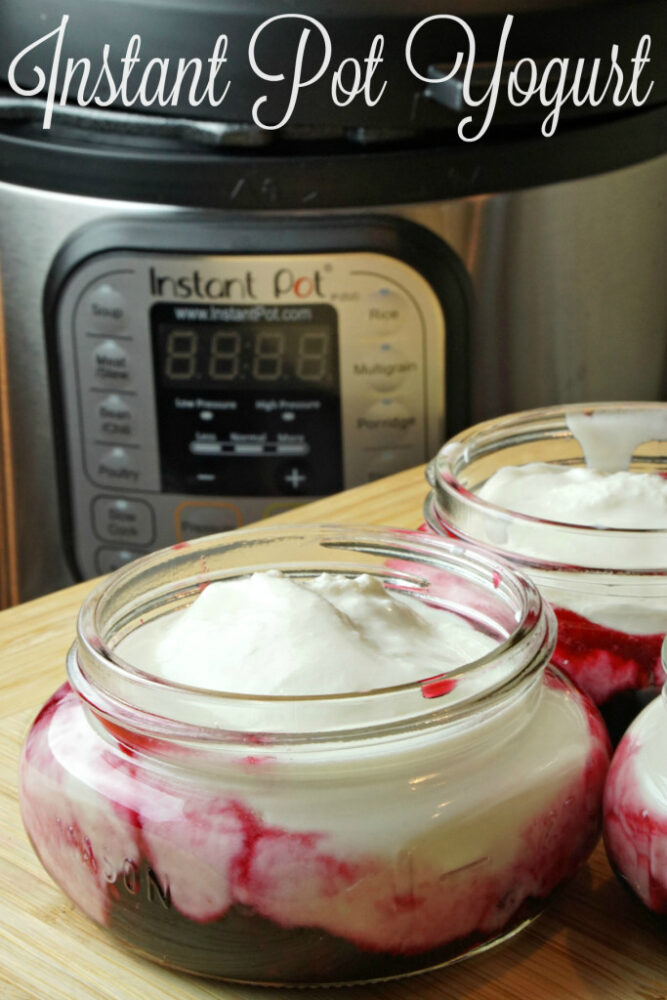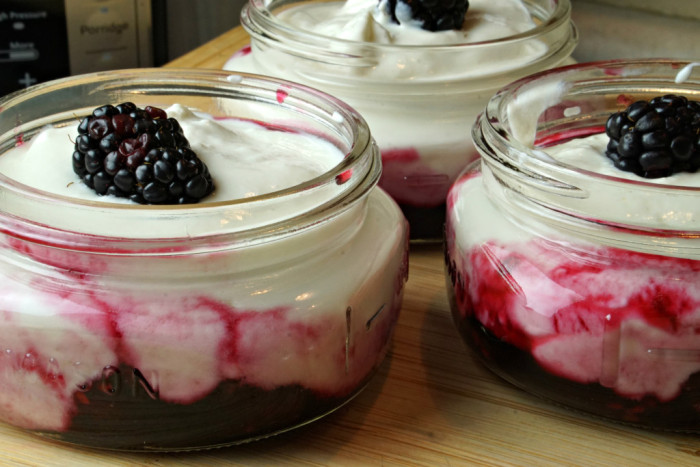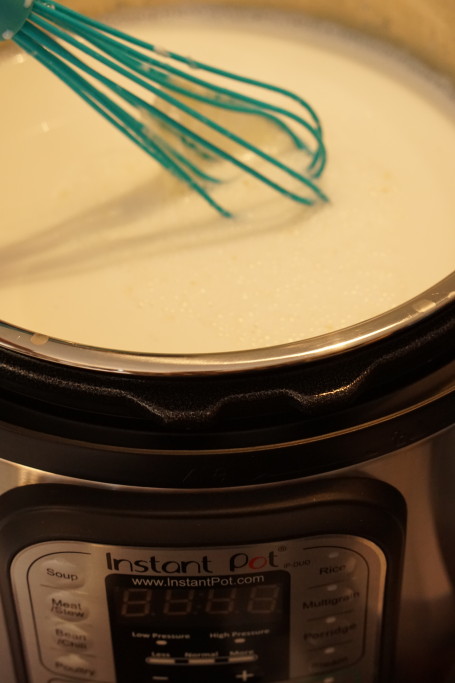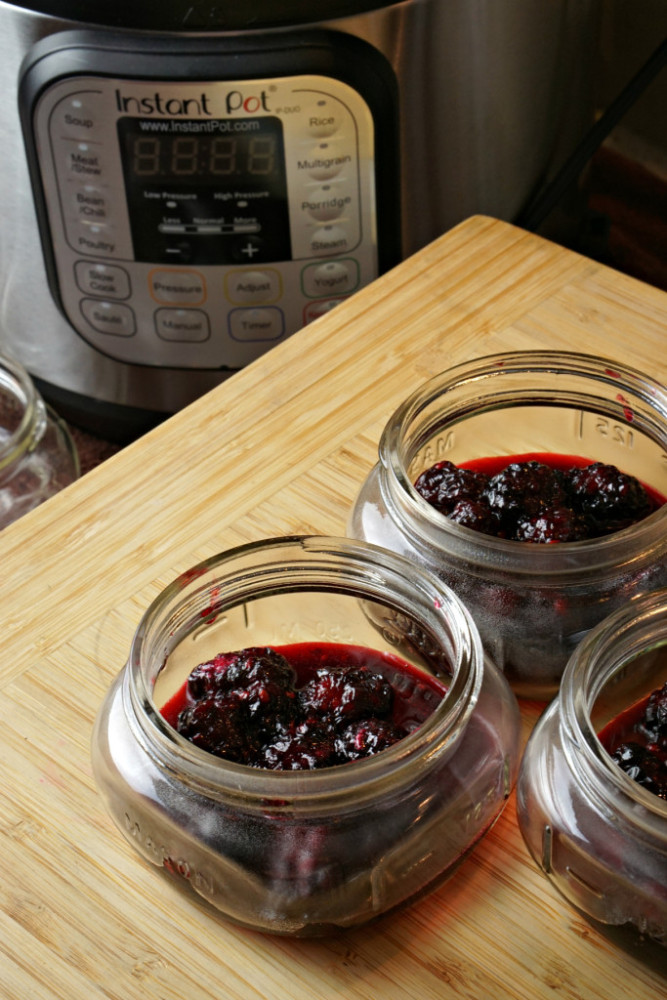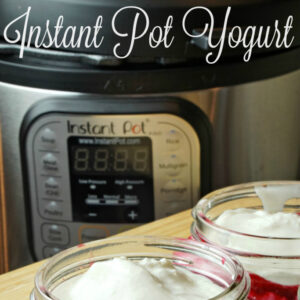 Instant Pot Yogurt With Fruit
This homemade yogurt is so delicious and handy to make in your Instant Pot! It does take some time, but it is well worth it! It makes roughly 24 1/2 Cup Servings - 3 Points Each Keep in mind nut toppings, granola, etc. will add points so remember to count them
Print
Pin
Rate
Servings:
24
1/2 Cup Servings, roughly
Ingredients
This recipe assumes you have an Instant Pot with no Yogurt Setting as mine does not have one. If yours does

you can simply follow manufacturers directions.

1

Gallon

Milk - I use 2% milk.

½

C

Plain Yogurt - any brand you like

2

Tbsp.

Vanilla Bean Paste

2

C.

Fruit

bananas, blueberries, raspberries, peaches, strawberries
Instructions
Heat the milk (uncovered) in Instant Pot on WARM setting for 40 Minutes

Whisk the milk and change setting to saute. Stir often, and use thermometer to check until milk reaches 185 degrees F

Unplug the pressure cooker, remove the lid and use oven mitts to remove inner pot and set it on the counter or stove.

Cool the milk to 115* degrees F. It takes about an hour.

Once cooled, return inner pot back inside the base and plug in.

Using a non-wire whisk, mix in 1/2 cup yogurt and 2 tablespoons vanilla bean paste.

Cover the Instant Pot, close the pressure vent and wrap the IP with a towel so it is fully covered. Let sit for 8 hours.

Now scoop yogurt into individual glass jars or bowls and refrigerate until chilled

To serve, add your favorite fruit topping (on top or bottom - or both), sliced or slivered almonds, diced hard boiled egg, granola, syrup, honey etc.!!
Share on Facebook
Nutritional
Serving:
1
g
|
Calories:
70
kcal
|
Carbohydrates:
7
g
|
Protein:
5
g
|
Fat:
3
g
Nutritional information is provided as a reference, using an online calculator. We recommend verifying the information independently.
Come find me and JOIN my Weight Watchers Air Fryer & Instant Pot Facebook Recipe Group. We all know how hard it is to do it alone. We are a community of people who post recipes, share tips and ideas and inspire one another every day! We can't wait to meet you!!
Check the bottom of this page to Download my FREE WW Cookbook & Tips Guide. You will LOVE it!!
This is my ZERO Point food list. Book mark the page and refer back often. Loading your fridge and pantry with these ZERO point foods is tip #1 for weight loss success.
Meal plans help me stay on track. Here are some of my favorites!
Instant Pot Printable Meal Plan
Freestyle One Week Meal Plan
Free Printable Meal Plan
You simply MUST try my ZERO points Cheesecake Recipe
Have you made up a batch of my 2 Ingredients Dough  yet?  It's AMAZING stuff!! Use it to make low point bread bowls, pretzels, bread sticks, bagels, pizza crust, cinnamon rolls & more. Check out the Recipe Guide & Individual Recipes below:
To entice you, watch this Video for the 2 Ingredients Bagel Recipe – you will LOVE it – total YUM!!
2 Ingredient Dough Recipes
Ultimate 2 Ingredient Dough Guide
2 Ingredient Dough Pizza
2 Ingredient Dough Pot Pie
2 Ingredient Dough Pop Tarts
2 Ingredient Dough Cinnamon Rolls
2 Ingredient Dough Bread Bowls
2 Ingredient Dough Empanadas
Make sure you check out and grab our printable shopping lists below to make it easy when you are in store to grab the best WW FreeStyle friendly foods and snacks!
Weight Watchers Walmart Shopping List
Weight Watchers Target Shopping List
Weight Watchers Aldi Shopping List
Weight Watchers Trader Joe's Shopping List
Ever panic and wonder what to eat at your favorite restaurants? Well, I do too! That's why I created and LOVE my restaurant guides. Check them out here and be sure to email me and let me know any others you'd like to see:
Chipotle Weight Watchers
Olive Garden Weight Watchers
Red Robin Weight Watchers
Taco Bell Weight Watchers
P.F. Chang's
Texas Roadhouse