These Air Fryer Chicken Quesadillas are full of flavor, easy to make, and ready in just 12 once they start cooking!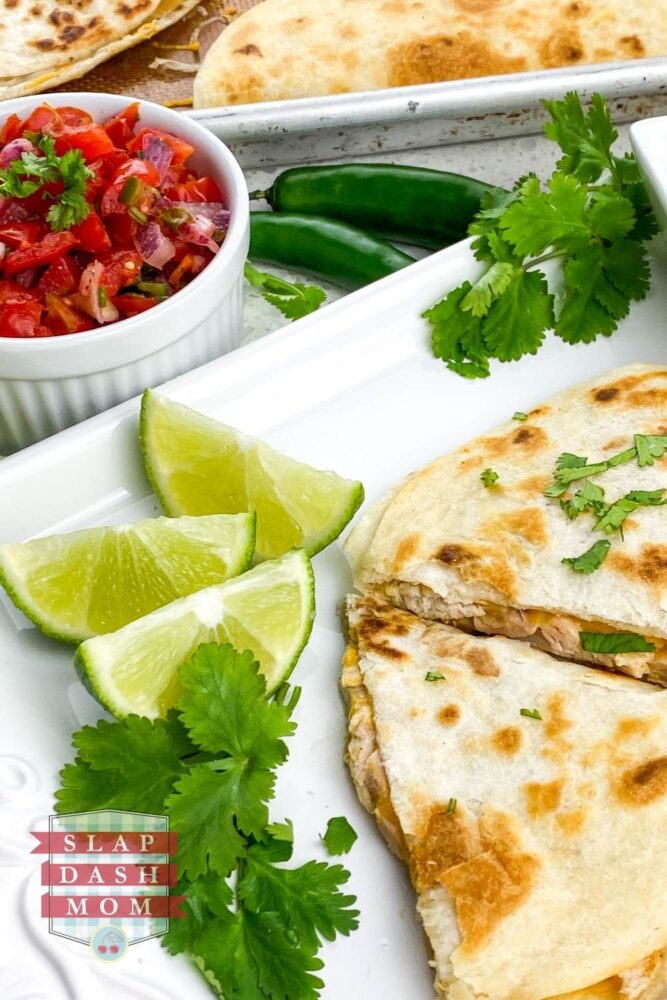 One thing I love about quesadillas is that there are so many ways to switch the ingredients up without needing an actual recipe. Let's not forget that if you are following WeightWatchers, this is a pretty hefty meal that's low in points and full of protein.
If you are thinking of joining WeightWatchers, or maybe even re-joining, always check here for their updated discounts and deals. I love WeightWatchers because it is really the only plan I have ever done that has helped me lose weight and keep it off. I love taking normal ordinary recipes and switching things up to make them WeightWatchers friendly, and low in points.
That way I don't have to beat myself up to enjoy my favorite foods! I share all my recipes here on SlapDashMom so I hope you try and enjoy every one of them!
The Benefits of Protein
Protein is what helps us to stay full. This not only reduces snacking throughout the day, but it also helps with healthy digestion and doesn't leave you feeling tired or miserable after you eat! 
If you love Tex Mex food don't forget to check out these other favorites!
Ingredients for Air Fryer Quesadillas
Chicken – you can boil your own and shred it or use rotisserie chicken without the skin if you are short on time
Cheese – we are using cheddar, but if you want it a little healthier use some kind of white cheese
Tortillas – Ole Wellness Wraps are SO good. They are full of fiber without all of the extra carbs. This is what we prefer to use.
Sour Cream – totally optional, but adds additional flavor
Taco Seasoning – Use our salt free taco seasoning recipe! You can always grab a pack from the store as well but mine is salt free and it tastes so much better!
You can grab the homemade Pico De Gallo Recipe for a tasty topping!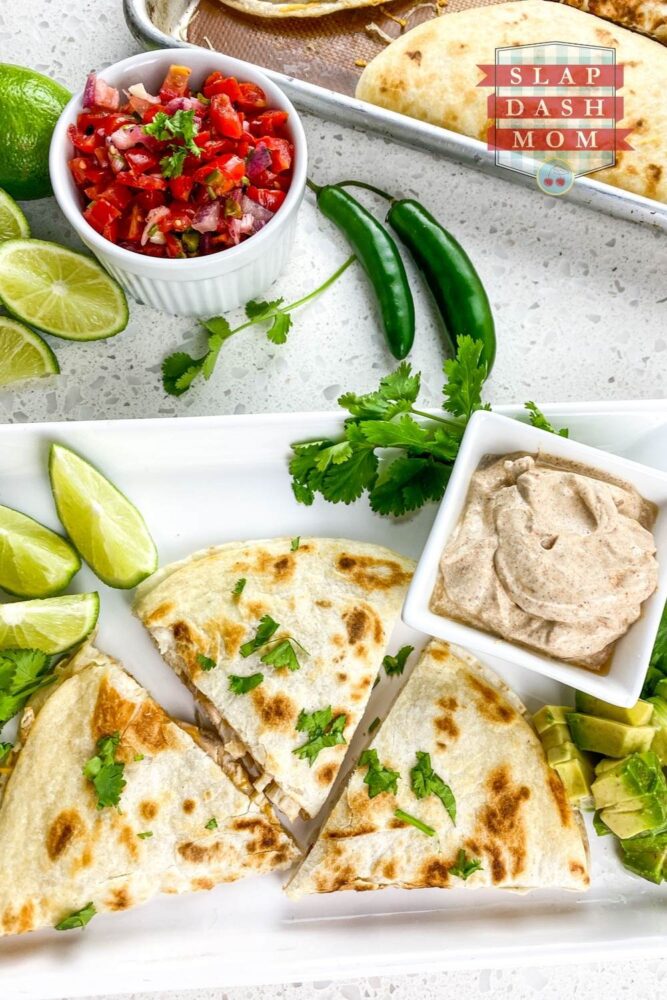 How To Make Quesadillas in the Air Fryer
If you need to prepare your chicken, start by doing that first. Then shred it and set to the side.
Preheat your air fryer for a couple of minutes to 370 degrees. If you are going to use parchment paper liners for easy cleanup, wait to put those in until you are ready to add the bottom tortilla.
Mix your taco seasoning in with the sour cream and spread a thin layer on the bottom tortilla. (You will want to make a bit extra to serve as a dip for the quesadilla as well).
Place tortilla in your air fryer basket. Then add your chicken and cheese. Top with the remaining tortilla.
Cook for 8 minutes, flipping halfway through. Serve with your favorite toppings!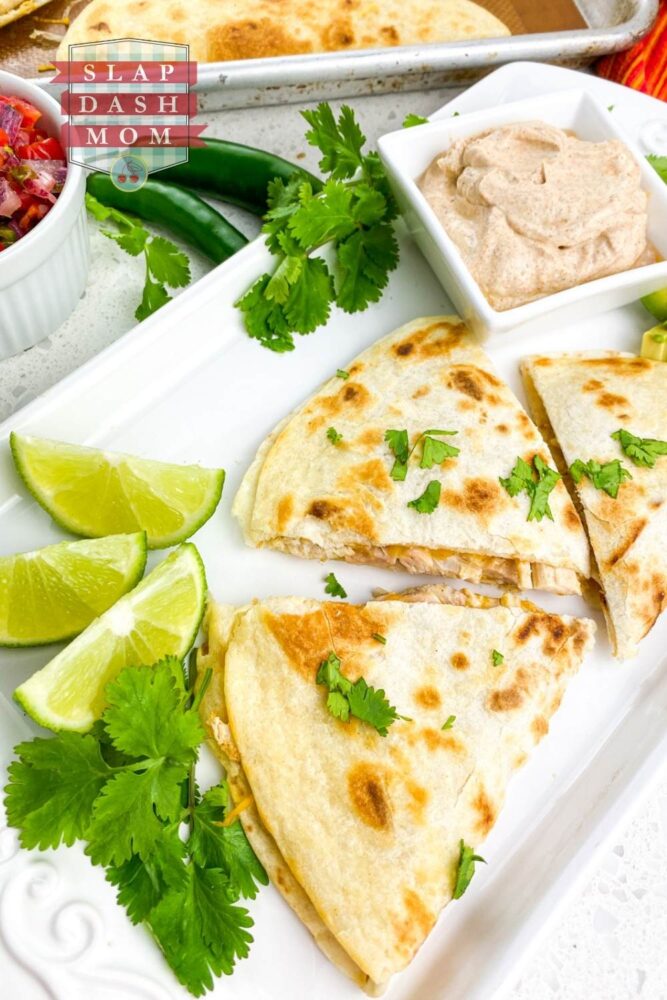 How Do You Keep the Tortilla From Flying Around?
You may have to check on the quesadilla when it first starts cooking until the cheese starts to melt. Once the cheese gets to melting it holds the tortilla on.
If you have an Instant Pot, you can use the trivet that comes with it to hold the quesadilla down.
You can also use just one tortilla, add the ingredients, then fold in half. Use a toothpick to keep the quesadilla together.
Additional Toppings and Serving Suggestions
This quesadilla recipe makes one 8 inch quesadilla. Feel free to double the recipe, add more cheese, and top with your favorite toppings. Just a note for those on Weight Watchers, the points are only calculated for the ingredients listed above in those amounts.
Here are some other toppings you may enjoy!
Can You Make Air Fryer Quesadillas with Something Other Than Chicken?
Absolutely! Feel free to use shredded pork, steak strips, just veggies, or even just a cheese quesadilla. The cooking instructions remain the same and some may need less cooking time.
More Air Fryer Recipes You Will Love:
Pin for later!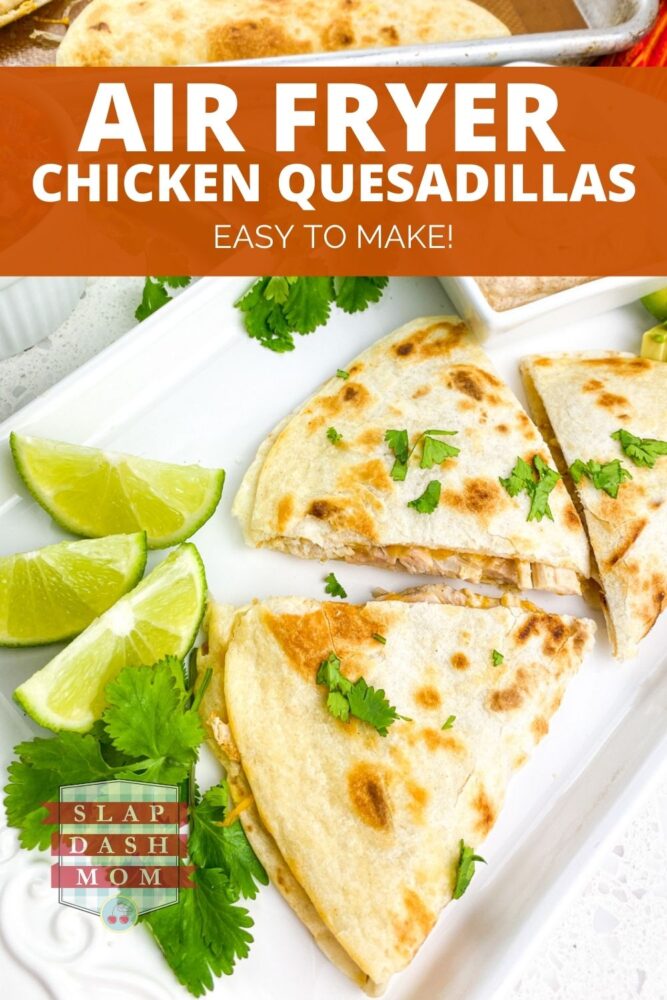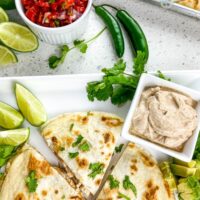 Air Fryer Quesadillas
These Air Fryer Chicken Quesadillas are full of flavor, easy to make, and ready in just 12 once they start cooking!
Print
Pin
Rate
Ingredients
1/2

c.

shredded chicken

1-2

tbsp

sour cream

reduced fat

1½ – 2

T.

taco seasoning

Sea salt and black pepper

to taste

2

Ole Wellness Tortilla Wraps

1/2

c.

Cheddar Cheese
Instructions
Preheat air fryer to 370 degrees.

Combine sour cream and taco seasoning. If you are omitting the sour cream add the taco seasoning in with the chicken.

Once preheated, add the bottom tortilla. Smear a layer of sour cream on.

Add the shredded chicken and top with cheese.

Smear a little more of the sour cream mixture on the top tortilla to help keep it from flying around.

Place top tortilla on quesadilla.

Air fry for 8 minutes, flipping halfway through.

Top with additional toppings if desired, enjoy!
Notes
If you don't want to use 2 tortillas, you can just use one and fold it over. Use toothpicks to keep it from flying around. 
Feel free to add more cheese, sour cream, etc. If you are on WW be sure to add those points. 
Share on Facebook
Weight Watchers Points
Green: 3; Blue and Purple 2 per 1 quesadilla. Points will be lower if you only use 1 wrap and fold in half
Nutritional information is provided as a reference, using an online calculator. We recommend verifying the information independently.
Come find me and JOIN my Weight Watchers Air Fryer & Instant Pot Facebook Recipe Group. We all know how hard it is to do it alone. We are a community of people who post recipes, share tips and ideas and inspire one another every day! We can't wait to meet you!!
Check the bottom of this page to Download my FREE WW Cookbook & Tips Guide. You will LOVE it!!
This is my ZERO Point food list. Book mark the page and refer back often. Loading your fridge and pantry with these ZERO point foods is tip #1 for weight loss success.
Meal plans help me stay on track. Here are some of my favorites!
You simply MUST try my ZERO points Cheesecake Recipe
Have you made up a batch of my 2 Ingredients Dough yet? It's AMAZING stuff!! Use it to make low point bread bowls, pretzels, bread sticks, bagels, pizza crust, cinnamon rolls & more. Check out the Recipe Guide & Individual Recipes below: To entice you, watch this Video for the 2 Ingredients Bagel Recipe – you will LOVE it – total YUM!!
2 Ingredient Dough Recipes
Make sure you check out and grab our printable shopping lists below to make it easy when you are in store to grab the best WW FreeStyle friendly foods and snacks!
Ever panic and wonder what to eat at your favorite restaurants? Well, I do too! That's why I created and LOVE my restaurant guides. Check them out here and be sure to email me and let me know any others you'd like to see: