Air Fryer Tater Tots | Frozen to Crispy in Less Than 20 Minutes!
Crispy air fryer tater tots are ready within 20 minutes and are perfectly cooked every time! A quick and easy side dish even your kids can make!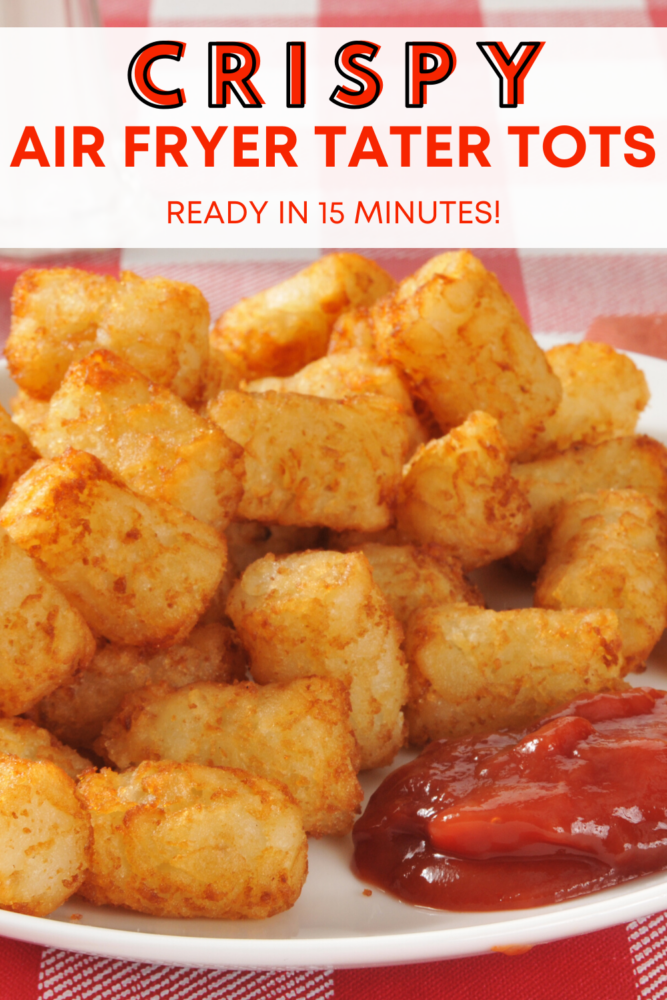 Before I bought my air fryer, I really hated to cook fries and tater tots in the oven. The time that was suggested needs a warning label, because mine always came out soggy! So typically I would cook them for almost an HOUR!
When I think of tater tots for a side dish, I have one thing on my mind. That is quick and easy. The oven method just does not work for me! By the way, you can see how I make frozen french fries in the air fryer too!
Bet you didn't know you can even make a tater tot casserole!
What is an Air Fryer and Which Air Fryer Do You Recommend?
So an air fryer is a small countertop appliance that cooks by convection. Many people purchase air fryer because they are known for making "fried" food without having to be submerged in oil. Obviously, this is a much healthier way of cooking!
Personally I have the Instant Pot Vortex air fryer and I absolutely love it! The basket is big enough for our family and is larger compared to some other models. Clean up is SO easy and I have never had any trouble with it!

The Instant Pot Vortex also has multiple settings for bake, reheat, and roast. I have only used the air fryer and reheat setting myself.
When we first got it, the instructions recommended that you go through a process to break it in. So for the first couple of times cooking with it, it sort of smelled like plastic? But apparently that was normal. That's really the only bad experience that I have had since purchasing.
Are Air Fryer Tater Tots Weight Watcher Friendly?
As you may know, when you are on Weight Watchers it is a lifestyle change and foods are not to be so restricted when compared to other "diets". So technically yes! For all plans (blue, purple, and green) air fryer tater tots are 5 points for 9 tots. Ore Ida also offers mini tots, in that case, they are 6 points for 19 pieces.
How Do I Reheat Tater Tots In the Air Fryer?
The reheat function on my Instant Pot Vortex is one of my favorite things because it brings your food back to life in only a couple of minutes.
Just place the tater tots back in the basket, turn to the reheat function at 350 degrees for about 5-8 minutes. Times may vary when it comes to different models.
Do I have to use oil?
I have listed the recipe to use just a little bit, but most people when cooking starches in the air fryer feel like there are enough natural oils in them. The oil helps with the salt to stick and just gives it a little extra crunch.
You can get an oil spritzer and fill it with your favorite kind, or use an aerosol oil such as this avocado oil.
Tips for Cooking Tater Tots in the Air Fryer
For even easy cleanup, I recommend these

parchment paper liners

. They already have slotted holes in them so you don't have to worry about them affecting the cooking time. If you want to purchase these make sure you look to see the size and model so they will fit.
I did see that some people were having trouble with their air fryer getting really hot and cracking granite countertops. So if you are worried be sure to sit your air fryer on

silicone mat

or cutting board to get it off the counter.
For a little fasting cooking time, preheat your air fryer. If you use

parchment liners

, don't put these in until after it preheats.
DO NOT OVERLOAD YOUR BASKET. If your tater tots come out soggy or not crispy, either they need more cooking time and/or you overloaded the basket. The hot air (convection) has to have room to blow around in order to cook the food. So if the basket isn't breathable your food will not come out as crisp.
If your

oil spritzer

seems clogged, add some water into the oil. It doesn't affect the cooking and it makes it come out as a mist instead of a steady stream.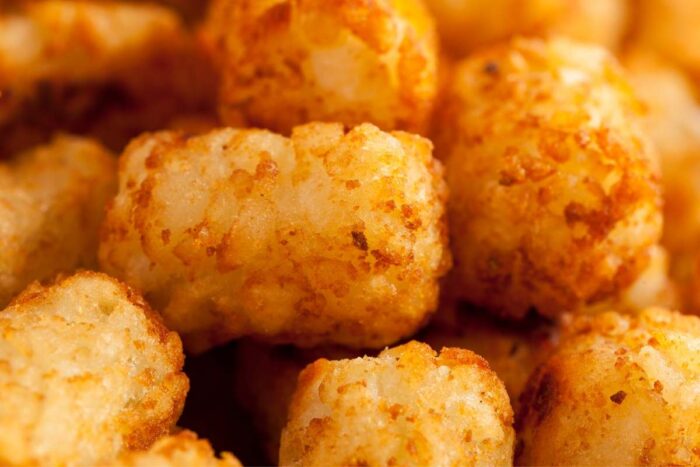 Tater Tot Variations
Want something more than regular tater tots? Try these spices and pairing to make a totally different dish!
Seasoning Salt – this has a little bit of cajun flavor to it

Chili and cheese

Cheese and Bacon
Here are 27 more ways to make tater tots!
More Air Fryer Recipes You Will Love: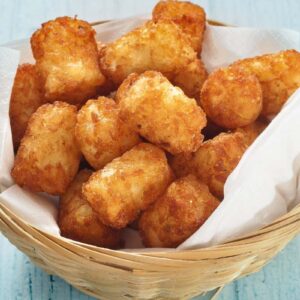 Ingredients
Frozen tater tots

Oil

Salt

Optional: Your favorite cheese

seasonings, etc.
Instructions
Preheat Air Fryer to 400 degrees.

After it is finished preheating, pour out a single layer of frozen tater tots. They can overlap some, just don't fill it to the top of the basket.

Spritz or spray a little bit of oil (we always use avocado oil or EVOO.

Sprinkle with salt if desired.

Start cooking, set cook time to 15 minutes. Be sure to shake basket every 5-6 minutes.

Cook longer or less depending on how crispy you want your tots.
Share on Facebook
Weight Watchers Points
5 points on all plans
Nutritional
Serving:
3
oz
|
Calories:
130
kcal
|
Carbohydrates:
13
g
|
Fat:
8
g
|
Saturated Fat:
1.5
g
|
Sodium:
430
mg
|
Fiber:
2
g
|
Sugar:
1
g
Nutritional information is provided as a reference, using an online calculator. We recommend verifying the information independently.
Come find me and JOIN my Weight Watchers Air Fryer & Instant Pot Facebook Recipe Group. We all know how hard it is to do it alone. We are a community of people who post recipes, share tips and ideas and inspire one another every day! We can't wait to meet you!!
Check the bottom of this page to Download my FREE WW Cookbook & Tips Guide. You will LOVE it!!
This is my ZERO Point food list. Book mark the page and refer back often. Loading your fridge and pantry with these ZERO point foods is tip #1 for weight loss success.
Meal plans help me stay on track. Here are some of my favorites!
Weight Watchers Meal Plan Week 4 + FREE Download and Shopping List!
Instant Pot Printable Meal Plan
Freestyle One Week Meal Plan
Free Printable Meal Plan
You simply MUST try my ZERO points Cheesecake Recipe
Have you made up a batch of my 2 Ingredients Dough yet? It's AMAZING stuff!! Use it to make low point bread bowls, pretzels, breadsticks, bagels, pizza crust, cinnamon rolls & more. Check out the Recipe Guide & Individual Recipes below:
To entice you, watch this Video for the 2 Ingredients Bagel Recipe – you will LOVE it – total YUM!!
2 Ingredient Dough Recipes
Ultimate 2 Ingredient Dough Guide
2 Ingredient Dough Pizza
2 Ingredient Dough Pot Pie
2 Ingredient Dough Pop Tarts
2 Ingredient Dough Cinnamon Rolls
2 Ingredient Dough Bread Bowls
2 Ingredient Dough Empanadas
Make sure you check out and grab our printable shopping lists below to make it easy when you are in store to grab the best WW FreeStyle friendly foods and snacks!
Costco Shopping List
Weight Watchers Walmart Shopping List
Weight Watchers Target Shopping List
Weight Watchers Aldi Shopping List
Weight Watchers Trader Joe's Shopping List
Ever panic and wonder what to eat at your favorite restaurants? Well, I do too! That's why I created and LOVE my restaurant guides. Check them out here and be sure to email me and let me know any others you'd like to see:
Subway Weight Watchers
Cracker Barrel Weight Watchers
Chic Fil A Weight Watchers
Chipotle Weight Watchers
Olive Garden Weight Watchers
Red Robin Weight Watchers
Taco Bell Weight Watchers
P.F. Chang's
Texas Roadhouse