Do I Need To Eat All My Weight Watchers Points?
I was at a Weight Watchers meeting a few weeks ago and the speaker was talking about eating all our points. Someone asked her, "Do I need to eat all my Weight Watchers points." The speaker told us you ABSOLUTELY MUST eat them…every last one.
She went on to say that if you don't, there is a very good chance you will actually gain weight on the Weight Watchers program.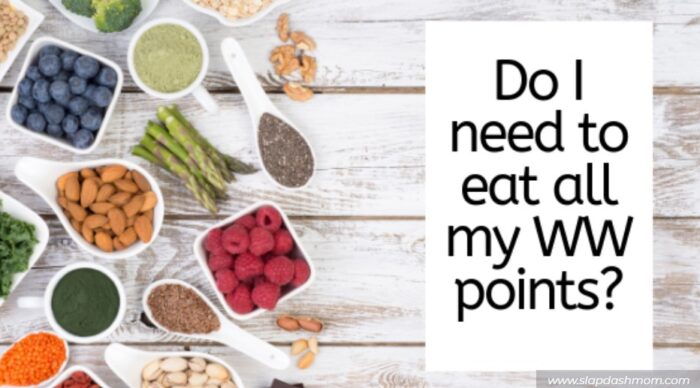 What?? She said she's known many-a-weight watchers person who has tried to not eat all their points, and they end up with the absolutely last thing they want – a gain.
I have to be honest, there has never been a time when I didn't eat all my points. I can't really even wrap my head around it. I eat my daily points, my weekly points and then I am usually looking for Zero Point Foods to get me through my evening.
But, I hear people ask that question all the time in my Facebook group and I know it's an important one. Many people in my group spoke and said they try all the time to not eat all their points. In fact, they were shocked at the notion that it could be causing weight gain instead of loss.
The bottom line is, you must eat your points.
If you are making a plate of scrambled eggs with veggies and fruit on the side, add a little cheese to the eggs to get a few points in there. A really easy way to make sure you are getting your points is to add healthy fats to your meals. Try adding avocado, tofu, olive oil, nuts and/or seeds to your meals. Although, 1/4 of a medium sized avocado is now zero points, but it will still add healthy fats to your diet and besides that, they are yummy.
By adding these items you will not only get the additional points you need, but also great flavor and texture – which undoubtedly will keep things tasty and keep you on track.
Now on the opposite of the spectrum there is me. I tend to get to the end of the day with just a few points left. If that is who you are, check out my article on what to do if you go over your points.
Live near an El Pollo Loco? Here is one of my favorite zero or no point dinners when I've eaten all my points during the day. Their food is salty, and I wish it wasn't. However, in a pinch, I have been known to have a nice, zero or low point meal there.
Here is my Weight Watchers Instant Pot Meal Plan, filled with more great Instant Pot recipes
Here is a link to all my MOST POPULAR Recipes
Lose Weight With Your Instant Pot!
I was super intimidated by my Instant Pot at first but honestly the Instant Pot makes life SO easy! I didn't really know how to use it and started out slowly but once I tried a few things, I was hooked.
It completely replaced my slow cooker for me and I was a slow cooking Mama before my Instant Pot.
Be sure to join my Facebook group, because those are my people so they will be the first to know! Don't forget the Facebook page too!
While you are here if check out some of my favorite Weight Watchers recipes!
Taco Casserole (1 point)
Instant Pot Lo Mein (6 points)
2 Ingredient Dough Guide – Learn to make donuts, bagels, pizza, and more with just 2 ingredients!
2 Ingredient ZERO point pancakes
How do you feel about Weight Watchers new program?
Come find me and JOIN my Weight Watchers Air Fryer & Instant Pot Facebook Recipe Group. We all know how hard it is to do it alone. We are a community of people who post recipes, share tips and ideas and inspire one another every day! We can't wait to meet you!!
Check the bottom of this page to Download my FREE WW Cookbook & Tips Guide. You will LOVE it!!
This is my ZERO Point food list. Book mark the page and refer back often. Loading your fridge and pantry with these ZERO point foods is tip #1 for weight loss success.
Meal plans help me stay on track. Here are some of my favorites!
Weight Watchers Meal Plan Week 4 + FREE Download and Shopping List!
Instant Pot Printable Meal Plan
Freestyle One Week Meal Plan
Free Printable Meal Plan
You simply MUST try my ZERO points Cheesecake Recipe
Have you made up a batch of my 2 Ingredients Dough yet? It's AMAZING stuff!! Use it to make low point bread bowls, pretzels, bread sticks, bagels, pizza crust, cinnamon rolls & more. Check out the Recipe Guide & Individual Recipes below:
To entice you, watch this Video for the 2 Ingredients Bagel Recipe – you will LOVE it – total YUM!!

2 Ingredient Dough Recipes
Ultimate 2 Ingredient Dough Guide
2 Ingredient Dough Pizza
2 Ingredient Dough Pot Pie
2 Ingredient Dough Pop Tarts
2 Ingredient Dough Cinnamon Rolls
2 Ingredient Dough Bread Bowls
2 Ingredient Dough Empanadas
Make sure you check out and grab our printable shopping lists below to make it easy when you are in store to grab the best WW FreeStyle friendly foods and snacks!
Costco Shopping List
Weight Watchers Walmart Shopping List
Weight Watchers Target Shopping List
Weight Watchers Aldi Shopping List
Weight Watchers Trader Joe's Shopping List
Ever panic and wonder what to eat at your favorite restaurants? Well, I do too! That's why I created and LOVE my restaurant guides. Check them out here and be sure to email me and let me know any others you'd like to see:
Subway Weight Watchers
Cracker Barrel Weight Watchers
Chic Fil A Weight Watchers
Chipotle Weight Watchers
Olive Garden Weight Watchers
Red Robin Weight Watchers
Taco Bell Weight Watchers
P.F. Chang's
Texas Roadhouse