Eat at El Pollo Loco with 2 Weight Watchers Points Left
I am relatively new to this Weight Watchers thing so I am still having to work hard to make sure I stay on Point – no Pun!! The other night I was out with my husband and he wanted dinner at El Pollo Loco. I admit, it is one of my favorite fast food places, but probably more healthy if you go without the mac and cheese! Anyway, I checked my WW app only to find I had two points left. In a situation like this, I would normally finish my day with a few eggs, sliced tomatoes and a plate of beans. However, my husband was already pulling into the restaurant and we were both pretty starving.
So, what did I do? I remained calm and ordered as follows:
One White meat, skinless chicken breast (zero points)
One side of steamed broccoli (zero points)
One side of pinto beans (1 point)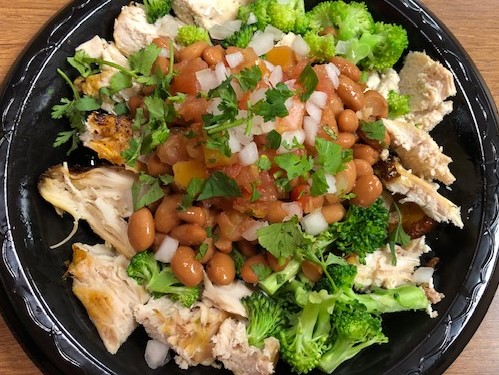 I pulled the chicken off the bone and cut it into pieces. Then I dumped the beans and broccoli all over the top and piled on all the salsa (1 point), onion and cilantro toppings the plate could handle. I squeezed a bit of lemon over for some added flavor and took my first bite. Man was it delicious. And, it was so filling, I could not finish the entire plate, so I took it home and enjoyed the rest later. I knew I was on to something and I wanted to share it with you too.
Oh and I had an iced tea to drink so no points there!
If you are anything like me, when I am out in the world and I get really hungry, I have been known to panic. I kinda see red sometimes and tend to eat the first thing that comes my way. Not anymore. I really, really enjoyed this meal and I hope one day, when you are out and about and you see that El Pollo Loco sign, it will help you too :)
Be sure to check below for more great recipes, restaurant guides and my FREE low point Weight Watchers Cookbook and Tips & Tricks Guide.
Here are my MOST POPULAR recipes for Breakfast, Lunch & Dinner
Come find me and JOIN my Facebook Community HERE. We are an amazing group of people who share recipes, healthy support and great tips & ideas. We realize we are all in this together and it makes it so much more fun to share in a safe place!
2 Ingredient Dough Recipes (Use these to make anything from bagels to bread bowls to pizza dough)
Ultimate 2 Ingredient Dough Guide
2 Ingredient Dough Pizza
2 Ingredient Dough Pot Pie
2 Ingredient Dough Pop Tarts
2 Ingredient Dough Cinnamon Rolls
2 Ingredient Dough Bread Bowls
2 Ingredient Dough Empanadas
Make sure you check out and grab our printable shopping lists below to make it easy when you are in store to grab the best WW FreeStyle friendly foods and snacks!
Weight Watchers Walmart Shopping List
Weight Watchers Target Shopping List
Weight Watchers Aldi Shopping List
Weight Watchers Trader Joe's Shopping List
Restaurant Guides – It's very helpful to know what to eat when you are dining out. The WW app also has a great guide you can use if you are a member!
Chipotle Weight Watchers
Olive Garden Weight Watchers
Red Robin Weight Watchers
Taco Bell Weight Watchers
P.F. Chang's
Meal plans help me stay on track. Here are some of my favorites!
Instant Pot Printable Meal Plan
Freestyle One Week Meal Plan
Free Printable Meal Plan