Weight Watchers New Program: Changes for 2020!!
The fear of Weight Watchers new program has 1000s of people buzzing right now patiently waiting for answers. 
However, there have been several leaks in the pipeline! 
Before we get started just know that this is NOT yet official for the US WW plans. This is speculation based on the fact that Weight Watchers Australia launched its new plan before we did. 
OFFICIAL news will be coming during the week of November 11th, so mark your calendars because I will post an official update at that time! 
Here comes the million-dollar question.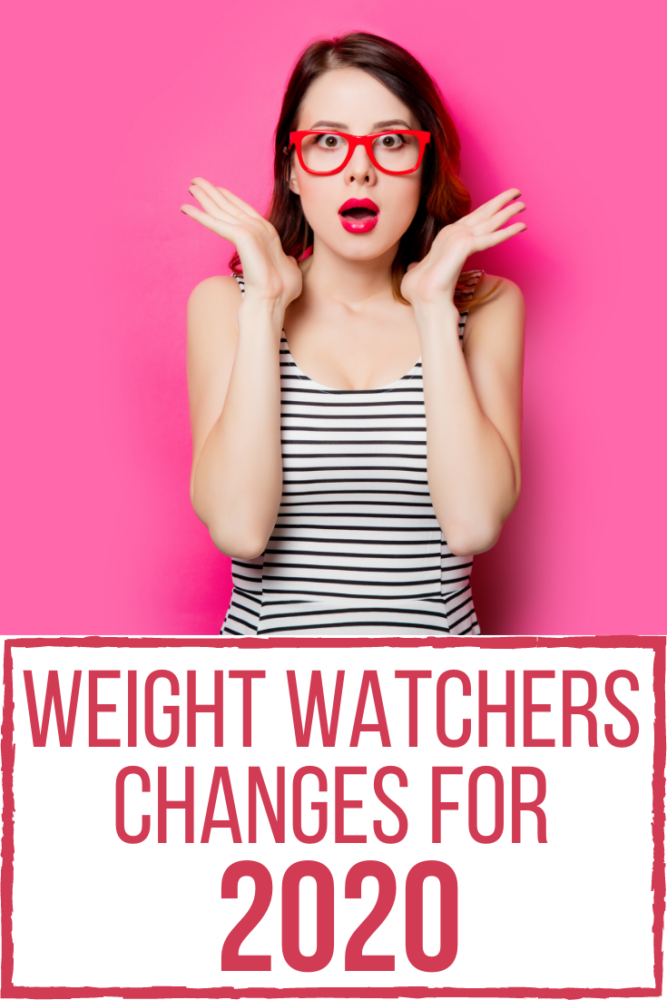 What's the deal with Weight Watchers new program?
Previously many members complained about the other changes to the plans and were really disappointed that while there are 200+ ZERO point foods to choose from, daily points got dropped tremendously. This is because they wanted to infiltrate more clean, healthy foods into your diet and most people do not overindulge on eggs, chicken, and fish (just to name a few). 
Basically there will now be 3 plans to choose from that go by colors, Blue, Green, and Purple. 
Blue – This is the current Freestyle plan. 200+ zero point foods, with a minimum of 23 daily points (this varies on age, weight, height, and gender). These are still considered Freestyle Smartpoints. 
Green – Fruits and veggies will be zero points as long as they are fresh/frozen and no added sugar, syrup, etc (the same rules that are currently in place with the Freestyle program). The minimum amount of Smartpoints that will be allowed daily is 30. So essentially you will have to track everything besides those fruits and veggies.
Purple – A variation of Simply Filling. This plan was around about the same time as Points +. So for these people, there will be a list of 300+ zero point foods and a minimum of 16 points a day that you can play with. So basically if you eat anything other than those 300 foods, you have to deduct from your daily points. 
Should I switch my plan to Weight Watchers new program?
Obviously, if the current plan is working for you, I would go with the motto "If it's not broke, don't fix it." However, I hear a lot of people say that they had a huge success with the Points Plus program and would really like to see WW revert back. 
If you feel like you get off track with zero point foods, like overeating, or lose track of points, then the Green plan may be your best option. 
Everyone loves WW because you can eat what you want as long as you stay within your point range. But, some people cannot always be held accountable. If you fall into that category, Purple may be your next best option and there is less tracking involved.
I will assume that there will be some type of questionnaire/survey that you will be able to take to maybe get the best-tailored plan for you once everything launches. 
Remember, this is not totally official yet! But you can bet your money I will be coming at you with the MOST up to date info around November 11th when they finally release everything publically! 
Be sure to join my Facebook group, because those are my people so they will be the first to know! Don't forget the Facebook page too! 
While you are here if check out some of my favorite Weight Watchers recipes! 
Taco Casserole (1 point) 
Instant Pot Lo Mein (6 points) 
2 Ingredient Dough Guide – Learn to make donuts, bagels, pizza, and more with just 2 ingredients! 
2 Ingredient ZERO point pancakes 
How do you feel about Weight Watchers new program?
Come find me and JOIN my Weight Watchers Air Fryer & Instant Pot Facebook Recipe Group. We all know how hard it is to do it alone. We are a community of people who post recipes, share tips and ideas and inspire one another every day! We can't wait to meet you!!
Check the bottom of this page to Download my FREE WW Cookbook & Tips Guide. You will LOVE it!!
This is my ZERO Point food list. Book mark the page and refer back often. Loading your fridge and pantry with these ZERO point foods is tip #1 for weight loss success.
Meal plans help me stay on track. Here are some of my favorites!
Weight Watchers Meal Plan Week 4 + FREE Download and Shopping List!  
Instant Pot Printable Meal Plan
Freestyle One Week Meal Plan
Free Printable Meal Plan
You simply MUST try my ZERO points Cheesecake Recipe
Have you made up a batch of my 2 Ingredients Dough yet? It's AMAZING stuff!! Use it to make low point bread bowls, pretzels, bread sticks, bagels, pizza crust, cinnamon rolls & more. Check out the Recipe Guide & Individual Recipes below:
To entice you, watch this Video for the 2 Ingredients Bagel Recipe – you will LOVE it – total YUM!!

2 Ingredient Dough Recipes
Ultimate 2 Ingredient Dough Guide
2 Ingredient Dough Pizza
2 Ingredient Dough Pot Pie
2 Ingredient Dough Pop Tarts
2 Ingredient Dough Cinnamon Rolls
2 Ingredient Dough Bread Bowls
2 Ingredient Dough Empanadas
Make sure you check out and grab our printable shopping lists below to make it easy when you are in store to grab the best WW FreeStyle friendly foods and snacks!
Costco Shopping List
Weight Watchers Walmart Shopping List
Weight Watchers Target Shopping List
Weight Watchers Aldi Shopping List
Weight Watchers Trader Joe's Shopping List
Ever panic and wonder what to eat at your favorite restaurants? Well, I do too! That's why I created and LOVE my restaurant guides. Check them out here and be sure to email me and let me know any others you'd like to see:
Subway Weight Watchers
Cracker Barrel Weight Watchers
Chic Fil A Weight Watchers
Chipotle Weight Watchers
Olive Garden Weight Watchers
Red Robin Weight Watchers
Taco Bell Weight Watchers
P.F. Chang's
Texas Roadhouse