Copycat Vincent Vega Iced Coffee Recipe
I am ashamed to say that I didn't know who Vincent Vega was until we visited Mission Beach in San Diego. That is where I discovered my first Vincent Vega Iced Coffee Recipe and knew I had to create my own copycat version at home.
One morning on our trip, we found this little hole in the wall restaurant, and I asked for an iced coffee. They had tons of options, so I asked what the weirdest one was. Usually I like to ask for the most popular menu items, because I feel like that is where you get the best tastes from. But today, for some reason,  I asked for the weirdest. The waitress quickly told me it was the Vincent Vega.
Yes, that is the John Travolta character in Quentin Tarantino classic, Pulp Fiction. I had never even seen the movie but I know who Johnny Travolta is and I LOVE coffee, so I knew that I needed to try it.
I loved it so much I decided to go back the next day to get another. And as soon as I was home, home, I made my own Vincent Vega iced coffee – copycat version.
It's a simple recipe, but one that's bound to impress your friends and make you feel like a bad ass.
NOTE: This post is sponsored by Bizzy Coffee through the Rise & Shine Network. All thoughts and opinions are my own.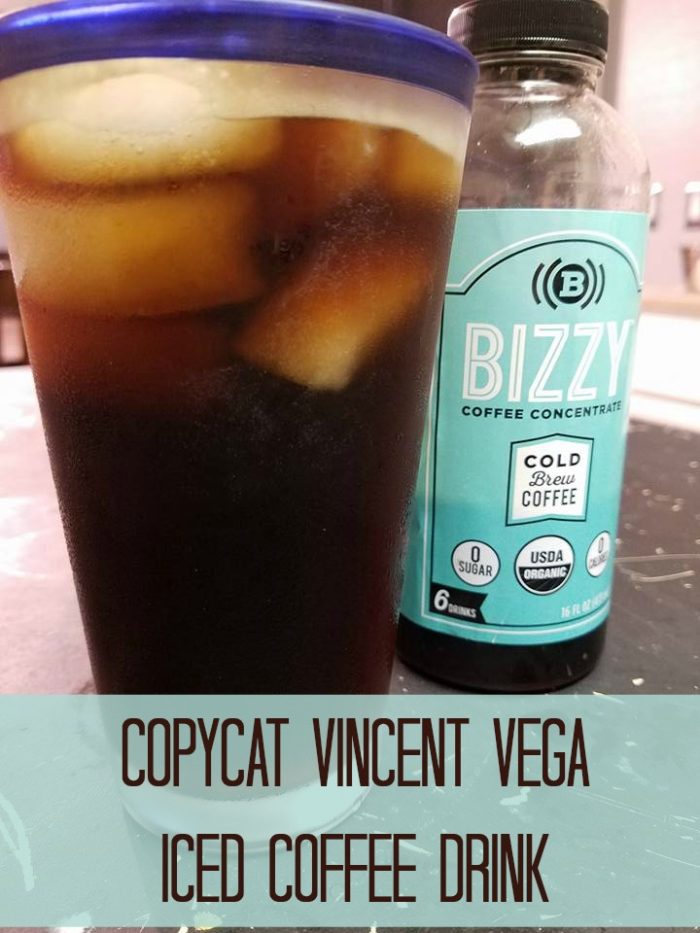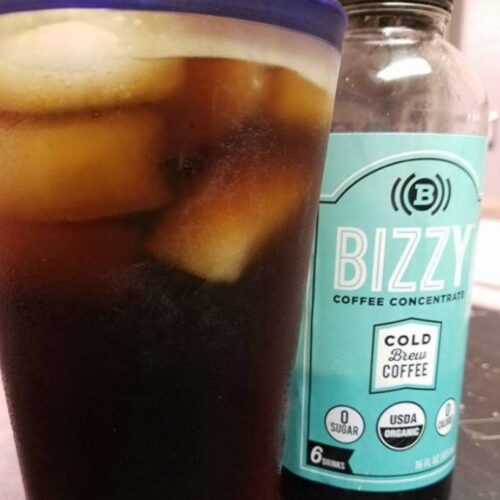 Copycat Vincent Vega Iced Coffee
This rather odd copycat recipe is unbelievable. Warning: May Be Addictive!
Print
Pin
Rate
Ingredients
1

C.

Ice

6

Ounce

Coca-Cola

1/3

C.

Bizzy Organic Cold Brew Coffee Concentrate

2

Tsp.

Vanilla Flavoring
Instructions
Pour the Bizzy Organic Cold Brew Coffee Concentrate over ice.

Add vanilla and stir, then add Coca-Cola (carefully!) until the glass is topped off.
Share on Facebook
Nutritional information is provided as a reference, using an online calculator. We recommend verifying the information independently.
Pour the Bizzy Organic Cold Brew Coffee Concentrate over ice. Add vanilla and stir, then add Coca-Cola (carefully!) until the glass is topped off.
Easy peasy lemon squeezy… you now have a spiked Coca-Cola made with some great coffee.
Bizzy Coffee is certified organic, 0 calories, 0g sugar, 67% less acidic than drip (better for teeth and easier on stomach), 3x as caffeinated, 1 year shelf life, no preservatives, never pasteurized, and shelf-stable (does not need to be refrigerated).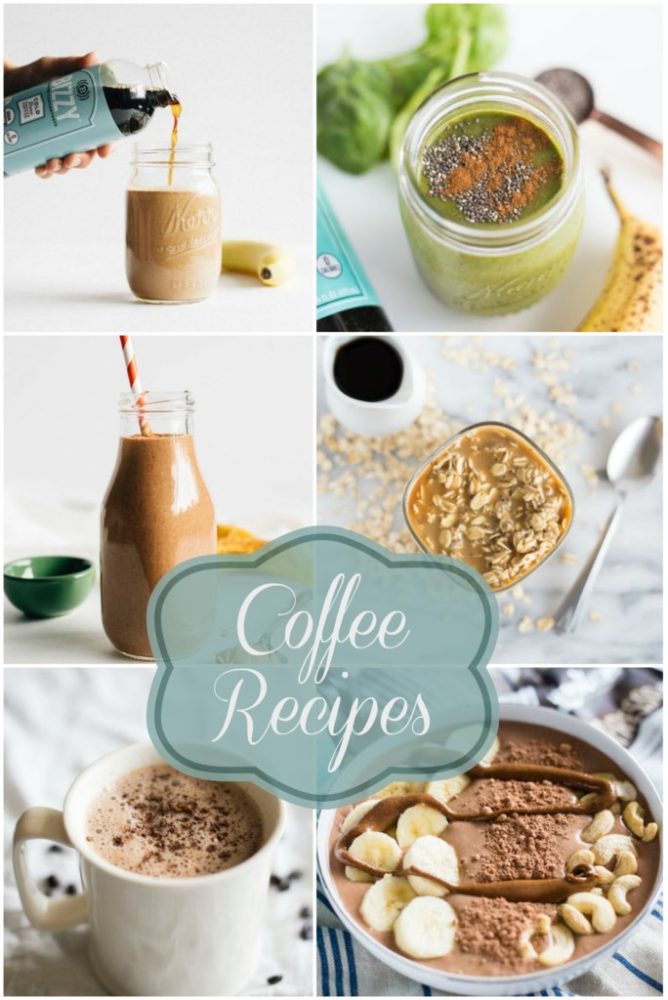 Other Bizzy Coffee Recipes
Espresso Smoothie Bowl
Coffee Hot Chocolate
Coffee Overnight Oats
Coffee Peanut Butter Cup Smoothie
Peanut Butter Lover's Mocha Smoothie
Be sure to join my Facebook group, because those are my people so they will be the first to know! Don't forget the Facebook page too!
While you are here if check out some of my favorite Weight Watchers recipes!
Taco Casserole (1 point)
Instant Pot Lo Mein (6 points)
2 Ingredient Dough Guide – Learn to make donuts, bagels, pizza, and more with just 2 ingredients!
2 Ingredient ZERO point pancakes
How do you feel about Weight Watchers new program?
Come find me and JOIN my Weight Watchers Air Fryer & Instant Pot Facebook Recipe Group. We all know how hard it is to do it alone. We are a community of people who post recipes, share tips and ideas and inspire one another every day! We can't wait to meet you!!
Check the bottom of this page to Download my FREE WW Cookbook & Tips Guide. You will LOVE it!!
This is my ZERO Point food list. Book mark the page and refer back often. Loading your fridge and pantry with these ZERO point foods is tip #1 for weight loss success.
Meal plans help me stay on track. Here are some of my favorites!
Weight Watchers Meal Plan Week 4 + FREE Download and Shopping List!
Instant Pot Printable Meal Plan
Freestyle One Week Meal Plan
Free Printable Meal Plan
You simply MUST try my ZERO points Cheesecake Recipe
Have you made up a batch of my 2 Ingredients Dough yet? It's AMAZING stuff!! Use it to make low point bread bowls, pretzels, bread sticks, bagels, pizza crust, cinnamon rolls & more. Check out the Recipe Guide & Individual Recipes below:
To entice you, watch this Video for the 2 Ingredients Bagel Recipe – you will LOVE it – total YUM!!

2 Ingredient Dough Recipes
Ultimate 2 Ingredient Dough Guide
2 Ingredient Dough Pizza
2 Ingredient Dough Pot Pie
2 Ingredient Dough Pop Tarts
2 Ingredient Dough Cinnamon Rolls
2 Ingredient Dough Bread Bowls
2 Ingredient Dough Empanadas
Make sure you check out and grab our printable shopping lists below to make it easy when you are in store to grab the best WW FreeStyle friendly foods and snacks!
Costco Shopping List
Weight Watchers Walmart Shopping List
Weight Watchers Target Shopping List
Weight Watchers Aldi Shopping List
Weight Watchers Trader Joe's Shopping List
Ever panic and wonder what to eat at your favorite restaurants? Well, I do too! That's why I created and LOVE my restaurant guides. Check them out here and be sure to email me and let me know any others you'd like to see:
Subway Weight Watchers
Cracker Barrel Weight Watchers
Chic Fil A Weight Watchers
Chipotle Weight Watchers
Olive Garden Weight Watchers
Red Robin Weight Watchers
Taco Bell Weight Watchers
P.F. Chang's
Texas Roadhouse