Vegan Buddha Bowl with Peanut Sauce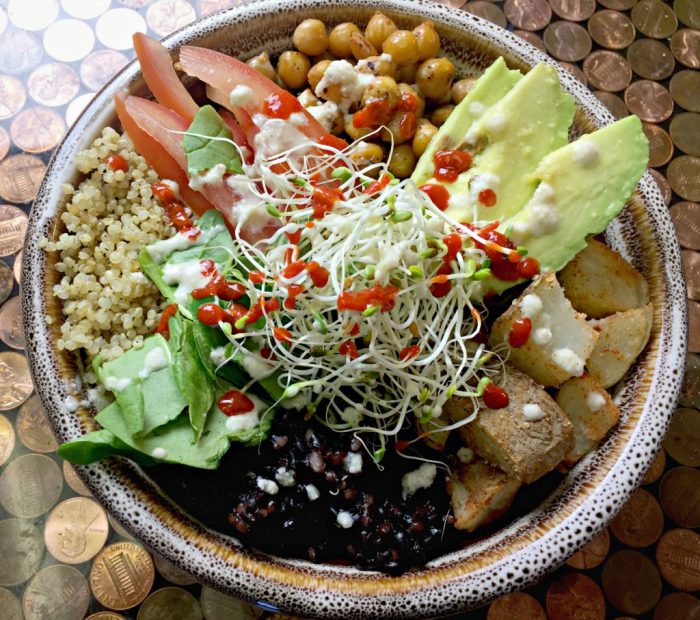 NOTE: You can find Forbidden rice at Whole Foods, Sprouts, or on Amazon. Basically, at any grocry store that has an International aisle.

What is a Buddha Bowl?
Buddha bowls can also be called glory or even hippie bowls. Sounds funny, right? The good news is, they are also super hearty and filling dishes that are made of superfood greens, delicious raw or roasted veggies, fiber filled legumes or beans and super healthy and delicious grains like quinoa or brown rice. My Vegan Buddha Bowl with Peanut Sauce recipe will not disappoint. It is filled with all those good things plus my favorite peanut sauce to top it off. Trust me, you are gonna love that sauce on everything!
What is Quinoa?
I am a really big fan of quinoa. I didn't really even know what it was until a few years ago. I had some in a salad I ordered and it was delicious. I didn't know if it was a rice or a whole grain or what. So, I did a little research. 
I quickly learned that quinoa is super good for you. It has a lot of protein and fiber – which are two very important things in weight loss, which I was trying to achieve. Turns out, while quinoa has a similar light texture to rice, it has fewer calories and carbs than white rice. Again, good for weight loss!
So, I decided to try my hand with quinoa at home. Turns out, it's ridiculously easy to cook. I boiled some up and decided to turn it into a bowl, using my favorite peanut sauce to really set it off. The recipe is included below so make sure you bookmark the page as you will want to make it often and keep it in your fridge – it's great on everything!
What is Forbidden Rice?
Forbidden rice is also known as purple rice or black rice. It is called "Forbidden" because it was once reserved only for the Chinese emperor to enjoy. It was believed it would ensure his health and longevity. Hence, it was forbidden for anyone else to eat. 
It is really rice. In fact, it is a medium grain rice that is actually a deep purple color with a strong nutty favor that can also be described as a bit sweet. It is very healthy and has even more fiber than brown rice – and that says a lot. Forbidden rice is also with nutritional benefits and a rich source of antioxidants. 
Eating this unique and special rice is apparently great for hearth health and overall body health and all of that was enough to make me sure that I wanted to try it. It was delicious!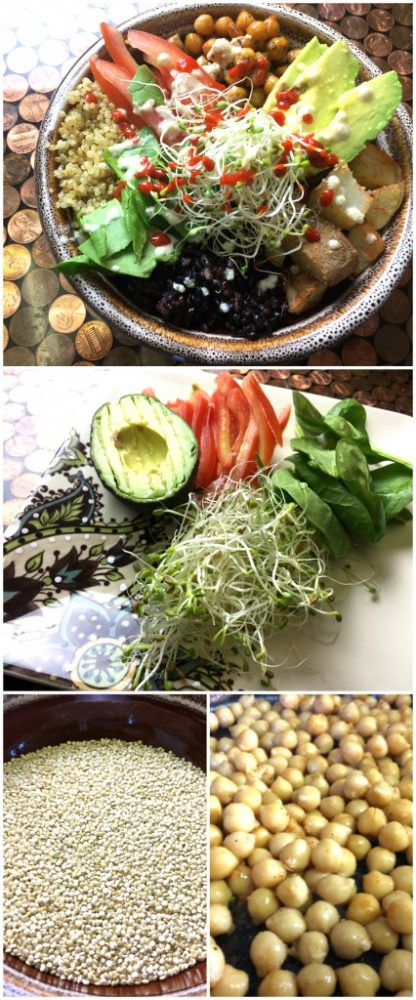 So, you put all those wonderful, healthy and high fiber ingredients together and you know you are going to have something. It is very delicious and super filling too. Be sure to add new textures and flavors to your own Vegan Buddha blows with things like nuts, seeds and any dressing you love!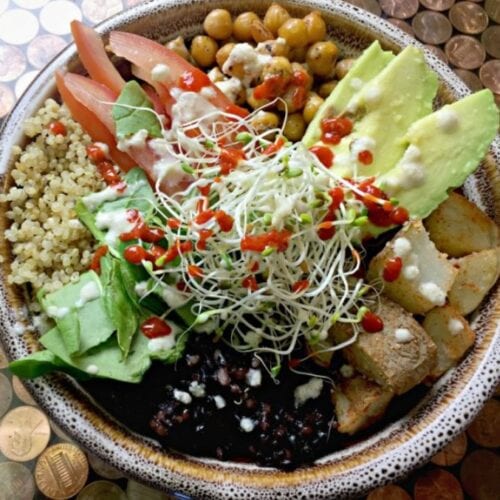 Ingredients
1

cup

quinoa

prepared

1

cup

forbidden rice

prepared as directed on package

1

can chickpeas

lime juice

1/8

teaspoon

paprika

1

clove

garlic

diced (tiny)

1

teaspoon

grated ginger

tomato slices

1/2

avocado

sliced

clover sprouts

tamari sauce

gluten-free soy sauce
Peanut Sauce
2/3

cup

plain peanuts

quarter size chunk of ginger

1

small pearl onion

squeeze of lime juice

dash of salt and pepper

1/2

serrano chili

1/2

cup

water
Instructions
Cook quinoa and forbidden rice as directed on packages.

Coat chickpeas with lime juice, paprika, garlic, and grated ginger. Roast in skillet until slightly brown.

Divide quinoa, chickpeas, and rice in a bowl. Top with slices of tomato, avocado, and clover sprouts. Sprinkle with tamari sauce and peanut sauce.

To make peanut sauce, mix all ingredients in blender until smooth. Enjoy!
Share on Facebook
Nutritional information is provided as a reference, using an online calculator. We recommend verifying the information independently.
Be sure to join my Facebook group, because those are my people so they will be the first to see my new recipes! Don't forget the Facebook page too! 
While you are here if check out some of my favorite Weight Watchers recipes!
Taco Casserole (1 point)
Instant Pot Lo Mein (6 points)
2 Ingredient Dough Guide – Learn to make donuts, bagels, pizza, and more with just 2 ingredients!
2 Ingredient ZERO point pancakes
How do you feel about Weight Watchers new program?
Come find me and JOIN my Weight Watchers Air Fryer & Instant Pot Facebook Recipe Group. We all know how hard it is to do it alone. We are a community of people who post recipes, share tips and ideas and inspire one another every day! We can't wait to meet you!!
Check the bottom of this page to Download my FREE WW Cookbook & Tips Guide. You will LOVE it!!
This is my ZERO Point food list. Book mark the page and refer back often. Loading your fridge and pantry with these ZERO point foods is tip #1 for weight loss success.
Meal plans help me stay on track. Here are some of my favorites!
Weight Watchers Meal Plan Week 4 + FREE Download and Shopping List!
Instant Pot Printable Meal Plan
Freestyle One Week Meal Plan
Free Printable Meal Plan
You simply MUST try my ZERO points Cheesecake Recipe
Have you made up a batch of my 2 Ingredients Dough yet? It's AMAZING stuff!! Use it to make low point bread bowls, pretzels, bread sticks, bagels, pizza crust, cinnamon rolls & more. Check out the Recipe Guide & Individual Recipes below:
To entice you, watch this Video for the 2 Ingredients Bagel Recipe – you will LOVE it – total YUM!!

2 Ingredient Dough Recipes
Ultimate 2 Ingredient Dough Guide
2 Ingredient Dough Pizza
2 Ingredient Dough Pot Pie
2 Ingredient Dough Pop Tarts
2 Ingredient Dough Cinnamon Rolls
2 Ingredient Dough Bread Bowls
2 Ingredient Dough Empanadas
Make sure you check out and grab our printable shopping lists below to make it easy when you are in store to grab the best WW FreeStyle friendly foods and snacks!
Costco Shopping List
Weight Watchers Walmart Shopping List
Weight Watchers Target Shopping List
Weight Watchers Aldi Shopping List
Weight Watchers Trader Joe's Shopping List
Ever panic and wonder what to eat at your favorite restaurants? Well, I do too! That's why I created and LOVE my restaurant guides. Check them out here and be sure to email me and let me know any others you'd like to see:
Subway Weight Watchers
Cracker Barrel Weight Watchers
Chic Fil A Weight Watchers
Chipotle Weight Watchers
Olive Garden Weight Watchers
Red Robin Weight Watchers
Taco Bell Weight Watchers
P.F. Chang's
Texas Roadhouse