Best Air Fryer – Which Air Fryer is Best for Me?
Which Air Fryer is Best for Me?
Air fryers are the latest "must-have" kitchen appliance, especially if you're trying to eat healthy on a program like Weight Watchers! Now that they are so popular, you can find them everywhere, in all shapes and sizes and colors. It can be overwhelming trying to decide which one works the best for you. Here is an easy breakdown of only the top-rated and the best air fryers for exactly what you need.
JOIN MY AIR FRYER RECIPE GROUP!
Some of my favorite Air Fryer recipes from the blog:
Breville Smart Oven Air–The BEST Air Fryer
My absolute favorite air Fryer is the Breville. It has SO much functionality and can cook pretty much anything!
–13 Cooking Functions (Bake, dehydrator, air fry, and more!
-1800 Watts
-2 Speed convection fan technology
-1 cubic foot (can fit a 12 cup muffin tray, 9×13 pans, and 12-inch pizzas)
Philips Air Fryer
Looking to feed a family of 4? Are the kids craving chicken nuggets? This is the best air fryer for what you need. Plus you can fix up your family's favorites with less oil! This means better nutrition and all the taste.
Philips TurboStar 
– 1425 Watts of power
– 1.8 Quart capacity
– Uses a tablespoon or less of oil to fry, grill, bake, and roast
– Quick Clean Basket
– Temperature is adjustable 
– Dishwasher-safe
– Comes with a cookbook with 150 recipes
Perfect for One (Best Air Fryer for Single Meals)
On your own and want a quick, easy, and delicious meal? This is the best air fryer for you. With enough capacity to cook food for one or two people, it's smaller footprint takes up little space. Enjoy your favorite foods with the satisfying crunch of it being fried, without all the fat!
Comfee 1500W Multi-Function Electric Hot Air Fryer with 2.6 Qt. Removable Dishwasher Safe Basket(Black):
3D Airflow System for the crunchiest fried food

Multi-function air fryer for healthy frying, grilling, baking, and roasting with 80% less fat

Has a 60 minutes timer with auto shut off function.

Adjustable temperature control from 175°F to about 392° F

The detachable pan and basket are dishwasher free with non-stick coating

The stainless steel heating element heats up incredibly fast

Has a removable 2.6 Qt. basket that can hold up to 2.2 lbs. of food

Power: 1500W

Capacity: 2.5 Liter / 2.6 Quart
The Power House
Are you picky about your food and how it cooks? Do you want the most control over your food? With a whopping 1800 watts of power, this is the powerhouse. With a large capacity and mechanical controls, you can cook what you want, exactly how you want it. There are no lingering smells and you get perfectly crisp food.
 Professional Air Fryer XL 5 Liter, 5.3 Quart, Extra Large Capacity 1800 Watt Hot Airfryer cooker, Dry Fryer Oven Pot, No Oil frying Healthy Delicious Food, Easy Cook for 7 People (White):
Simple Living Products Air Fryer range features Dynamic AirFlow Technology

Cook a whole chicken, basket of wings, ribs, fries, fish and more with 80% less fat

Has a 30 minutes timer with auto standby.

Mechanical temperature control from 180°F to 400° F

Elegant Design, Dishwasher Safe and Easy to Clean!

Has a 5 liters or 5.3 Qt. capacity basket and 6 liters capacity pan

Power: 1800W
All-in-One (Best Air Fryer for the Pragmatist)
Feeling a bit teched-out? Don't want to worry about fancy gizmos and all the fuss? This is the best air fryer for you. It is easy to use and comes with everything you could possibly need to cook what you want.
Air Fryer, 8-in-1 Digital Screen, with Recipes, and Deluxe Accessory Kit by Yedi Houseware (5.8QT):
Digital touch screen so you can set your desired cooking time and temperatures of180°F to This set includes everything you need! 50 perforated parchment steaming papers, an 8-inch cake carrel, an 8-inch pizza pan, multi-purpose rack with 3 stainless steel skewers, metal holder, and rubber mat.

SAFETY: A button guard prevents accidental detachment of the basket. Automatic shut-off and overheating protection.

Super Easy to Clean!

Has a 5.8 Qt. basket

Power: 1700W
Best Deal (Best Air Fryer for the Bargain Hunter)
Need a good deal? Want the best without dropping a fortune. Here is the best air fryer for you. You might not get this through Prime, but a good deal is worth waiting for.  Big enough for a family of four and easy to use preset button making this fryer the best deal around.
SUPER DEAL Electric Air Fryer XL 3.7 Quart W/ Timer, Temperature Control, Detachable Dishwasher Safe Basket, Fry Healthy with 80% Less Fat:
Temperatures from 176°F-392°F

Features simple push-button settings for Warm-Up, Chips, Chicken, Shrimp, Meat, Cake, and This also includes 50 perforated parchment steaming papers, an 8-inch cake carrel, an 8-inch pizza pan, multi-purpose rack with 3 stainless steel skewers, metal holder, and rubber mat.

FDA, CSA, ETL, UL, CA Prop65, and VDE Certificated Safe. Built-in cool-touch housing and handle.

100% Safe and Easy to Clean! – Easy-to-clean food Fry basket, holder, and base.

3.7-quart capacity

1500W power
If you want to see more recommendations on the BEST MUST HAVE kitchen gadgets and what we use at Slap Dash Mom, check out this post!!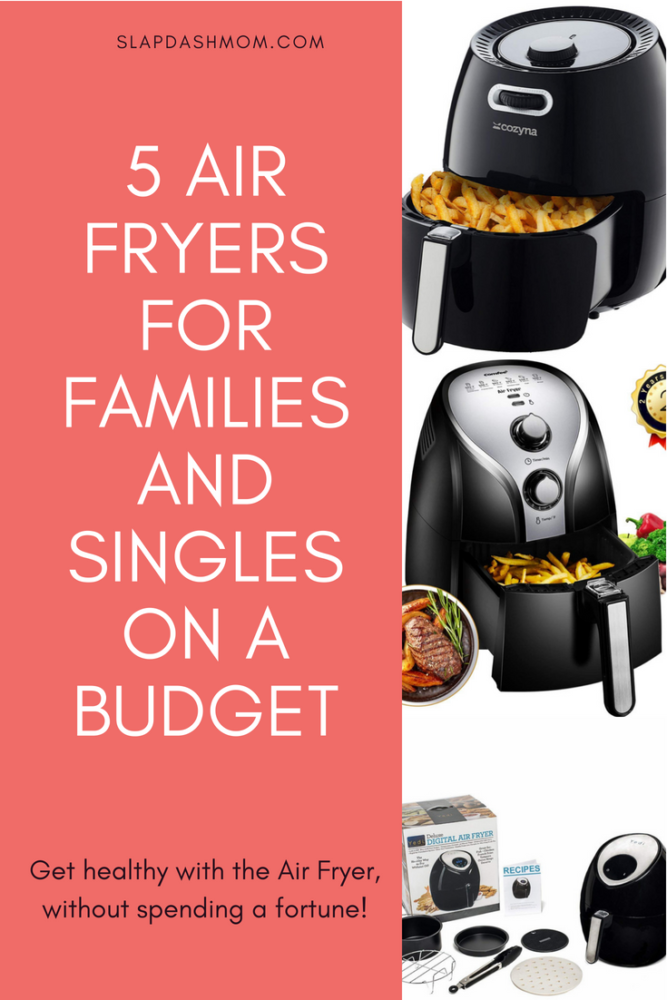 Make sure you check out and grab our printable shopping lists below to make it easy when you are in store to grab the best WW FreeStyle friendly foods and snacks!
Weight Watchers Walmart Shopping List
Weight Watchers Target Shopping List
Weight Watchers Aldi Shopping List