Thai Chicken Curry & Kale Soup – 5 Pts.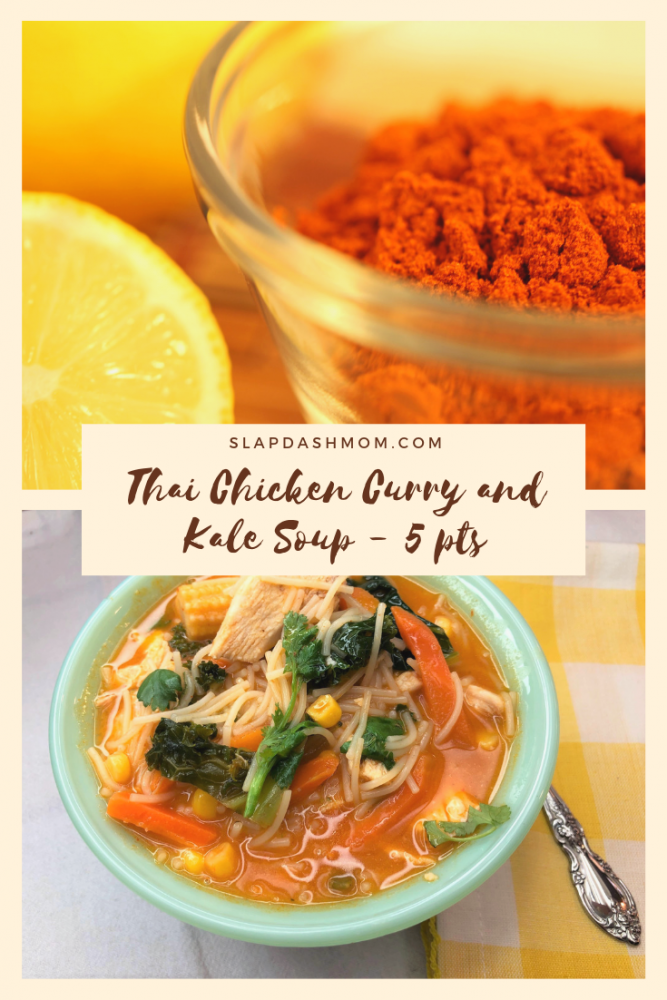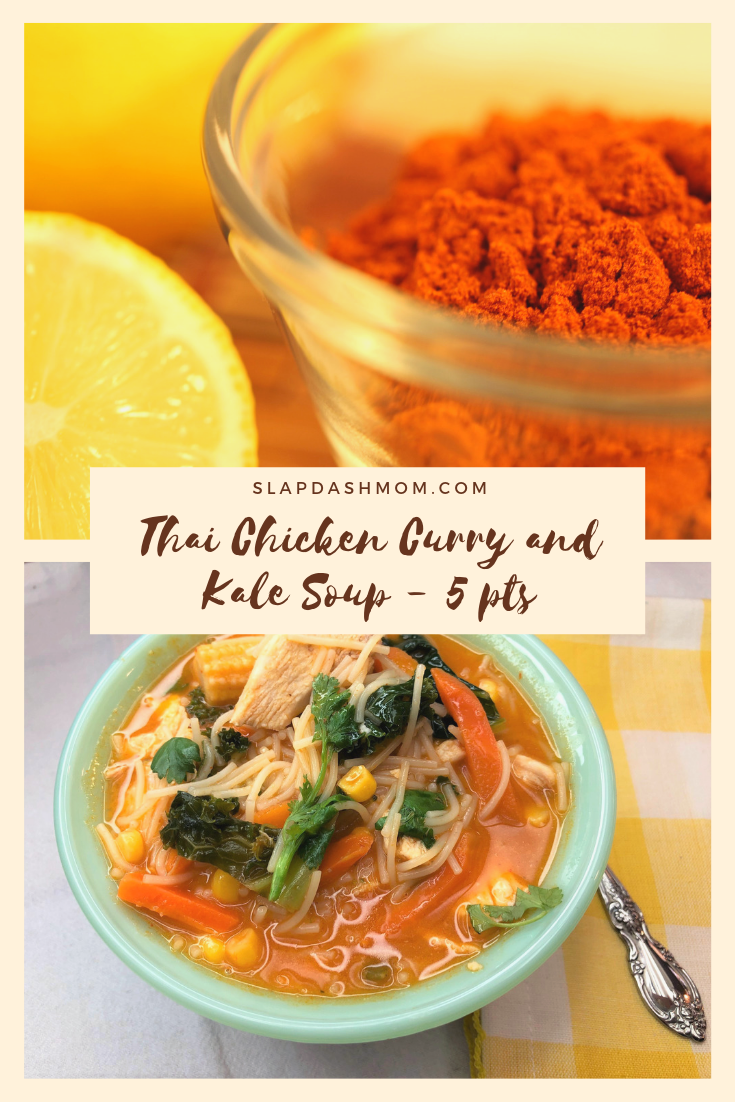 I heard about this Thai Chicken Curry and Kale soup from a friend – but of course I had to adjust it a bit and make it my own. If you love coconut and curry (I LOVE), you will really like this soup. And at only 5 points per serving, what's not to love?
I started this off with some fairly simple ingredients including curry paste, lite coconut milk, chicken and frozen veggies and 20 minutes later I had a mouth-watering masterpiece.
It really couldn't be easier to make. I made this in a good ol' fashioned stock pot but it's so good, I may just try it in my instant pot next!
Serving size is 1 & 3/4 Cups so you can fill up on this delicious soup! The flavor is mild yet extremely flavorful and Yummy!!
Yields: 4 servings
Cooking Spray
2.5 Tbsp Thai Red or Green Curry Paste (according to what you like)
1 Cup Light Coconut Milk
4 Cups low Sodium Chicken Broth
3 oz Rice Vermicelli noodles
10 oz Frozen Mixed Veggies (I selected an Asian mix but anything you like will do)
1 Cup Fresh Kale, chopped
1/2 lb Cooked Chicken Breast, chopped
2 Tbsp Lime Juice
Pinch of Cilantro for garnish
Pinch of pepper to taste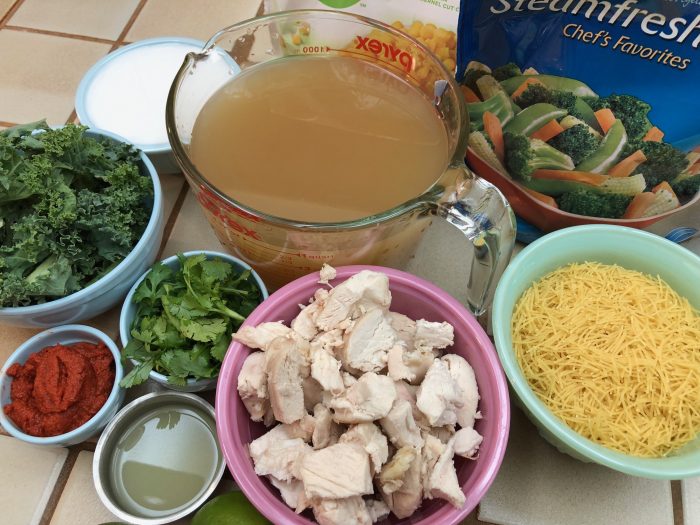 Heat pot with cooking spray and add Curry Paste
Stir 2-3 minutes, or until it begins to smell wonderful
Add coconut milk and chicken broth, bring to a gentle boil
Add noodles and kale and let boil covered, for 2-3 minutes
Add the frozen veggies, reduce heat to a low simmer, uncovered, for 3-4 minutes
Add in the chicken and lime juice, simmer until veggies are how you like them – should be just a few minutes more.
Add in a pinch of pepper, to taste
Garnish with cilantro and serve
Preparation time: 15 minutes
Cook time: 15 minutes
Total time: 30 minutes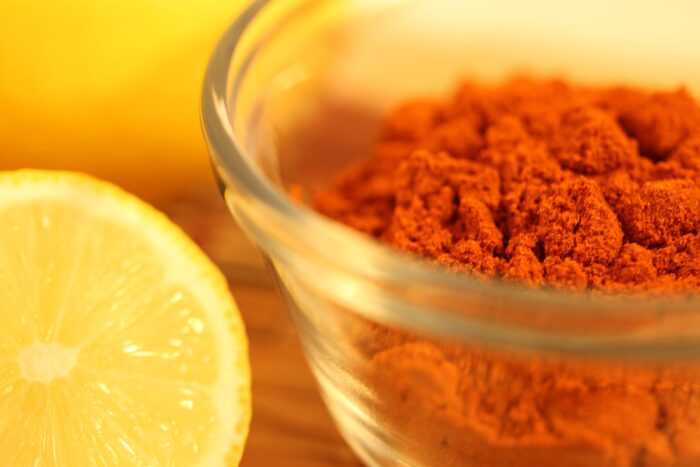 Nutrition
Calories: 470
Fat: 5 grams
Carbs: 51 grams
Protein: 36 grams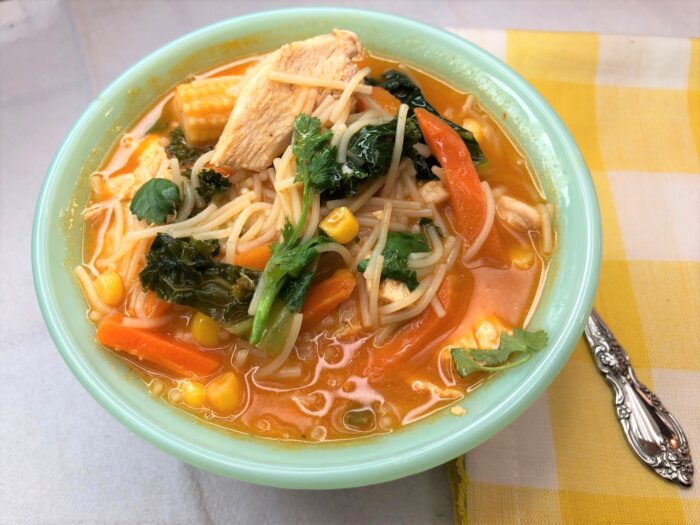 Since Joining Weight Watchers
Since joining Weight Watchers, now called WW, everything has changed for me. I try to eat right and exercise regularly (I swim). But, those things have not stopped me from loving desserts. In fact, I think I may even love them more. For that reason, I concentrate more on making Weight Watchers friendly desserts, like my Strawberry Cool Whip Sundae, than I even do dinner or breakfast dishes (which I have some great ones of those too here).
I truly love that today there are zero sugar sports drinks and zero sugar and light calorie versions of Cool Whip, chocolate syrup, pancake mix, ice cream, yogurt, cheese and cream cheese, butters, graham crackers, etc. It makes finding and making dessert recipes that I can "happily" eat, a breeze.
I hope you will check out my website for my recipes, meal plans, recipe guides and more and enjoy!
My Zero Point Foods List
This is my ZERO Point food list. Book mark the page and refer back often. Loading your fridge and pantry with these ZERO point foods is tip #1 for weight loss success.
Be sure to join my Facebook group, because those are my people so they will be the first to know! Don't forget the Facebook page too!
While you are here if check out some of my favorite Weight Watchers recipes!
Taco Casserole (1 point)
Instant Pot Lo Mein (6 points)
2 Ingredient Dough Guide – Learn to make donuts, bagels, pizza, and more with just 2 ingredients!
2 Ingredient ZERO point pancakes
Meal plans are key to staying on track – here are my faves
Weight Watchers Meal Plan Week 4 + FREE Download and Shopping List!
Instant Pot Printable Meal Plan
Freestyle One Week Meal Plan
Free Printable Meal Plan
You simply MUST try my ZERO points Cheesecake Recipe
Have you made up a batch of my 2 Ingredients Dough yet? It's AMAZING stuff!! Use it to make low point bread bowls, pretzels, bread sticks, bagels, pizza crust, cinnamon rolls & more. Check out the Recipe Guide & Individual Recipes below:
To entice you, watch this Video for the 2 Ingredients Bagel Recipe – you will LOVE it – total YUM!!

2 Ingredient Dough Recipes
Ultimate 2 Ingredient Dough Guide
2 Ingredient Dough Pizza
2 Ingredient Dough Pot Pie
2 Ingredient Dough Pop Tarts
2 Ingredient Dough Cinnamon Rolls
2 Ingredient Dough Bread Bowls
2 Ingredient Dough Empanadas
Printable Shopping Lists
Costco Shopping List
Weight Watchers Walmart Shopping List
Weight Watchers Target Shopping List
Weight Watchers Aldi Shopping List
Weight Watchers Trader Joe's Shopping List
Never panic eating out again – check out my restaurant guides.
Subway Weight Watchers
Cracker Barrel Weight Watchers
Chic Fil A Weight Watchers
Chipotle Weight Watchers
Olive Garden Weight Watchers
Red Robin Weight Watchers
Taco Bell Weight Watchers
P.F. Chang's
Texas Roadhouse