WW Strawberry Vinaigrette Salad – 3 Pts.
Growing up in California, I was blessed by sunshine and the growing season. Every summer my mom drove me up the coast to visit friends in central California. The best part of those trips were the never ending side-of-the-road fruit stands and their hand made "fresh picked strawberries" signs. They stopped us in our tracks every time. We always bought a 5 pound box of strawberries and wondered how we'd eat them all and every year we did, no problem! Those berry stands started my love of strawberry recipes and years later, spurred my Weight Watchers strawberry vinaigrette salad recipe.
As a child, my favorite strawberry recipe was shortcake
What kid doesn't love shortcake after all. My mom would buy those ready made short cakes at the market. We would cut up our fresh strawberries and add them to the cake, with tons of whipping cream of course, and that would be the best dessert I ever tasted. It wasn't until many years later, as an adult, that I discovered the WW (Weight Watchers) program and in turn, some super healthy strawberry recipes.
I developed the strawberry vinaigrette salad recipe almost on accident
Fast forward many years later and my daughter is playing a lot of soccer. One year I was asked, kind of last minute, to bring a salad to the end-of-season potluck for the team. I'm sure I was supposed to bring lettuce with tomato and cucumber, but that's not what I had in my fridge. So, I improvised and put together my strawberry vinaigrette salad. I hoped it was okay. By the end of the night, everyone was raving and asking me for the recipe. It was a hit and what everyone loved most was the fresh strawberries and blueberries inside.
I knew I was on to something!
Should the strawberry vinaigrette salad berries be fresh or frozen?
I am sure you can make the salad either way. However, for me, I like everything fresh. If you use frozen, you have to defrost the berries and when that happens, they are juicy and take on a different consistency. This juice is delicious, of course, but brings a different flavor to the salad and I just prefer fresh. You should try it both ways and discover which way you prefer.
How can I make the strawberry vinaigrette salad a main course?
In a word, yes!
I do it all the time. I really like to grill up some chicken breast and throw it over the top of the salad while it's still warm. It adds another dimension to the salad and makes it a complete meal. And if you are on Weight Watchers (or WW), you know that the addition of the chicken breast is zero points, so that's amazing
What is another great way to use fresh strawberries?
My mother was a huge fan of strawberry shortcake. Now, don't get me wrong. I LOVE strawberry shortcake. In fact, I have my Weight Watchers Strawberry Shortcake recipe here. However, as I became older, and was looking for healthy ways to eat, that is when I discovered how fun and delicious a strawberry can be inside a salad. To be honest, my strawberry vinaigrette salad is truly one of my absolute favorite recipes.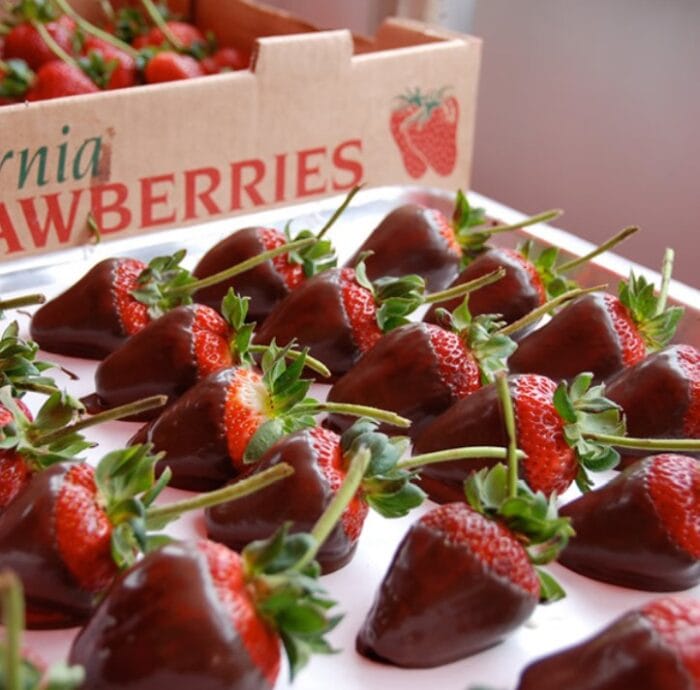 A few other amazing ideas for using fresh strawberries are strawberry pie, strawberry ice cream, a strawberry tarte, a carefully sliced strawberry as a garnish on your drink glass, chocolate dipped strawberries (yum) and fresh cut strawberries over your morning oatmeal or yogurt is a delicious treat as well.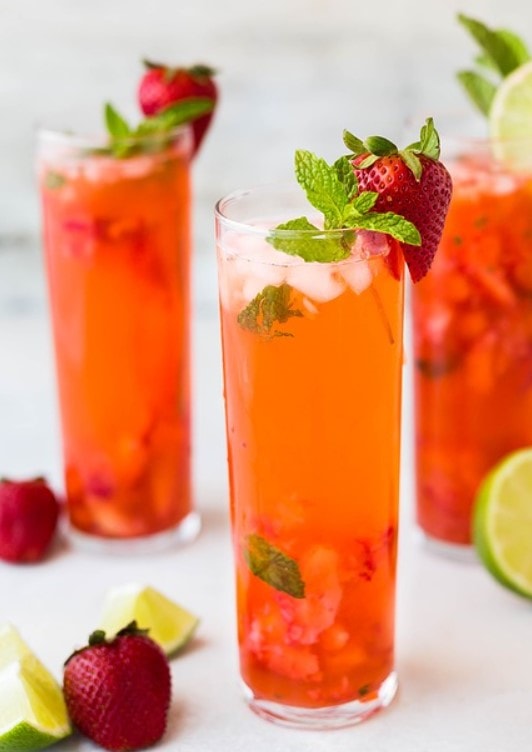 Where can I get fresh, delicious California Strawberries?
I thought you would never ask. I can tell you one thing, you have never tasted a strawberry until you have eaten a fresh, California strawberry. Of course, wherever you are, I'm sure your local market has very delicious strawberries. But, if you ever have a chance to visit the California Strawberry Festival held in Oxnard, CA every year, I highly recommend it. It is quite a treat and you can try just about every possible strawberry recipe there!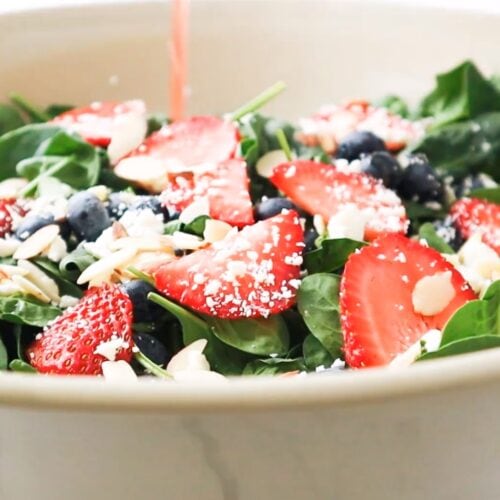 Weight Watchers Strawberry Salad with Berry Vinaigrette
This delicious salad is a mix of greens, strawberries and almonds. Feel free to add grilled chicken or tofu to make it a more hearty meal – any time.
Print
Pin
Rate
Ingredients
1/4

cup

raspberry vinegar

1

tbsp

honey

2

tsp

olive oil

I prefer extra virgin

1/4

tsp

freshly ground black pepper

1

garlic clove minced

4

cups

baby spinach, butter lettuce or any spring mix your choose

1

cup

sliced strawberries

1/3

cup

blueberries

2

tbsp

toasted, sliced almonds

I also like pistachios in this salad!

1/4

cup

feta cheese
Instructions
Combine vinegar, honey, olive oil, pepper, salt and garlic in mixing bowl and whisk.

Combine greens, berries, feta and almonds in a large bowl and pour berry vinaigrette over the top. Toss it all together and enjoy
Share on Facebook
Weight Watchers Points
3 Points without Feta, 5 Points with Feta
Nutritional information is provided as a reference, using an online calculator. We recommend verifying the information independently.
Be sure to join my Facebook group, because those are my people so they will be the first to know! Don't forget the Facebook page too!
While you are here if check out some of my favorite Weight Watchers recipes!
Taco Casserole (1 point)
Instant Pot Lo Mein (6 points)
2 Ingredient Dough Guide – Learn to make donuts, bagels, pizza, and more with just 2 ingredients!
2 Ingredient ZERO point pancakes
How do you feel about Weight Watchers new program?
Come find me and JOIN my Weight Watchers Air Fryer & Instant Pot Facebook Recipe Group. We all know how hard it is to do it alone. We are a community of people who post recipes, share tips and ideas and inspire one another every day! We can't wait to meet you!!
Check the bottom of this page to Download my FREE WW Cookbook & Tips Guide. You will LOVE it!!
This is my ZERO Point food list. Book mark the page and refer back often. Loading your fridge and pantry with these ZERO point foods is tip #1 for weight loss success.
Meal plans help me stay on track. Here are some of my favorites!
Weight Watchers Meal Plan Week 4 + FREE Download and Shopping List!
Instant Pot Printable Meal Plan
Freestyle One Week Meal Plan
Free Printable Meal Plan
You simply MUST try my ZERO points Cheesecake Recipe
Have you made up a batch of my 2 Ingredients Dough yet? It's AMAZING stuff!! Use it to make low point bread bowls, pretzels, bread sticks, bagels, pizza crust, cinnamon rolls & more. Check out the Recipe Guide & Individual Recipes below:
To entice you, watch this Video for the 2 Ingredients Bagel Recipe – you will LOVE it – total YUM!!

2 Ingredient Dough Recipes
Ultimate 2 Ingredient Dough Guide
2 Ingredient Dough Pizza
2 Ingredient Dough Pot Pie
2 Ingredient Dough Pop Tarts
2 Ingredient Dough Cinnamon Rolls
2 Ingredient Dough Bread Bowls
2 Ingredient Dough Empanadas
Make sure you check out and grab our printable shopping lists below to make it easy when you are in store to grab the best WW FreeStyle friendly foods and snacks!
Costco Shopping List
Weight Watchers Walmart Shopping List
Weight Watchers Target Shopping List
Weight Watchers Aldi Shopping List
Weight Watchers Trader Joe's Shopping List
Ever panic and wonder what to eat at your favorite restaurants? Well, I do too! That's why I created and LOVE my restaurant guides. Check them out here and be sure to email me and let me know any others you'd like to see:
Subway Weight Watchers
Cracker Barrel Weight Watchers
Chic Fil A Weight Watchers
Chipotle Weight Watchers
Olive Garden Weight Watchers
Red Robin Weight Watchers
Taco Bell Weight Watchers
P.F. Chang's
Texas Roadhouse