Weight Watchers Strawberry Cool Whip Sundae – 5 Pts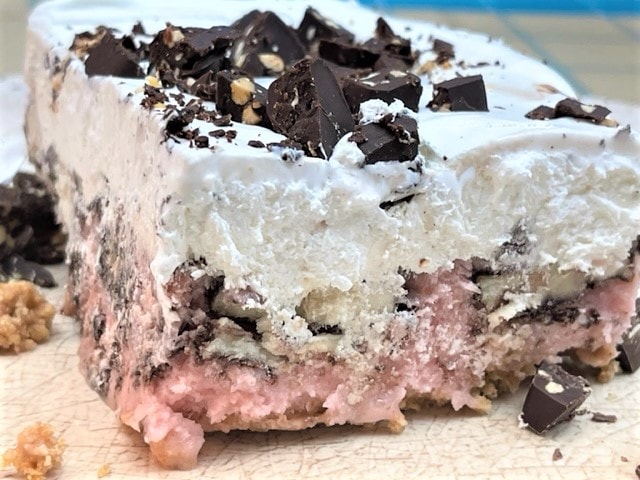 Long Before Weight Watchers…
Long before Weight Watchers, I have been a fan of ice cream, strawberries, Cool Whip and dark chocolate. I mean, who isn't? But I have truly making recipes using Cool Whip (with everything else you can imagine) for decades. It's one of my most favorite dessert mix ins and toppings ever. You are not going to believe how delicious my latest Weight Watchers Strawberry Cool Whip Sundae is. I think the pics I took look pretty amazing and trust me, it tastes even better.
I think this is the perfect recipe for absolutely any occasion. I make it often, for dessert any time of year, but it also makes a wonderful addition to any holiday occasion where guests might go crazy for a luscious and low WW points treat.
I make a delicious treat every Thanksgiving and I call it "Cherry Surprise." It is made of Cool Whip and cherry pie filling and a few other things and it is an absolute crowd pleaser. I try to change things up every year with just a little something new on the holiday table. But, when I ask the family what they want me to make, Cherry Surprise always makes the list. Something tells me my Weight Watchers Strawberry Cool Whip Sundae is going to be there too!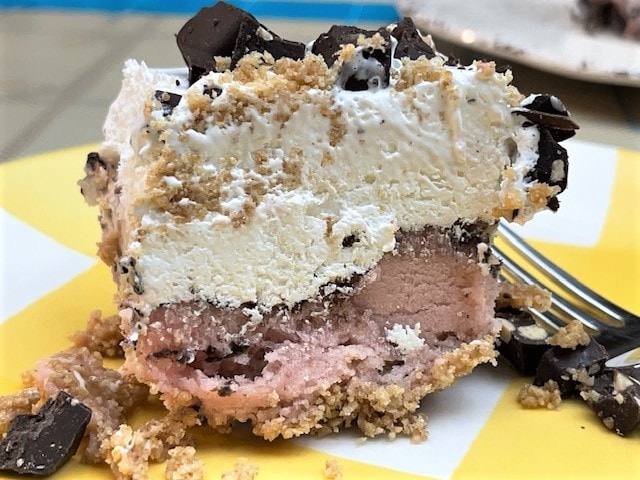 Get Creative With this Recipe
This Weight Watchers Strawberry Cool Whip Sundae recipe is SO easy to have fun with.
You can swap out the strawberry frozen yogurt for any flavor of yogurt or light ice cream you choose. For instance, when I made this batch, I used a mixture of The Frozen Farmers brand of Farm Crafted Strawberry Sorbet that is just 1 point per serving. I mixed it with Halo Top light strawberry ice cream, that is just 2 points per serving. Both are amazing alone, but mixed together, voila! (I found both at Safeway btw – if that helps)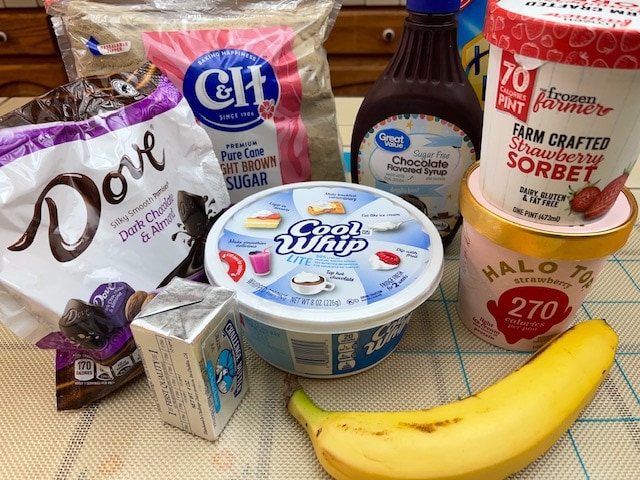 You can use all sorbet, all frozen yogurt, or all light ice cream, or any mixture of each. Just be sure they are in the 1 to 2 points per serving range to keep the recipe a 5pt WW treat – if you are going for that. If not, feel free to make it with anything you choose.
I think next time I make this I'm going to visit my local Menchie's and see what sugar flavors they have. I truly believe any flavor in this gorgeous dessert would be AMAZING.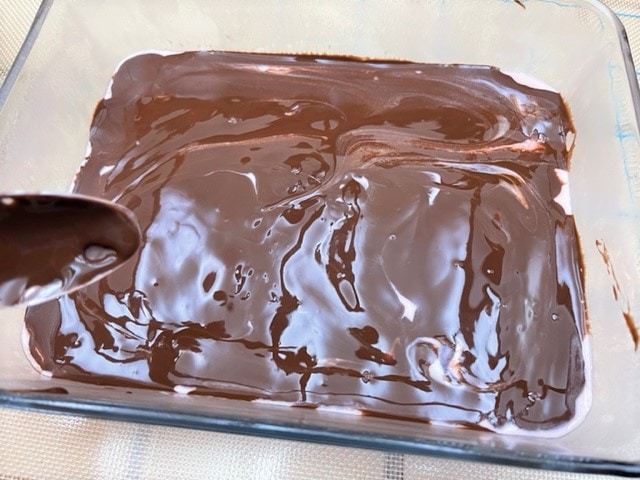 So This Recipe Has Some Chocolate
I was all ready to use regular Hershey's Syrup to make this recipe but I was shopping at Walmart for all the ingredients. I was so lucky to find their brand of sugar free chocolate syrup that is ZERO points. You can only imagine how happy that made me.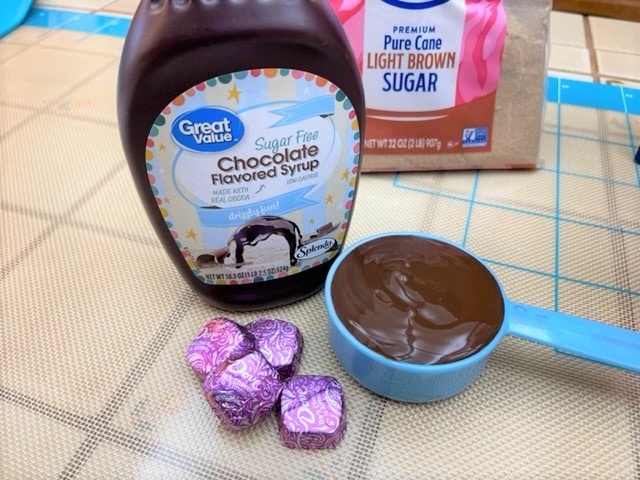 The recipe is SO super easy to make it's ridiculous. It does take a bit of planning because once you assemble it, you need to refreeze it to get it solid again. I recommend just getting ready the first three ingredients to make the crust and load it up with ice cream or frozen yogurt and then cover and set it back into the freezer to set. It will take maybe 2 hours.
After that, you can get everything else ready, assemble the dessert and then back into the freezer it goes until it hardens. More like 6 or so hours this time. Of course, it all depending on the temperature of your freezer. 6 hours is what mine took. So, that makes this Weight Watchers Strawberry Cool Whip Sundae recipe the perfect thing to assemble a day (or a week) ahead of time. Then, just pull it out twenty minutes before serving time and you and yours are ready for a delectable treat.
What About Portion Size?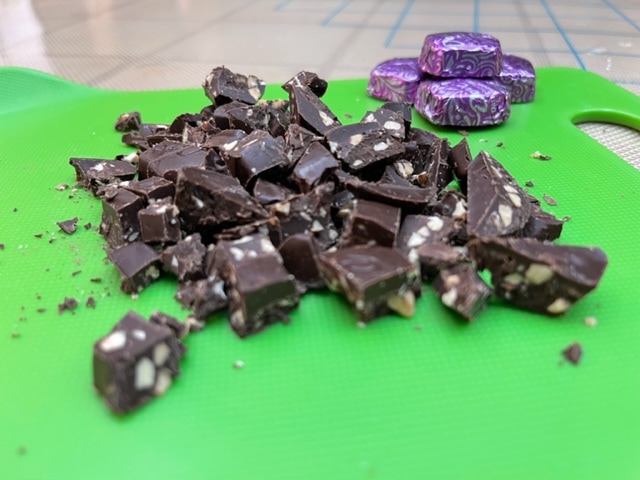 The way I have this recipe set up it will make 12 servings. To be exceedingly honest, the dark chocolate almonds have the most points in the entire Strawberry Cool Whip Sundae dessert. So, if you want an even lower point treat, you can remove those and the treat becomes approximately 3 points per serving.
However, I will be honest and tell you that I can't live without the chocolate almonds on my Strawberry Cool Whip Sundae treat. But, a little bit does go a very long way. So, feel free to use all the chocolate almonds, use a little less or use none at all. Your choice!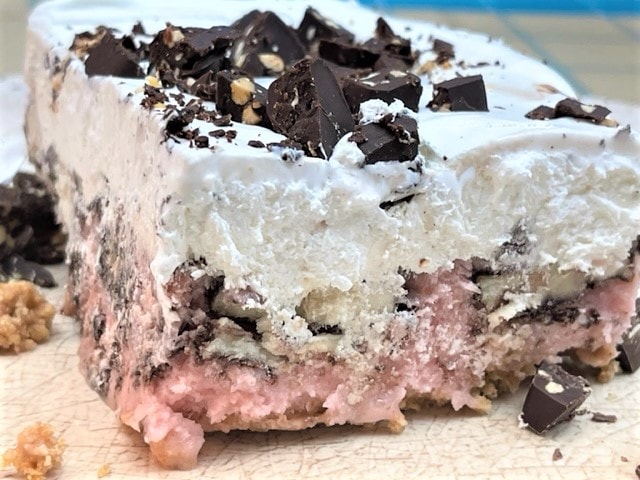 Weight Watchers Strawberry Cool Whip Sundae 5 Pts
Delectable Ice Cream Sundae made from Graham Cracker Crust, Ice cream or Frozen Yogurt, Cool Whip, Fresh Bananas & Dark Chocolate Almonds. Aaah….Yes!
Print
Pin
Rate
Ingredients
3/4

cup

graham cracker crumbs

Roughly 5 full sized crackers

2

tbsp

light brown sugar

2

tbsp

melted butter

4

cups

strawberry frozen yogurt or light ice cream

I mixed two cups of each kind & it was fabulous

1/2

cup

fat free no sugar hot fudge

Walmart carries Sugar Free Chocolate Syrup ZERO Points

1-2

medium

sliced banana

feel free to use any fruit you like; blue berries, pineapple, orange slices, etc. Any would taste amazing

8

oz

Cool Whip Lite

Just 1 Pt per serving

15

dark chocolate covered almonds – chopped
Instructions
Set out the light ice cream or frozen yogurt approximately 20 minutes so it will be nice and softened

You will start this recipe with just some of the ingredients as you will need to freeze it prior to finishing and serving. Trust me…it will be worth the wait

Coat an 8×8 baking pan with Pam no stick spray

Chop up the graham crackers in large mixing bowl and add melted butter and brown sugar. Mix

Layer and press the graham cracker crust into banking pan. Pour the frozen yogurt or ice cream (or am mix) over the graham crust. Cover and freeze for at least two hours

Now you will need the rest of the ingredients

Remove the yogurt mixture from freezer and pour the chocolate syrup on top while yogurt is still nice and frozen

Slice up the bananas and layer them on top of chocolate syrup

Spread the cool whip on top of the bananas

Sprinkle with the chopped chocolate almonds and refreeze for 6 to 7 hours

Pull out of freezer 20 minutes prior to serving.

Cut into 12 pieces and Enjoy!

Each serving is 5 WW points & approximately 235 calories
Video
Share on Facebook
Nutritional
Nutritional information is provided as a reference, using an online calculator. We recommend verifying the information independently.
Since Joining Weight Watchers
Since joining Weight Watchers, now called WW, everything has changed for me. I try to eat right and exercise regularly (I swim). But, those things have not stopped me from loving desserts. In fact, I think I may even love them more. For that reason, I concentrate more on making Weight Watchers friendly desserts, like my Strawberry Cool Whip Sundae, than I even do dinner or breakfast dishes (which I have some great ones of those too here).
I truly love that today there are zero sugar sports drinks and zero sugar and light calorie versions of Cool Whip, chocolate syrup, pancake mix, ice cream, yogurt, cheese and cream cheese, butters, graham crackers, etc. It makes finding and making dessert recipes that I can "happily" eat, a breeze.
I hope you will check out my website for my recipes, meal plans, recipe guides and more and enjoy!
My Zero Point Foods List
This is my ZERO Point food list. Book mark the page and refer back often. Loading your fridge and pantry with these ZERO point foods is tip #1 for weight loss success.
Be sure to join my Facebook group, because those are my people so they will be the first to know! Don't forget the Facebook page too!
While you are here if check out some of my favorite Weight Watchers recipes!
Taco Casserole (1 point)
Instant Pot Lo Mein (6 points)
2 Ingredient Dough Guide – Learn to make donuts, bagels, pizza, and more with just 2 ingredients!
2 Ingredient ZERO point pancakes
Meal plans are key to staying on track – here are my faves
Weight Watchers Meal Plan Week 4 + FREE Download and Shopping List!
Instant Pot Printable Meal Plan
Freestyle One Week Meal Plan
Free Printable Meal Plan
You simply MUST try my ZERO points Cheesecake Recipe
Have you made up a batch of my 2 Ingredients Dough yet? It's AMAZING stuff!! Use it to make low point bread bowls, pretzels, bread sticks, bagels, pizza crust, cinnamon rolls & more. Check out the Recipe Guide & Individual Recipes below:
To entice you, watch this Video for the 2 Ingredients Bagel Recipe – you will LOVE it – total YUM!!

2 Ingredient Dough Recipes
Ultimate 2 Ingredient Dough Guide
2 Ingredient Dough Pizza
2 Ingredient Dough Pot Pie
2 Ingredient Dough Pop Tarts
2 Ingredient Dough Cinnamon Rolls
2 Ingredient Dough Bread Bowls
2 Ingredient Dough Empanadas
Printable Shopping Lists
Costco Shopping List
Weight Watchers Walmart Shopping List
Weight Watchers Target Shopping List
Weight Watchers Aldi Shopping List
Weight Watchers Trader Joe's Shopping List
Never panic eating out again – check out my restaurant guides.
Subway Weight Watchers
Cracker Barrel Weight Watchers
Chic Fil A Weight Watchers
Chipotle Weight Watchers
Olive Garden Weight Watchers
Red Robin Weight Watchers
Taco Bell Weight Watchers
P.F. Chang's
Texas Roadhouse