Air Fryer Oatmeal Peanut Butter Chocolate Chip Muffins – 4 WW PointsPlus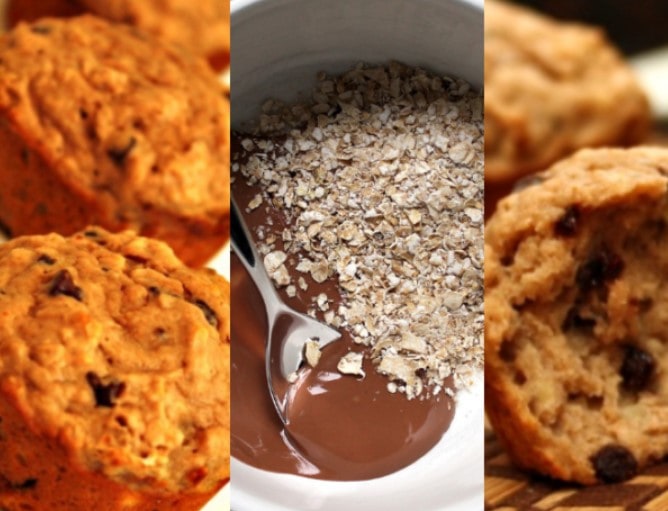 Today I felt like making something delicious for breakfast – plus I love chocolate. I decided to make these yummy Air Fryer Oatmeal Peanut butter and chocolate chip muffins. My plan is to have one with two scrambled eggs (ZERO points) and have a total, 4 point breakfast.
But really, a much better idea is to make them ahead and freeze, to always have them available on your way out the door, when you don't have time to sit and eat, or whenever hunger strikes. 
At my WW meeting yesterday, we talked about hunger and what it means to be really hungry. That, verses thinking that you are. Real hunger, the speaker said, means you have to be able to pass the "apple test," or the "banana test," for those who don't like apples. 
I didn't know what the apple or banana tests were but she went on to explain. When you think you are hungry, just pick up an apple or banana. If it looks good to you, you probably are hungry. So, eat! If they do not look yummy, you are more likely just bored or stressed or looking to fill your belly for some other reason. Probably, any other reason besides hunger. 
What Do You Do If You Are Not Truly Hungry?
Most of the group piped in at this point. Basically, they said, do anything else. Get up and walk around the block, play with your dog, write in your journal, swim, do your laundry or check out a new Netflix show you've been dying to see. That's it, anything! Don't give in to the urge to eat when you are not truly hungry. I know that is way easier said than done, but those are some good ideas, never the less. 
The Next Thing We Talked About Was Preparedness  
We went on to talk about how stressful and hurried mornings can be. That is maybe why so many of us forget to eat and then end up in the McDonald's drive through line, OR eating a bagel with cream cheese in the office break room. Nothing wrong with that, I guess, but now all my daily points are gone and I have to eat zero point foods the rest of the day – for sure.
When I don't plan, I tend to go crazy and eat all my points in one fell swoop
So, as the speaker was still chatting, I thought about preparedness and what an important part of my Weight Watchers journey it has been for me. I wanted to immediately go home and make up a bulk batch of these delectable Oatmeal Peanut Butter Chocolate Chip Muffins. That way, I could store some in my freezer and have them to set out nightly, then grab on my way out of the house each morning. That may be more why I felt like making them for breakfast today – and so I did. 
And, I wanted to be sure to share my recipe here with you as well. 
Why Is Preparedness So Darn Important?   
Preparedness is so important because if I ever let myself get over hungry, I make bad choices; hence, McDonald's drive through. I realize McDonald's does have healthy choices now, and I 100% am not knocking them, I love them. It's just not the right place for me too often because I can't resist a Big Mac and fries :) Rather, I need to stay satiated with lots of good, healthy things, like my Oatmeal Peanut Butter Chocolate Chip Muffins! When I do, I know I won't be making those bad choices in the break room either.
Make A Batch And Freeze Them 
These muffins freeze so well and I highly recommend that is what you do with them. I do, then pull a few out every few days, or as often as I need. They thaw out nicely in about 45 minutes. Or, if I need it fast, 1 minute in the microwave on "defrost" will get that done nicely.
It's best to pull them out at night so they are ready to eat in the morning. But sometimes, I have been known to forget!  
Don't Forget To Change It Up
You can change this recipe up quite a bit with great results! Feel free to try different combos like peanut butter or white chocolate chips, raisins, dried cherries, dried apricots, blue berries etc. The sky's the limit. Remember to change the points if necessary.
Please enjoy them – Pin it and let me know what you think!!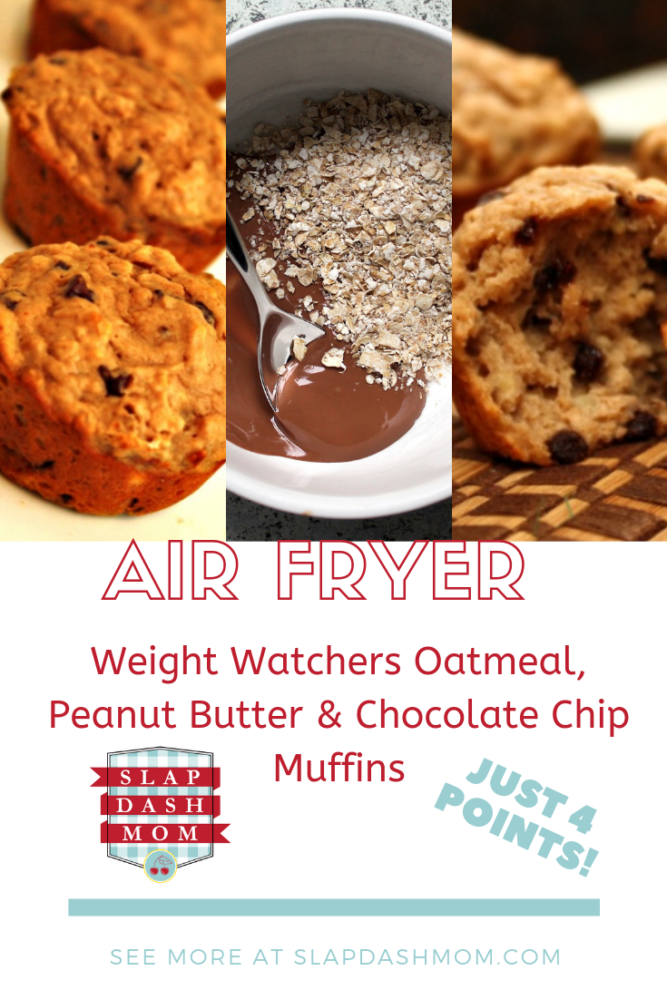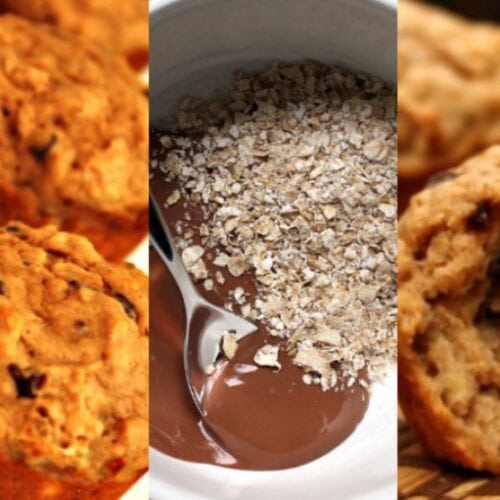 Oatmeal Peanut Butter Chocolate Chip Muffins – 4 WW PointsPlus
Makes approx 8 muffins – just 4 points each!
Print
Pin
Rate
Ingredients
1 1/2

Cups

flour

1

cup

quick oats

1/2

cup

brown sugar

1

tsp

baking powder

1/2

tsp

baking soda

1

cup

greek yogurt

2

medium size bananas

1/4

cup

I can't believe it's not butter

spread, melted

1/4

cup

skim milk

3/4

cup

low fat peanut butter

1

tablespoon

vanilla extract

1

large egg

1/4

cup

chunk chocolate chips

or whatever kind you prefer
Instructions
Preheat oven to 375 degrees F.

Combine flour, oats, baking powder, baking soda, brown sugar, and chocolate chips in a large bowl.

In a separate bowl, combine chocolate yogurt, bananas, melted butter, peanut butter, milk, egg and vanilla.

Combine wet and dry ingredients, and mix until combined.

Scoop the mix into a muffin pan.

Air fry at 350 degrees for 15-20 minutes, or until the tops are golden-brown.

Makes 8 muffins. 4 Weight Watchers PointsPlus Each
Share on Facebook
Nutritional information is provided as a reference, using an online calculator. We recommend verifying the information independently.
Be sure to join my Facebook group, because those are my people so they will be the first to see my new recipes! Don't forget the Facebook page too! 
While you are here if check out some of my favorite Weight Watchers recipes!
Taco Casserole (1 point)
Instant Pot Lo Mein (6 points)
2 Ingredient Dough Guide – Learn to make donuts, bagels, pizza, and more with just 2 ingredients!
2 Ingredient ZERO point pancakes
How do you feel about Weight Watchers new program?
Come find me and JOIN my Weight Watchers Air Fryer & Instant Pot Facebook Recipe Group. We all know how hard it is to do it alone. We are a community of people who post recipes, share tips and ideas and inspire one another every day! We can't wait to meet you!!
Check the bottom of this page to Download my FREE WW Cookbook & Tips Guide. You will LOVE it!!
This is my ZERO Point food list. Book mark the page and refer back often. Loading your fridge and pantry with these ZERO point foods is tip #1 for weight loss success.
Meal plans help me stay on track. Here are some of my favorites!
Weight Watchers Meal Plan Week 4 + FREE Download and Shopping List!
Instant Pot Printable Meal Plan
Freestyle One Week Meal Plan
Free Printable Meal Plan
You simply MUST try my ZERO points Cheesecake Recipe
Have you made up a batch of my 2 Ingredients Dough yet? It's AMAZING stuff!! Use it to make low point bread bowls, pretzels, bread sticks, bagels, pizza crust, cinnamon rolls & more. Check out the Recipe Guide & Individual Recipes below:
To entice you, watch this Video for the 2 Ingredients Bagel Recipe – you will LOVE it – total YUM!!

2 Ingredient Dough Recipes
Ultimate 2 Ingredient Dough Guide
2 Ingredient Dough Pizza
2 Ingredient Dough Pot Pie
2 Ingredient Dough Pop Tarts
2 Ingredient Dough Cinnamon Rolls
2 Ingredient Dough Bread Bowls
2 Ingredient Dough Empanadas
Make sure you check out and grab our printable shopping lists below to make it easy when you are in store to grab the best WW FreeStyle friendly foods and snacks!
Costco Shopping List
Weight Watchers Walmart Shopping List
Weight Watchers Target Shopping List
Weight Watchers Aldi Shopping List
Weight Watchers Trader Joe's Shopping List
Ever panic and wonder what to eat at your favorite restaurants? Well, I do too! That's why I created and LOVE my restaurant guides. Check them out here and be sure to email me and let me know any others you'd like to see:
Subway Weight Watchers
Cracker Barrel Weight Watchers
Chic Fil A Weight Watchers
Chipotle Weight Watchers
Olive Garden Weight Watchers
Red Robin Weight Watchers
Taco Bell Weight Watchers
P.F. Chang's
Texas Roadhouse