How to Grow Carrots + 15 Carrot Recipes
This post may contain affiliate links. Please read my Disclaimer and Privacy policy for more information.
I'm just starting to get into gardening, and one of the first things I wanted to learn was how to grow carrots. I talked to some friends that are gardeners, and did lots of research, and this is what I came up with.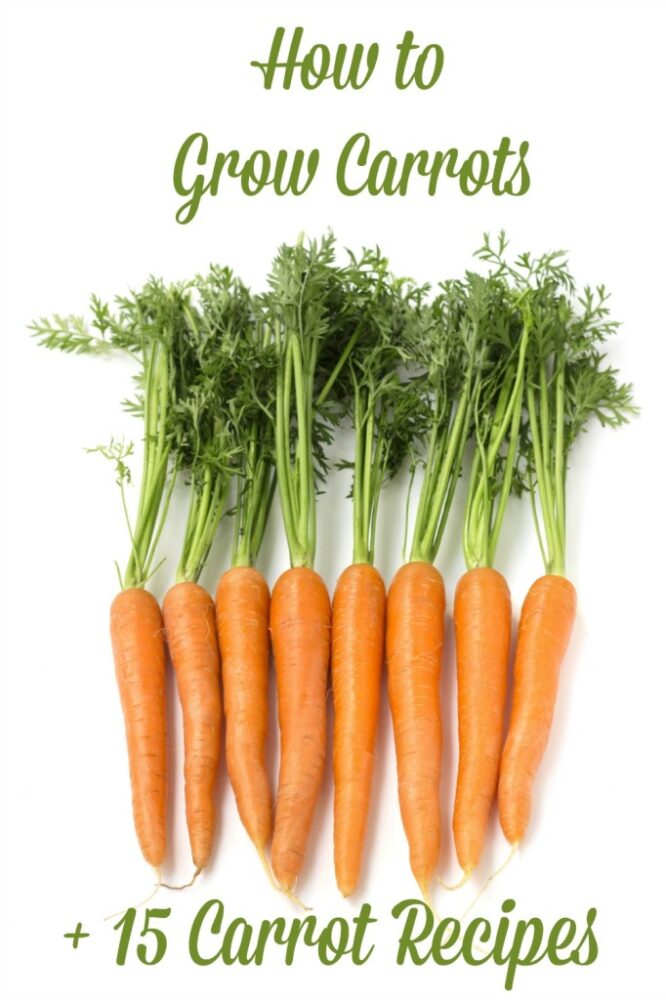 How to Grow Carrots + 15 Carrot Recipes
Growing carrots in your own home garden is a little bit of a learning process for both new and experienced gardeners. Different varieties are better suited to different soil types and growing conditions, so the type of carrots you can grow at home and the success you have depends on your learning about your garden first. An abundance of crisp, fresh carrots ready to pull out of the garden bed before dinner is well worth the effort needed to grow these vegetables.
Use these tips to help you pick a variety of carrot to try and the best growing methods:
Popular Types of Carrots
There are so many varieties of carrots and they all come in different shapes, sizes, colors and flavors. Some of the most popular types to grow in the home garden include: Danvers, Nantes, and Chantenay. I like Rainbow Blend seeds, so try those!
Sowing Seeds
Carrot seeds are best directly sown into the ground and then left where they are till they are fully grown. Carrots should be sown in the early spring or any time through mid summer, depending on the variety. Most carrot varieties need cool weather to be able to germinate and have a long growing period. Growing carrots in Arizona is possible! According to this Phoenix Gardening Calendar, you sow carrots in January.
After pulling a crop of carrots, a second crop can be started as long as there are still at least 12 weeks until the first frost is expected.
Garden Bed Needs
The soil that carrots are grown in needs to be extremely loose and thinned out with sand, if possible. The soil cannot be too sandy, but it is okay to add some sand to the garden soil in order to keep it from becoming compact. The soil needs to be easily worked in order for the carrots to grow long and thick with as little bends and deformities as possible. The bed must be placed in full sun and be well drained. Carrots are root vegetables so the soil needs to be watered well every couple days.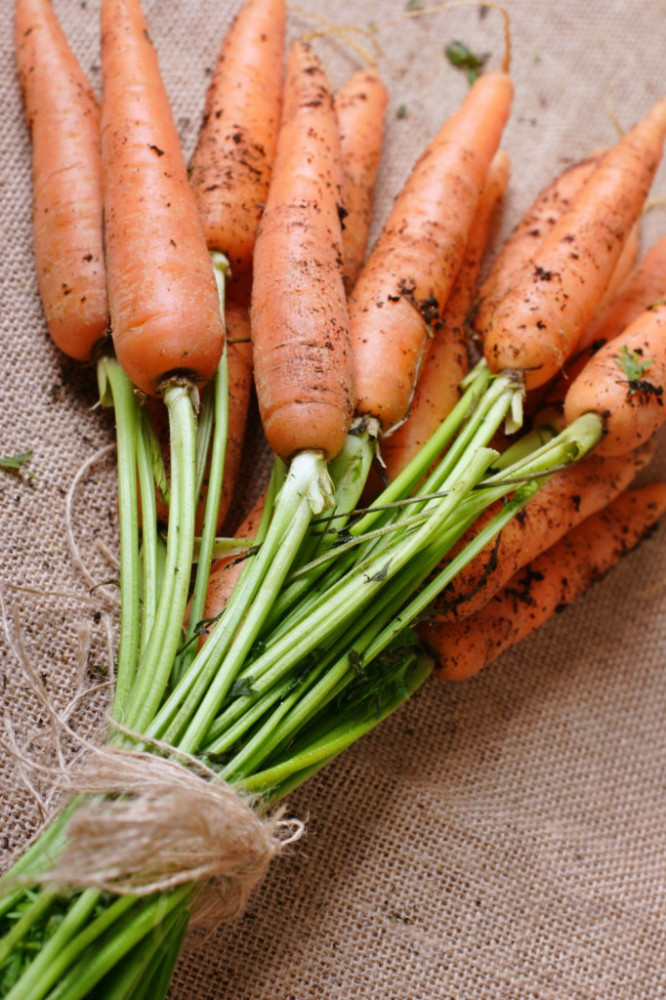 Harvesting Your Carrots
Carrots are harder to know when to harvest, especially for new gardeners that are unfamiliar with growing carrots. The vegetable is growing beneath the soil, with just a head of greenery appearing above the soil level. You want to look for a full head of green, and use your fingers to move the soil around the base of each carrot to see how full it has grown. Depending on the variety, carrots should be ready to pull after about 45 days. If you are not going to eat your carrots immediately, remove the green tops in order to keep as much moisture in the root as possible.
Carrot Recipes
We like to put carrots in our gluten-free crab cakes, but there are many other ways to use carrots, too! Some of the recipes below are not gluten-free. I included these because I know most of you have "regular" diets and want some real food once in a while. ;)
1. Peace Popsicles
2. Very Good Carrot Cake
3. Carrot Cake Pancakes
4. Vegan Pineapple Carrot Muffins
5. Carrot and Chickpea Salad
6. Carrot Burger {Excited to try this one!}
7. Gluten-Free Carrot Cake Cheesecake
8. Creamed Coconut Carrot and Cashew Soup
9. Carrot Raisin Muffins
10. Carrot, Courgette, and Cheese Pancakes
11. Jalapeno and Chorizo Carrot Rice with Avocado
12. Rainbow Carrot Refrigerator Pickles
13. Rice and Carrot Salad
14. Root Juice with Blood Oranges, Carrots, and Beets
15. Spiced Cream of Carrot Soup