25 Uses for White Vinegar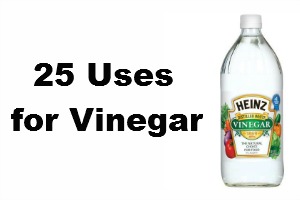 1. Clean out your microwave by mixing 1/2 cup white distilled vinegar and 1/2 cup water in a bowl Bring it to a rolling boil inside the microwave. Wipe microwave clean – even the most caked on foods will disappear.
2. Remove carpet stains! Use 2 tablespoons white distilled vinegar and 1/4 cup salt or baking soda, make into a paste. Rub into the carpet stain and let it dry. Vacuum up the residue the next day. Voila!
3. Clean the BBQ grill by spritzing white distilled vinegar over wadded up aluminum foil and scrubbing vigorously.
4. Make an eco-friendly super simple floor cleaner: mix a solution of 3 drops dishwashing liquid to 1/3 part white distilled vinegar, 1/3 part alcohol, and 1/3 part water. Spray (sparingly) and mop.
5. Wipe grease off the inside of your oven, or any other place that grease may end up with a sponge soaked in white distilled vinegar.
6. Test on a small part of carpet first, but it's said that you can bring out the color in carpet by brushing it with a solution of 1 cup white distilled vinegar for every gallon of water.
7. Remove wallpaper: use a paint roller to wet the surface until saturated, with a solution of equal parts white distilled vinegar and hot water.
8. Clean up Fido's accidents by blotting up the area and then adding a white distilled vinegar-and-water solution. Blot until the area is almost dried, then sprinkle some baking soda over the area and let it dry. Vacuum up the residue a few hours later.
9. Get rid of odors, mildew, and dust, by wiping down walls with undiluted white distilled vinegar on a cloth.
10. Make the toilet shine! Pour one cup of diluted white distilled vinegar and let it sit several hours. Scrub with the toilet bowl brush, then flush.
11. Get rid of calcium deposits by soaking a cloth in white distilled vinegar and wrapping the area tightly. Let it sit for a couple of hours or overnight, and wipe to remove.
12. Remove stains from coffee cups by scrubbing them gently with equal parts of salt and white distilled vinegar, then rinse.
13. Combine 1/2 cup baking soda, 1 cup white distilled vinegar, and 1 cup ammonia with a gallon of warm water for a cheap kitchen cleaner.
14. Remove a label or price tag with a cloth soaked in white distilled vinegar. Leave the cloth on overnight and the label will simply slide off.
Reader Submissions
15. Wash a load of towels in hot water with just a cup of vinegar, then wash them on hot again with a 1/3 cup of baking soda, then dry them with no dryer sheet. It is a MIRACLE. They smelled like NOTHING. — Stephanie
16. Works on athlete's foot! — Jennifer
17. Clean dingy white t-shirts. — Stephanie
18. Put vinegar on bruises to help them heal faster. — Heather
19. Wipe your nails with vinegar before you paint them. — Cristel
20. Use it in your dishwasher and to clean your sink drains. — Kat
21. Shine pennies by soaking them for a couple of hours in a bowl of white vinegar. — Amber
22. Remove odors from a lunch box by placing inside a slice of bread that has been soaked in white distilled vinegar. Leave overnight.
23. Kill germs all around the bathroom with a spray of white vinegar. Wipe clean with a damp cloth. — Kristin
24. Clean your shower head by pouring 1/2 cup baking soda and 1 cup white vinegar into a sandwich bag and tying it around the showerhead. Let set for a few minutes. Remove the bag and then turn on the water. — Rachel
25. Clean vinyl baby books or board books by wiping with vinegar. Wipe clean with a damp cloth. — Kay
What's your best tip for using vinegar?
Be sure to join my Facebook group, because those are my people so they will be the first to know! Don't forget the Facebook page too! 
While you are here if check out some of my favorite Weight Watchers recipes! 
Taco Casserole (1 point)
Instant Pot Lo Mein (6 points)
2 Ingredient Dough Guide – Learn to make donuts, bagels, pizza, and more with just 2 ingredients!
2 Ingredient ZERO point pancakes 
How do you feel about Weight Watchers new program?
Come find me and JOIN my Weight Watchers Air Fryer & Instant Pot Facebook Recipe Group. We all know how hard it is to do it alone. We are a community of people who post recipes, share tips and ideas and inspire one another every day! We can't wait to meet you!!
Check the bottom of this page to Download my FREE WW Cookbook & Tips Guide. You will LOVE it!!
This is my ZERO Point food list. Book mark the page and refer back often. Loading your fridge and pantry with these ZERO point foods is tip #1 for weight loss success.
Meal plans help me stay on track. Here are some of my favorites!
Weight Watchers Meal Plan Week 4 + FREE Download and Shopping List!  
Instant Pot Printable Meal Plan
Freestyle One Week Meal Plan
Free Printable Meal Plan
You simply MUST try my ZERO points Cheesecake Recipe
Have you made up a batch of my 2 Ingredients Dough yet? It's AMAZING stuff!! Use it to make low point bread bowls, pretzels, bread sticks, bagels, pizza crust, cinnamon rolls & more. Check out the Recipe Guide & Individual Recipes below:
To entice you, watch this Video for the 2 Ingredients Bagel Recipe – you will LOVE it – total YUM!!

2 Ingredient Dough Recipes
Ultimate 2 Ingredient Dough Guide
2 Ingredient Dough Pizza
2 Ingredient Dough Pot Pie
2 Ingredient Dough Pop Tarts
2 Ingredient Dough Cinnamon Rolls
2 Ingredient Dough Bread Bowls
2 Ingredient Dough Empanadas
Make sure you check out and grab our printable shopping lists below to make it easy when you are in store to grab the best WW FreeStyle friendly foods and snacks!
Costco Shopping List
Weight Watchers Walmart Shopping List
Weight Watchers Target Shopping List
Weight Watchers Aldi Shopping List
Weight Watchers Trader Joe's Shopping List
Ever panic and wonder what to eat at your favorite restaurants? Well, I do too! That's why I created and LOVE my restaurant guides. Check them out here and be sure to email me and let me know any others you'd like to see:
Subway Weight Watchers
Cracker Barrel Weight Watchers
Chic Fil A Weight Watchers
Chipotle Weight Watchers
Olive Garden Weight Watchers
Red Robin Weight Watchers
Taco Bell Weight Watchers
P.F. Chang's
Texas Roadhouse