Weight Watchers Friendly Berry Crisp – 2 Freestyle Points
This post may contain affiliate links. Please read my Disclaimer and Privacy policy for more information.
Last Updated on
Summer is HERE, y'all! And I am beyond ready for some fruity desserts, like this Weight Watchers Berry Crisp. The kids love it, I love it, you'll love it!
Weight Watchers Berry Crisp
When I was a kid, I don't remember my mom making desserts very often. She was always on some diet – the cabbage soup diet being the WORST… I still gag when I smell cabbage – so desserts weren't really a thing for her. Me, on the other hand, I'm a dessert QUEEN. I love eating any type of sweets, and I absolutely love to bake. I moved across the country to Arizona to help my friend run a bakeshop, THAT is how much I love to bake!
This berry crisp is approved for your Weight Watchers lifestyle! It's only 2 points for a serving, and this recipe serves 6. If you change the recipe, be sure to plug it into your points calculator on the WW site to make sure you calculate the points correctly. Also, make sure you keep your berries in pieces, not liquified. If you liquify them and make more of a pie filling, some say you will need to count points (just like if you drink a smoothie). I don't count fruit points regardless but it's something to keep in mind.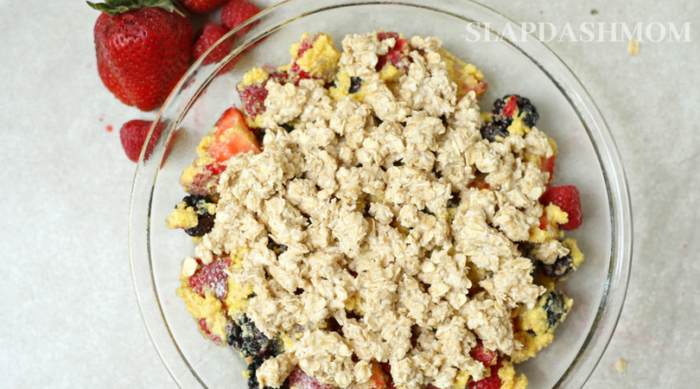 If you want to switch up the berries you're using, you totally can! Fruits are ZERO points on the Freestyle program (see the full list of ZERO point foods here).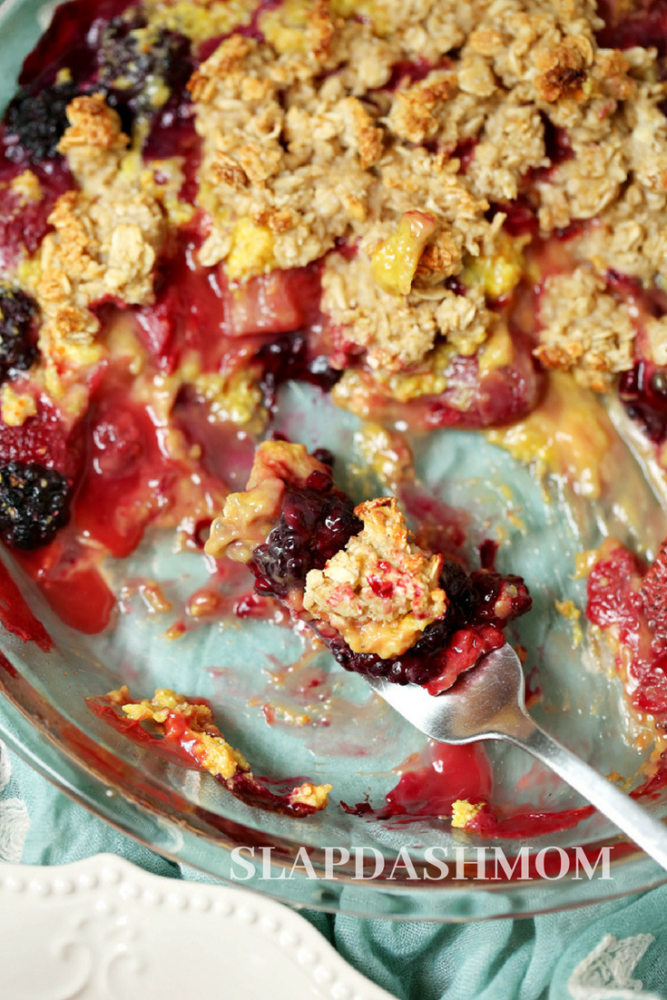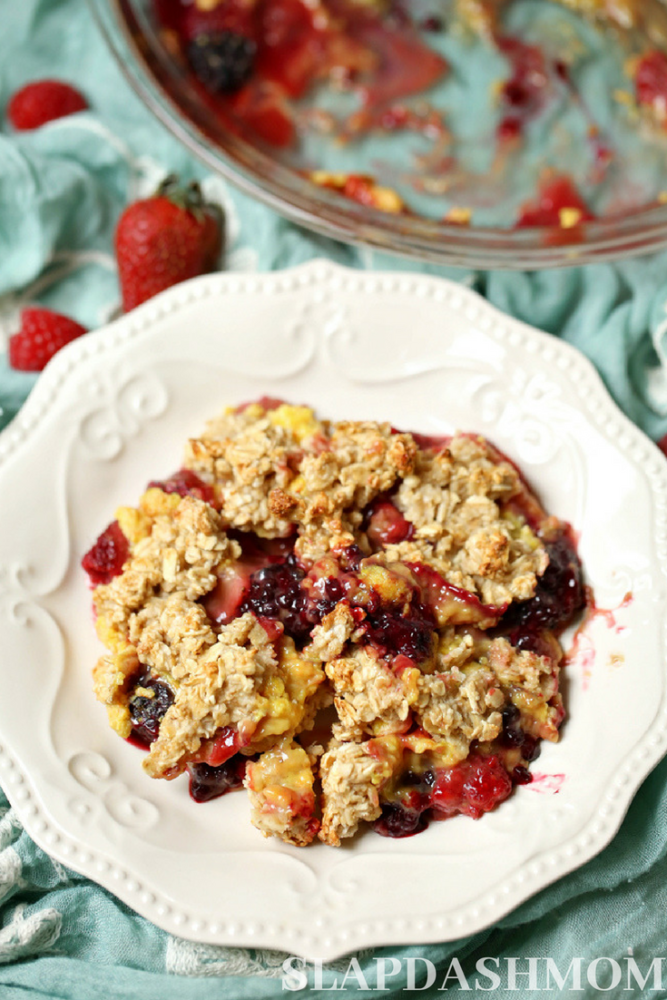 6 servings – 2 points each
Weight Watchers Berry Crisp
A delicious berry crisp that is low in points!
1/2 cup strawberries
1/2 cup blackberries
1/2 cup raspberries
1/2 cup water
1 box sugar free vanilla pudding mix
3/4 cup old fashioned oats
1 tsp cinnamon
1/2 cup splenda
1/3 cup fat free greek yogurt
Heat oven to 350 degrees. Wash berries, quarter strawberries.
In a mixing bowl, combine pudding and water with a fork to get all lumps out.
Add in berries and cinnamon, mixing well.
Pour into greased pie dish.
In a separate bowl, mix together oats, sugar, and yogurt. Add a little more yogurt if it's too thick.
Spread oats over berries, leaving an empty edge.
Bake at 350* for 40-ish minutes or until top is golden brown.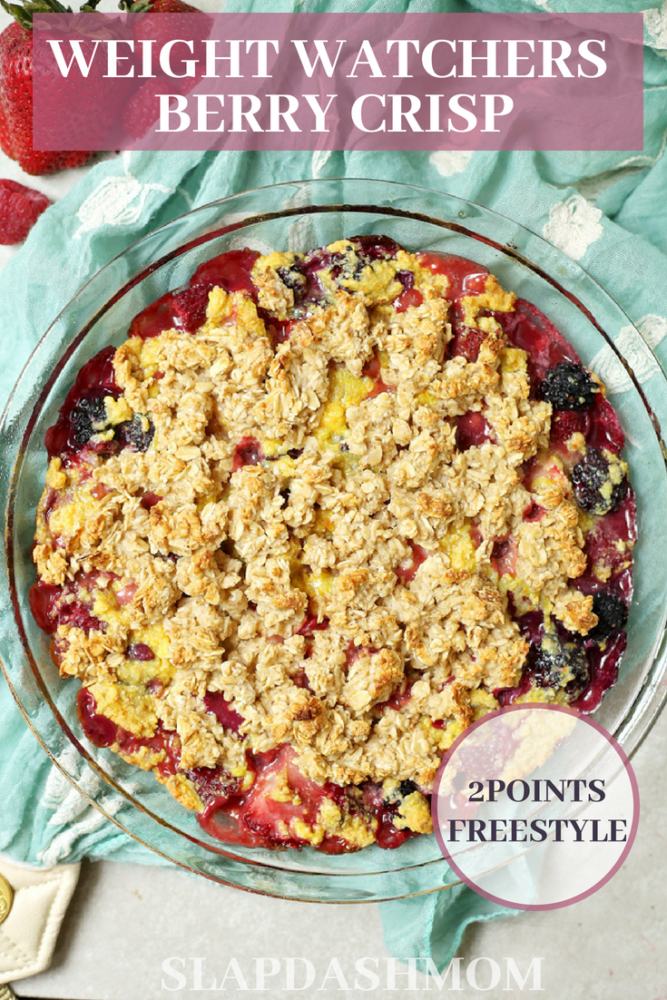 Come find me and JOIN my Weight Watchers Air Fryer & Instant Pot Facebook Recipe Group. We all know how hard it is to do it alone. We are a community of people who post recipes, share tips and ideas and inspire one another every day! We can't wait to meet you!!
Check the bottom of this page to Download my FREE WW Cookbook & Tips Guide. You will LOVE it!!
This is my ZERO Point food list. Book mark the page and refer back often. Loading your fridge and pantry with these ZERO point foods is tip #1 for weight loss success.
Meal plans help me stay on track. Here are some of my favorites!
Instant Pot Printable Meal Plan
Freestyle One Week Meal Plan
Free Printable Meal Plan
You simply MUST try my ZERO points Cheesecake Recipe
Have you made up a batch of my 2 Ingredients Dough yet? It's AMAZING stuff!! Use it to make low point bread bowls, pretzels, bread sticks, bagels, pizza crust, cinnamon rolls & more. Check out the Recipe Guide & Individual Recipes below:
To entice you, watch this Video for the 2 Ingredients Bagel Recipe – you will LOVE it – total YUM!!
2 Ingredient Dough Recipes
Ultimate 2 Ingredient Dough Guide
2 Ingredient Dough Pizza
2 Ingredient Dough Pot Pie
2 Ingredient Dough Pop Tarts
2 Ingredient Dough Cinnamon Rolls
2 Ingredient Dough Bread Bowls
2 Ingredient Dough Empanadas
Make sure you check out and grab our printable shopping lists below to make it easy when you are in store to grab the best WW FreeStyle friendly foods and snacks!
Weight Watchers Walmart Shopping List
Weight Watchers Target Shopping List
Weight Watchers Aldi Shopping List
Weight Watchers Trader Joe's Shopping List
Ever panic and wonder what to eat at your favorite restaurants? Well, I do too! That's why I created and LOVE my restaurant guides. Check them out here and be sure to email me and let me know any others you'd like to see:
Chipotle Weight Watchers
Olive Garden Weight Watchers
Red Robin Weight Watchers
Taco Bell Weight Watchers
P.F. Chang's
Texas Roadhouse