Weight Watchers Pumpkin Muffins – 4 Pt. Each
If you ask me, there is nothing better than the smell of pumpkin spice, cinnamon and nutmeg swirling all around your kitchen. Of course I go into high pumpkin mode at the beginning of fall and for every holiday season. One of my favorite things to make are my Weight Watchers Friendly Pumpkin Muffins!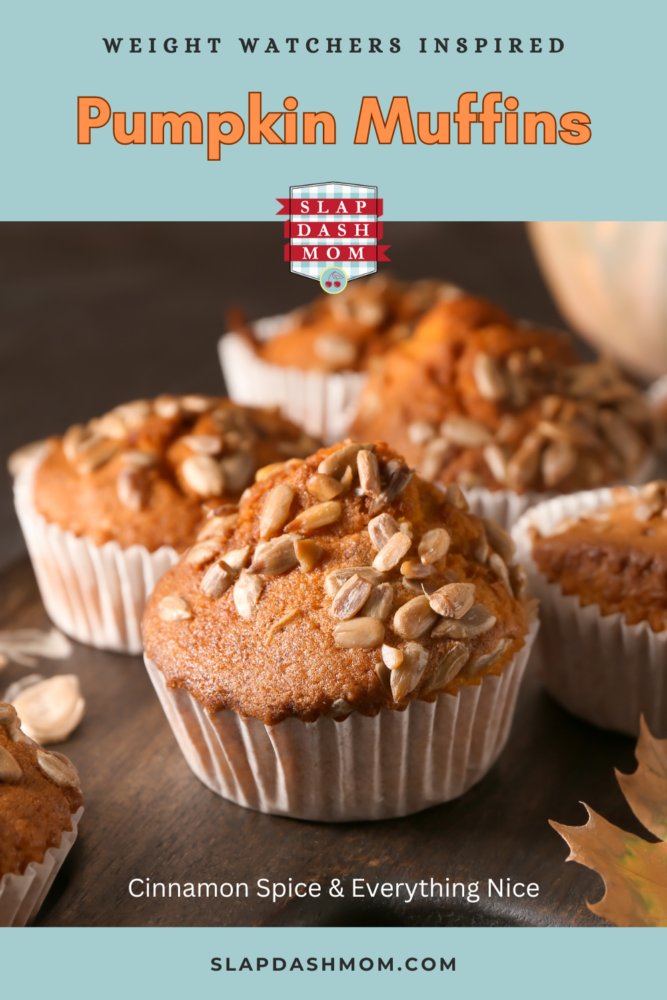 QUESTION: What could be better than a Weight Watchers Inspired Pumpkin Muffin – @ just 4 Points each?
ANSWER: Nothing! 💕
I love pumpkin anything. Pumpkin pie, pumpkin bread, homemade pumpkin puree, pumpkin ice cream, pumpkin creamer, pumpkin lattes…well, you get the point. (See more of my fun pumpkin recipes below).
So, I don't mess around when it's pumpkin season. I love to make pumpkin everything and one of my favorite things are my very delicious pumpkin muffins.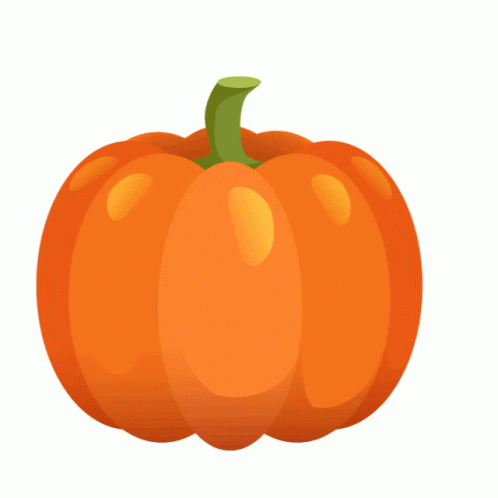 This is one of my favorite Weight Watchers inspired recipes. If you like pumpkin as much as I do, these tasty pumpkin muffins may just have you baking year-round!
How Many Servings and How Many Points:
This recipe will make up 12 regular size muffins. Each muffin is 1 serving and each serving is 4 points!!
Can I Freeze Them and Keep Them for Snacks?
Yes, yes and …yes!!
These delicious pumpkin muffins make an awesome breakfast or snack – especially if you consider the amount of protein in the Kodiak Cakes. Make a big batch of them and keep them in the freezer for up to six months.
Defrost them over night and have the perfect grab-and-go breakfast item on your way out of the house each morning. Stick one in your lunch and enjoy as a snack throughout your day.
These delicious Weight Watchers Pumpkin Muffins are delicious and totally guilt-free!
At ONLY 4 points each, how can you resist?
Do You Also Provide an Oven Recipe?
Yes!
While this recipe is intended to be used with an air fryer, I have listed oven instructions as well in the full recipe below.
People always ask me about using an air fryer vs. my oven. Of course, I use and love, both. However, there are different reasons to use each one.
I like the air fryer because I don't have to heat my my whole kitchen with a full size oven. Also, when baking muffins in my Air Fryer, they cook so nice and evenly with a kinda crispy top – and that's just how I like them.
If you don't have an air fryer, it is no worry at all. Just use my oven recipe below.
TIPS & TRICKS For Perfect Pumpkin Muffins:
If you really love pumpkin flavor, you can also add in pumpkin pie spice. Most people are afraid to use too much but I don't even think that's possible :) Just add a touch – or whatever your heart desires.
During the fall season, Kodiak Cakes makes a

pumpkin flax mix

that is delicious you could substitute with.
You can substitute 3 tbsp no sugar apple sauce if you want to make the muffins without using any oil.
I prefer to use fresh nutmeg. It is not always possible and I know that, but when I do find fresh nutmeg, and shave it myself, it adds the most wonderful punch of flavor. It's worth it if you can, but certainly not necessary.
I HIGHLY recommend you try my

homemade pumpkin puree

– if you have the time for it. It's easier than you think and it really is the best thing to make with those leftover Halloween pumpkins!!
These

silicone muffin forms

make it super easy to transfer them after they are finished cooking.
I typically always

line my air fryer with these

, it makes it really easy to clean up.
Let the pumpkin muffins cool before storing, if not they will "sweat" in the container.
You can store these muffins in the freezer for up to 6 months so feel free to make a few batches and freeze for eating later.
Is there also an oven recipe? Yes… see below for both the Air fryer and regular oven recipes.
I like to add a touch of roasted sunflower or pumpkin seeds to the top of the muffin to make them look very fancy. You can do that as well, or leave them plain. Either way, they are yum!
So, Should I Buy An Air Fryer?
I get asked about air fryers a lot. In case you are considering getting one, and are wondering which might be the right one for you, I can let you know that I really recommend this one!
If you are thinking of getting one, I also have a post on some of the things you should look for and consider.
If you do decide to get an air fryer (which I highly recommend), here are a few air fryer friendly accessories that make air frying SO MUCH easier!
---
Want to get personal recommendations on everything about the Weight Watchers program and terrific new recipes daily, Join my Facebook group where we share terrific recipes for the air fryer, oven, grill & Instant Pot – and lots of tips, tricks and motivations too!
---
Here Are A Few Other Amazing Weight Watchers Friendly Pumpkin Recipes For You:
If you love pumpkin, you also might want to try my Pumpkin Pancakes, my Copy Cat Starbucks Pumpkin Spice Latte, Pumpkin Cheesecake or my Pumpkin Bundt Cake (all Weight Watchers Friendly).
Weight Watchers Pumpkin Muffins Recipe:
Serves 12: 4 Smartpoints each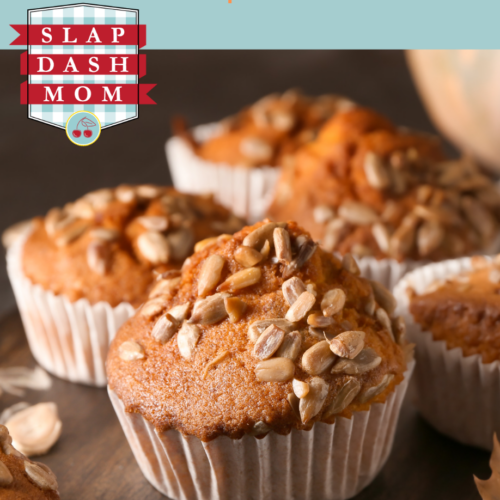 Equipment
1 Air Fryer or Oven

I include both recipes here
Ingredients
2

cups

Kodiak Cakes Pancake mix

3

Tbsp

Coconut oil

1

cup

canned 100% pumpkin purée

1

cup

milk

low fat

1/2

cup

Truvia brown sugar blend

1

tsp

cinnamon

1

tsp

nutmeg

½

tsp

cloves

1

tsp

vanilla extract

2

Tbsp

cold water

1

Tbsp

cornstarch
Instructions
AIR FRYER INSTRUCTIONS
Preheat air fryer to 300°

Mix cornstarch and cold water together and set aside.

Combine pumpkin purée, oil, cornstarch slurry (stir before mixing in), milk, spices, and vanilla. Mix well.

Add the Truvia brown sugar blend and mix.

Gradually add the Kodiak Cakes mix. Whisk until well combined. The batter should be thick

Use silicone cupcake/muffin cups and divide batter evenly in the cups

Place cups carefully one-by-one (if you have single muffin cups) into the preheated air fryer basket.

Air fry at 300 degrees for about 10 minutes.
OVEN INSTRUCTIONS
Follow the same instructions above except line your miffin tips with papers if you don't have a silicone set.

Let them cool before transferring to a baking rack or storing.
Share on Facebook
Weight Watchers Points
Recipe Makes 12 Muffins. Each muffin is 4 Points
Nutritional
Nutritional information is provided as a reference, using an online calculator. We recommend verifying the information independently.
---
Looking For A Weight Watchers Zero Point Food List?
This is my ZERO Point food list. Book mark the page and refer back often. Loading your fridge and pantry with these ZERO point foods is tip #1 for weight loss success.
Meal plans help me stay on track. Here are some of my favorites!
Instant Pot Printable Meal Plan
Freestyle One Week Meal Plan
Free Printable Meal Plan
You simply MUST try my ZERO points Cheesecake Recipe
Have you made up a batch of my 2 Ingredients Dough yet? It's AMAZING stuff!! Use it to make low point bread bowls, pretzels, bread sticks, bagels, pizza crust, cinnamon rolls & more. Check out the Recipe Guide & Individual Recipes below:
To entice you, watch this Video for the 2 Ingredients Bagel Recipe – you will LOVE it – total YUM!!

2 Ingredient Dough Recipes
Ultimate 2 Ingredient Dough Guide
2 Ingredient Dough Pizza
2 Ingredient Dough Pot Pie
2 Ingredient Dough Pop Tarts
2 Ingredient Dough Cinnamon Rolls
2 Ingredient Dough Bread Bowls
2 Ingredient Dough Empanadas
Make sure you check out and grab our printable shopping lists below to make it easy when you are in store to grab the best WW FreeStyle friendly foods and snacks!
Weight Watchers Walmart Shopping List
Weight Watchers Target Shopping List
Weight Watchers Aldi Shopping List
Weight Watchers Trader Joe's Shopping List
Ever panic and wonder what to eat at your favorite restaurants? Well, I do too! That's why I created and LOVE my restaurant guides. Check them out here and be sure to email me and let me know any others you'd like to see:
Cracker Barrel Weight Watchers
Chic Fil A Weight Watchers
Chipotle Weight Watchers
Olive Garden Weight Watchers
Red Robin Weight Watchers
Taco Bell Weight Watchers
P.F. Chang's
Texas Roadhouse