How to Succeed With Weight Watchers
This post may contain affiliate links. Please read my Disclaimer and Privacy policy for more information.
Whether you are new to Weight Watchers or are a veteran, you always goals and points of motivation to help keep you on track. Let this be your year to claim yourself and your weight loss goals! I've put together a pretty exhaustive list of tips to help you succeed with Weight Watcher. Some of the tips might seem simple and other tips might be something you didn't think about, however, they will ALL help keep you on track and your eyes on the prize! z
How to Succeed With Weight Watchers
These tips are ones I'm going to use right alongside you!
Stay Honest and Accountable
Sometimes, we don't want to stay honest about what we are consuming on a daily basis. If we did, we would probably be appalled about what we are putting inside our bodies, right?!!
The whole point of Weight Watchers is to not feel ashamed. It's all about ACCOUNTABILITY!
You have to calculate your points for what you eat every day…every morsel…every bite. Even if you're just tasting food that you're eating. Remember, you consumed it.
Use this a sa too to analyze your daily eating habits. From here you can make a plan to change things for the better. So the next time you add points into your Weight Watchers Journal, add in the small bag of Cheez-its and slice of cheese too.
Don't feel guilty for what you've eaten. Just KNOW what you're eating and make better choices when possible, or you'll never reach your weight loss goal you set for yourself.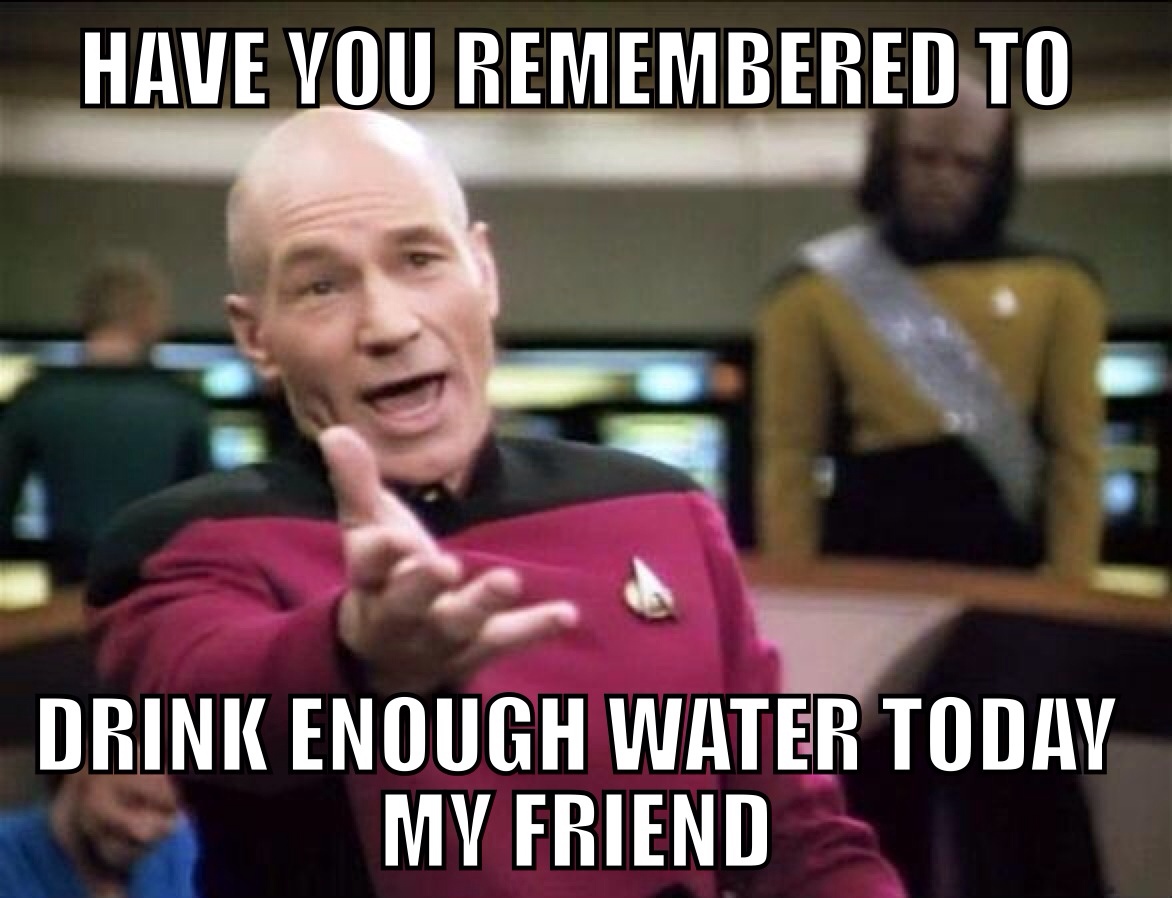 Dihydrogen Monoxide – Your New Best Friend.
H2O. Water. You're going to encompass and welcome this new best friend in your life. It's so important to keep your body hydrated, even when you're not exercising. Water helps to keep your belly feel full, and your body running like a well-oiled machine. If you can't stand the taste of water alone, then add a splash of lemon or lime juice to it. No worries! Lemon and lime juice have zero points and calories.
If you're going to the gym or for a brisk walk, be sure to take a bottle of water with you! Water should NEVER leave your side.
Your Body Needs Fiber
Speaking of moving smoothly… FIBER! Don't rely on silly fiber bars for fiber. They don't provide the quality nutrition that your body needs. Besides, they're full of sugar and salt…two things your body DOESN'T need. Instead, fill up on those fruits and veggies…mostly veggies. Strawberries, pears, cherries, and watermelon are all great choices too.
Find A Buddy or Mentor
Changing your lifestyle is a big deal. You may find that you're losing friends left and right who don't want to be held accountable, or you may find your friends stop inviting you to outings once you stop binge eating hot wings. Either way, you'll find new friends (and your old ones will eventually come back around)! Eating and living a healthy lifestyle by yourself can be slightly less fun than drinking and eating hot wings; sometimes you can even feel lonesome and will want to stop your healthy eating all together.
Get yourself a buddy, a mentor, or a find a local Weight Watchers Group! They're great to help keep you motivated and on track!!
Plan All of Your Meals
No matter what, know what you're going to eat. Create a meal plan for yourself, and even plan if you're going to out someplace for lunch! El Pollo Loco is someplace I hit a lot on the road, as they have some excellent ZERO point and Low point choices. You can find my guide to what to eat at Pollo loco here.
You can even plan your meals out for the week because let's admit it: that's really the biggest struggle. Keeping your meals planned out will help you succeed much better on the Weight Watchers system. PLUS, once you have food in your stomach with your points calculated, it's so much easier to go grocery shopping and not do any kind of tempting impulse shopping. You're already full, so there's no need to grab that bag of Mallomars!
However, it is okay to buy healthy snack foods that are low points. Check out my ZERO points food list. I always take this to the grocery store with me!
Download my FREE Planning Kit!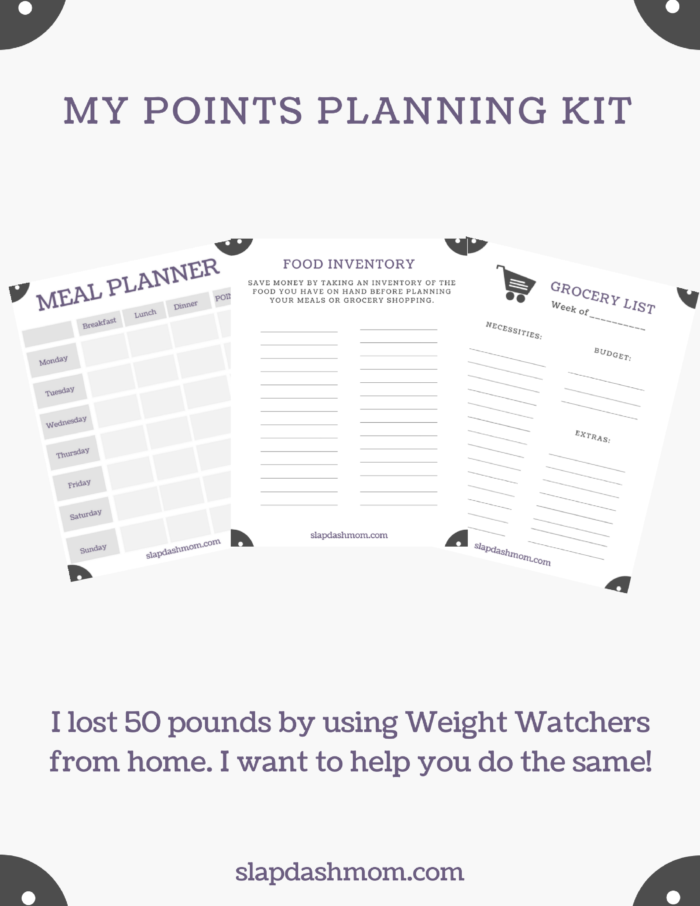 You've Got to Move it, Move it!
Yes. Believe it or not, even though you'll lose weight on Weight Watchers alone, movement is still good for your body. Being the healthiest form of YOU still requires you to get off your butt and move. Take the time to make a conscious effort to take extra steps throughout your day. Whether is taking a walk up a flight of stairs, or taking your dog on a walk. EVERY STEP COUNTS!
If you work from home as I do, it's even more important to increase your physical activity somehow. There's always extra minutes throughout your day to find the time. It will only increase your Weight Watchers success and meet the goals you've set for yourself.
Use Weight Watchers To Guide You
You don't have to follow the Weight Watchers system to the absolute letter. Instead, use it as a manual for guidance along your weight loss journey. Modify to fit your lifestyle, but do use it help keep track of your daily points that you're consuming.
For me, that's one of the most amazing benefits of using the Weight Watchers system: the points. The points don't lie. The points add up. The points make sense in trying to lose weight, and I absolutely love it. Keep trying to find creative ways to include fruits and vegetables into your diet plan, and have fun with different seasonings and flavors.
It might seem mundane at first, but you'll find that you're able to come up with some pretty amazing ways to make those fiber-rich vegetables shine on your plate, and you're going to feel so much better.
Losing weight is never easy, but if you truly stick with it, you're going to find yourself shedding those pesky pounds that you've packed on. You control your life and what you consume.
It's time to start treating your body like the temple it is and find your success with Weight Watchers. You can do this!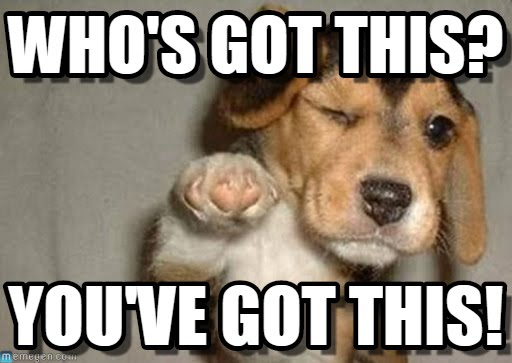 Come find me and JOIN my Weight Watchers Air Fryer & Instant Pot Facebook Recipe Group. We all know how hard it is to do it alone. We are a community of people who post recipes, share tips and ideas and inspire one another every day! We can't wait to meet you!!
Check the bottom of this page to Download my FREE WW Cookbook & Tips Guide. You will LOVE it!!
This is my ZERO Point food list. Book mark the page and refer back often. Loading your fridge and pantry with these ZERO point foods is tip #1 for weight loss success.
Meal plans help me stay on track. Here are some of my favorites!
Instant Pot Printable Meal Plan
Freestyle One Week Meal Plan
Free Printable Meal Plan
You simply MUST try my ZERO points Cheesecake Recipe
Have you made up a batch of my 2 Ingredients Dough  yet?  It's AMAZING stuff!! Use it to make low point bread bowls, pretzels, bread sticks, bagels, pizza crust, cinnamon rolls & more. Check out the Recipe Guide & Individual Recipes below:
To entice you, watch this Video for the 2 Ingredients Bagel Recipe – you will LOVE it – total YUM!!
2 Ingredient Dough Recipes
Ultimate 2 Ingredient Dough Guide
2 Ingredient Dough Pizza
2 Ingredient Dough Pot Pie
2 Ingredient Dough Pop Tarts
2 Ingredient Dough Cinnamon Rolls
2 Ingredient Dough Bread Bowls
2 Ingredient Dough Empanadas
Make sure you check out and grab our printable shopping lists below to make it easy when you are in store to grab the best WW FreeStyle friendly foods and snacks!
Weight Watchers Walmart Shopping List
Weight Watchers Target Shopping List
Weight Watchers Aldi Shopping List
Weight Watchers Trader Joe's Shopping List
Ever panic and wonder what to eat at your favorite restaurants? Well, I do too! That's why I created and LOVE my restaurant guides. Check them out here and be sure to email me and let me know any others you'd like to see:
Chipotle Weight Watchers
Olive Garden Weight Watchers
Red Robin Weight Watchers
Taco Bell Weight Watchers
P.F. Chang's
Texas Roadhouse