Weight Watchers Friendly Olive Garden Survival Guide
If you're part of my group, you may have seen people asking what to eat at Olive Garden on Weight Watchers.
I love the freedom we have with WW – we can eat whatever we want, within reason, but we still need to be mindful of the amount we are eating or we are going to gain weight. Especially when it comes to carbs, I try to be more careful because they make me gain weight fast!
NOTE: The point values in this post are from the Weight Watchers app. I noticed salmon was 2SP and 7SP. Chicken Parm was 16SP and 32SP. That's a huge discrepancy so I recommend using this page for Olive Garden nutritional info and calculating the points yourself to be safe!
Weight Watchers Olive Garden Survival Guide
Tips:
Olive Garden has lower calorie/point options for dressing upon request.
You can also order dressing on the side to save a point or two. It all depends on how low point you need your meal to be!
Grilled chicken and shrimp are both 0 SP.
Skip the pasta and use grilled veggies instead.
Share a meal with your spouse, friend, kids, etc.
Weight Watchers Options at Olive Garden
Breadsticks are by themselves ok at just 4SP each. However, if you are planning to dip them into Alfredo sauce, at 20 SP, it's a better idea to skip them.
Enough with the cant's. What are the Cans:
Weight Watchers Friendly Soups at Olive Garden
Minestrone Soup (1SP)
Pasta e Fagioli Soup (2SP)
Stellini Soup (6SP)
Chicken Gnocchi Soup (8SP)
Zuppa Toscana Soup (8SP)
Related: Make Weight Watchers soups at home: Zero Point Chicken Taco Soup, Broccoli Cheddar, Zero Point Veggie Soup
Weight Watchers Pasta Dishes at Olive Garden
Spaghetti With Meat Sauce Mini Pasta Bowl – lunch (11SP)
Shrimp Scampi Mini Pasta Bowl – lunch (12SP)
Tortellini Al Forno Mini Pasta Bowl – lunch (16SP)
Mac & Cheese Bowl – lunch (19SP)
Olive Garden Weight Watchers Options
There aren't a whole lot of low point options at Olive Garden, but don't forget you have Weeklies you can dip into for times like these. ;)
Grilled Salmon (The app says 2SP and 7SP so not sure)
Salad (4SP – Only 2SP if you ask for low-fat Italian dressing)
Breadsticks (4SP)
Garlic Mashed Potatoes (5SP)
Chicken Piccata – lunch (8SP)
Chicken Margherita – dinner (9SP)
Traditional Meat Sauce – just the sauce (11SP)
Chicken Giardino – dinner (13SP)
What NOT to Eat at Olive Garden
I wouldn't normally include high point items on a list like this but it's important to realize that "guesstimating" is a bad idea when it comes to Weight Watchers. Chicken Alfredo seems innocent enough, right? I mean the Chicken Margherita is only 9SP so how much more would the Alfredo be? I'll be safe and overestimate it at 20 points. Then I look at my app later and see it's FIFTY FREAKING POINTS! I could have had 10 breadsticks AND Chicken Margherita for that same amount of points LOL. I mean, I wouldn't eat ten breadsticks but still… the importance of tracking every bite and avoiding guesswork is shown very clearly here.
Grilled Chicken Parmigiana – dinner (32SP)
Chicken and Shrimp Carbonara (49SP)
Classic Chicken Alfredo – dinner (50SP)
Five Cheese Ziti – my favorite (45SP)
Eating at Olive Garden on Weight Watchers is all about knowing how many points you have and calculating them ahead of time so you don't end up accidentally eating at 70 point lunch!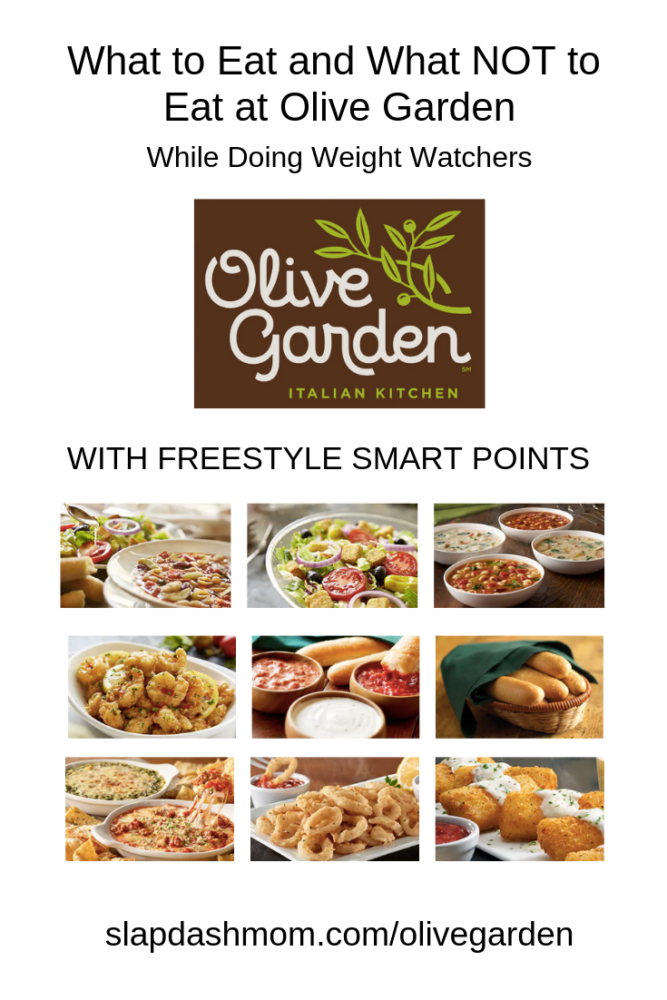 I don't eat at Olive Garden very often, but I think it's important to know when you are out and about, and you find yourself starving and inside the Olive Garden parking lot, you can go inside. There are some good choices. You just have to know what they are.
Take note: Lunchtime is your best bet – to save on points and money! Whether it's a lunch portion or a dinner portion can drastically change the point value.
Put together your own meal: Order plain grilled chicken (0SP) and a kid's portion of spaghetti (6SP). Eat salad (4SP) and a breadstick (4SP), and you're at about 15SP for your entire meal.
You could also turn the salad into more of a meal by adding Shrimp Fritta (4SP), Sautéed Shrimp (0SP – ask for no oil/butter), or Grilled Chicken (0SP) to it. Eat with soup (8SP or less) and you've got a satisfying lunch or dinner for 12SP or less.
Remember, if you split your meal with a friend, you can cut these amounts in half.
Interested in More of my Weight Watchers Restaurant Guides?
Chic Fil A Weight Watchers
Chipotle Weight Watchers
Olive Garden Weight Watchers (you are here!)
Red Robin Weight Watchers
Taco Bell Weight Watchers
P.F. Chang's
Texas Roadhouse
Come find me and JOIN my Weight Watchers Air Fryer & Instant Pot Facebook Recipe Group. We all know how hard it is to do it alone. We are a community of people who post recipes, share tips and ideas and inspire one another every day! We can't wait to meet you!!
Check the bottom of this page to Download my FREE WW Cookbook & Tips Guide. You will LOVE it!!
This is my ZERO Point food list. Book mark the page and refer back often. Loading your fridge and pantry with these ZERO point foods is tip #1 for weight loss success.
Meal plans help me stay on track. Here are some of my favorites!
Instant Pot Printable Meal Plan
Freestyle One Week Meal Plan
Free Printable Meal Plan
You simply MUST try my ZERO points Cheesecake Recipe
Have you made up a batch of my 2 Ingredients Dough yet? It's AMAZING stuff!! Use it to make low point bread bowls, pretzels, bread sticks, bagels, pizza crust, cinnamon rolls & more. Check out the Recipe Guide & Individual Recipes below:
To entice you, watch this Video for the 2 Ingredients Bagel Recipe – you will LOVE it – total YUM!!

2 Ingredient Dough Recipes
Ultimate 2 Ingredient Dough Guide
2 Ingredient Dough Pizza
2 Ingredient Dough Pot Pie
2 Ingredient Dough Pop Tarts
2 Ingredient Dough Cinnamon Rolls
2 Ingredient Dough Bread Bowls
2 Ingredient Dough Empanadas
Make sure you check out and grab our printable shopping lists below to make it easy when you are in store to grab the best WW FreeStyle friendly foods and snacks!
Weight Watchers Walmart Shopping List
Weight Watchers Target Shopping List
Weight Watchers Aldi Shopping List
Weight Watchers Trader Joe's Shopping List
Ever panic and wonder what to eat at your favorite restaurants? Well, I do too! That's why I created and LOVE my restaurant guides. Check them out here and be sure to email me and let me know any others you'd like to see:
Chipotle Weight Watchers
Olive Garden Weight Watchers
Red Robin Weight Watchers
Taco Bell Weight Watchers
P.F. Chang's
Texas Roadhouse