How to Cook Perfect Spaghetti Every Time
This post may contain affiliate links. Please read my Disclaimer and Privacy policy for more information.
I have a tough time cooking spaghetti because I want to do two things I shouldn't: break the pasta, and stir it constantly. Today we're talking about how to cook perfect spaghetti every time, so I'm showing you how Rachel cooks it rather than I how I cook it! ;)
How to Cook Perfect Spaghetti Every Time
Supplies/Ingredients
8 oz Spaghetti/long pasta (linguini, angel hair, fettuccine, etc.)
6 – 8 cups Water
1 – 2 tbsp. Salt
Large pot
Directions
This might seem simple to those of you who have been cooking for a while, but if you're new to cooking pasta or maybe your teens are learning how to cook, how to cook perfect spaghetti is a great first step to becoming a culinary master. Okay, maybe that's a bit of an exaggeration, but not by much. I promise.
Fill the pot with 6 – 8 cups water.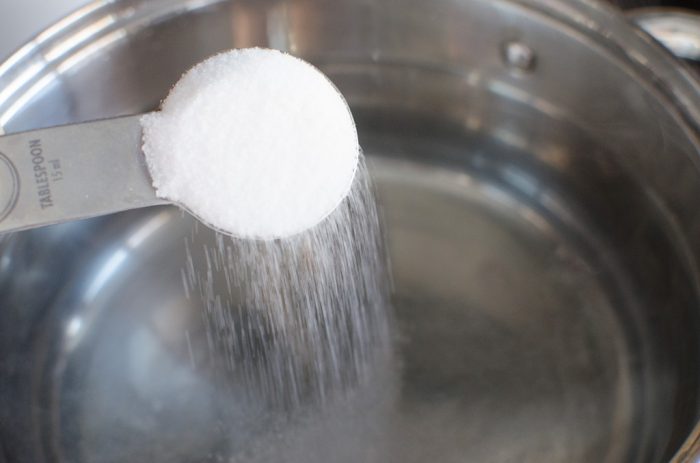 Put it on high heat to boil. Add one tablespoon of salt and stir. Some chefs say the pasta water should "taste like the sea" and Rachel and I agree! However while all the salt added does not dissolve into the past itself, you might exercise caution if you have blood pressure issues.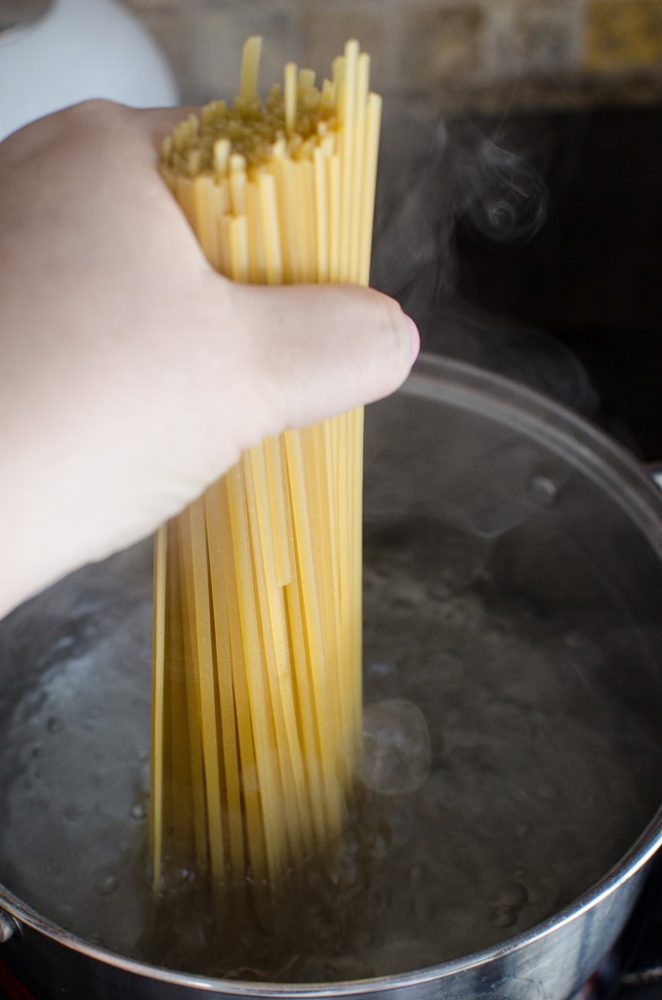 Bring the water to a boil. Hold the pasta upright in your fist and set the bottom end into the pot of water. Let go. It's okay. I know it's tough, but just let it go, let it goooo.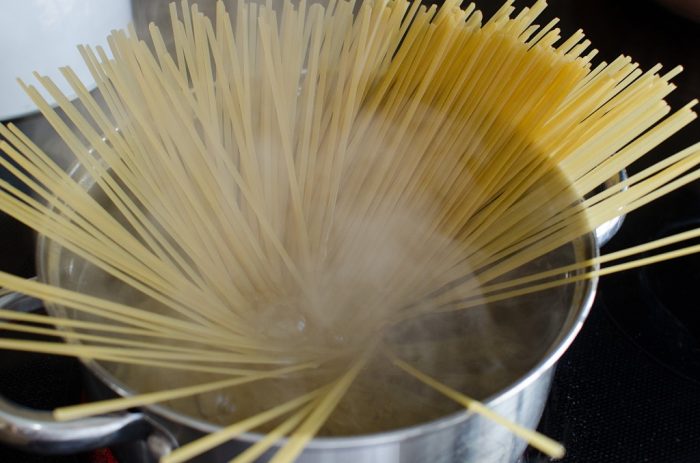 The spaghetti should fan out around the edges of the pot. (Rachel says this is the key to how to cook spaghetti perfectly.) Turn the heat down to simmer. Cook the pasta according to the time specified on the manufacturers package or until the pasta is tender when tasted. Or, you could use my trick and throw a piece of spaghetti on the cabinet. If it bounces off, it's not done yet. If it sticks, it is. Trust me, it works… I've been doing it since I was like 7.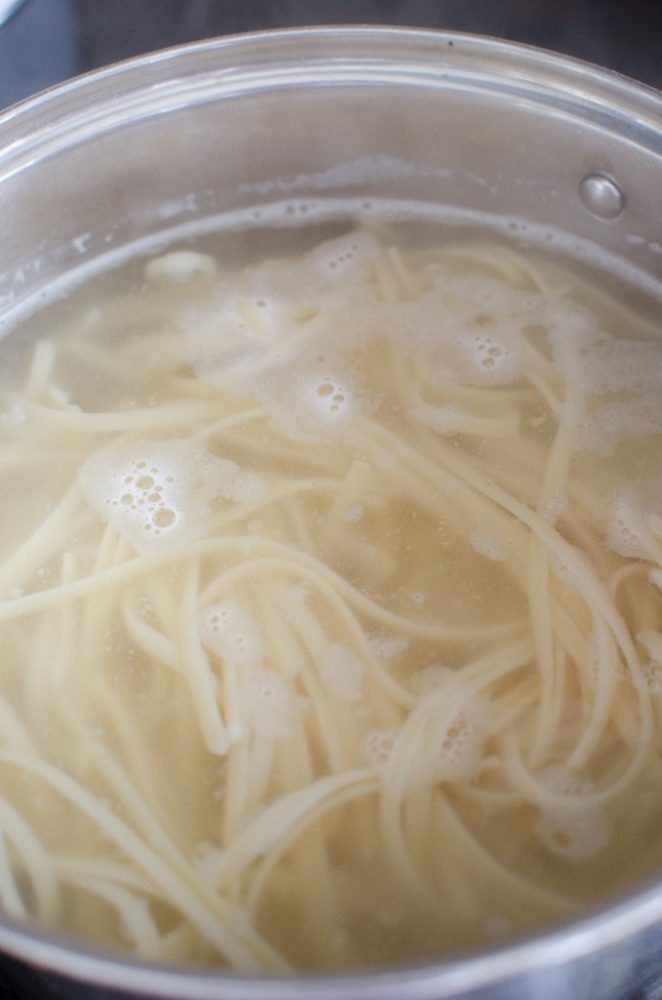 If you want to cook the pasta "Al Dente", then cook it 2 minutes less than what is stated on the package instructions. Al Dente means to cook the pasta so that it is "toothsome", meaning, it has some resistance to it when you bite into it. This technique is good when you are doing some further cooking with the pasta, such as baking it in a sauce, etc., and you don't want it overcooked and mushy by serving time.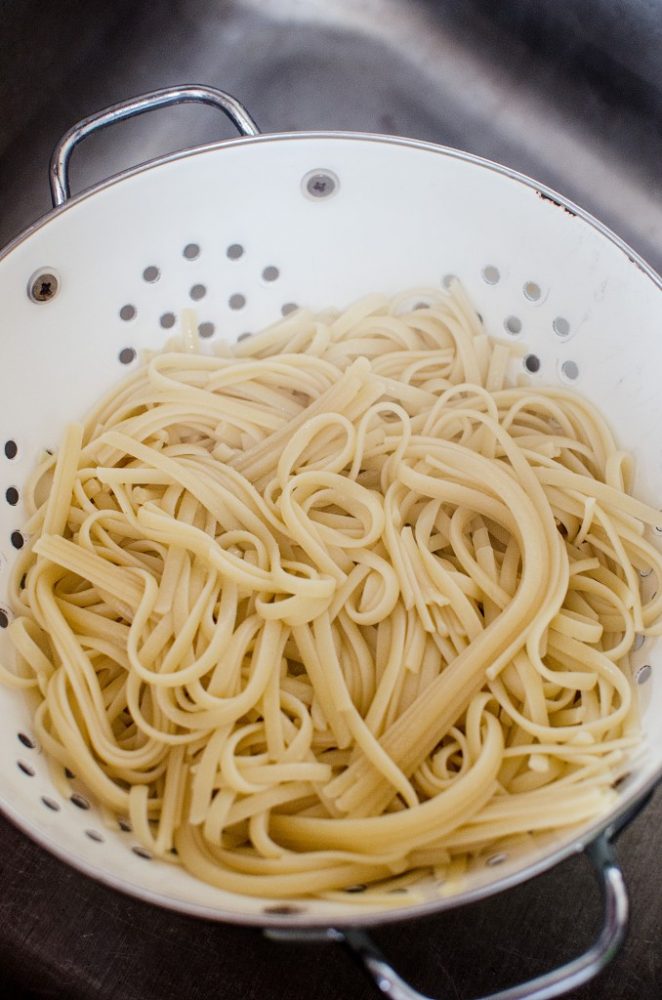 Drain the pasta from the water by pouring the entire contents into a colander placed in the sink. Give the colander a shake to remove excess water.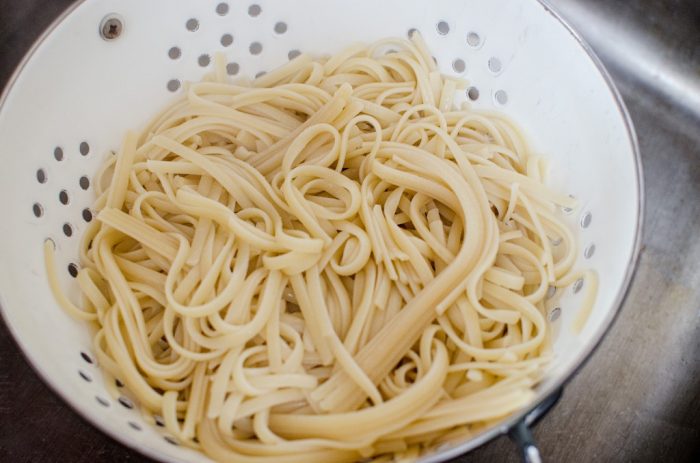 Lastly, when cooking the pasta, we add a bit of oil to the water to prevent it sticking together when it's drained. This is fine if you plan on eating the pasta with no sauce. The oil will cover the pasta and make it slightly "slick" so that any sauce you mix with it, will not properly stick to the pasta strands. This is debated however, so you could try both ways in the future and decide which is your preference.
Check out our full pasta recipe here: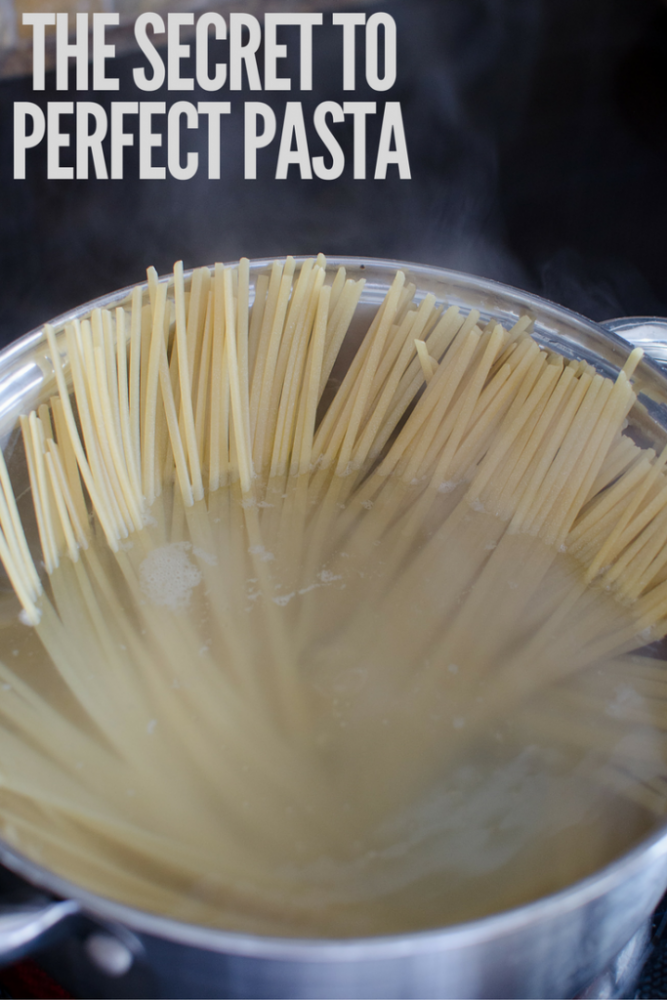 Come find me and JOIN my Weight Watchers Air Fryer & Instant Pot Facebook Recipe Group. We all know how hard it is to do it alone. We are a community of people who post recipes, share tips and ideas and inspire one another every day! We can't wait to meet you!!
Check the bottom of this page to Download my FREE WW Cookbook & Tips Guide. You will LOVE it!!
This is my ZERO Point food list. Book mark the page and refer back often. Loading your fridge and pantry with these ZERO point foods is tip #1 for weight loss success.
Meal plans help me stay on track. Here are some of my favorites!
Instant Pot Printable Meal Plan
Freestyle One Week Meal Plan
Free Printable Meal Plan
You simply MUST try my ZERO points Cheesecake Recipe
Have you made up a batch of my 2 Ingredients Dough  yet?  It's AMAZING stuff!! Use it to make low point bread bowls, pretzels, bread sticks, bagels, pizza crust, cinnamon rolls & more. Check out the Recipe Guide & Individual Recipes below:
To entice you, watch this Video for the 2 Ingredients Bagel Recipe – you will LOVE it – total YUM!!
2 Ingredient Dough Recipes
Ultimate 2 Ingredient Dough Guide
2 Ingredient Dough Pizza
2 Ingredient Dough Pot Pie
2 Ingredient Dough Pop Tarts
2 Ingredient Dough Cinnamon Rolls
2 Ingredient Dough Bread Bowls
2 Ingredient Dough Empanadas
Make sure you check out and grab our printable shopping lists below to make it easy when you are in store to grab the best WW FreeStyle friendly foods and snacks!
Weight Watchers Walmart Shopping List
Weight Watchers Target Shopping List
Weight Watchers Aldi Shopping List
Weight Watchers Trader Joe's Shopping List
Ever panic and wonder what to eat at your favorite restaurants? Well, I do too! That's why I created and LOVE my restaurant guides. Check them out here and be sure to email me and let me know any others you'd like to see:
Chipotle Weight Watchers
Olive Garden Weight Watchers
Red Robin Weight Watchers
Taco Bell Weight Watchers
P.F. Chang's
Texas Roadhouse