This post may contain affiliate links. Please read my Disclaimer and Privacy policy for more information.
Last Updated on
You can't have a Halloween cupcake without a little brains and eyeballs! These cupcakes are super moist and so easy to make. Zombie Cupcakes will be the perfect addition to a Halloween party or even a themed birthday party. Who doesn't want a Zombie themed birthday?
ZOMBIE CUPCAKES
If you are on the search for some other amazing Halloween treats, check these out: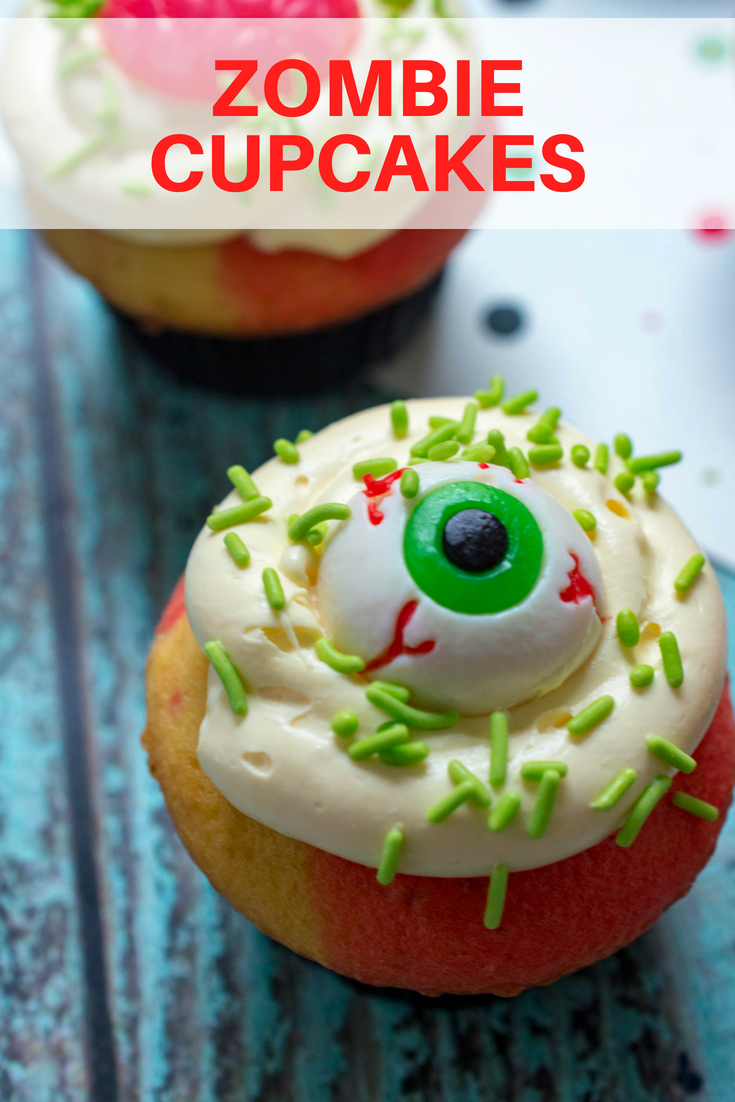 ZOMBIE CUPCAKES
Boxed Vanilla Cake Mix (and ingredients to make)
Tub of frosting
Strawberry jam
Red gel food coloring
Zombie gummy candy (brains and eyeballs)
Cupcake liners
Green sprinkles
Preheat oven to 350℉.
Line a muffin pan with cupcake liners.
Make cake mix according to directions.
Put aside about ⅓ of the batter in a bowl.
Add red food coloring.
Use 2 piping bags to fill liners about ¾ full. Alternate plain and red batter. Use more of the plain in each, so the red shows through more. (You can even just use a spoon to alternate each.)
Bake according to directions and allow to cool.
Use a large piping tip to core out the center of each cupcake.
Fill each with strawberry jam.
Frost and add a gummy candy to each cupcake.
Makes 12-16 cupcakes.