This post may contain affiliate links. Please read my Disclaimer and Privacy policy for more information.
This Fall Snack mix is a great go-to when you are looking for a fall snack on the fly or if you need a simple party mix for your next get together! 
Woo Hoo for some of You! Well, the ones that are going to get that fall-like weather that requires hoodies and bonfires. Bring on the Halloween parties and fall get-togethers. If you get invited to a party and need to bring a dish, check out this Fall Snack Mix. Super easy to throw together last minute when you forget you were supposed to bring a dish! Never happened to you? Okay, fine, just me!
If you are on Weight Watchers, that's okay! You can still indulge in this snack mix like everyone else. While this fall snack mix is perfect like it is, your points may vary if you decide to change up the recipe. But as it sits, this mix serves 12 at 6 Smartpoints per serving.
Measurements will vary as well depending on how much of each ingredient you end up with. So the easiest way is to measure out 12 servings and use a Ziploc for a grab and go snack, or combine everything in a party bowl and let your guests have at it!
Other Fall Recipes you will LOVE:
Instant Pot Pumpkin Spice Bundt Cake
Get in the Fall and Holiday Spirit! 
25 of the BEST Halloween movies (family friendly) 
50 Recipes to use leftover Halloween Candy with 
50 Halloween Crafts, Printables, and MORE!
Fall Snack Mix
Ingredients for Fall Snack Mix
2 cups kettle corn or popcorn of choice
2 cups cereal(Cinnamon Life cereal pictured)
1 cup mini pretzels
1 cup mini marshmallows
1 cup candy corn autumn mix
½ cup Reese's Pieces
Making Snack Mix
Combine all of your ingredients in a bowl, or layer in the order listed!
If you plan on storing your snack mix, use Ziploc bags or airtight containers.
Feel free to switch up the ingredients and making your own personalized mix!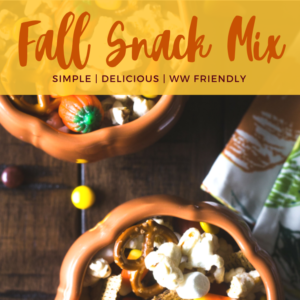 Ingredients
2

cups

kettle corn or popcorn of choice

2

cups

cereal

Cinnamon Life cereal pictured

1

cup

mini pretzels

1

cup

mini marshmallows

1

cup

candy corn autumn mix

½

cup

Reese's Pieces
Instructions
Servings: 12

Mix all ingredients together in a large bowl or layer in order listed above

Store in an air tight container for 3-5 days
Share on Facebook
Nutritional information is provided as a reference, using an online calculator. We recommend verifying the information independently.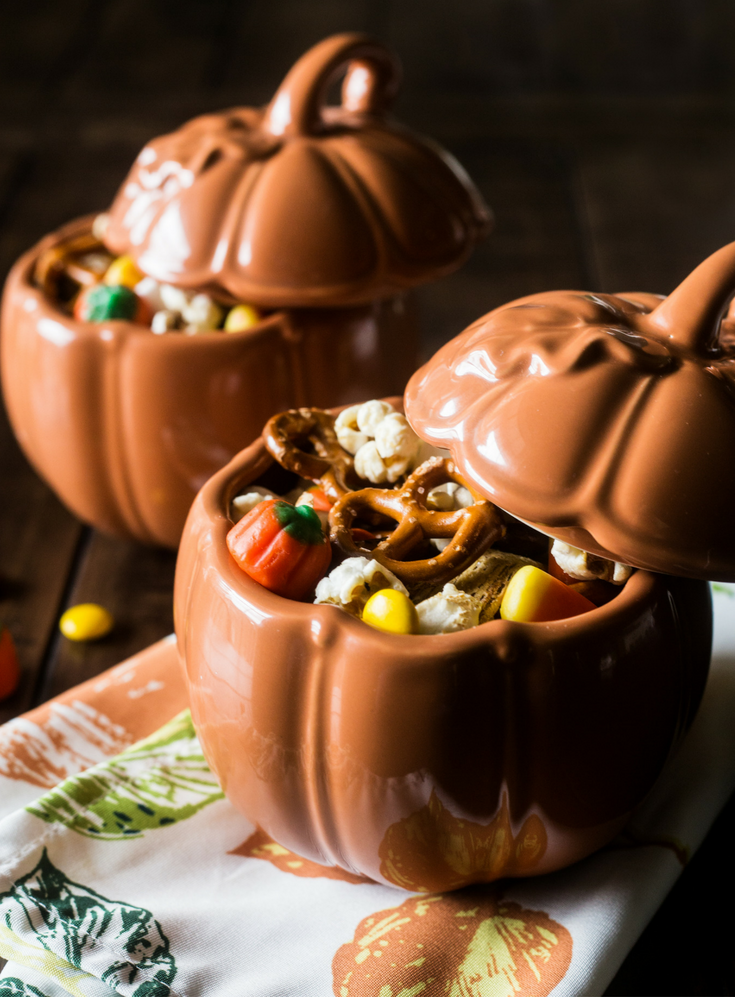 If you own an AIR FRYER or INSTANT POT, you should join the Facebook Group where we constantly share recipes, tips, tricks, and more!
Other Fall Recipes you will love!
Panera Copy Cat Broccoli and Cheddar Soup with the Bread Bowl! 
Need some inspiration for your next holiday menu? Check out these wonderful easy recipes below + VIDEO Tutorials!!
Instant Pot Turkey Breast with Gravy 
Instant Pot Baked or Mashed Sweet Potatoes