Weight Watchers Friendly Enchiladas
Mexican food IS MY WEAKNESS! But let's be real, it isn't usually diet friendly.  All that rice and ooey gooey things smothered in cheese are no longer an issue now that I have found these Weight Watchers Enchiladas. They satisfy that craving and at only 3 SmartPoints, I can have two and not feel bad about a thing! Now you can too!
Weight Watchers Enchiladas
You could easily double or triple this recipe for a crowd and to be honest, they would never know it was Weight Watchers approved! It is really that good.
Now that chicken is ZERO points, feel free to add all the white meat chicken OR even turkey breast you would like – for an even more hearty meal!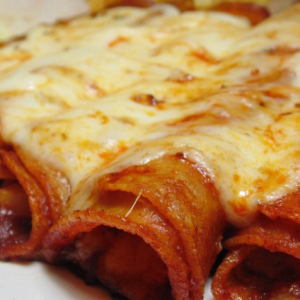 Ingredients
4

Ole' Extreme Wellness Tortillas

3

oz

Kraft Fat Free Shredded Cheese

10

oz

can red enchilada sauce

16

oz

can fat free refried beans
Instructions
Preheat oven to 350 degrees

Spray 8x8 in dish with cooking spray

In a small bowl, mix 2 oz of cheese, 2 tbsp enchilada sauce, and refried beans until combined thoroughly

Spread two spoonfuls of enchilada sauce in the bottom of the baking dish

Spoon bean mixture along the center of each tortilla and wrap tightly, placing each into the baking dish fold side down

Pour remaining enchilada sauce over the tortillas and sprinkle with left over cheese

Cover dish with foil and bake for 20 minutes

Remove foil and bake another 5 minutes or until cheese is melted
Share on Facebook
Nutritional information is provided as a reference, using an online calculator. We recommend verifying the information independently.
Come find me and JOIN my Weight Watchers Air Fryer & Instant Pot Facebook Recipe Group. We all know how hard it is to do it alone. We are a community of people who post recipes, share tips and ideas and inspire one another every day! We can't wait to meet you!!
Check the bottom of this page to Download my FREE WW Cookbook & Tips Guide. You will LOVE it!!
This is my ZERO Point food list. Book mark the page and refer back often. Loading your fridge and pantry with these ZERO point foods is tip #1 for weight loss success.
Meal plans help me stay on track. Here are some of my favorites!
Instant Pot Printable Meal Plan
Freestyle One Week Meal Plan
Free Printable Meal Plan
You simply MUST try my ZERO points Cheesecake Recipe
Have you made up a batch of my 2 Ingredients Dough yet? It's AMAZING stuff!! Use it to make low point bread bowls, pretzels, bread sticks, bagels, pizza crust, cinnamon rolls & more. Check out the Recipe Guide & Individual Recipes below:
To entice you, watch this Video for the 2 Ingredients Bagel Recipe – you will LOVE it – total YUM!!

2 Ingredient Dough Recipes
Ultimate 2 Ingredient Dough Guide
2 Ingredient Dough Pizza
2 Ingredient Dough Pot Pie
2 Ingredient Dough Pop Tarts
2 Ingredient Dough Cinnamon Rolls
2 Ingredient Dough Bread Bowls
2 Ingredient Dough Empanadas
Make sure you check out and grab our printable shopping lists below to make it easy when you are in store to grab the best WW FreeStyle friendly foods and snacks!
Weight Watchers Walmart Shopping List
Weight Watchers Target Shopping List
Weight Watchers Aldi Shopping List
Weight Watchers Trader Joe's Shopping List
Ever panic and wonder what to eat at your favorite restaurants? Well, I do too! That's why I created and LOVE my restaurant guides. Check them out here and be sure to email me and let me know any others you'd like to see:
Cracker Barrel Weight Watchers
Chic Fil A Weight Watchers
Chipotle Weight Watchers
Olive Garden Weight Watchers
Red Robin Weight Watchers
Taco Bell Weight Watchers
P.F. Chang's
Texas Roadhouse