Weight Watchers Friendly Apple Bundt Cake 6 SMART Points Freestyle
Fall is here, or well it's almost here! These million-degree days in Phoenix are almost over, which means my house will no longer be an oven. Which means I can bake again! I started with this Weight Watchers Apple Bundt Cake, which is only 6 Smartpoints according to the WW calculator. It's even less without the glaze, but who eats a bundt cake without a glaze? NOT ME!
I absolutely LOVE this brand of baking stuff! It's quality, durable, and lasts FOREVER!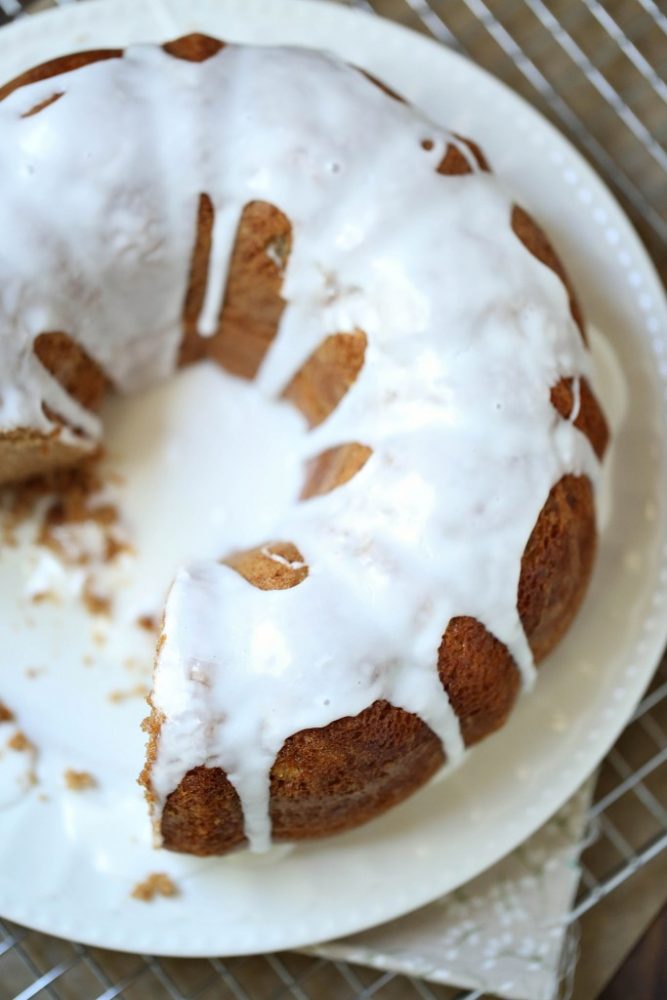 Weight Watchers Apple Bundt Cake
The fun part about Weight Watchers recipes is that you can switch the fruits up without affecting the points since pretty much all fruits and veggies are zero points! This could easily be turned into a lemon blueberry cake or even a strawberry cake. The possibilities are endless.
If you're new to Weight Watchers, you'll find that you can do it for FREE without paying the monthly membership (or online) fee. You will also find it's one of the easiest "diets" to follow. I put "diets" in quotes because it's not really a diet. You can literally eat anything you want, in moderation. Usually, diets are much more restrictive than that! I've lost 6 pounds this past week and I plan to keep going. Good luck on your weight loss adventure!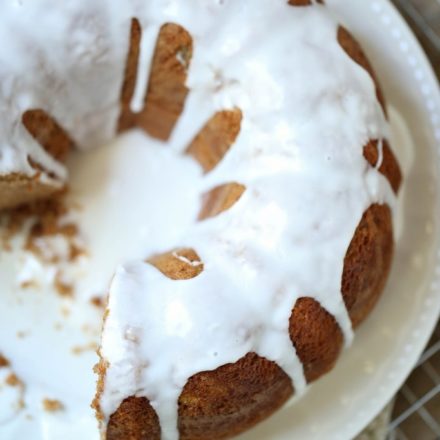 Ingredients
Ingredients for Apple Bundt Cake:
3

cups

all-purpose flour

2

cups

Splenda sugar

1

tsp

baking powder

3/4

tsp

baking soda

1/2

tsp

table salt

1/2

tsp

ground cinnamon

1/4

tsp

ground nutmeg

1

cup

1% low-fat buttermilk

3

large eggs

1/3

cup

canola oil

3

tsp

lemon zest

(grated)

1/2

tsp

vanilla extract

2

cups

diced apples

(cooked til soft)
Ingredients for Glaze:
2

cups

powdered sugar

2

tablespoons

milk

(or more if it is too thick)
Instructions
Preheat oven to 350*F.

Mix all "cake" ingredients with mixer until evenly blended.

Fold in cooked apples.

Grease/spray bundt pan with nonstick spray.

Pour mixture into bundt pan.

Bake for 30 minutes.

Let cool completely, then mix up glaze ingredients and drizzle.
Notes
If you type in the ingredients for the glaze into the app, it will add 5 points per serving BUT DON'T WORRY! Since this is a glaze, and each slice is not smothered in it, it will not effects for points too much. Just as an example, 5 teaspoons of powdered sugar is 3 points; there's definitely NOT that much on one slice.
Slicing the bundt cake into 12 servings makes each slice 5 PointsPlus according to WW. 6 SMART Points Freestyle
Share on Facebook
Nutritional information is provided as a reference, using an online calculator. We recommend verifying the information independently.
RELATED: Instant Pot Pumpkin Spice Bundt Cake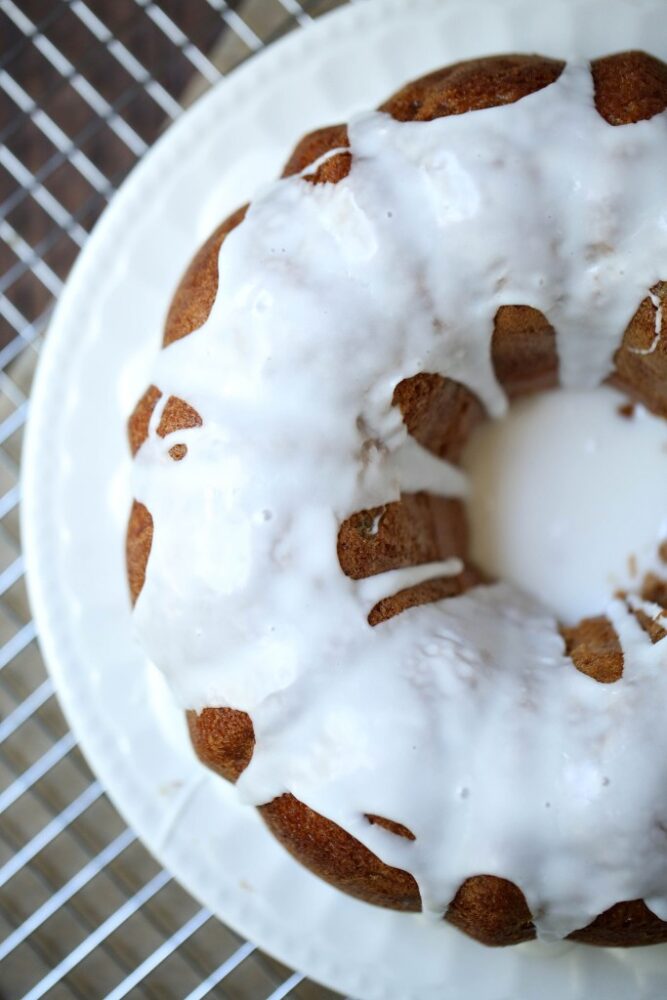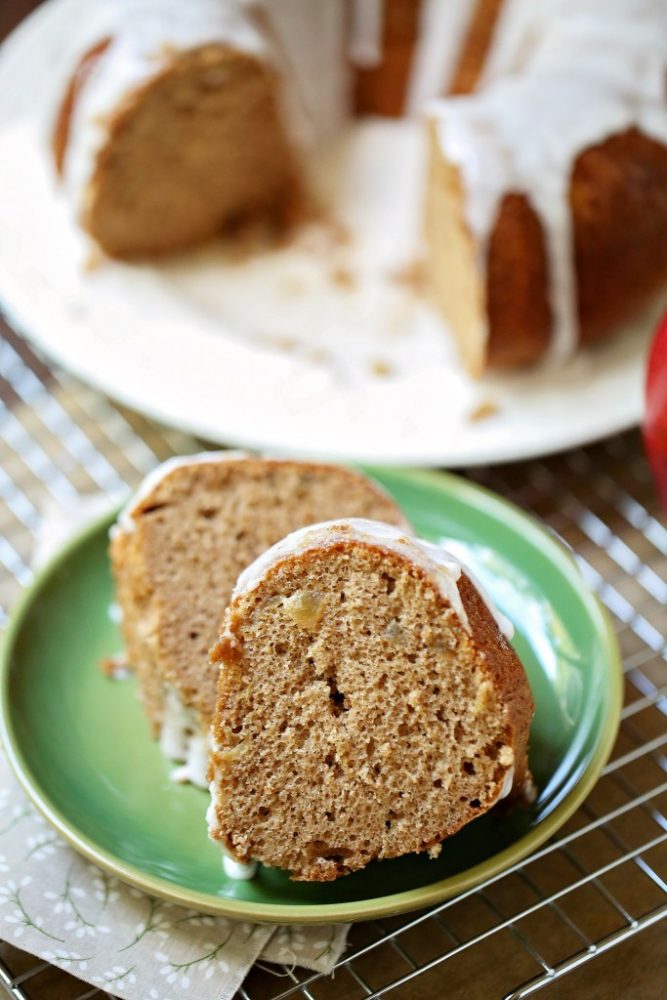 Come find me and JOIN my Weight Watchers Air Fryer & Instant Pot Facebook Recipe Group. We all know how hard it is to do it alone. We are a community of people who post recipes, share tips and ideas and inspire one another every day! We can't wait to meet you!!
Check the bottom of this page to Download my FREE WW Cookbook & Tips Guide. You will LOVE it!!
This is my ZERO Point food list. Book mark the page and refer back often. Loading your fridge and pantry with these ZERO point foods is tip #1 for weight loss success.
Meal plans help me stay on track. Here are some of my favorites!
Instant Pot Printable Meal Plan
Freestyle One Week Meal Plan
Free Printable Meal Plan
You simply MUST try my ZERO points Cheesecake Recipe
Have you made up a batch of my 2 Ingredients Dough yet? It's AMAZING stuff!! Use it to make low point bread bowls, pretzels, bread sticks, bagels, pizza crust, cinnamon rolls & more. Check out the Recipe Guide & Individual Recipes below:
To entice you, watch this Video for the 2 Ingredients Bagel Recipe – you will LOVE it – total YUM!!

2 Ingredient Dough Recipes
Ultimate 2 Ingredient Dough Guide
2 Ingredient Dough Pizza
2 Ingredient Dough Pot Pie
2 Ingredient Dough Pop Tarts
2 Ingredient Dough Cinnamon Rolls
2 Ingredient Dough Bread Bowls
2 Ingredient Dough Empanadas
Make sure you check out and grab our printable shopping lists below to make it easy when you are in store to grab the best WW FreeStyle friendly foods and snacks!
Weight Watchers Walmart Shopping List
Weight Watchers Target Shopping List
Weight Watchers Aldi Shopping List
Weight Watchers Trader Joe's Shopping List
Ever panic and wonder what to eat at your favorite restaurants? Well, I do too! That's why I created and LOVE my restaurant guides. Check them out here and be sure to email me and let me know any others you'd like to see:
Chipotle Weight Watchers
Olive Garden Weight Watchers
Red Robin Weight Watchers
Taco Bell Weight Watchers
P.F. Chang's
Texas Roadhouse