Sesame Ginger Cauliflower Recipe – 2 Freestyle Points
I'm excited to share this sesame ginger cauliflower with you. If you're looking for easy cauliflower recipes, this ranks right up there with the best of them. I like easy not because I'm lazy (okay, maybe that's part of it) but because my kids love to cook and the simpler, the better.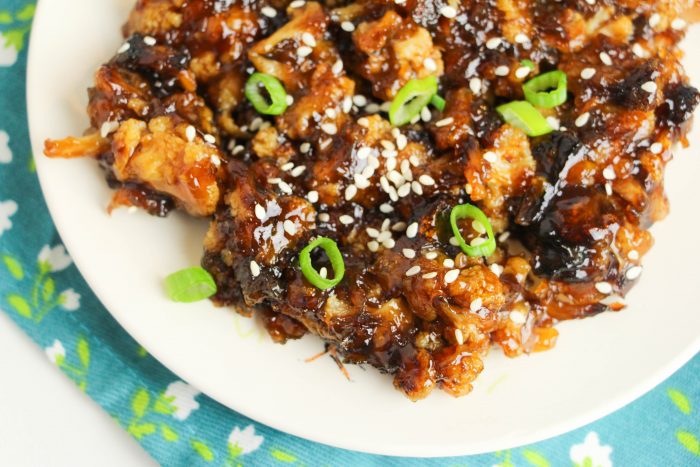 Sesame Ginger Cauliflower Recipe
The key is to grab big heads of cauliflower for this one! Then, chop them up. See full directions at the bottom of this post.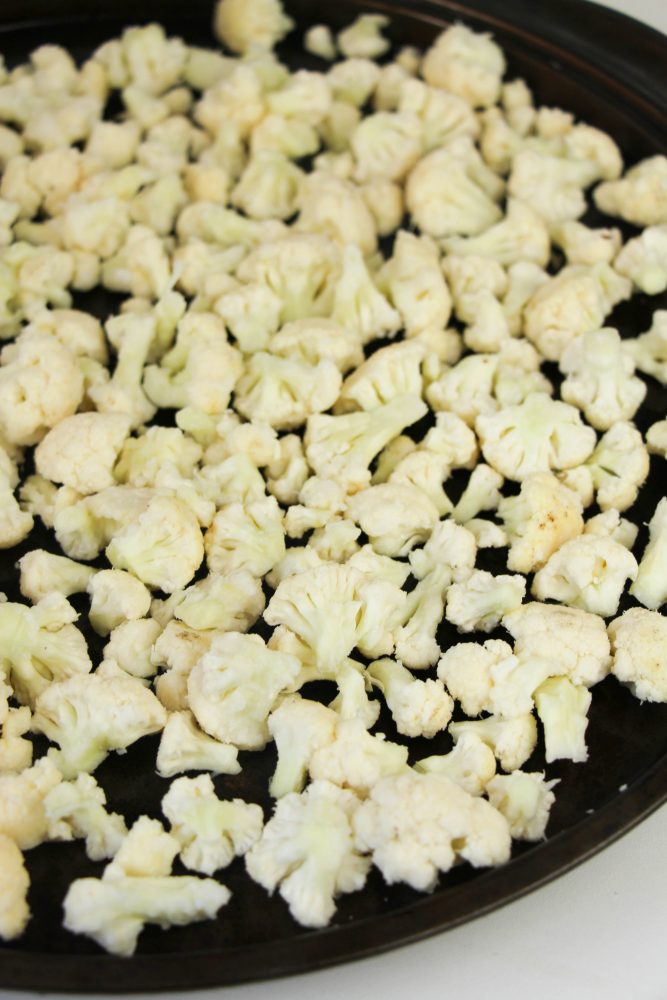 I am not one to eat cauliflower plain, even though it is zero points – but this recipe is so tasty. I will totally eat two or three servings and not feel bad.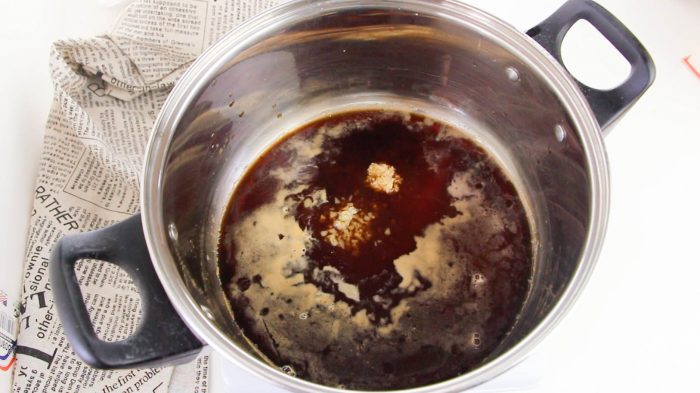 You can add honey to this recipe (about 1/4 cup) but it will add waaaayyy too many points if you're on Weight Watchers, and it tastes fine without it. :) Honey will make it a little stickier, but for me it's not worth the points addition.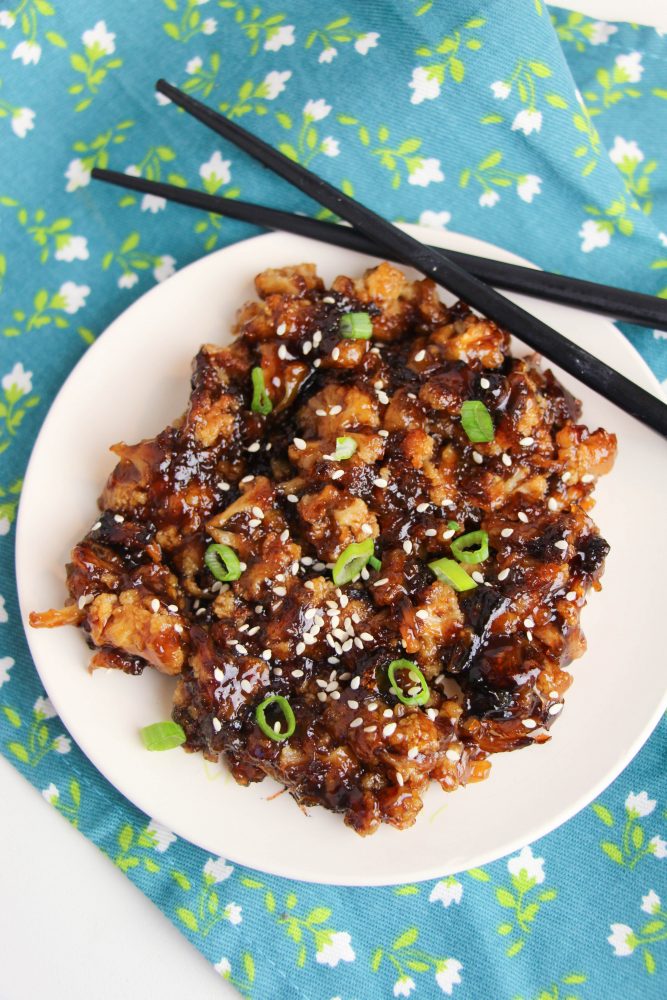 Weight Watchers Freestyle Points
Cauliflower is zero points on the Freestyle program, and most of the other ingredients in this delicious cauliflower recipe are zero points as well. Coconut oil and sesame oil do have points. If you have a lower point alternative for oil, definitely try it out. I love coconut oil so I don't mind it. Plus, two points is still super low in Weight Watchers points! :) These are big servings as long as you have 2 big heads of cauliflower. It's impossible to say a serving is a cup etc because the size will depend on the size of the heads of cauliflower your choose. Obviously, the points are coming from the sauce and the sauce amount doesn't change no matter how much cauliflower you have. :) So, get the biggest heads of cauliflower you can and divide evenly into 6 servings for a filling, low point meal.
6 servings, 2 points per serving (11 points for entire recipe)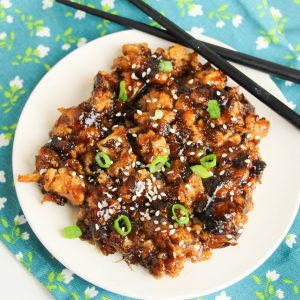 Ingredients
2

heads cauliflower

chopped into tiny pieces

1

Tablespoon

coconut oil

1/2

cup

soy sauce

1

teaspoon

splenda/sugar substitute

3

Tablespoons

rice wine vinegar

2

teaspoons

sesame oil

1

teaspoon

ginger paste

2

cloves

garlic

minced

1/4

cup

water

2

Tablespoons

cornstarch

1

tablespoon

crushed red pepper

1

tsp

Sesame seeds

optional garnish (add 1 point)

Green onions

chopped, optional garnish
Instructions
Preheat oven to 450F

Toss the chopped cauliflower with coconut oil and then lay in a flat layer on a cookie sheet.

Roast for 10-12 minutes, turning once, until slightly golden.

Meanwhile, combine the soy sauce, rice wine vinegar, sesame oil, ginger paste, crushed red pepper, and garlic in a large saucepan. Place over medium heat and cook until simmering, stirring often.

Combine the water and cornstarch to form a slurry, then mix into the soy sauce mixture.

Continue cooking the sauce until it becomes sticky.

Toss the cauliflower in the sauce and then return to the oven for 3-5 minutes.

Garnish with sesame seeds and chopped green onions.
Share on Facebook
Nutritional information is provided as a reference, using an online calculator. We recommend verifying the information independently.
Come find me and JOIN my Weight Watchers Air Fryer & Instant Pot Facebook Recipe Group. We all know how hard it is to do it alone. We are a community of people who post recipes, share tips and ideas and inspire one another every day! We can't wait to meet you!!
Check the bottom of this page to Download my FREE WW Cookbook & Tips Guide. You will LOVE it!!
This is my ZERO Point food list. Book mark the page and refer back often. Loading your fridge and pantry with these ZERO point foods is tip #1 for weight loss success.
Meal plans help me stay on track. Here are some of my favorites!
Instant Pot Printable Meal Plan
Freestyle One Week Meal Plan
Free Printable Meal Plan
You simply MUST try my ZERO points Cheesecake Recipe
Have you made up a batch of my 2 Ingredients Dough yet? It's AMAZING stuff!! Use it to make low point bread bowls, pretzels, bread sticks, bagels, pizza crust, cinnamon rolls & more. Check out the Recipe Guide & Individual Recipes below:
To entice you, watch this Video for the 2 Ingredients Bagel Recipe – you will LOVE it – total YUM!!

2 Ingredient Dough Recipes
Ultimate 2 Ingredient Dough Guide
2 Ingredient Dough Pizza
2 Ingredient Dough Pot Pie
2 Ingredient Dough Pop Tarts
2 Ingredient Dough Cinnamon Rolls
2 Ingredient Dough Bread Bowls
2 Ingredient Dough Empanadas
Make sure you check out and grab our printable shopping lists below to make it easy when you are in store to grab the best WW FreeStyle friendly foods and snacks!
Weight Watchers Walmart Shopping List
Weight Watchers Target Shopping List
Weight Watchers Aldi Shopping List
Weight Watchers Trader Joe's Shopping List
Ever panic and wonder what to eat at your favorite restaurants? Well, I do too! That's why I created and LOVE my restaurant guides. Check them out here and be sure to email me and let me know any others you'd like to see:
Cracker Barrel Weight Watchers
Chic Fil A Weight Watchers
Chipotle Weight Watchers
Olive Garden Weight Watchers
Red Robin Weight Watchers
Taco Bell Weight Watchers
P.F. Chang's
Texas Roadhouse