Best Homemade Chocolate Protein Shake
This homemade chocolate protein shake is perfect for breakfast, a snack, or if you need a pick me up after a workout. Simple ingredient list along with great taste plus it's Weight Watchers friendly! 
I will just go ahead and say, up until January I struggled with protein shakes. I thought all of them were just, honestly, disgusting! I have tried every kind known to mankind and just can't quite stomach it. 
Lucky for you, I am letting go of my secret homemade chocolate protein shake recipe in hopes that if you are in the same boat I was, you can change your mind! 
The fundamentals of a good protein shake as far as taste goes is PROTEIN POWDER! 
Orgain Protein Powder is the ONLY one I recommend. When you open it, it smells sweet instead of smelling horrid! Its base is pea plant, so it's vegan-friendly too.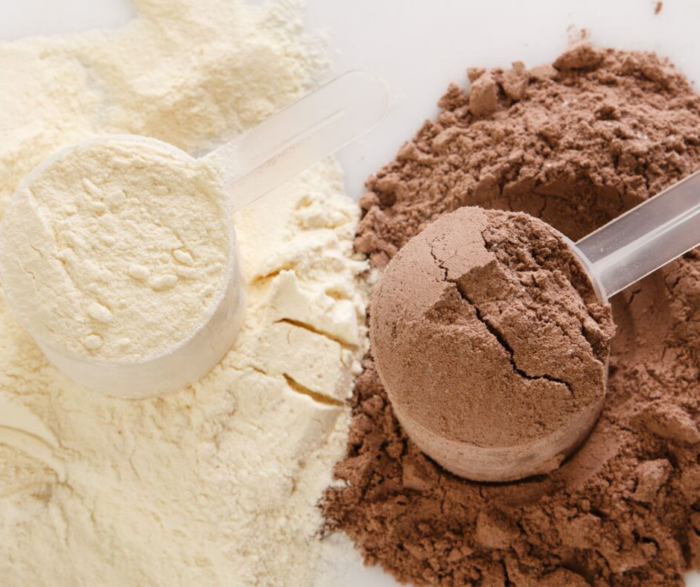 Here are some other facts about Orgain that's worth mentioning:
Variety of  Flavors
 Vegan
 Low Net Carbs
 Non Dairy
Gluten-Free
Lactose-Free
No Sugar Added
Soy Free
 Kosher
 Non-GMO
21 grams of protein, 7 grams of organic fiber, 3 net carbs per serving
**You can get Orgain at Walmart and Sams (the premixed bottles), but it's definitely cheaper on Amazon.
If you don't have time to make the homemade chocolate protein shake, Orgain offers on the go bottles too! 
This protein shake is 7 Smartpoints if you are on the Weight Watchers Freestyle plan. I know you are thinking Wow, that is high JUST for a protein shake. Just remember, all these ingredients are actually healthy and NOT PROCESSED.
Protein is what keeps you fuller for a longer amount of time, so no needing for snacking as much. Also, in some lower point processed snack foods, they have a lot of carbs, which the more carbs you have, the hungrier you will be if its not balanced with protein. 
If you want to know more about how the body processes carbs, protein, etc. and just need a reality check health wise…I cannot tell you much I LOVE this book! She does such an awesome job explaining everything! I really believe everyone can benefit from it. Plus it's not about dieting specifically its really more about the health benefits and how foods relate to the inflammation process in our bodies! 
The Best Homemade Chocolate Protein Shake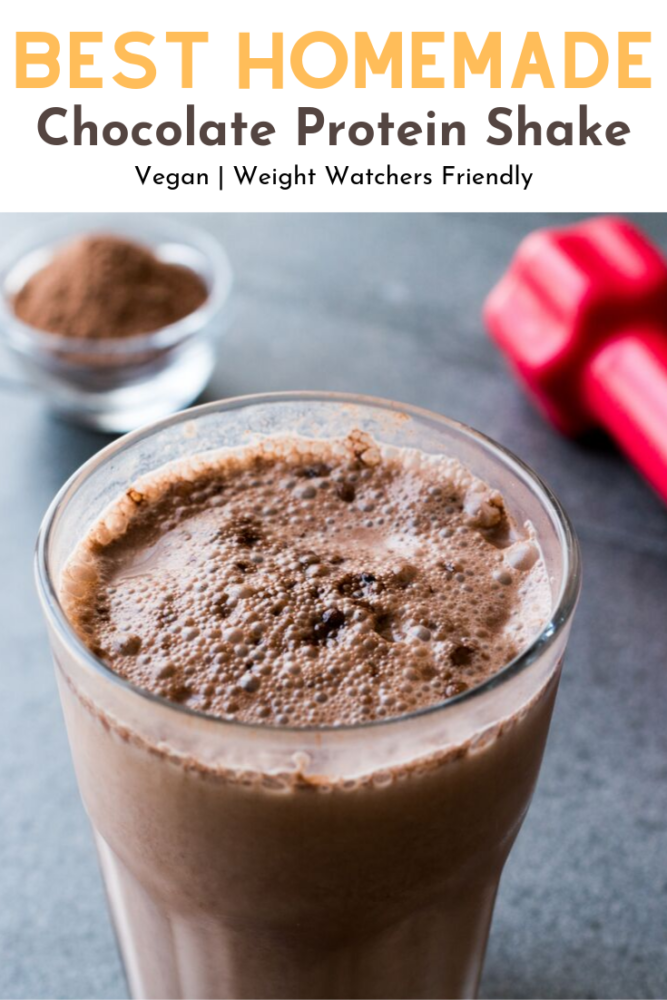 Ingredients for Chocolate Protein Shake
1 serving of Orgain Chocolate Fudge Protein Powder 
1 1/2 – 2 cups of Silk Unsweetened Vanilla Almond Milk 
1 serving of PB2 Powder 
½ banana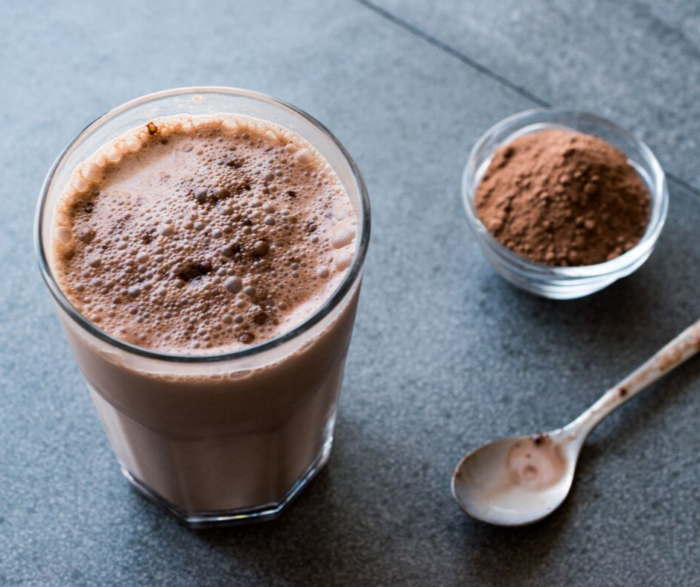 How to Make a Chocolate Protein Shake 
Combine all ingredients into a blender. 

Blend until mixed well and serve! 
Servings: 1; 7 Smartpoints per serving 
Tips for the Best Homemade Chocolate Protein Shake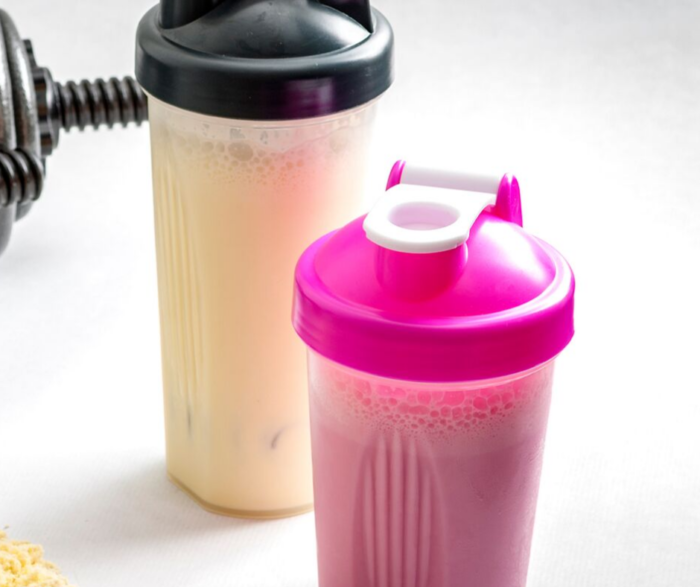 You will need a blender, this is the one I have and literally use it ALL the time. 
I am a HUGE fan of these shaker bottles. This is what I use on a daily basis. BONUS: they come in really cute colors :) 
You can substitute the PB2 Powder for regular peanut butter, but if you are following WW this will increase the points. 
Almond butter is good too! AND it now comes in the powder form. 
Feel free to make these the night before, they store well! 

Sometimes we use flax seeds or chia seeds in our protein shakes too.

You don't have to use the unsweetened vanilla, this is just what we prefer. 

The banana is delicious, but you can also use other fruits or vegetables.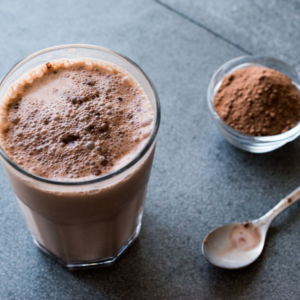 Ingredients
1

serving of Orgain Chocolate Fudge Protein Powder

1 1/2 - 2

cups

of Silk Unsweetened Vanilla Almond Milk

1

serving of PB2 Powder

½

banana
Instructions
Combine all ingredients into a blender.

Blend until mixed well and serve!
Share on Facebook
Nutritional information is provided as a reference, using an online calculator. We recommend verifying the information independently.
Come find me and JOIN my Weight Watchers Air Fryer & Instant Pot Facebook Recipe Group. We all know how hard it is to do it alone. We are a community of people who post recipes, share tips and ideas and inspire one another every day! We can't wait to meet you!!
Check the bottom of this page to Download my FREE WW Cookbook & Tips Guide. You will LOVE it!!
This is my ZERO Point food list. Book mark the page and refer back often. Loading your fridge and pantry with these ZERO point foods is tip #1 for weight loss success.
Meal plans help me stay on track. Here are some of my favorites!
Instant Pot Printable Meal Plan
Freestyle One Week Meal Plan
Free Printable Meal Plan
You simply MUST try my ZERO points Cheesecake Recipe
Have you made up a batch of my 2 Ingredients Dough yet? It's AMAZING stuff!! Use it to make low point bread bowls, pretzels, bread sticks, bagels, pizza crust, cinnamon rolls & more. Check out the Recipe Guide & Individual Recipes below:
To entice you, watch this Video for the 2 Ingredients Bagel Recipe – you will LOVE it – total YUM!!

2 Ingredient Dough Recipes
Ultimate 2 Ingredient Dough Guide
2 Ingredient Dough Pizza
2 Ingredient Dough Pot Pie
2 Ingredient Dough Pop Tarts
2 Ingredient Dough Cinnamon Rolls
2 Ingredient Dough Bread Bowls
2 Ingredient Dough Empanadas
Make sure you check out and grab our printable shopping lists below to make it easy when you are in store to grab the best WW FreeStyle friendly foods and snacks!
Weight Watchers Walmart Shopping List
Weight Watchers Target Shopping List
Weight Watchers Aldi Shopping List
Weight Watchers Trader Joe's Shopping List
Ever panic and wonder what to eat at your favorite restaurants? Well, I do too! That's why I created and LOVE my restaurant guides. Check them out here and be sure to email me and let me know any others you'd like to see:
Cracker Barrel Weight Watchers
Chic Fil A Weight Watchers
Chipotle Weight Watchers
Olive Garden Weight Watchers
Red Robin Weight Watchers
Taco Bell Weight Watchers
P.F. Chang's
Texas Roadhouse