Vegetarian Meal Plan for the Year: March and April
This post may contain affiliate links. Please read my Disclaimer and Privacy policy for more information.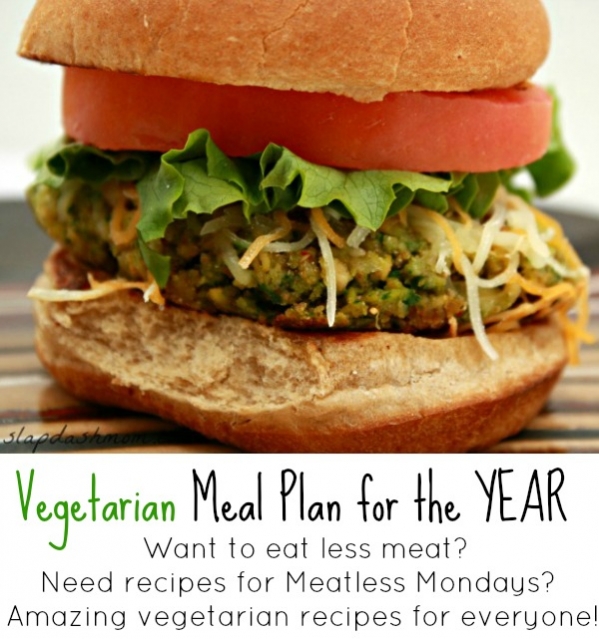 Vegetarian Meal Plan for the Year: March and April
Be sure to check out January and February, May and June, July and August, September and October, and November and December, too!
Be sure to check out my favorite Vegetarian Cookbooks while you're here!
… How to Cook Everything Vegetarian: Simple Meatless Recipes for Great Food
… Meatless: More Than 200 of the Very Best Vegetarian Recipes
… The Southern Vegetarian Cookbook: 100 Down-Home Recipes for the Modern Table
… Quick-Fix Vegetarian: Healthy Home-Cooked Meals in 30 Minutes or Less
Vegetarian Meal Plan for March
1. Vegetable Sushi With Crunchy Lentils and Turmeric
2. Mediterranean Salad with Roasted Tomato Vinaigrette
4. Citrus Quinoa Salad with Avocado and Pomegranates
5. Quinoa-stuffed Collard Green Rolls with Goat Cheese
6. Vegan Smoky Tempeh Kale Stir Fry
7. Dual Colored Sweet Potato Gnocchi
8. Pomegranate Salad with Pear and Blue Cheese
9. Smoky Coconut and Butternut Squash Soup
12. Chopped Kale and Chickpea Salad with Creamy Tahini Dressing
13. Rice noodles with vegetable and Tempeh
14. Kale Goulash
15. Tomatos and Potatoes Soup with Risotto and Beans
16. Blackeyed Pea & Vegetable Soup
17. Portobello Burgers with Spicy Slaw & Pickled Red Onions
20. Butternut and Kale Pasta with Fontina
21. Kale Salad with Roasted Sweet Potato, Avocado, and Pomegranate Seeds
22. Cabbage Bowls with Raw Veggie Noodles & Almond Ginger Sauce
23. White Bean Stew with Caramelized Shallot & Roasted Garlic
24. Vegetarian Banh Mi with Marinated Sesame Tofu
26. Eggplant Tomato and Onion Stew
27. Vegan Skillet
28. Blackeyed Peas, Tofu Thym Ricotta, Deep Dish Pizza
30. Spicy Sweet Potato Egg Skillet
31. "Bacon" Seitan Sandwich with Sweet Potato and Spinach Cilantro Spread
Vegetarian Meal Plan for April
1. Gingery Carrot Stew with Peanuts and Cilantro
3. Carrot Quinoa Chickpea Moroccan Salad with Tahini Dressing
4. Braised Cabbage with Lentils
6. Beluga Lentil & Pomegranate Baba Ghanoush
7. Margherita Panini with Garlic
8. Fat-Free Crock Pot Mushroom Chili
9. Red Quinoa Casserole With Blackeyed Peas and Sweet Potato Hash
10. Smokey Sweet Potato Cous Cous Mushroom Veggie Burgers
12. Leek, Mushroom and Pepper Stroganoff
14. Blackeyed Pea Fritters with Honey-Sriracha Dipping Sauce
15. Five Bean Vegetarian Chili
17. Chipotle Barbecue Baked Beans With Tempeh
19. Brown Rice Pasta Shells in Light Rose Sauce
20. Filo Flowers With Whisky Mushroom Mousse
21. Wild Rice Salad
22. Pav Bhaji – Indian Version of Sloppy Joes
23. Spinach and Swiss Chard Ravioli Nudi Over Simple Tomato Sauce
24. Balsamic Beads & Alien Veggies
25. Vegetable Curry Fried Rice
27. Kale Butternut Squash Quesadilla
28. Pasta e Fagioli
Be sure to check back next month for another menu plan! Share this post if it helped you!