DIY Halloween Party – The Ultimate Halloween Post #TruMoo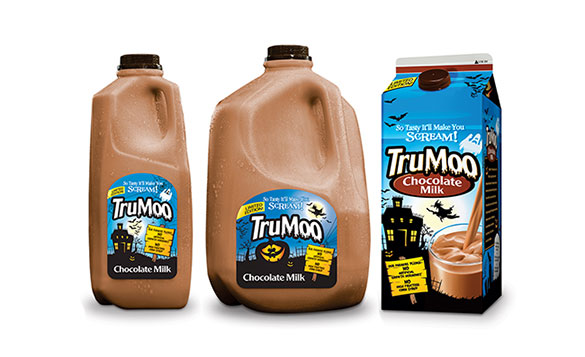 You can't have a DIY Halloween party without delicious food and drinks, spooky decorations, and fun costumes, right?! That's why I've put together this virtual DIY Halloween Party for you – everything you need to create a Halloween party on a budget, all in one spot! This is a sponsored post on behalf of TruMoo, so be sure to check them out before you leave! You can follow TruMoo on Twitter, too.
I love that TruMoo chocolate and vanilla milk have 35% less sugar than other chocolate milk brands, plus no high fructose corn syrup and no artificial growth hormones! At only 140 calories for a cup, I can even have some – it's my favorite after workout drink. I prefer the 1% low fat chocolate milk, but my girls went absolutely batty over the orange vanilla milk! :)
Now through October 31st, you can find a unique code located on the cap sticker of specially marked Limited Edition TruMoo Halloween Vanilla (tinted orange) and Chocolate milks. These codes can be entered online at www.TruMoo.com for a chance to win a Haunted Hollywood Vacation trip! Also, when you enter the code, you will have the option to receive $2 off any Goosebumps DVD.
To enter your code:
Go to the TruMoo website at www.TruMoo.com
Once you are on the site, click on the "Enter Now" button on the home screen
You will then be directed to the Sweepstakes page

DIY Halloween Party – The Ultimate Halloween Post
Let's get this party started! We'll start with food, first – since that's what everyone really comes to the party for! Follow my Halloween Pinterest Board for even more inspiration.
Spooky Smoothie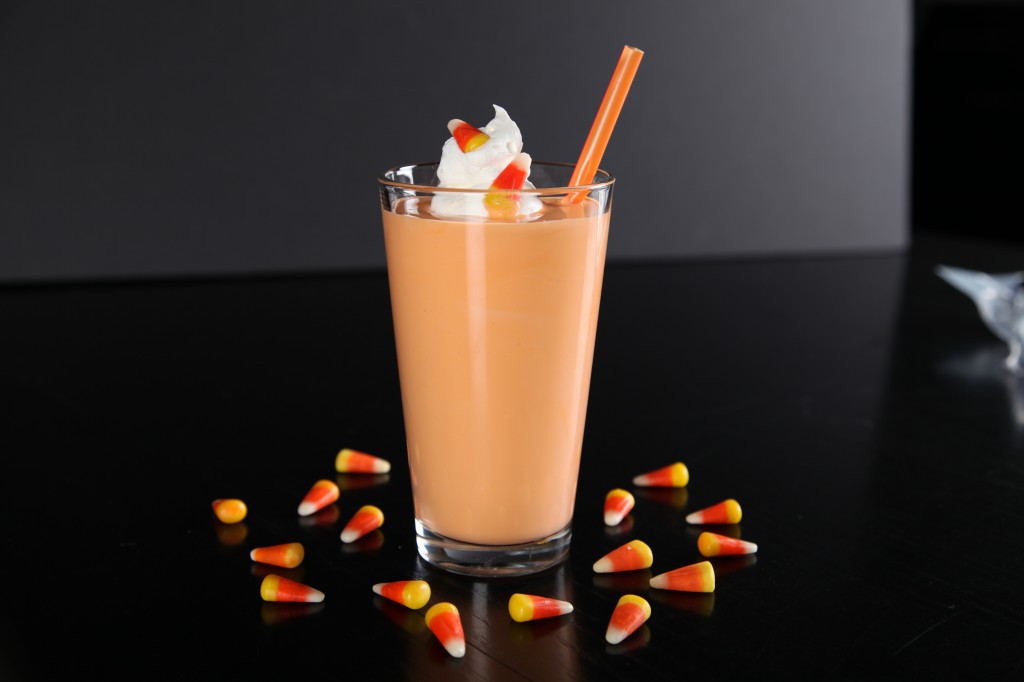 Ingredients
3 cups Limited Edition TruMoo Lowfat Vanilla Milk (orange color)
1 ½ cups lowfat vanilla Greek yogurt
5 cups ice cubes
¼ cup fat-free whipped cream
Candy corn for garnish, optional
Directions
In blender combine TruMoo, yogurt and ice cubes. Blend on high speed until smooth and creamy.
To serve, pour into serving glasses. Top with fat free whipped cream and candy corn.
Serves 4.
Food and Drink
Graveyard Cupcakes – pictured above, easy recipe and cute!
Frankenstein Foods and Ghost Foods – from Thrifty Ninja (one of my fav blogs ever)
Frankenstein Marshmallow Pops – pictured above, these super cute pops seem easy enough to make!
Totino's Graveyard – super cute, love this idea! It doubles as decor!
Halloween Rice Krispies Treats – super versatile food.. I heart Rice Krispies!
Halloween Graveyard Cake – the cookies used in this cake are to die for :)
Glow in the Dark Apple Cider – anything glow in the dark is a win in my book!
Monster Mash Hawaiian Punch – pictured above – love this one!
Decorations
BOO Door Hanger – welcome to the party! This is my very own creation.
Milk Jug Ghosts – Use your TruMoo milk jugs to make cute ghosts!
Toiler Paper Pumpkins – super cute.
Halloween Tablescape – get this look for less than $25!
Soda Bottle Ghosts – recycle those soda bottles!
Spooky Snake Wreath – this is for real spooky! LOVE it!
Costumes
Queen of Hearts Makeup Tutorial
Paper Doll Costume – Costs $1 to make!
Tardis – no-sew costume
Crafts and Such
45 Candy Corn Crafts
Thanks for stopping by my DIY Halloween Party! Leave your Halloween tips and links in the comments!