Spiced Banana Almond Smoothie Recipe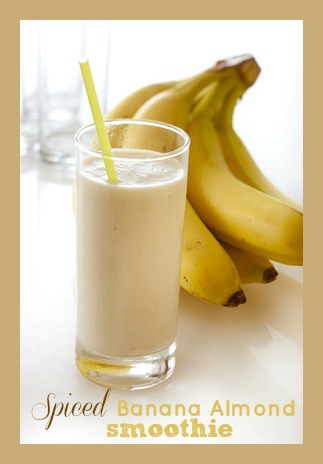 Spiced Banana Almond Smoothie Recipe
I love a good smoothie and this Spiced Banana Almond Smoothie Recipe is one of my best. As described, it is smooth and delicious and loaded with fiber, protein, potassium and a little bit of secret spice!
As with all my recipes, I find something I like and then I play around with it a little to make it
WeightWatchers
friendly – while keeping it absolutely delicious, of course :)  This spiced banana is one of those recipes. 
For those of you who do
WeightWatchers
, you probably already how great it is. I love WeightWatchers simply because it is the only weight loss program that has ever worked for me. It has taught me how to eat the foods I love, and still lose weight. I have never been able to do that before so the program is just my favorite.
What I do now is take regular recipes that I love, and find a way to make them WeightWatchers friendly. I swap this for that, until I get the taste just right, and then I add the recipe here to my blog, for all of us to share and enjoy. I hope you will enjoy them. For more of my WeightWatchers recipes, please go
here
. 
WeightWatchers has really been around forever. I have met WeightWatchers members in my
meetings
who say they have been doing the program since the 1960's. I had no idea! Over those many decades, the program has changed time and time again. More recent adaptations of the program include
zero point foods
– which was a real game changer for me. 
Zero point foods are foods that you can eat through out the day, that literally are zero points. So, they do not count against your daily allotment of points to eat. I have two zero point food recipes that people tell me they can not get enough of. If you are trying to watch calories, or are either on WeightWatchers, considering it or maybe even thinking about going back on it, these recipes are must haves. 
If you are considering the WeightWatchers program at any time, you can always
click here
to get their latest deals and specials because they are always running something wonderful and new. 
Now back to my spiced banana almond smoothie recipe… It's really quick and easy to make and you can make it ahead, chill it in a tumbler and take it on the go to work, kid drop off, errands or wherever you need to go. Feel free to add a scoop of low carb protein powder (I love vanilla in this) and turn your smoothie into a high protein before or after workout extravaganza.     
So What Is This Secret Spice?
This delicious banana almond spiced smoothie has a little bit of a secret spice. I like to call it a secret spice when it turns out, it isn't really a secret at all. The spice I use in this smoothie is cardamom and if you have never tried it, you really should. It is a terrific and yet not so well known spice that I would describe as a mix of eucalyptus, mint and pepper.
If you do not have cardamom in your pantry, and you don't want to buy an entire container just yet, you can feel free to substitute nutmeg or cinnamon for the spice flavor. Those are both delicious too! 
The ingredients for this recipe are banana, unsweetened almond milk, almond butter, cardamom (or cinnamon or nutmeg), honey and ice cubes.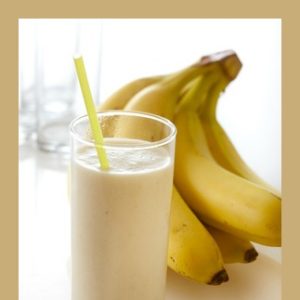 Spiced Banana Almond Smoothie Recipe
This delicious smoothie will start your day off right!
Print
Pin
Rate
Ingredients
1

Ripe Banana

1

C.

Unsweetened Almond Milk

1

Tbsp.

Almond Butter

1/2

Tsp.

Ground Cardamom

1

Tbsp.

Honey

optional

Handful of Ice Cubes
Instructions
Combine ingredients in a blender, blend until smooth.

Serve and Enjoy!
Share on Facebook
Nutritional information is provided as a reference, using an online calculator. We recommend verifying the information independently.
Love Smoothies? My favorite recipes are found in these tremendous books on Amazon! Feel free to have a look and enjoy!!
Come join us in my Facebook Group where we invent and share amazingly delicious new WeightWatchers recipes every day!!
Love smoothies? Check out my list of 131 Smoothie Recipes and don't forget to Pin this one! :)