Weight Watchers Lemon Muffins with Blueberries
4 Weight Watchers Points per muffin
If you have read any of my other recipes, then you probably know I am a huge fan of WW or WeightWatchers. I realize "joining programs" is not for everyone and that makes sense. For me, I seem to have more luck losing weight when I follow a system. If I know I have a certain amount of points, and I know what points a certain food is, and I can add them all up to make sure I'm not going over, well, my brain just likes that. It helps me lose weight!
I would never force anything on anyone. What works for me, just might not work for you and vise versa. I am just here to share my recipes, tell you what HAS worked for me and help you on your journey. And, if you are curious to see if WW could work for you, you will find their quiz and Special Offers page here.
Either way, I wish you the best and hope you enjoy my Weight Watchers 4 Points Lemon Blueberry Muffins recipe:
So, I have a lemon tree in my yard and oh what a tree it is. I believe it was struck by lighting before we bought our home, and I just knew that sad looking tree would certainly die soon after we moved in. I never dreamed it would end up being an endless source of fresh lemon juice for my Weight Watchers lemon blueberry muffins.
So I was quite surprised when after the first year, that tree not only lived, but it also produced lemons like crazy. So much so, I had to have my amazingly helpful niece and nephew help me pick, squeeze and freeze all the juice so nothing went bad. I made my first batch of Weight Watchers lemon blueberry muffins that summer and from then on, it became a family favorite.
The next year, I was of course eager to make more of my Weight Watchers muffins, using only fresh lemon juice from my own back yard tree. But this was an even rougher year for the tree. A huge limb broke off. I'm talking about half the tree. It just split away from the main trunk and hit the ground. The tree looked miserable and I couldn't imagine how it would survive after such a blow. I only had a little bit more lemon juice in my freezer so I knew I this next few batches of Weight Watchers lemon blueberry muffins might be the last ones from my very own lemon tree.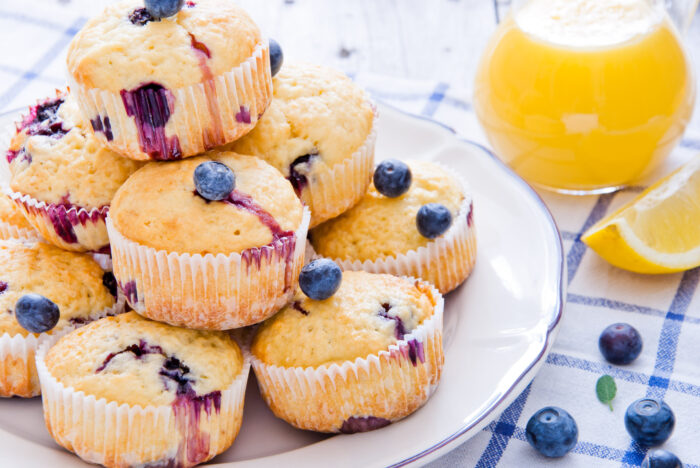 We have to save the lemon tree!
That's when my husband decided he needed to save the tree. He either was taken with the trees tenacity and will to produce, or he just didn't want me to stop making my Weight Watchers lemon blueberry muffins. Either way, he made it his mission to save this tree. He propped the broken limb up with a Home Depot 2×4 and strapped it to the main tree trunk using furniture moving straps.
I had never seen anything like that before and admired my husband for his effort, but completely believed it was a total waste of time.
Darn it if he didn't prove me wrong. By the next year, the tree was again filled with gorgeous, bright yellow lemons that looked healthier ever. The lemons were all over the main part of the tree AND the broken limb. How is that possible? All I knew was I'd certainly be making lots more batches of my Weight Watchers lemon blueberry muffins this year – and I was thrilled.
So, what is a girl to do with all these lemons?
Why, make Weight Watchers lemon blueberry muffins, of course! I actually found this recipe in an old cookbook so I modified it for the Weight Watchers program and made it my own. One thing I can say about these Weight Watchers lemon blueberry muffins is that not only are they low points and Weight Watchers approved, but they are also quite delicious.
It 's been a few more years now and that tree continues to produce more and more lemons every year. And so I make dozens of batches of my Weight Watchers Lemon Blueberry Muffins with fresh lemon juice from my very own tree and each batch is as delicious as the last.
I personally love them as a quick breakfast on the go and my husband says he loves them for every meal, of course :)
For a treat, I drizzle some confectionary sugar mix (see recipe) over the top of the muffins and it just makes them taste even better. I hope you will make up a batch of my Weight Watchers lemon blueberry muffins today, with or without drizzle, and that you love them too. 🍋🍋🍋
Enjoy all my recipes on on my website, Slapdashmom.com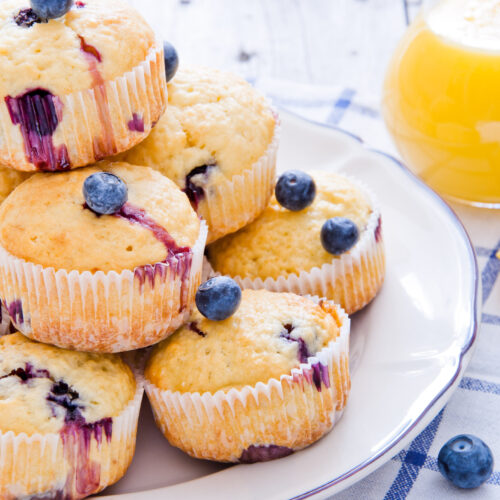 Ingredients
2

Cups

All Purpose Flour

2/3

Cup

Granulated Sugar

1 1/2

Tsp

Baking Powder

1/2

Tsp

Baking Soda

1/4

Tsp

Salt

1

Cup

Fresh Blueberries

1

Tbsp

Grated Lemon Rind

divided

3/4

Cup

Low Fat Buttermilk

3

Tbsp

Melted Butter

1 1/2

Tbsp

Fresh Lemon Juice

divided

1

Large Egg

beaten

1/2

Cup

Powdered Sugar

Cooking Spray
Instructions
Preheat oven to 400 degrees.

Spray muffin pan with cooking spray.

Spoon the flour, granulated sugar, salt, baking powder and baking soda into a large bowl and whip with whisk.

Add blueberries and 2 teaspoons of the lemon rind to the bowl and mix in gently.

In a separate medium bowl, combine the buttermilk, butter, 1 tsp lemon juice and the egg mix together.

Now fold the buttermilk mixture into the flour mixture and mix just until moist.

Spoon the batter equally into 12 muffin cups.

Bake the muffins 20 minutes or until golden brown. Start checking after 15 minutes if your oven burns hot

Remove the muffins from the pan right away and let cool on a wire rack or on parchment paper.

Make the drizzle by combining the powdered sugar and the remaining lemon rind and lemon juice in a small bowl. Stir until smooth

Drizzle the glaze evenly over the cooled muffins.
Share on Facebook
Weight Watchers Points
4 Points per muffin
Nutritional
Serving:
1
muffin
|
Calories:
185
kcal
Nutritional information is provided as a reference, using an online calculator. We recommend verifying the information independently.