Look at this Easy No Sew Treasure Troll Halloween Costume!
Are you ready for Halloween? We are! This easy no sew troll costume is perfect if you're looking for a last minute Halloween costume idea or just don't feel like sewing anything that will be worn maybe once or twice.
No Sew Troll Costume
Perfect for kids or adults! Family friendly and cute enough to win a Halloween costume contest!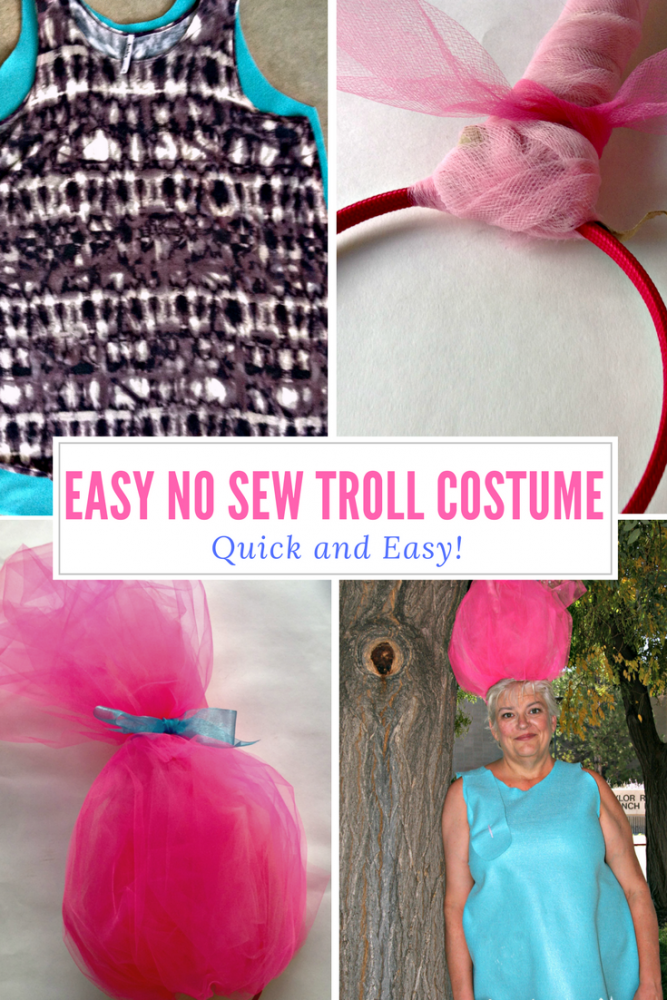 SUPPLIES
Felt (1.5 yards)
Paint ( Acrylic)
Tulle (2-3 yards)
Headband
Ribbon
Paper towel tube
Stitch Glue
Related:
Easy Superhero Costumes
Last Minute Costume Ideas
$1 Paper Doll Costume
INSTRUCTIONS FOR DRESS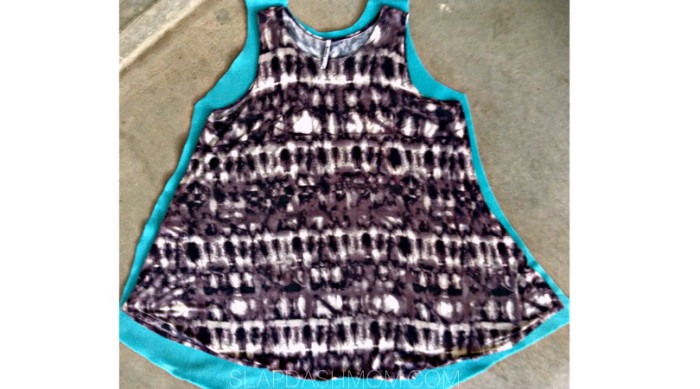 Cut out dress and glue together. I used a dress I already had on hand to draw out a pattern. To save some work, double the felt, trace around the dress, and avoid cutting the top of the shoulders. You only need to glue the side seams.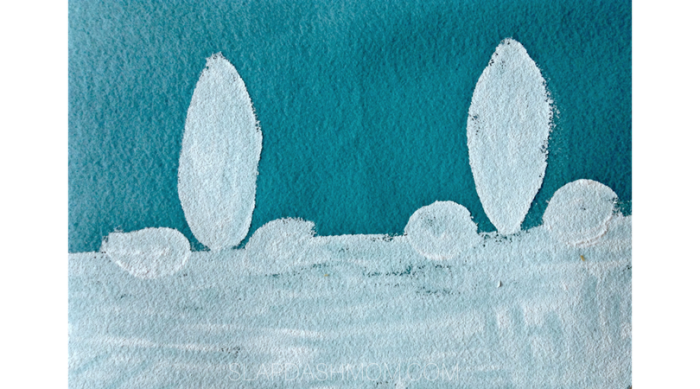 Once dress is put together, paint along hemline with white acrylic paint. This pattern does not have to be perfect. Felt will absorb quite a bit of paint and will need adequate drying time. Add additional colors as desired (green for Poppy's dress). Add an extra piece of felt on right shoulder if you are mimicking Poppy.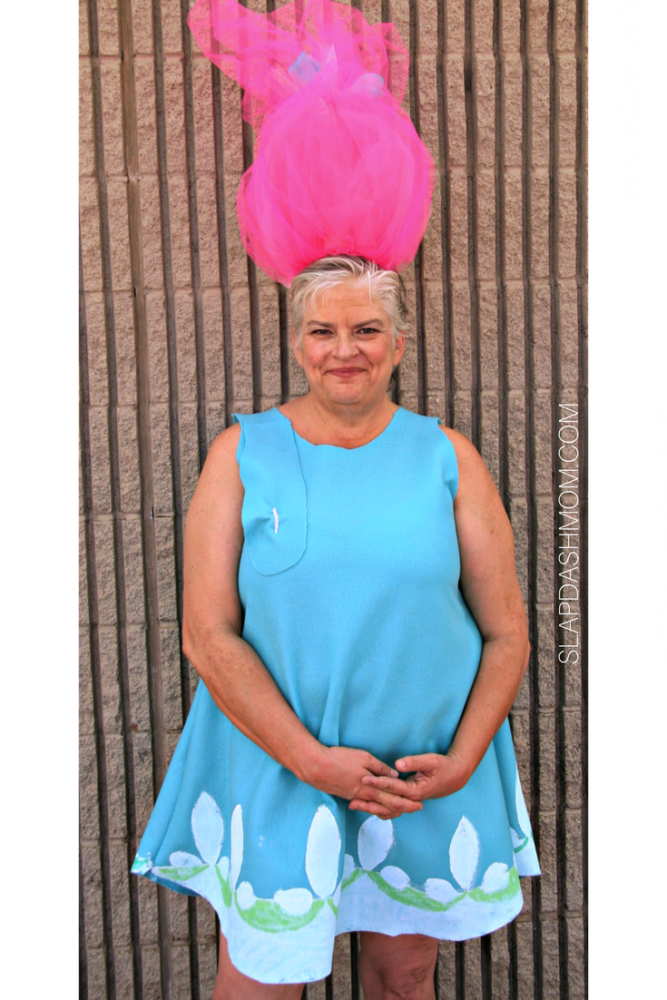 INSTRUCTIONS FOR HAIR
Troll hair can be made quite easily by using tulle and a headband.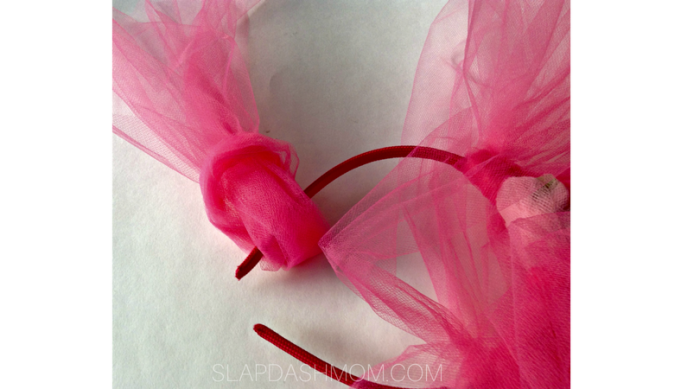 Reserve 1 yard of tulle. Take remaining tulle and cut into strips 3" – 5" wide.
Double them so they are still 3"-5" wide but now shorter by half. (final hair length is up to you but remember that the taller the hair, the harder it is to balance).
You can secure a paper towel tube to the headband to add stability to tall troll hair.
Attach tulle to headband. When hair is as full as you desire, take reserved tulle and lay headband down on top of tulle. Fold tulle over bottom of headband so that it encases the hair. Tie with a bow.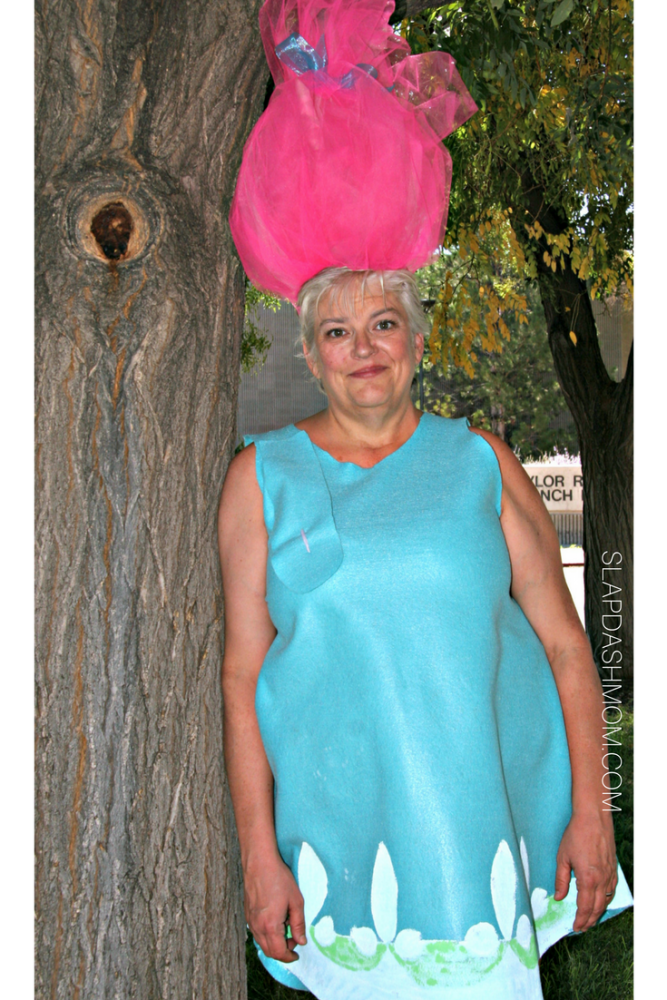 Have fun and stay safe this Halloween!