Weight Watchers Friendly Jalapeno Poppers Recipe 1 PP
Whether you're a Weight Watchers vet, or you just started following the Weight Watchers Simple Start program, these Weight Watchers Jalapeno Poppers will make you happy!
Broke? Do Weight Watchers for FREE!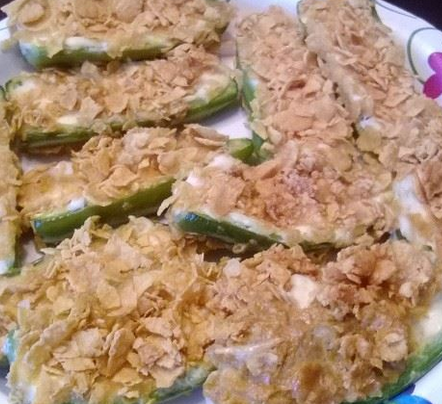 This isn't the best picture, but because these jalapeno poppers taste awesome, and are only 1 PP on Weight Watchers, I had to share this recipe with you guys!!
Weight Watchers Jalapeno Poppers Recipe
Ingredients:
8 jalapenos
Filling:
2 cups fat free cottage cheese
1/4 cup grated parmesan cheese
2 cloves Garlic, chopped finely
1/2 teaspoon red pepper flakes
salt and other spices to your liking
Breading:
Eggs (we used 3)
1 cup crushed Corn Flakes
Directions:
Preheat oven to 350F.
Mix cottage cheese, parmesan, garlic, red pepper flakes, and other spices.
Slice jalapenos length-wise and take some of the seeds out. Don't take them all out, or they won't be spicy!
Scoop cottage cheese mixture into jalapenos. Dip in egg batter, then cover in Corn Flakes.
Bake for 25-30 minutes, or until breading is crispy.
Other Weight Watchers Recipes you might like…
Ultimate WW Recipe Collection
Stuffed Mushrooms
Weight Watchers Breakfast Recipes
Love Weight Watchers? Download my FREE Cookbook!