Questions Your LuLaRoe Sponsor Won't Answer
This post may contain affiliate links. Please read my Disclaimer and Privacy policy for more information.
Starting a LuLaRoe business is a huge adventure! It's normal to have tons of questions, and your sponsor can answer most of them. Sometimes you'll have questions that they can't – or won't – be able to answer. That's totally normal and to be expected with any business venture. If you're looking for questions to ask your LuLaRoe sponsor, this is a great jumping off point because you'll know what you should (well, shouldn't) ask. Actually, you can ask these… just don't expect a straight answer because some of them are impossible.
Join our LuLaRoe Group if you have questions! We are happy to answer them.

Questions Your LuLaRoe Sponsor Won't Answer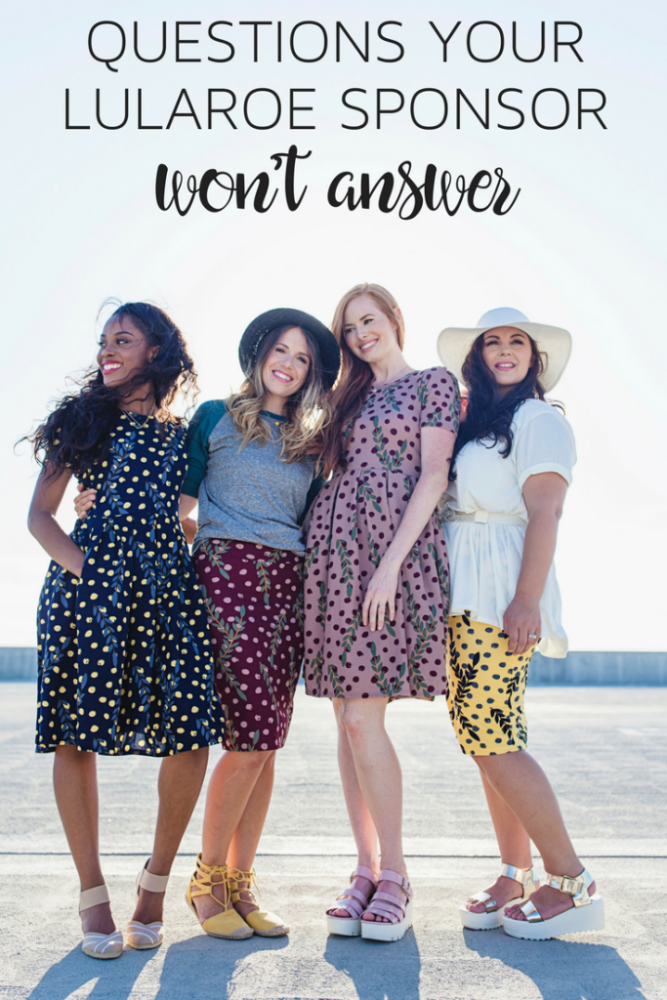 How much time does it take?
The time investment it takes to run a successful LuLaRoe business depends on your income goals. If you have a goal of making a million dollars, it's obviously going to take a more serious time investment than if you want to make part time income. It also depends on how much time you have and are willing to make. I don't have a ton of extra time because I have other businesses, but I made LuLaRoe my top priority because I love it and I know the time investment is worth it. LuLaRoe is more than just a business for me; it's a way for me to inspire women.
You most definitely can sell LuLaRoe even if you have a family to take care of, but you're going to need to call in reinforcements if you start to get too busy. I hired a virtual assistant almost immediately, and we had a friend come over to help out. You can pay most assistants in LuLaRoe, at least partially, so that's a plus!
How much money will I make?
If someone gives you an exact answer telling you that you'll make $10,000 a month, run fast in the other direction! How much you make is directly related to how much work you put in. This includes how much inventory you have on hand, how many live sales you do each week, and how hard you work to grow your customer base (group, fan page, etc).
Yes, you can make $10,000 a month. You can make $100,000 a month. Unlike other MLM companies, newbies can make as much as they want. You don't have to wait to grow a downline to make big bucks. It's true that growing a team will help you with passive income, but it's not a main focus of LuLaRoe. The main focus is just selling clothes and having fun.
Should I invest with a partner?
Your sponsor might or might not give you a straight answer on this one but I'm just going to say it: do not do LuLaRoe with a partner. I'll say it again for good measure. Do not do LuLaRoe with a partner. I'm sure if you're considering a partnership you've already done tons of research, but research is different than real life experience. If and when your partnership goes south, one of you is no longer a consultant – effective immediately if the other decides – and your business could be completely ruined. Please protect yourself, and your partner, by signing up separately.
I realize partnerships are usually formed because money is an issue, or because you want some support and a safety net, but trust me when I say it's not something you need to do. You can come up with the money, and so can your partner. As soon as Rachel joined the Queue, we started looking for 0% interest credit cards. We found two and she was approved for almost $10,000 right away – even with less than perfect credit.
Helpful: 7 Ways to Fund Your LuLaRoe Investment
How much space do I need?
This is another question that is tough to answer because I've seen women who live in small apartments do an amazing job with LuLaRoe. Others have huge rooms, or even an entire house for their LuLaRoe. It's not so much about how much extra space you have, it's about utilizing the space. If you're limited with how much space you have for LuLaRoe, utilize vertical and hanging space as much as possible.
I have plenty of LuLaRoe Room Ideas for you to browse!
How do I get customers?
Okay so this one your sponsor might answer. There are many ways to grow your LuLaRoe business as a new consultant, but what works for one person might not work for the next person so be patient. You might have an amazing $5,000 launch, or you might only have a $2,000 launch. Either way, your launch is just a jumping off point. From there, you make sure your work ethic is aligned with your goals and make it happen.
How much do I need to invest?
One of the things that irks me the most is that people say it costs $5,000 to start a LuLaRoe business. It costs more than that, and here's why:
The smallest onboarding package is $5,000. That is not all you need to order, though. You'll want to place a leggings order immediately because the initial inventory package doesn't come with any, and well, the world will stop spinning if you try to launch without leggings. ;)
There are other expenses, not just initial expenses but expenses you'll have to pay while you're waiting for your first LuLaRoe deposit, including:
— shipping supplies: you'll need polymailers, THIS label maker, and extra labels
— shipping extras: we include candy or jewelry in our packages
— shipping: we spent $500 on shipping during our launch
— inventory: during your launch you will sell quite a bit, so you need to replace it right away
— LuLaRoom: clothing racks, hangers, and coat check numbers
When potential LuLaRoe consultants ask me how much they need to invest, I usually tell them $7,500-$8,000 is a good number. That way you've got the $5,000 for initial inventory, $1,000-ish for leggings, $1,000 for inventory after your initial order, and $1,000 for supplies and shipping.
The Bottom Line
Here's the bottom line: LuLaRoe is a huge investment – in both time and money – and your sponsor is there to help but is not the be-all-end-all to your business. Sometimes you end up with a crappy sponsor (thankfully I did not!), but you can't base your success on how helpful (or horrible) they are. They have their own business to run as well. Do your research and find a sponsor that fits with your life just as much as you fit with theirs.
If you are interested in joining a team and haven't found one yet, email us! lularoerachelroach AT gmail DOT com
Leave your questions about LuLaRoe in the comments below!
P.S. Check out 21 Things You Didn't Know You Needed to Start Your LuLaRoe Business