If you ask a nutritionist how to drink more water, they will usually say "drink when you're thirsty". The problem with that is, I'm never thirsty! I can go all day without drinking anything at all and not even realize it. In order for me to drink more water and make sure my body stays hydrated, I have to set alarms, make it fun, and even add fruit or flavoring sometimes.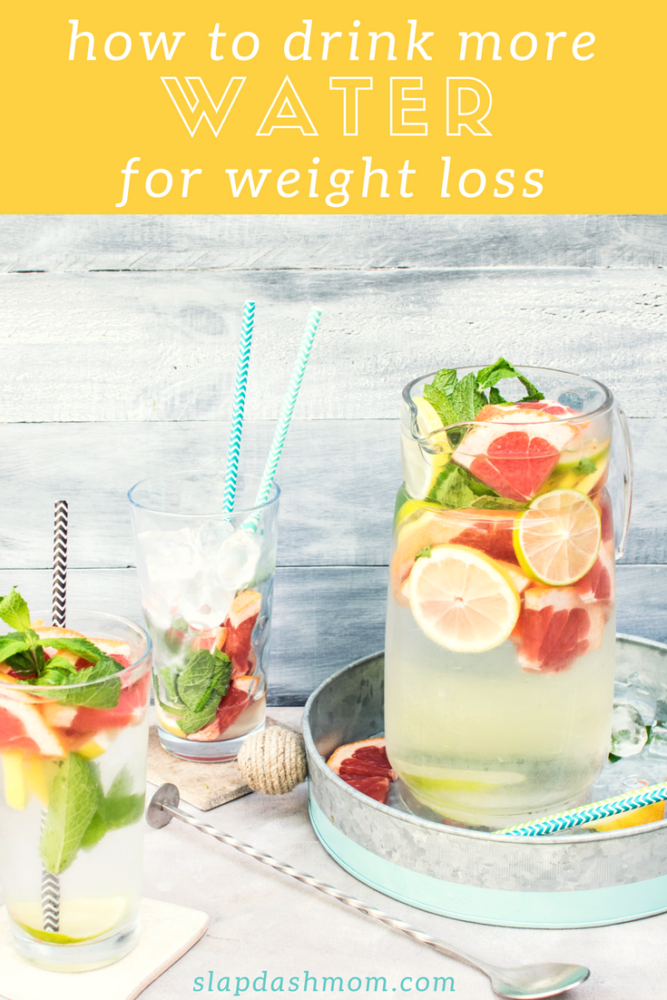 How to Drink More Water
How much water you need to drink depends on a variety of things:
— your size (height/weight)
— your general health
— if you're pregnant/breastfeeding
— weather/altitude
— exercise level
While Weight Watchers says you need to drink 48 ounces of liquid a day, and they allow you to count coffee, tea, and even juice and diet soda, I completely disagree with them on this. I'm a huge fan of drinking half your body weight in ounces. So if you weigh 200 pounds, aim for 100 ounces. There are many studies to back this up, along with my own personal experience and a recommendation from my doctor. If your weight loss stalls, not drinking enough water could be the culprit (sodium could be another one).
So my recommendation is to drink…drink…drink!
Apps to help you drink water
There are so many apps to help you remember to hydrate each day. If you would rather use physical pen and paper, track your water intake in your food journal!
Plant Nanny: Adorable app where you grow a plant as you drink water. Available on Google Play and iTunes.
Waterbalance: Delivers facts about water and health. Allows you to earn badges and share achievements with friends. Available on Google Play and iTunes.
Daily Water: Simple, single-focused app. If you don't want any fluff, this is the app for you. Available on iTunes.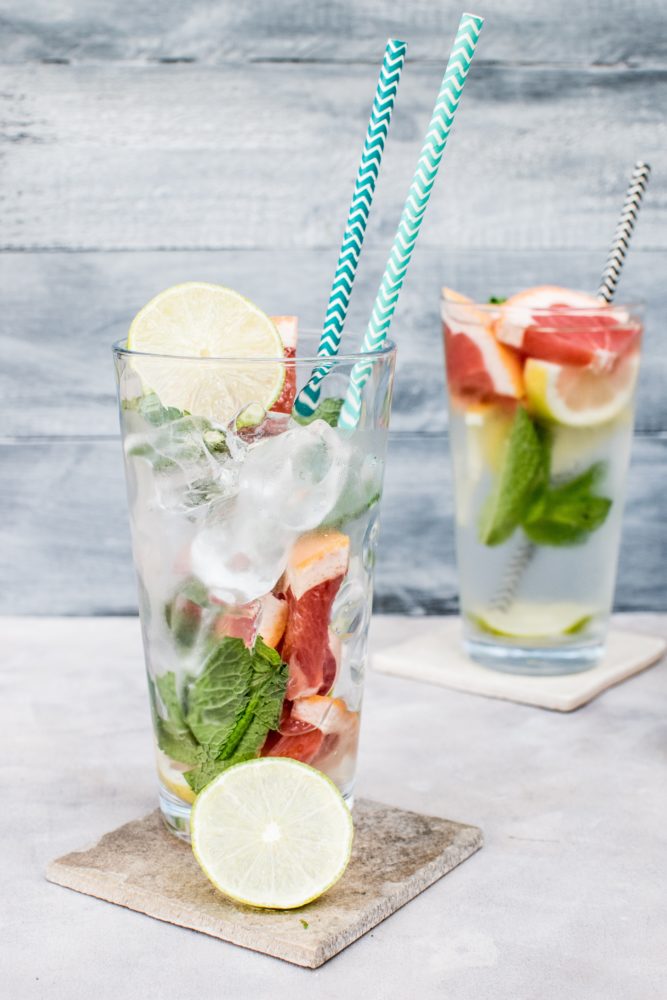 Ways to dress up water
Flavor packets: There are so many options for flavoring water, including Mio and Crystal Light. I absolutely love the Great Value flavor packets, especially the lemonade and strawberry lemonade flavors. :) The Crystal Light Fruit Punch is also one of my favorite flavors. I make a large pitcher of it a few times a week. I drink it EVERY day. It is really good and a great way to get a lot of water in daily.
Add fruit: Search Pinterest for "fruit water" or "fruit infused water". Since fruit is a 0 point food, you don't have to worry about racking up points. I recommend adding raspberries, mint leaves, lemon, lime, grapefruit and cucumber. All are delicious so have fun with it
Seltzer Water: Simple Truth Organic has several different flavors and they are all zero points for 12 oz.
Drink Throughout the Day: It is better for you if you are drinking water throughout the day – vs. the "all at once" method that we use when we forget to drink and try to make up for it. So, try setting a timer on your phone to reoccur daily at 8am, 11am, 2pm and 5pm, for example. When it goes off, drink a glass of water. Also, drink a glass with every meal. Chances are, if you do these two simple techniques, you will hit your water goal daily without having to think about it.
Drink every Morning: Set a tall glass of water on your nightstand before you go to bed at night. When you wake up, the first thing you should do is drink that glass of water.
Carry a large water bottle at all times: Camelbak is my favorite brand of water bottles. They last forever and are dishwasher safe! Plus they come in all sizes! 
Reward System
If you're still drinking soda, juice, Starbucks, etc this one may work for you. Before you allow yourself to get a Starbucks drink (or soda or whatever), you must drink 12 ounces of water. If you're used to starting your day with Starbucks, that might be difficult, but it's worth trying. Or, if you start your day with Starbucks you can do that but ONLY if you promise to drink half your body weight in ounces of water throughout the day. Don't drink the water? Don't get Starbucks the next day.
It seems silly but sometimes I have to play games with myself and figure out a way to be tricked or bribed into drinking water. It works. After a while, drinking enough water will become a habit.
Come find me and JOIN my Weight Watchers Air Fryer & Instant Pot Facebook Recipe Group. We all know how hard it is to do it alone. We are a community of people who post recipes, share tips and ideas and inspire one another every day! We can't wait to meet you!!
Check the bottom of this page to Download my FREE WW Cookbook & Tips Guide. You will LOVE it!!
This is my ZERO Point food list. Book mark the page and refer back often. Loading your fridge and pantry with these ZERO point foods is tip #1 for weight loss success.
Meal plans help me stay on track. Here are some of my favorites!
Instant Pot Printable Meal Plan
Freestyle One Week Meal Plan
Free Printable Meal Plan
You simply MUST try my ZERO points Cheesecake Recipe
Have you made up a batch of my 2 Ingredients Dough yet? It's AMAZING stuff!! Use it to make low point bread bowls, pretzels, bread sticks, bagels, pizza crust, cinnamon rolls & more. Check out the Recipe Guide & Individual Recipes below:
To entice you, watch this Video for the 2 Ingredients Bagel Recipe – you will LOVE it – total YUM!!
2 Ingredient Dough Recipes
Ultimate 2 Ingredient Dough Guide
2 Ingredient Dough Pizza
2 Ingredient Dough Pot Pie
2 Ingredient Dough Pop Tarts
2 Ingredient Dough Cinnamon Rolls
2 Ingredient Dough Bread Bowls
2 Ingredient Dough Empanadas
Make sure you check out and grab our printable shopping lists below to make it easy when you are in store to grab the best WW FreeStyle friendly foods and snacks!
Weight Watchers Walmart Shopping List
Weight Watchers Target Shopping List
Weight Watchers Aldi Shopping List
Weight Watchers Trader Joe's Shopping List
Ever panic and wonder what to eat at your favorite restaurants? Well, I do too! That's why I created and LOVE my restaurant guides. Check them out here and be sure to email me and let me know any others you'd like to see:
Chipotle Weight Watchers
Olive Garden Weight Watchers
Red Robin Weight Watchers
Taco Bell Weight Watchers
P.F. Chang's
Texas Roadhouse