Best Affiliate Programs to Join + High Converting Post Examples
If you're a blogger and looking for the best affiliate programs to join, you're in the right place. If you're a virtual assistant and you'd like to find affiliate programs for your clients to join, you're in the right place, too! If you're looking for a "how to make $50,000 selling BlueHost sign ups", you're in the wrong place. Those posts are all over the place and totally not my jam. I believe in honest, ethical affiliate marketing – even if that means I'm not making a million dollars a year.
Even without hundreds of thousands of visitors to your blog, you can earn thousands of dollars each month with affiliate marketing as long as you put the legwork in. You've gotta find the right affiliates and present them in the right way. Don't just slap a post up and call it a day! Really take the time (even if it's a few hours!) to seek out the right affiliates and lay the post out in the best way possible.

Best Affiliate Programs to Join + High Converting Post Examples
In this post, I'm going to show you some of my highest converting affiliate posts. The goal is to have a landing page or really in-depth post for each affiliate. This will take some time.
For a post to make you lots of money as an affiliate, you need the affiliate trifecta:
— Amazing content: your post should be the best of the best. A "how to" guide, a roundup of related products that you use daily and love, or a landing page full of resources on a topic you're passionate about.
— Traffic: your post can't make money unless it gets traffic. While crafting your post, think about how you're going to get traffic to it. Social media? SEO? Word of mouth?
— Visually appealing: your post should be visually appealing both in text and graphics. You need at least one pinnable graphic, along with a few others to break up all of the text. It should be at least 500 words, but will rank better if it's longer. Use headings, subheadings, bold, italic, etc.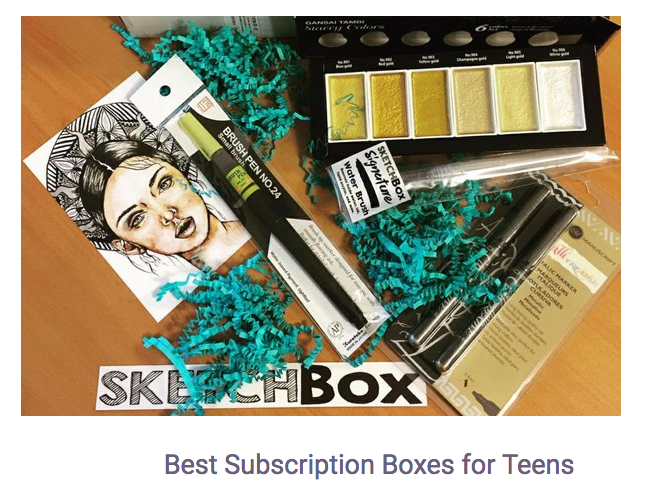 Affiliate Programs for Subscription Boxes
Subscription boxes are hot, hot, hot right now! Use this to your advantage as an affiliate.
Programs to join:
— Groovy Lab in a Box
— Love With Food Box
— Frecklebox
— Kiwi Bop
If you're a ShareASale affiliate, search "box" or "subscription box" to find more boxes to advertise for. Check the cookie life (30+ days is great!), payout amount, etc before signing up.
Example of high-converting post: Subscription Boxes for Teens and Tweens
How I could improve my post: There are so many subscription boxes out there! I'm going to improve this post by adding 5 more subscription boxes and another pinnable image. If you need help creating pinnable images, I have some templates in my free Pinterest course.
Traffic: Traffic on this post is coming from Google (SEO), Pinterest, and Facebook.
Challenge: Create a subscription box post based on something you're excited about! Whether you geek out over Star Wars stuff or absolutely can't live without new beauty items each month, the best post is going to be one you're passionate about. Put together a list of 5-10 boxes you'd love to try, and share it across all social media platforms. CrateJoy also has an affiliate program you can join. Then, search by theme to find your perfect subscription boxes.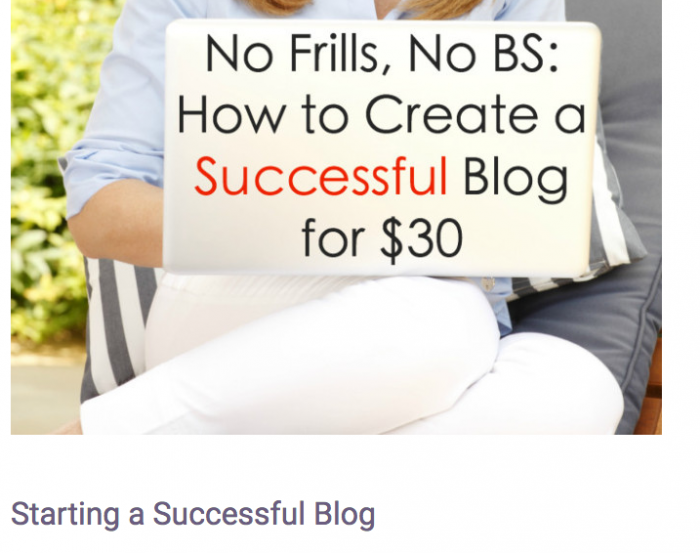 Affiliate Programs for Online Marketers
If you write about blogging, virtual assisting, or online marketing of any sort, these affiliate programs are going to convert well for you.
Programs to join:
— Servously (my blog host)
— WP Engine (bloghosting)
— Grammarly
— HireWriters
NOTE: You will notice I did NOT include BlueHost in my list above. Why? Simply because I do not think they are a good host! You will also notice that EVERYONE AND THEIR MOTHER PROMOTES BLUEHOST. That is because they pay the best and give incentives to promote them. This comes back to authenticity and being honest. When I see someone promoting BlueHost as "the best host", they instantly lose credibility. Do some legwork and make sure you're only promoting programs you can stand behind.
Example of high-converting post: How to Start a Successful Blog for Under $30
How I could improve my post: The entire post could be reworked to look better, and I need to add other affiliate links to it. It's on my to do list. ;)
Traffic: Most of the traffic on this post comes from Pinterest and from me promoting it on Facebook. "How to blog" is way too competitive of a topic for me to worry about ranking for it.
Challenge: If you want to be seen as a resource in the online marketing and blogging community, brainstorm a few topic ideas and create a landing page full of helpful resources for the topic you choose. Whether you're going to teach someone how to be an amazing virtual assistant (and link to my VA course!), or you want to show someone step by step how to set up a sales page, it needs to be an in-depth and easy to follow guide. Don't leave anything out! Answer all the questions you wanted answers to when you first started, and then some.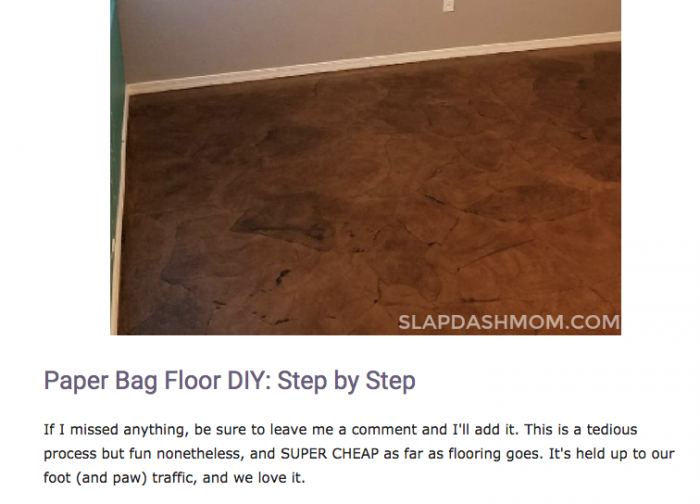 Affiliate Programs for DIYers
Do you blog about crafts and DIY projects? If so, these programs are perfect for you!
Programs to join:
Search ShareASale for "craft", "DIY", or other terms related to your crafts (like "paint") to find more programs to join.
Example of high-converting post: DIY Paper Bag Floors
How I could improve my post: I only used Amazon affiliate links in my paper bag DIY post. I could increase earnings by adding a video (even if it's just a slideshow), and weaving in other affiliate links.
Traffic: Traffic from this post comes from Pinterest and Google (SEO).
Challenge: Create a DIY project centered around an affiliate. For example, if you're going to include your Cricut affiliate links in a post, scour Pinterest for ideas and then put a DIY project together with your Cricut. Take lots of pictures, of course, and make sure you talk about why you love your Cricut!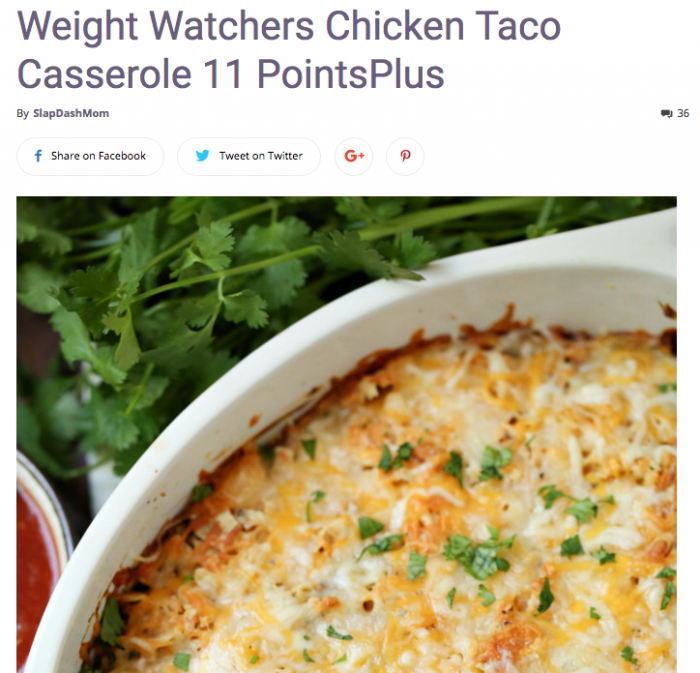 Affiliate Programs for Food Bloggers
If you post recipes or tutorials relating to food on your blog, there are so many options for you to make money. Amazon is a great option if you have high traffic, but they don't pay very well, so it's important to look for higher paying affiliates while you use Amazon as a placeholder. With that being said, Amazon can be profitable because you get that cookie and once someone clicks to Amazon they usually shop for something even if it's not the product you're promoting. Amazon is very lucrative for some folks so don't discount it just because of the low pay per item. Think quantity with this one.
Programs to join:
— Nuts.com
— SmartKitchen
— Traverse Bay Farms
Example of high-converting post: Weight Watchers Taco Casserole
How I could improve my post: I could add an affiliate link to Weight Watchers, but my friend has a post on how to do Weight Watchers for free, so I link to it instead. I make several hundred dollars from this post each month from ads.
Traffic: Traffic comes from Pinterest and Google (SEO) for this recipe (and most of my others).
Challenge: Sign up for an affiliate program above – nuts.com, for example. Create an amazing recipe every single day this week, using ingredients you can link to from the nuts site. Whether you're creating peanut butter cookies or a healthy trail mix, you can easily weave those links in. Make sure your photos are on point, or you're going to have to work 10 times as hard for the same results.
Traverse Bay Farms has videos you can embed on your website to help increase conversions, so use them! You could also create smoothies and link to Vitamix or Blendtec or another blender you find an affiliate program for. If all else fails, use Amazon links until you can find a higher paying affiliate.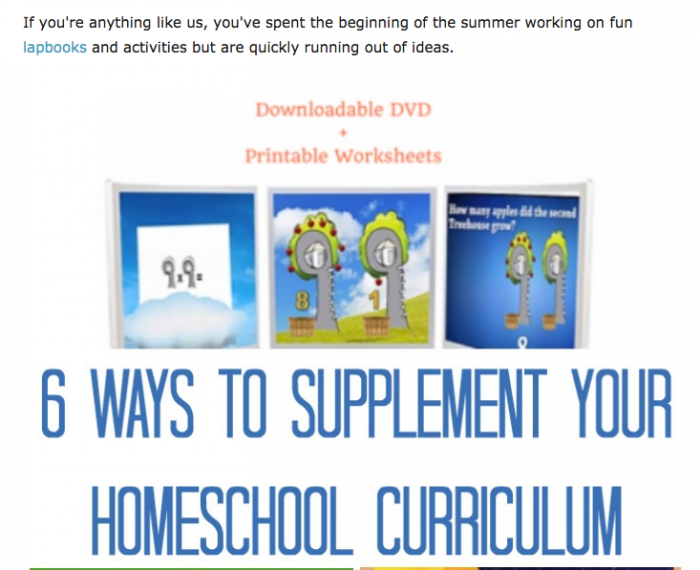 Affiliate Programs for Education/Homeschool Bloggers
If you write about education or homeschooling on your blog, the possibilities are endless when it comes to affiliate links. When you're looking for the best affiliate programs to join, make sure you check thoroughly to get the highest rate. If your links are performing well, you can even email the company to negotiate a higher rate.
Programs to join:
— Discovery Toys (Shareasale)
— Knowledge Box Central (Shareasale)
— ABC Home Preschool (Shareasale)
You can also search "homeschool", "education", "school", and "learning" in your affiliate dashboards.
Example of high-converting post: How to Supplement Your Homeschool
How I could improve my post: I used a premade page from EduCents (with just a few changes) to create this blog post. To improve it, I need to add some more resources and pinnable images. I can add resources from other affiliates to diversify my earnings.
Traffic: Traffic comes from Facebook groups (see my tip below).
Challenge: Create a resource page for the grade your child is in, or the grade(s) you blog about. I blog a lot about homeschooling preschool, so I would create an "Ultimate Preschool Homeschool" guide. Link to products and programs that will help a homeschooling parent work through the school year. Really want to kick it up a notch? Design some printables or even an entire curriculum and sell it!
Pro Tips for Earning More With Affiliates
Use PrettyLinkPro so your links are prettier, and so you can accurately track clicks. Your links will have your domain name instead of "shareasale.com/sdfkswoeir". As a reader (and a buyer!), I'm more likely to click a trusted domain link. Sometimes affiliate dashboards are wonky so you want to have a second way to make sure clicks are being tracked accurately. You won't be getting paid per click, but it's still good to have a way to measure conversion rate on your end instead of trusting the affiliate dashboard 100%.
Check for coupon codes in your affiliate dashboard. Coupons can literally double your conversion rate! Email your affiliate manager to ask for a coupon code if you don't see one in your dashboard. Most companies will send you one.
Use the "Make-A-Page" feature available in your SAS dashboard. You can easily create a landing page for your affiliate links. With the Make-A-Page option, you're basically going to make a landing page for ONE product or company. For example, with Craftsy, they have tons of classes. You could create a landing page about a baking class and talk about what you learned while taking it, or share some of your own baking tips. Create a pinnable image titled something like "My Best Baking Tips" or "Top 7 Baking Tips" and weave your affiliate links in. This is going to take extra time, but it will also convert at a higher rate.
Try the item before promoting it. This isn't always possible, but it's worth the expense to subscribe to a few subscription boxes for a month so you can do a video review with affiliate links, or even a landing page with your own photos. They will convert better than stock photos do.
Many affiliate programs will work with you on reviews, too! Ask for a sample of their product to review and they may send you one for free or offer a steep discount. Anything you can do to get the product in your hand for real life photos will help your conversion rate.
Don't promote everything under the sun! If your readers see you're an affiliate for literally every company imaginable, they will start to trust you less and less because it will seem like you're just wanting to sell to them.
Join related Facebook groups and be a resource. Don't go crazy joining 100s of Facebook groups, but find a good dozen or so to join and watch. After a few weeks, cut back to just 5-10 groups that you will visit on a daily basis. Get rid of the groups that aren't active. When you visit your groups each day, be a resource. Don't share your blog posts at first (in fact, don't share them at all unless it's allowed), just answer questions. Help by offering free advice. Don't ask anyone to PM you, just give free advice. Then, make sure you're sharing your BEST blog content publicly on your personal profile. You don't have to make your entire profile public, just your helpful resource posts. Post tips, tricks, ideas, business secrets, great recipes, whatever is related to your business… share them 1-2 times a day on your personal page. When you're helpful in your groups, people will click over to stalk (trust me, it happens every time!). When they stalk, they'll see your helpful posts! Then they'll subscribe to your email list and become one of your readers (and then customers!).
Link your photos. If it's allowed by the company and you've properly disclosed that you're using affiliate links, you can link your photos to the affiliate link. People naturally click on photos more often than not, so it's just one more way to help them get to your affiliate page.
Do keyword research. This is more advanced, but doing keyword research is a solid way to boost your affiliate earnings. Targeting keywords around the topic you're blogging about (higher search, lower competition) is going to get you more traffic. More traffic means more conversions if you have everything in place.
Pin it!