20 + Unique Christmas Trees
I absolutely love Christmas!
What could be better than a house filled with wonderful Christmas spirit and holiday decor? Perhaps only one also filled with the scents of pine cones and sugar cookies, garlands made of mistle toe and evergreens, shiny bulbs and baubles, all of my favorite guests, a little Christmas music and a crystal wine glass filled with egg nog. For years I've asked the people I know to send images of the most unique Christmas trees they see. I first wrote this blog post in 2016 and called it the, "Top 20 unique Christmas Trees." Today, that number has doubled and is on it's way to tripling! Keep sending me those pics!
My friends and family have been in overdrive to find me unique Christmas Tree images from all over. White trees, red trees, blue trees, rainbow trees, orange trees and trees that aren't really even trees at all. I think kids today have so much more fun building unique Christmas trees, than I ever did.
I've seen small trees so mini, they fit on a mantel and trees so large they take up the entire living room or even entryway, apartment or home. Somethimes they are so big they have to live outside!!
Where do people get so darn creative? The DIY trees I have seen are amazing too. You don't even need a tree. Just a stack of books or bottles or whatever it is you have around, and you build a tree shape from it. The inspiration I've seen is out of this world.
My Family Was Not Big On Unique Christmas Trees
My family always had a traditional green spruce. Not too big, not too small. It was not a minimalist tree, but we most certainly did not think outside the box when we came to decorating. Our traditional Christmas tree was usually 5-6,' pine, real and smelled amazing. Once we even had a flocked tree (sprayed with fake white snow), but that was expensive so we didn't do it again.
Our tree decorations included handmade pom-pom garland made of things like berries, orange slices and popcorn. We filled the tree with silver tinsle for sparkle, glass ornaments from my Grandparents and a star tree topper. Below the tree was a red velvet tree skirt with white cotton-like fluffy trim that looked like it could double as Santa's coat. Our large, red knit stockings were always hung on the mantel and that was about it.
Don't get me wrong, we had a beautiful Christmas filled with hot cocoa, crafts, a gingerbread house every year, card games, love and cheer. It's just that creative and unique, we were not.
Today people hang their trees upside down for goodness sake! And you no longer have to have just a green christmas tree or just a white christmas tree. In fact, you can get a tree in whatever color you like. You can also get a tinsel tree or a plaid ribbon tree or buy a tiny table top tree. There are no limitations – yout tree can match a different color scheme each year and your overall look or style, no matter what that is. Feeling all red this year, do it! Feeling like cream colored tree…so be it!!
I've seen unique Christmas trees that were hung upside down for goodness sake. Who ever thought of that in the first place? Back in my day as a child, Christmas tree alternatives were not a thing. Don't really want a tree this year so decide on a small tabletop christmas tree, that is even better!
Can An Artificial Christmas Tree Be Any More Unique?
Never would my family have considered buying an artificial tree. Today, however, artificial trees are all the rage. And why not! They come in every variety of color, shape and size. You can purchase one with lights, without lights, with Christmas ornaments or without.
There is simply a style for every life style. They are much safer than traditional trees and MUCH easier to clean up. They are cost effective because you buy it once and then reuse it again each year. You can even buy pine scented sticks to place inside the tree to make the darn thing smell like the real deal.
The only down sides to choosing an artificial tree, over a classic Christmas tree, is you do miss out on the woodsy aroma of genuine pine needles and you have to store the Christmas tree box all year long.
Even with all the benefits, I was never much a fan of artifical trees. That all changed one year when my Mother's best friend lost her entire home to a Christmas tree fire. It was about two weeks before Christmas and her tree was already quite dry. Her German Shephard, Duke, decided to pee on the tree. It sparked the twinkle lights, which sparked the tree and within a few minutes, the house was ablaze. It was gone before fire trucks arrived.
Thanks goodness everyone was fine, including Duke. It is a scary story and it made me begin to consider unique and alternative Christmas trees. For the past several holiday seasons my family has rocked an artificial tree and I'm not lying when I say they are awesome.
Bottom lines, it does not matter what kind of tree you prefer, real, artificial or not even a tree at all. Times have changed and today, the more unique your Christmas tree is, the better.
Check out all of the amazing and unique Christmas tree images and and links I have for you below I keep adding to it every year!! There are amazing images of Christmas ideas, hot chocolate, recipes, crafts and even more Christmas trees here too.
What is the most unique Christmas tree you have seen? Keep sending me those pictures.
Unique Christmas Trees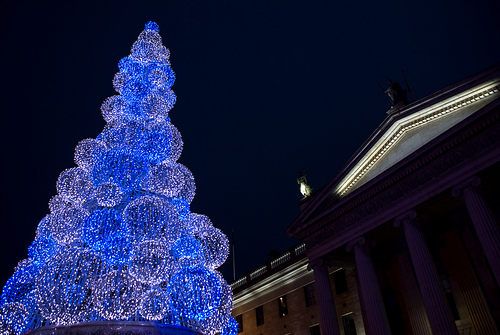 Look at this giant, blue LED Christmas tree. So large it must remain outside but definitely unique as all get out
I've never seen a Christmas tree made of nothing but satin pillows before. Very unique indeed.
Pillow Christmas Tree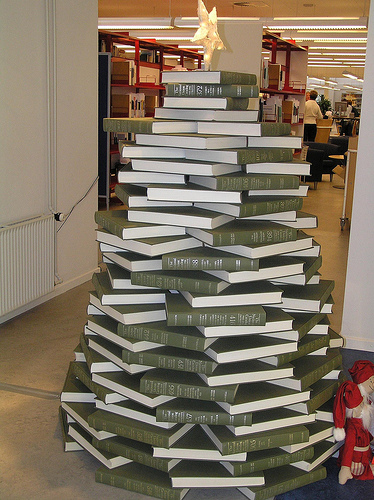 A Library Christmas tree made of books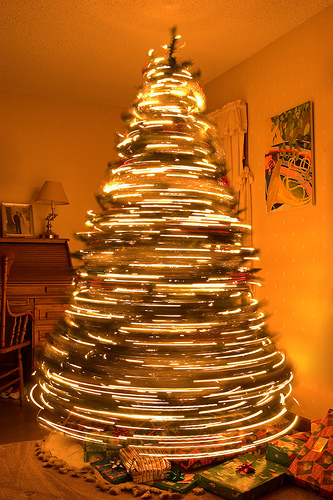 No idea what this Christmas tree is made of but it is awesome none the less.
Now this one is unique!
It is an equestrian Christmas tree from The Plaid Horse filled with a variety of colored show ribbons and a silver award plate on top.
Super Creative!
I love it!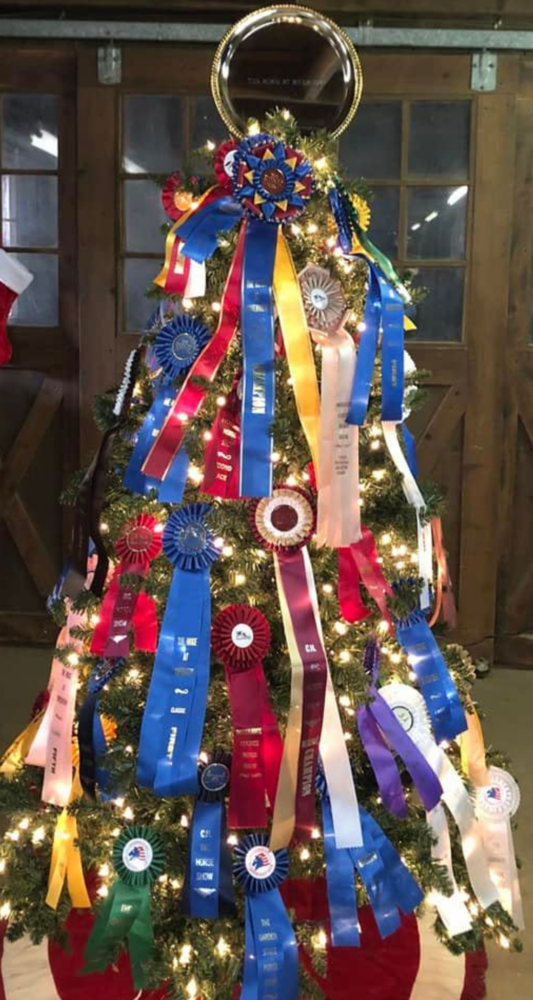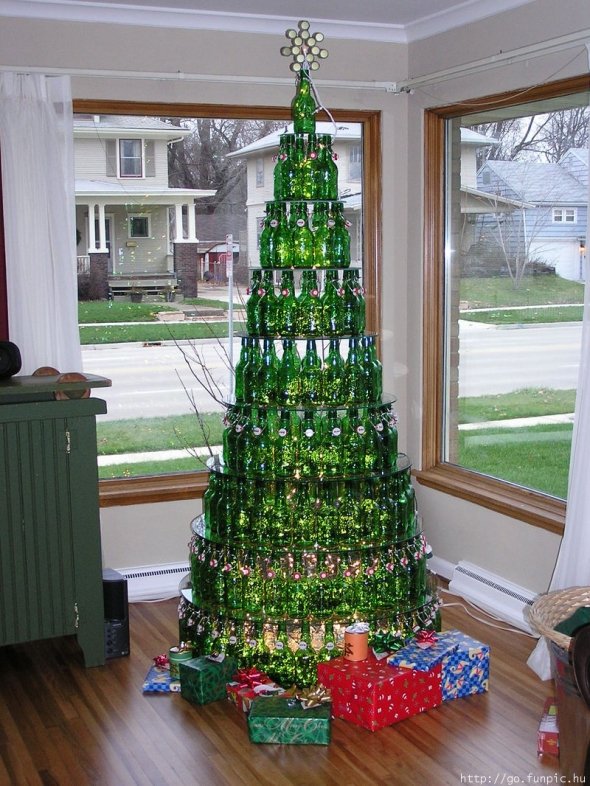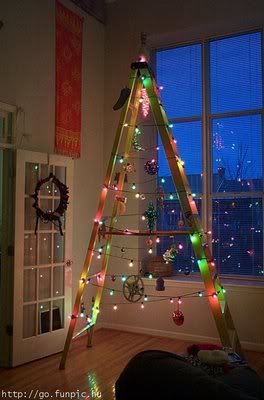 A very unique Christmas tree (although not sure it was intentional) of metal drums and lights that make the most interesting tree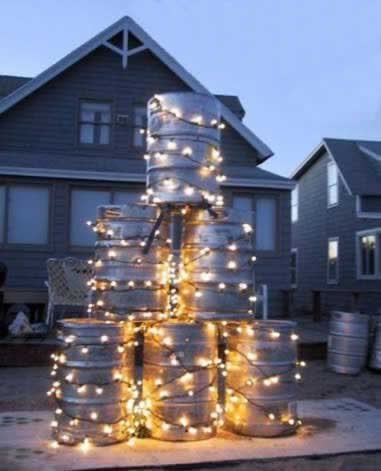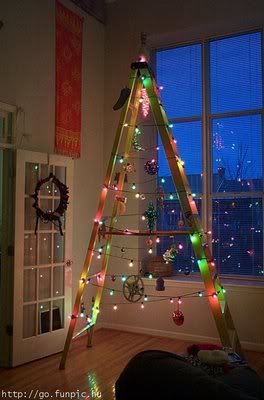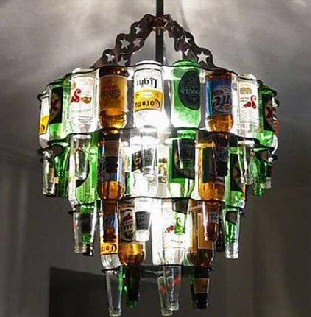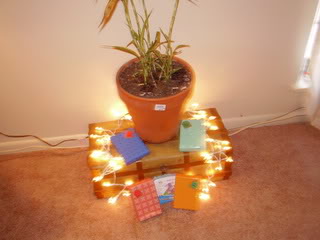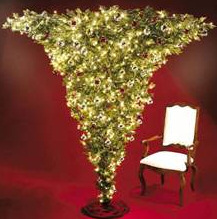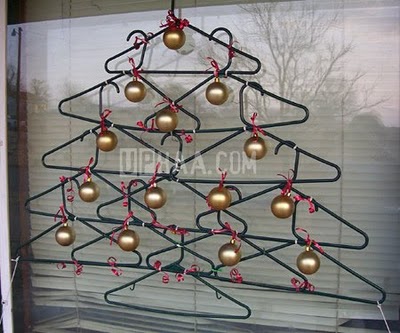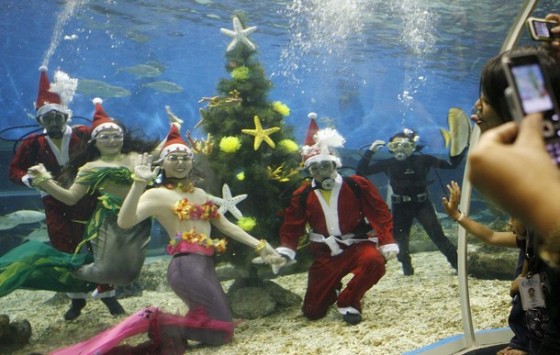 This one might win for most unique.
How often do you see a Christmas tree submerged in water – complete with a Santa and mermaids?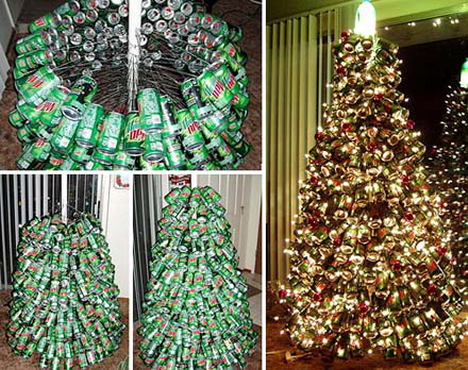 Look Closely
This tree is made of 7up Cans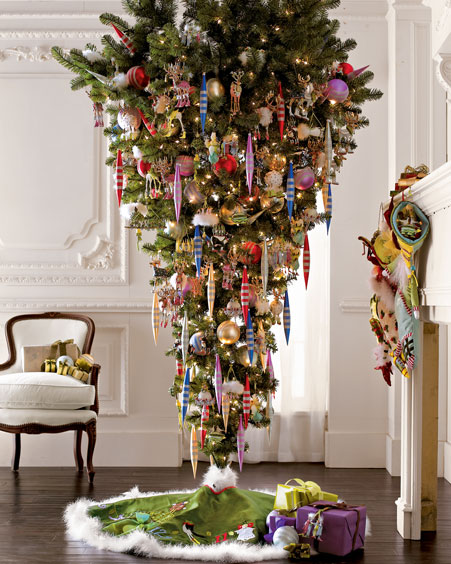 I love the way this upside down tree looks with the beautiful setting, ornaments, peridot green tree skirt and the stockings hanging on the mantel with care.
Love it!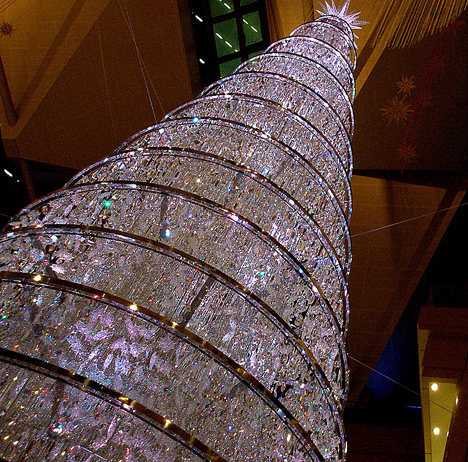 QUESTION:
What could be better than a unique and stunning Christmas tree made entirely of crystals?
ANSWER: Nothing, I'd imagine.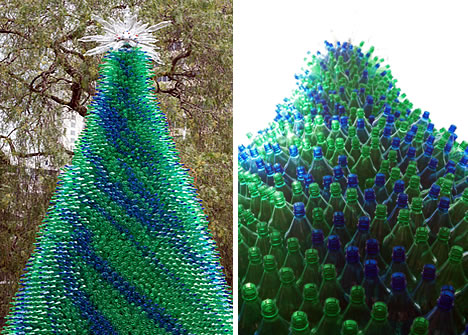 You must look closely at this image because this tree is entirely made of green and blue bottles.
WOW!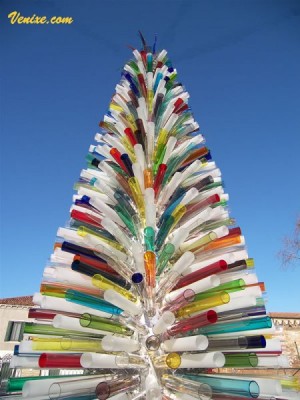 An entire tree made of different colored tubes.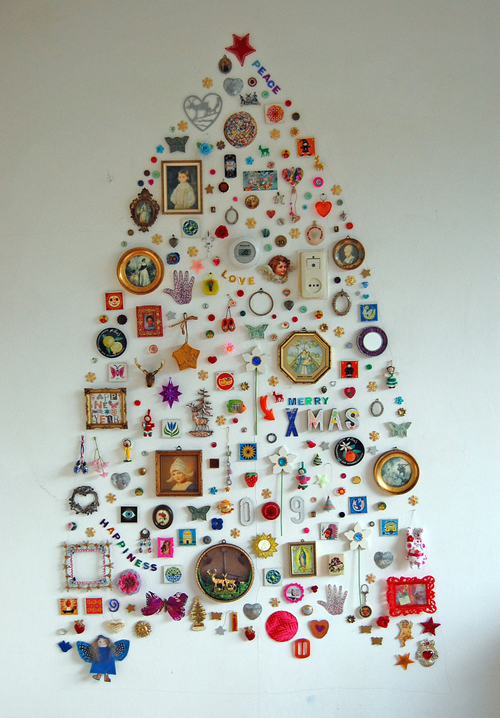 This is a great idea if you just don't have room for a tree. Instead, take as many lovely things as you can find and add them to the wall in the shape of a Christmas tree.
This is a brilliant idea and I simply love it!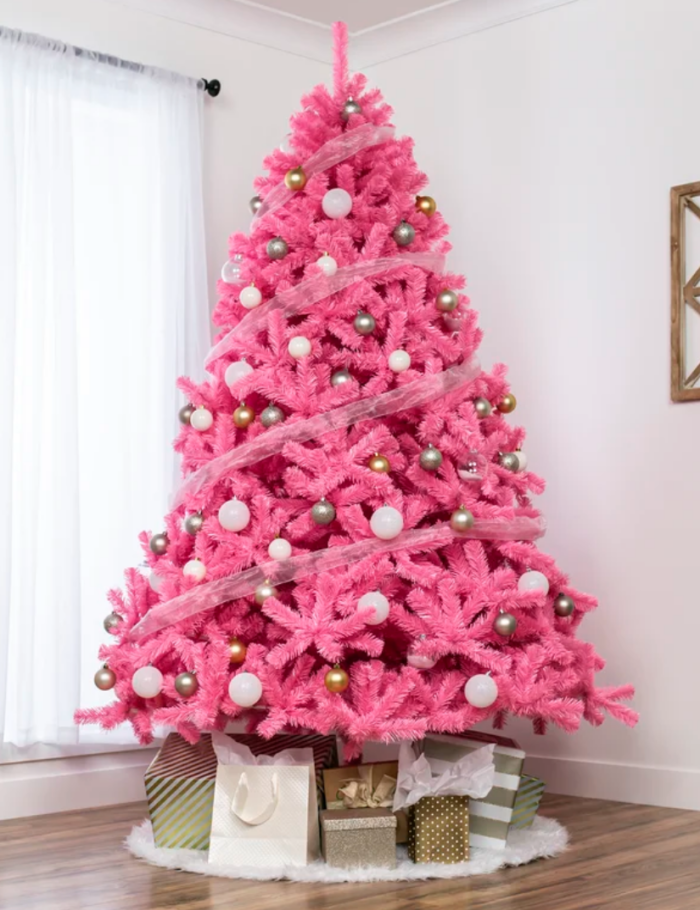 Have you ever seen anything so pink? This is a Barbie Pink Christmas tree I spotted on Wayfair and wow is it a beauty. Every little girls dream, I'd imagine. Heck, I'm no longer a little girl and I absolutely love this one too.