WeightWatchers Friendly Tabbouleh Recipe – 3 Points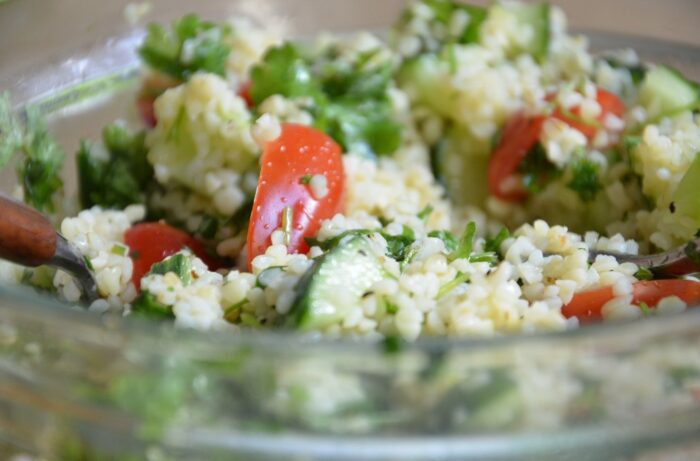 Sadly to say, I didn't discover how amazing Tabbouleh was until I was in my 30's. I know, it's crazy. It was just not something my family knew the first thing about and so I was never able to try it. I think I first had it at a summer party and once I finished picking it all out of my teeth (no joke), I thought, man was that good. I loved it so much I knew I must immediately attempt a WeightWatchers friendly tabbouleh recipe so I could enjoy it even more often. I hope you will try my version and love it too.
What Is Tabbouleh?
Tabbouleh is basically a middle eastern salad made of herbs and spices like cilantro and parsley mixed with a very special whole grain called bulgur. Why is bulgur special? Well, I like it because it tastes delicious but it is also has more than twice the fiber and four times the folate as whole grain rice. So, it's better for me! What's more, bulgur can be used in just about any recipe calling for converted rice so that makes it easy to eat often. If you have not already tried it, I highly recommend that you do. This WeightWatchers friendly tabbouleh recipe is light and flavorful and makes a terrific summer salad. Truthfully, it is delicious any time of year.
Health Benefits of Cilantro
When my kids were little, and they would get sick, I was a regular at my local Urgent care. The doctor there was truly old school and tried to heal people the natural way, first. So, before trying to pump my children full of medicine they might not need, he would first have me try his chicken broth and cilantro recipe.
It's fairly straight forward. I'd heat up a pan of chicken broth (home made or low sodium store bought is fine) and add in a bushel of cleaned and finely chopped cilantro. I'd let the broth and cilantro steep for 30 minutes on low, until broth was green. Once it cooled, I'd feed it to my kids. Sometimes I added a bit of chicken too, and they really liked it that way. Now I am not a doctor, and I do not know the science behind it, but I can report that it worked every time.
I have made up batches of broth and cilantro soup for myself and my husband on several occasions where our stomach's weren't quite right and I'm happy to say, it works on adults too! So, I just know in my bones that cilantro is very good for you.
FAQ & Tips and Tricks
HOW TO COOK THE BULGUR?
I realize the recipe says to cook it but it is really more of a boil and soak process. You will boil the water and then add the bulgur to it and let it soak 20 minutes or so.
WHERE DO I FIND BULGUR IN THE GROCERY STORE?
It is pretty easy to find bulgur in the store. If you are at Winco, check the bulk foods section. It can also sometimes be found in the baking aisle or even the cereal aisle near the oatmeal and breakfast items. You can also check the international foods aisle if you can't find it anywhere else. If all else fails, ask the grocer for help!
WHAT IS BULGUR?
Bulgur is considered a pre-cooked whole grain, hence the reason you cook it. People confuse it with quinoa but they are not the same as quinoa is actually a seed, not a grain, and does need to be cooked.
WHAT IS ANOTHER NAME FOR BULGUR:
Bulgur is also called wheat groats. Groats is a pretty general term for hulled grains that include oats, rye, wheat and barley.
WILL BULGUR HELP ME SLEEP? Apparently bulgur has high levels of magnesium so it can be used as a great sleep aid. Try some at night before you go to bed and see if it helps you get some zzzz's.
WHAT DOES BULGUR TASTE LIKE?
It has a vibrant earthy and nutty flavor that you are bound to love.
HOW IS TABBOULEH SALAD SERVED?
It is generally served as a side dish with meat or chicken dishes in the Middle Eastern cuisine but you can enjoy it with any cuisine and as a side salad, or top it with chicken or tofu for a satisfying meal.
WHAT CAN YOU SUBSTITUTE FOR BULGUR?
You can substitute bulgur with quinoa as quinoa is a gluten-free alternative to bulgur. Also try couscous, cracked wheat, wheat berries, kamut, farro, barley and orzo.
TIPS
Always use fresh herbs as it is just not the same with anything dried.
Add a wedge of fresh cut lemon or lime to the bowl when serving to make it look pretty but also add a bit of fresh juice flavor to the bowl!
Feel free to mix up your herb and veggie choices. Cut up some jicama or green olives or artichoke hearts and toss them in there. It is delicious any way you make it.
Tabbouleh is delicious served with hummus. Be sure to check out my delicious hummus recipe that you can make in your instant pot!
What's for dessert? I LOVE a little chocolate mousse after a serving of my WeightWatchers inspired tabbouleh recipe. It is the perfect light dessert to go with a light tabbouleh salad.
For all my WeightWatchers inspired recipes, feel free to check out my slapdashmom.com blog and join my newsletter. I email out new recipes once a week depending upon the season. Email me and let me know how you are doing :)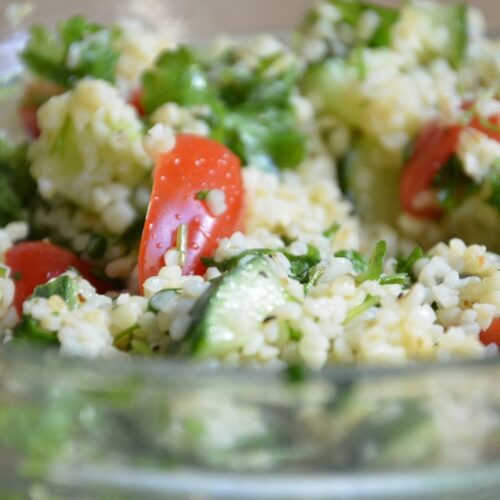 Ingredients
1/2

cup

uncooked bulgur

1/2

cup

boiling water

1

cup

chopped tomatoes

3/4

cup

finely chopped parsley (fresh)

3/4

cup

finely chopped cilantro (fresh)

2/3

cup

chopped cucumber

1/2

cup

chopped green onions

1/4

cup

chopped fresh mint

3

tbsp

fresh lemon juice

2

tbsp

extra virgin olive oil

1/2

tsp

salt

1/8

tsp

fresh ground pepper

8

Kalamata olives chopped

1/4

cup

finely chopped red bell pepper
Instructions
Combine the bulgur and boiling water in medium sized bowl

Cover and let it stand for 30 minutes

Add tomato and the next 11 ingredients and gently mix well

Cover and let stand a room temp for 30 additional minutes

Recipes makes four 1.5 cup servings. 3 Points per Serving
Share on Facebook
Weight Watchers Points
3 points for 1 1/2 cup serving
Nutritional
Serving:
4
g
|
Calories:
150
kcal
|
Carbohydrates:
19
g
|
Protein:
3
g
|
Fat:
7.5
g
|
Sodium:
305
mg
|
Fiber:
5
g
|
Calcium:
35
mg
Nutritional information is provided as a reference, using an online calculator. We recommend verifying the information independently.