Ways to Boost Your Teen's Self-Esteem
This post may contain affiliate links. Please read my Disclaimer and Privacy policy for more information.
Low self esteem is something that we all deal with at one time or another. As a teenager, it can be one of the biggest issues that your child faces. There's constant pressure from peers, the media, and sometimes even family. When you're a teen, so much around you changes and you realize things you never noticed before. The best thing you can do for your teen is to give them somewhere to fall back to when things are too crazy. Comfort can be found in the things that stay the same.
Ways to Boost Your Teen's Self-Esteem
This post is one of many in a series written by my teen daughter's friend, Stephani. She has helped me understand things from a teenager's perspective, and we both really wanted to reach out and share with parents of teens with hope that it will help them connect with their children in a way they couldn't before. I've written about improving your teen's self-esteem before, so check that post out while you're here!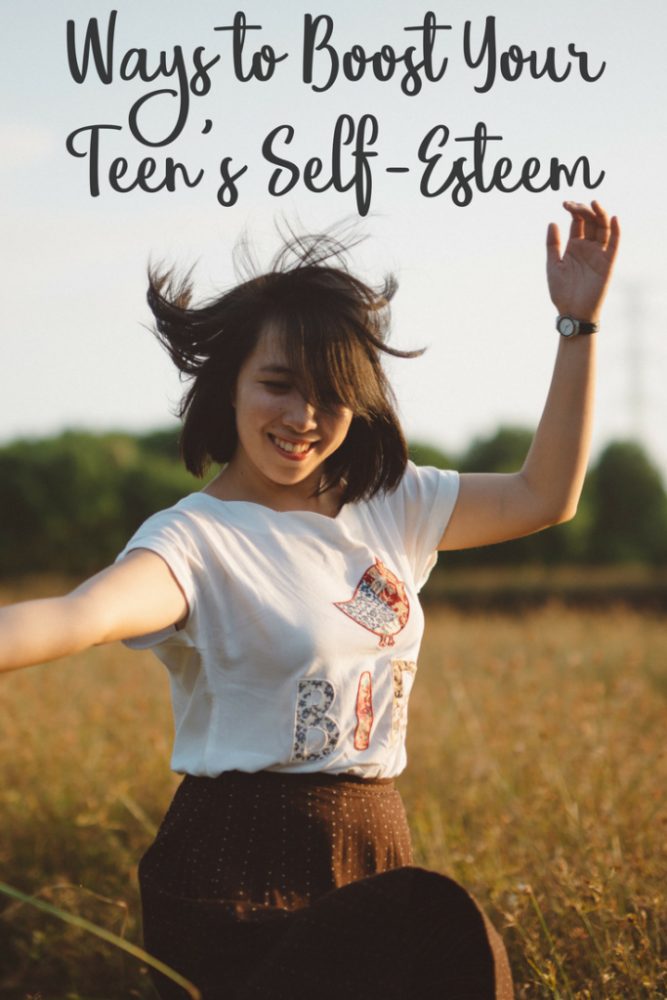 Positivity. Constructive criticism is key. A lot of the time, it's hard to be patient. Often times, when people in general make mistakes, the other person's natural reaction is to get irritated and blow up. However, in many cases this just makes the issue much larger than it has to be. If you're teaching your teen something new, give them sort of a backhanded compliment. "You did amazing here, but on this part it would help if you worked a little on…".
If your teen is lacking in a certain area, positive reinforcement never fails. Nobody can be good at everything, but when your teen brings home a C+ on a test for a class they've been having trouble in, celebrate it! I know this can be difficult, especially when you expect straight A's from your teen. However, some kids just aren't A+ students. There are way more important things in life than getting all A's on their report cards. Keep it in perspective.
Ask for their input. Teens suffer no shortage of ideas, so why not hear them out? As part of a basis for teaching your teen how to make choices and be adult, it can also make them feel a little more important or valued. Making decisions is part of growing up, and the older you get, the harder those choices become. Sometimes your teen has a different view on things, and maybe their suggestion is a bit off, but that gives you a chance to guide them. The time you spend with them now will become a memory, and whether or not that memory helps or hurts them in the future is up to how you, as a parent, handle it. Having a say in small or big issues makes a person feel like they're heard, and that their opinion matters. As a teen, it's easy to feel like nobody listens, but when you ask and genuinely care about their input on things they feel heard.
Encouragement and support. Although it's often repeated, there's nothing better than lifting someone up. Making others feel good about themselves can help boost your self-esteem as well. Helping your teen study for a hard test, or practice for a sports competition are ways to express your love as well as help them strive for greater things. If they fail, let them know you're there to support them. Be the rock in their life. A common mistake that parents make is trying to break off from their children. "Mom, you're embarrassing me!" is seen as "leave me alone!", but that's not entirely true. Normally those moments are the ones that you'll look back on and laugh at. Make them plentiful, you'll never get a second shot, so enjoy it while you can!
Looking for more ways to survive parenting your teen? Me, too!
5 Ways to Connect With Your Teenager
3 Ways to Motivate Your Teen
Improving Your Teen's Self-Esteem (Original Article)
60 Mother Daughter Date Ideas
25 Ways to Show Your Tween You Love Them