Motivate Your Teen in 3 Simple Steps
Motivate your teen in 3 simple steps, huh? Easier said than done, I'm sure that's what you're thinking!
Growing up is tough, and some might argue that growing up in America now is even tougher than it was back in the day. With all the pressure from media added onto the natural and normal changes your teen is facing, it's easy for your teen to become overwhelmed with life and want to give up. My teenager and I are only 16 years apart, so sometimes we have a lot in common and I can really relate to what she's going through. Other times, it's like I'm talking to someone from another planet. She talks about boys – a lot – and I just smile and nod because I know she'll like a new one next week.
She's fickle, and moody, but to be completely honest, we are much closer than I expected us to be. Yes, I was young when I had her, but I have never played the "friend" role. It's always been clear that I'm Mom first. She talks to me about pretty much everything (sometimes over-sharing!), and I'm thankful for that because at her age, I wouldn't ever have talked to my mom about anything (hence the getting pregnant at 15).
Whether your teen is already unmotivated or just needs a slight pick-me-up, here's a few ways to get your teen up and at it again. Jenelle's friend helped me write this, because even though I'm young, I'm not a teenager! I am very thankful for the insight she provided.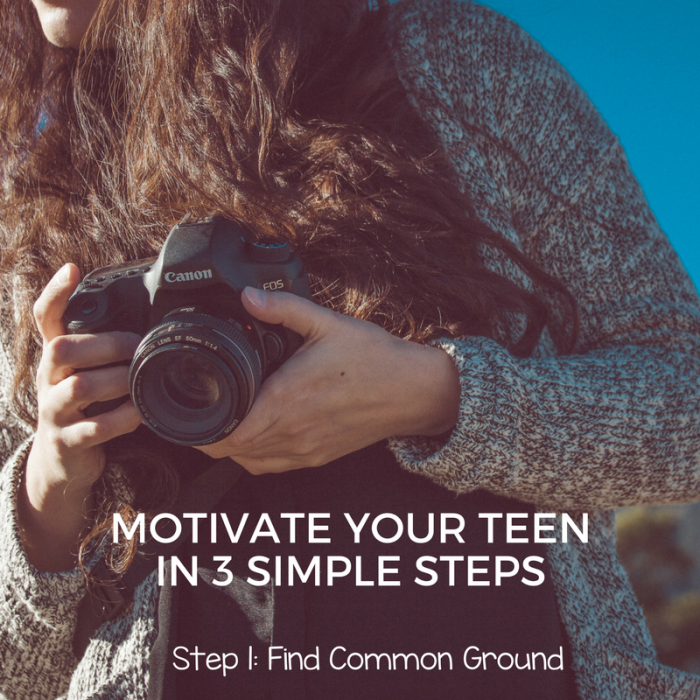 Motivate Your Teen in 3 Simple Steps
Find common ground: usually, there's something you and your teen have in common. Turn it into a mother daughter date! It might be that you loved photography in your younger years and she loves it now, or it might be that you both love to cook (even if you love to make casseroles and she loves to bake). If there's a generation gap (or two), it might be difficult to see the common ground you actually have. Or, perhaps you're polar opposites! Either way, finding common ground is the easiest way to truly connect with your teen. Meet them where they are. This means you might have to plug in a bit! While your version of photography may be much different than hers (hello, iPhones), it'll be fun to teach each other a thing or two. Does your teen want to be a model? Take some pics and post them! They'll love the "likes" and compliments they get.
Notice and encourage natural talent. As a parent, it's already your job to embrace your teen with love and enthusiasm when anything positive is going on. Hopefully that positive reinforcement will always be there. Not only does complimenting your teen's natural knack for a certain thing improve their happiness, it can also get them thinking that they can do more. Believing they can do more, be better, do bigger things… that's HUGE when it comes to motivating a teenager! A small remark can go a long way, whether it be positive or negative.
Encourage your teen to follow the path they want that compliments who they are. This way, they'll enjoy doing more as well as become successful in what they do. Don't force them to take the path you wanted to take, or you want them to take. Let them choose their own path. A self-esteem boost is never a bad thing, and everyone appreciates being appreciated.
Help set up and encourage goals. In any aspect of life, goals are an important factor. Be it sports (like when Nell decided she was going to be a cheerleader), school, band, or whatever else, it's overly beneficial to help your teen set up goals. Not only does this instill positive habits that can be used later in life, it also makes things less stressful and overwhelming. Having a clear of vision of where you want to be can make achieving your dreams (as well as focusing on them) much easier. Listen to what your teen says they wish for the future, and help them make baby step goals towards that. Remind them to always keep those goals in mind and encourage them as they work towards those goals. Make sure you celebrate, too! When those goals are reached, make a big deal about it. Rewarding accomplishments is always a key to motivating anyone, especially your teen.
Bullet journaling for teens is a great way to help them accountable without breathing down their neck. You can create a bullet journal even if you aren't an artist, so don't worry about being perfect. The goal is just to work together to motivate your teen, without it seeming like such a huge chore for them.
Check out my 60 Mother Daughter Date Ideas!
Support, support, support. Sometimes children have dreams that are different than what their parents had in mind for them. Within reason, it's always best to encourage your child to follow their dreams and help them to get there. Don't tell your teen they can't play in the NFL or become an actress. Rather, remind them of the work and effort it will take. Help them make a plan that won't leave them in the dirt if things don't work out right away. Nothing is more important than love and guidance. Maybe your son won't make it straight into the NFL, but encouraging him to play the sport alongside his studies is the best thing you can do. That's what he needs right now.
When things get tough, a child's natural response it is to turn to their parents, but don't be too pushy. It's easy for teens to rebel – either on their own or because you're trying way too hard and they freak out. Remember to sit back and just listen sometimes. If they ask for advice, give it… carefully. Sometimes you don't have all of the answers, and that's okay. However, keeping your teen up and working towards a life of their dreams is the biggest, most important thing you could possibly do.
What's your biggest struggle when it comes to motivating your teenagers? Let's talk about it in the comments!