Top 10 Free Blogging Tools
When it comes to blogging, I like to keep things simple. In this list of 10 Free Blogging Tools you won't find anything super fancy that you won't understand how to work. That's now how I roll. Work smarter, not harder, with these free blogging tools (and tips)!
Ideas and Organization
1. Toby
Toby is a tab organizational extension for google chrome. It separates tabs into categories of your choosing for optimal work flow. Toby has a search feature which allows quick location of a specific tab. Toby allows me to drag and drop tabs to save. Putting my tabs in a workable order saves me time searching for the item I truly wanted to look at.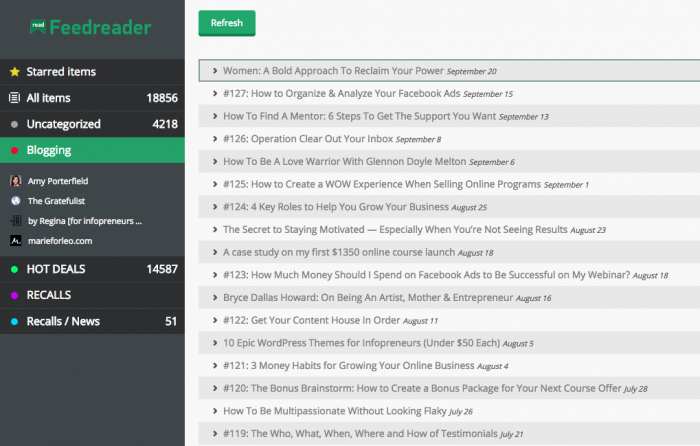 2. FeedReader
FeedReader is an RSS reader. I use FeedReader to keep up with other successful bloggers. It allows you to read your feeds from multiple devices. FeedReader has search and sort capabilities which allow me to find content I'm looking for quickly and efficiently. It also makes sharing and collaborative work easier due to the folder and sharing structure. Once I find content I want to share, I can easily share with my team
Content Purchasing, Editing, and Originality
It's important to be original when it comes to blogging, so use tools like CopyScape if you have hired contributors. I always run everything through CopyScape before publishing it.
3. CopyScape: CopyScape is your key to plagiarism protection. Any blogger who purchases content should run the content through a plagiarism detection tool. CopyScape has a premium version which includes a feature to scan the web for your articles that may have been copied as well. Making sure you publish all original content, all the time, protects your search engine rankings. No one wants to publish a post and then find out later it was stolen from an unsuspecting peer.
4. Google – gmail, docs, and sheets: We all know that google has a ton of useful tools built into their search engine like maps and images, but I love google for a lot more. First, there's gmail, the free email service. Learn more about how I use gmail to keep me sane with Gmail hacks.
Google has other tools that help me keep my content, contributors, and all around blogging organized better. I use google docs to type up my content. All of my articles are then saved to the cloud and I can work on them from multiple devices seamlessly. Google docs syncs easily allowing efficient collaboration, saves automatically so there is no risk of losing your progress, and functions like other word processing applications, but it is cloud based and free! Google sheets is like other spreadsheet applications; it allows formula calculation, tabs, charts, etc. but it is again free and cloud based.
Google also has Forms and Slides. Forms is useful for creating questionnaires, feedback surveys, and giveaway entry forms where slides can be used for any pitch or presentation you may be giving. I love that all of my google products are available to me whether I am at home, a coffee shop, one of my kids' events, or on vacation.
5. After the Deadline: After the Deadline is a grammar, spelling and style website. It is important to run your content through these types of editing tools to polish your writing and give it that extra edge before publishing out to your followers. After the Deadline has plug-ins for WordPress, extensions for browsers, and as an add-on for other commonly used programs. For the technically savvy, it is open source code and can be adapted to be a plug-in, add-on, or extension for more programs as well. Of course, adapting it for other uses is taking time from your blogging, but sometimes spending extra time in one area can lead to saving a lot of time in another area in the future.
6. Yoast: Yoast is a SEO and readability plugin. SEO plugins make sure your blog is ranking among the top of the top search engine results. One of the best things about Yoast is that on top of doing keyword analysis, it also checks your content for ease of readability and gives tips to make your writing better. This can help increase conversion rates since this makes your blog easier to find and easier to read. They have a premium version available which gives the ability to manage redirects, evaluate for multiple keywords, and other features like premium support. I used Yoast Premium to do a content audit. It saved me HOURS.
Image Search and Editing
7. Stock Images: Stock Images is a subscription service providing feminine images on a monthly basis. It is a cost-effective solution to get quality stock images for use on your blog. I don't always pay for my stock images though. I've already written about ways to find free images for your blog though some do require linkbacks or photo credit to use the images.
8. Canva: Canva is a design creation and photo editing tool. Canva gives you access to an image search engine of over a million stock photos, free icons and shapes, fonts, and filters. I have used Canva to create e-books as well as using them for photo editing. You can see examples here in my resource library. Canva has a "design school" with tutorials and courses which contain material to increase your design knowledge, too. Canva has both a free and a paid version. You can get by with the free version but I like the premium version because I imported my brand colors and fonts and it saves them. Woo hoo!
If you're interested in a glimpse of what Canva can do, check out my printable wall art collection.
Social Media Organization and Optimization
9. Buffer: Buffer makes scheduling social media posts a breeze. It allows you to set up future posts to social media for optimal times so they are seen by more of your followers. Buffer allows you to manage your social media accounts and pages within one app so you're not switching back and forth between apps all day. It also allows managing multiple user accounts on one social media network without logging out and logging back in. This is a great feature for those who do VA work as well as blogging. You can manage your client accounts and your own all in one spot!
10. BoardBooster: BoardBooster is a Pinterest management tool. It's like Buffer, but specific to Pinterest. This tool also allows bloggers to see pin analytics: what pins are successful, what are not, which boards are getting repinned the most, etc. It also has a tool to remove dead and broken links, duplicates pins, and unsuccessful pins. Another great feature is that it simplifies group boards and has a tool for rating board contributors. The group board management allows you to see top contributors and the quality of items being pinned. Your first 100 pins are free and there are monthly plans based on the number of pins after.
BONUS 11. Google analytics Google Analytics allows you to see how your blog is performing. It gives you the stats on who your audience is, how they get to your blog, and how long they are staying. Using an analytical service to tell you who is staying on your blog for how long can allow you to tweak your posting to get the viewership you are looking for and keep those viewers engaged in future posts. Related: Skyrocket Your Pageviews Using Google Analytics
Do you have a tool that makes your life as a blogger easier? Leave a note in the comments to tell me which tools you love and why!
PIN IT!